More
A homophobic ad was placed next to a pizza shop. They messed with the wrong place.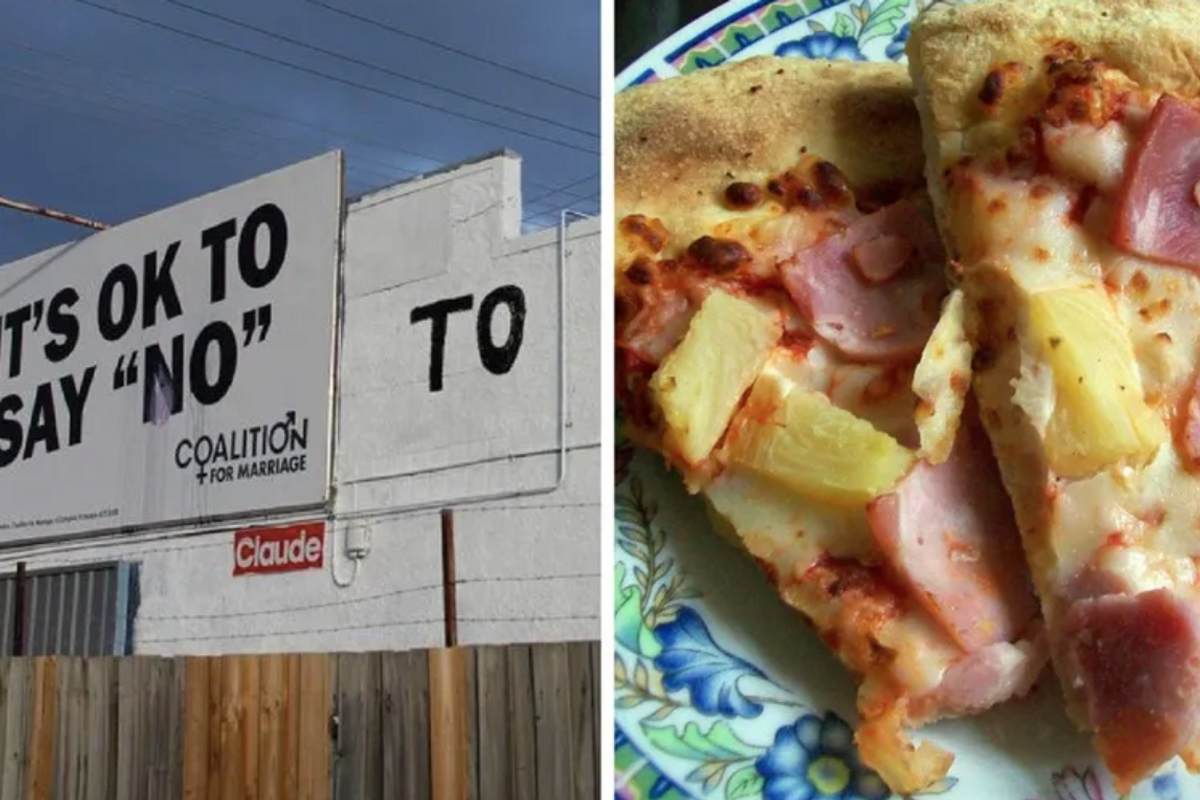 Wiseguise Pizza didn't really want to be embroiled in the middle of a heated social debate. But, when it happened anyway, the pizza shop more than rose to the occasion, with a great sense of humor to boot.
After a polarizing political message appeared on a billboard adjacent to the restaurant in Mowbray, Tasmania, in Australia, the pizza shop could no longer ignore the elephant in the room — or, more specifically, the bigotry on the nearby street sign.
---
"IT'S OK TO SAY 'NO,'" read the billboard — a message encouraging Australians to vote against marriage equality, promoted by lobbyist group Coalition for Marriage.
Wiseguise Pizza couldn't let that stand — so they decided to have a little fun with it.
On Sept. 21, 2017, Fred Hooper of the Australian Broadcasting Corporation captured workers painting a response from the pizza shop on the white wall adjacent to the billboard.
This happened in #Launceston yesterday - #pizza shop paints their wall, adding a message for customers #SSM2017… https://t.co/NX9TMgfKUe

— ₣ⱤɆĐ ⱧØØ₱ɆⱤ (@₣ⱤɆĐ ⱧØØ₱ɆⱤ) 1506025438.0
Their message? It was simple, really.
It's OK to say "no" to pineapple on pizza https://t.co/ZjJD1G9v5C 🍕🍍 #ItsOKToSayNo https://t.co/JdXGGm7VxR

— Paul McNamara (@Paul McNamara) 1506016490.0
"IT'S OK TO SAY 'NO,' ... TO PINEAPPLE ON PIZZA!" the updated message read, in a photo also snapped by Hooper.
"It's a huge debate at the moment, obviously," Wiseguise employee Ben Barwick told ABC, before quipping, "Everyone's talking about whether pineapple should be on pizza or not."
The store's managing director Alex Jones (no, not that Alex Jones) told ABC that Wiseguise wasn't explicitly taking a stance on the issue of marriage equality through its lighthearted commentary. But the far-reaching, lasting affect of the restaurant's actions shows just how heated the debate over same-sex marriage remains around the world; although the story unfolded last month, the photo landed a coveted front page spot on Reddit on Oct. 25.
It's no wonder the story's making waves. A critical vote is underway right now in Australia — and the outcome, which could legalize same-sex marriage nationwide, is far from certain.
A mail-in survey asking voters if the law should change so same-sex partners can marry has been open since Sept. 12 and will close on Nov. 7. Although the tally won't formally legalize same-sex marriage if "yes" votes win out, it will lead to a parliamentary debate and vote on the issue, which would likely (although not inevitably) end in favor of LGBTQ rights.
LGBTQ rights advocates have cause for concern. While public polling has consistently showed Australians are in favor of same-sex marriage, recent indicators show a tight race unfolding.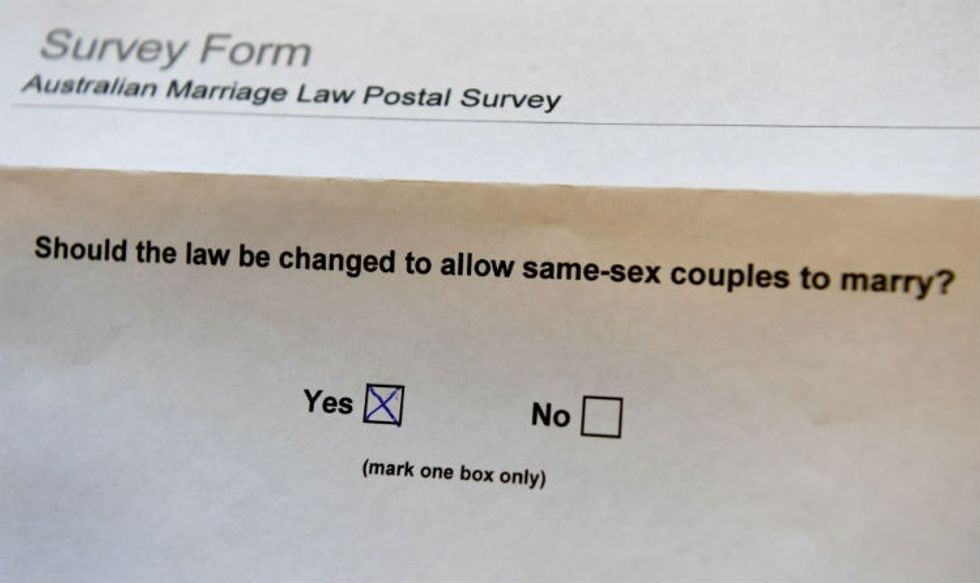 Photo by William West/AFP/Getty Images.
Proponents of same-sex marriage aren't worried about a surge in "no" voters, necessarily; they're far more worried about the prospect of the lazy "yes" voters: Australians (particularly younger Australians) who haven't mailed in their vote yet. Overconfidence in a "yes" victory could spell disaster.
"There is no room for complacency and no reason to think someone else's vote will win this," Equality Campaign Director Tiernan Brady explained to News.com.au. "We know there's an awful lot of young people that have either not voted yet or filled it in and not delivered it to the post box."
Young Aussies, say "no" to pineapple pizza and go vote "yes" for marriage equality. Too much is at stake to leave this one up to chance.