Planet
The ocean is the heart of our planet. It needs our help to be healthy.
Ocean Wise
True
The ocean covers over 71% of the Earth's surface and serves as our planet's heart. Ocean currents circulate vital heat, moisture, and nutrients around the globe to influence and regulate our climate, similar to the human circulatory system. Cool, right?
Our ocean systems provide us with everything from fresh oxygen to fresh food. We need it to survive and thrive—and when the ocean struggles to function healthfully, the whole world is affected.
Pollution, overfishing, and climate change are the three biggest challenges preventing the ocean from doing its job, and it needs our help now more than ever. Humans created the problem; now humans are responsible for solving it.
#BeOceanWise is a global rallying cry to do what you can for the ocean, because we need the ocean and the ocean needs us. If you're wondering how—or if—you can make a difference, the answer is a resounding YES. There are a myriad of ways you can help, even if you don't live near a body of water. For example, you can focus on reducing the amount of plastic you purchase for yourself or your family.
Another easy way to help clean up our oceans is to be aware of what's known as the "dirty dozen." Every year, scientists release an updated list of the most-found litter scattered along shorelines. The biggest culprit? Single-use beverage and food items such as foam cups, straws, bottle caps, and cigarette butts. If you can't cut single-use plastic out of your life completely, we understand. Just make sure to correctly recycle plastic when you are finished using it. A staggering 3 million tons of plastic ends up in our oceans annually. Imagine the difference we could make if everyone recycled!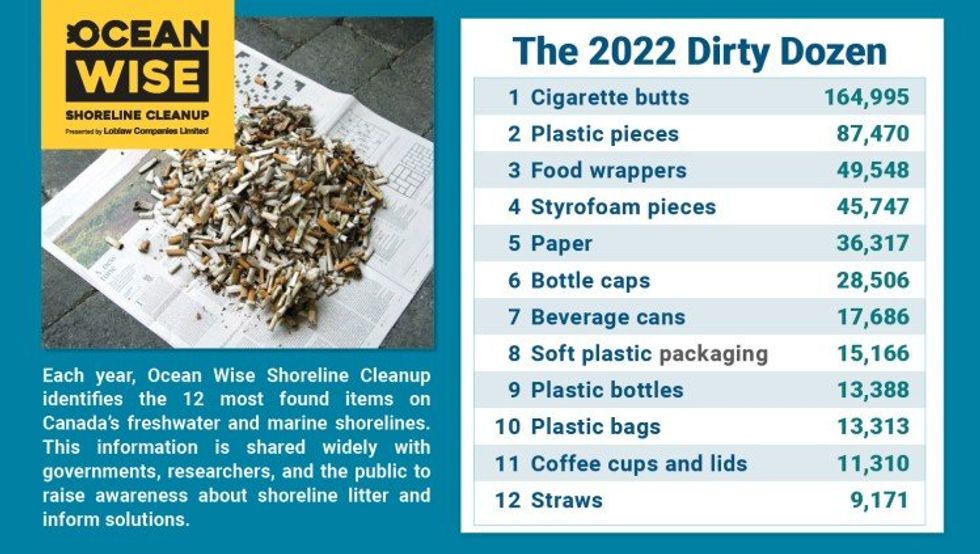 The 2022 "Dirty Dozen" ListOcean Wise
If you live near a shoreline, help clean it up! Organize or join an effort to take action and make a positive impact in your community alongside your friends, family, or colleagues. You can also tag @oceanwise on social if you spot a beach that needs some love. The location will be added to Ocean Wise's system so you can submit data on the litter found during future Shoreline Cleanups. This data helps Ocean Wise work with businesses and governments to stop plastic pollution at its source. In Canada, Ocean Wise data helped inform a federal ban on unnecessary single-use plastics. Small but important actions like these greatly help reduce the litter that ends up in our ocean.
Ocean Wise, a conservation organization on a mission to restore and protect our oceans, is focused on empowering and educating everyone from individuals to governments on how to protect our waters. They are making conservation happen through five big initiatives: monitoring and protecting whales, fighting climate change and restoring biodiversity, innovating for a plastic-free ocean, protecting and restoring fish stocks, and finally, educating and empowering youth. The non-profit believes that in order to rebuild a resilient and vibrant ocean within the next ten years, everyone needs to take action.
Become an Ocean Wise ally and share your knowledge with others. The more people who know how badly the ocean needs our help, the better! Now is a great time to commit to being a part of something bigger and get our oceans healthy again.

Pets
A quick trip to the vet confirmed the cats' and family's suspicions.
All images provided by Prudential Emerging Visionaries
True
A changemaker is anyone who takes creative action to solve an ongoing problem—be it in one's own community or throughout the world.
And when it comes to creating positive change, enthusiasm and a fresh perspective can hold just as much power as years of experience. That's why, every year, Prudential Emerging Visionaries celebrates young people for their innovative solutions to financial and societal challenges in their communities.
This national program awards 25 young leaders (ages 14-18) up to $15,000 to devote to their passion projects. Additionally, winners receive a trip to Prudential's headquarters in Newark, New Jersey, where they receive coaching, skills development, and networking opportunities with mentors to help take their innovative solutions to the next level.
For 18-year-old Sydnie Collins, one of the 2023 winners, this meant being able to take her podcast, "Perfect Timing," to the next level.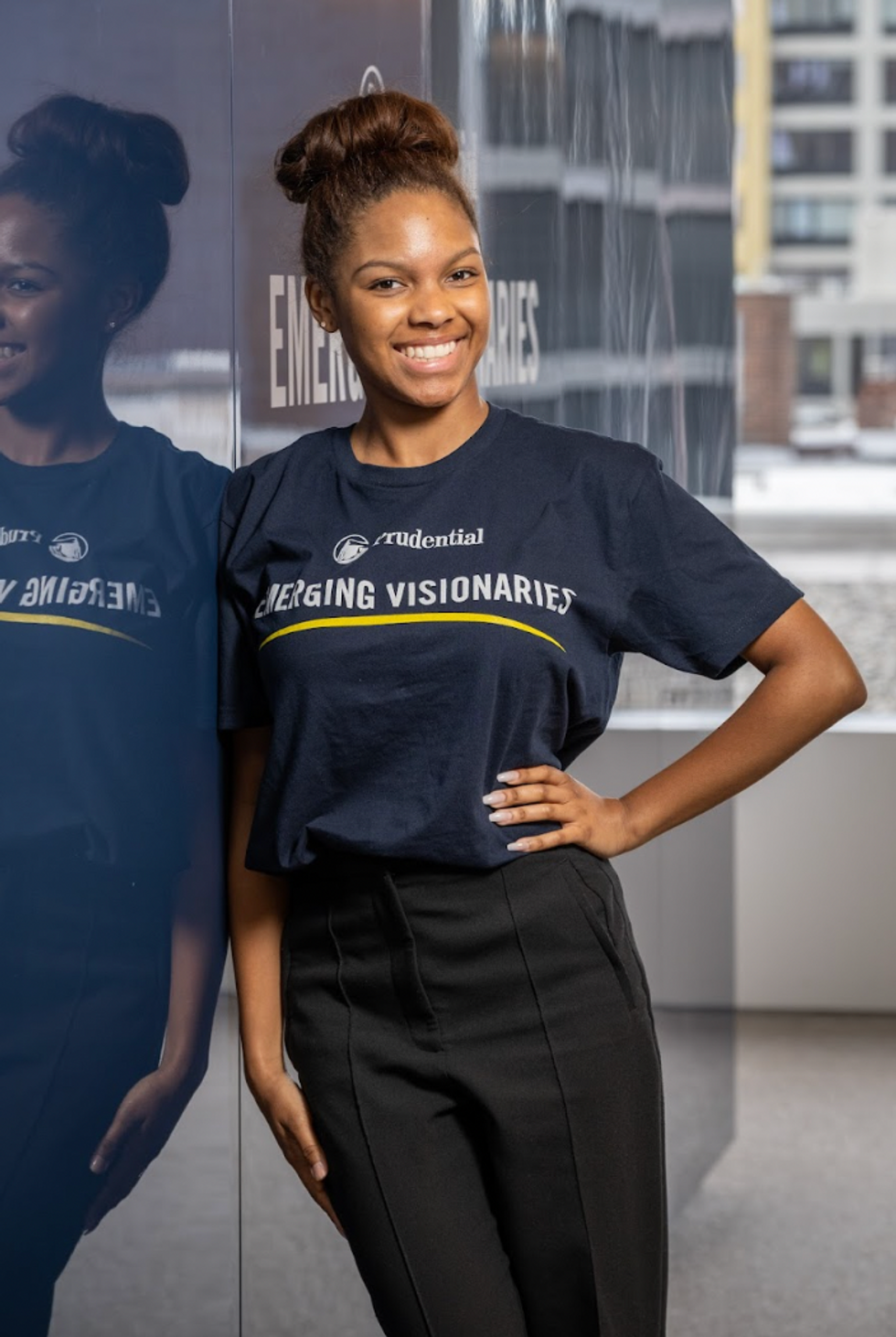 Since 2020, the Maryland-based teen has provided a safe platform that promotes youth positivity by giving young people the space to celebrate their achievements and combat mental health stigmas. The idea came during the height of Covid-19, when Collins recalled social media "becoming a dark space flooded with news," which greatly affected her own anxiety and depression.
Knowing that she couldn't be the only one feeling this way, "Perfect Timing" seemed like a valuable way to give back to her community. Over the course of 109 episodes, Collins has interviewed a wide range of guests—from other young influencers to celebrities, from innovators to nonprofit leaders—all to remind Gen Z that "their dreams are tangible."
That mission statement has since evolved beyond creating inspiring content and has expanded to hosting events and speaking publicly at summits and workshops. One of Collins' favorite moments so far has been raising $7,000 to take 200 underserved girls to see "The Little Mermaid" on its opening weekend, to "let them know they are enough" and that there's an "older sister" in their corner.
Of course, as with most new projects, funding for "Perfect Timing" has come entirely out of Collins' pocket. Thankfully, the funding she earned from being selected as a Prudential Emerging Visionary is going toward upgraded recording equipment, the support of expert producers, and skill-building classes to help her become a better host and public speaker. She'll even be able to lease an office space that allows for a live audience.
Plus, after meeting with the 24 other Prudential Emerging Visionaries and her Prudential employee coach, who is helping her develop specific action steps to connect with her target audience, Collins has more confidence in a "grander path" for her work.
"I learned that my network could extend to multiple spaces beyond my realm of podcasting and journalism when industry leaders are willing to share their expertise, time, and financial support," she told Upworthy. "It only takes one person to change, and two people to expand that change."
Prudential Emerging Visionaries is currently seeking applicants for 2024. Winners may receive up to $15,000 in awards and an all-expenses-paid trip to Prudential's headquarters with a parent or guardian, as well as ongoing coaching and skills development to grow their projects.
If you or someone you know between the ages of 14 -18 not only displays a bold vision for the future but is taking action to bring that vision to life, click
here
to learn more. Applications are due by Nov. 2, 2023.
Rick Astley has to be the luckiest '80s musician on the planet. The whole "Rickrolling" phenomenon has given his hit song "Never Gonna Give You Up" a reach far beyond its natural life span, and kept the guy a household name far longer than he probably would have been.

(For those who are unfamiliar, Rickrolling is when you make someone think they're being sent to a website, but the link goes to Rick Astley's "Never Gonna Give You Up" video instead as a joke. It's a silly viral bait-and-switch gag that's been going since 2006.)
But what people may not realize, because his most famous song has become an internet joke, is that Rick Astley is actually a really freaking great musician. The man can saaaang and it seems he's only gotten better with age.
If you were to choose the most unlikely combo of musical mashups, it might just be Rick Astley and Foo Fighters. Right? Like who would put them together?
Oddly enough, they put themselves together in 2017, when Foo Fighters brought Astley on stage during a concert to sing "Never Gonna Give You Up." Foo Fighters frontman Dave Grohl even created his own Rickroll-inspired meme, the Dave G'Roll, with the band's song "Best of You." So there's a history there.
But nothing has been more surprising than hearing Rick Astley do an acoustic cover of Foo Fighters' "Everlong." It's so good. Like, so good.
Not to knock Rick Astley of the 1980s, but that strangely deep voice on a young man was sort of his signature thing. Ergo, you'd think it would be easy to recognize Astley's voice no matter what he was singing. But you'd be wrong. If you close your eyes and listen to this, you'd likely never guess it was Rick Astley.
Maybe it's because the song itself isn't something you expect from the "Never Gonna Give You Up" guy. Maybe it's because you had no idea that Rick Astley was still making music. Who knows. All I know is that my jaw dropped watching him knock out an awesome version of a grungey rock song with just his voice and acoustic guitar.
Seriously, that was amazing, right? Even hardcore Foo Fighters fans gave Astley props in the comments:
"As a huge Foo Fighters fan, all I can say is this cover didn't let me down."
"Tbh I could listen to a whole album of Rick Astley doing grunge covers."
"Are you kidding me?????? That voice from the 80's... And one of the greatest numbers of all times.... Didn't think you could pull that of.... But you did..... Respect to you Rick."
And, of course, some had to make jokes:
"I love this cover. It feels like the singer is never going to give you up or never gonna let you down. He doesn't run around and desert you. He will never make you cry and never say goodbye. He doesn't tell a lie and hurt you. I think that is special."
"This guy should stop making memes and stick to music! He's got talent!"
"I'm glad he's never given up. This did not let me down."
But this comment perhaps best summed up what most of us walked away thinking:
"God now I feel bad that we've ridden on Rick Rolling for so long that we missed the part where Rick Astley is actually a badass musician..."
This article first appeared on 4.4.22.
Get stories worth sharing delivered to your inbox
Pop Culture
This club is a little different, there's Wordle, seltzers and lots of houseplants.
In an age where technology and fashion intertwine, our pets deserve accessories that echo the times. Many pet owners grapple with the need for innovative solutions that also embrace sustainability. Enter Nina Woof, seamlessly marrying the appeal of modern design with a groundbreaking addition: the Cupertino Dog Collar, compatible with Apple AirTag.
European Aesthetic Brilliance
The Cupertino Dog Collar is not just an accessory; it's a statement. Reflecting the pinnacle of European design aesthetics, this collar embodies an elegant and stylish vibe that few can match. Every glance reveals a piece that is the epitome of sophistication.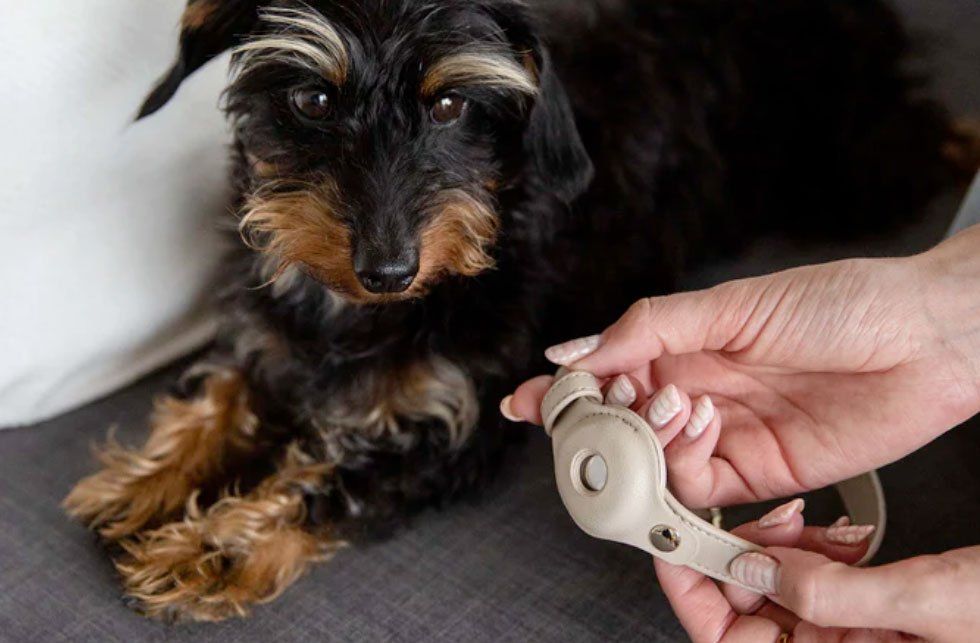 But beauty isn't its only strength. Behind this aesthetic brilliance lies meticulous craftsmanship. The soft touch of vegan leather, paired with the strength of reinforced hardware, all handcrafted to perfection, emphasizes Nina Woof's dedication to unmatched quality.
Safety in Smart Fashion
The modern pet owner seeks more than just aesthetic appeal, and Nina Woof acknowledges that with the Cupertino Dog Collar. Seamlessly integrating with Apple's AirTag, it represents a blend of style and innovative technology.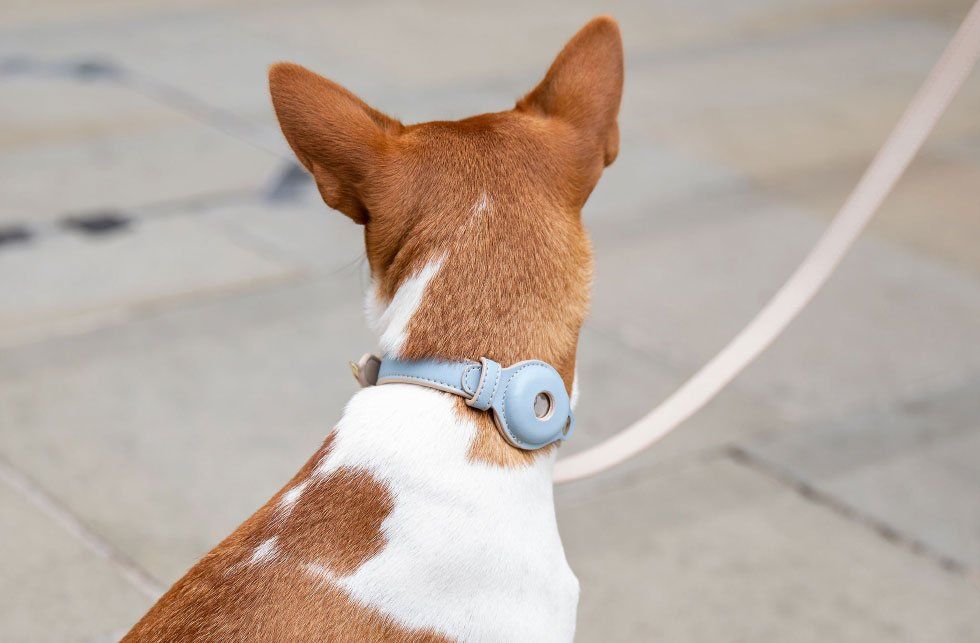 Beyond aesthetics, it's about ensuring safety. This collar doesn't just make a fashion statement, it provides an assurance. As cities grow and become more complex, knowing your pet's location offers a peace of mind that is truly priceless.
Sustainability at Heart
Beyond its stunning surface, the Cupertino Dog Collar showcases a commitment to our planet. The use of vegan leather is a testament to Nina Woof's dedication to a world without animal cruelty, proving fashion can be kind.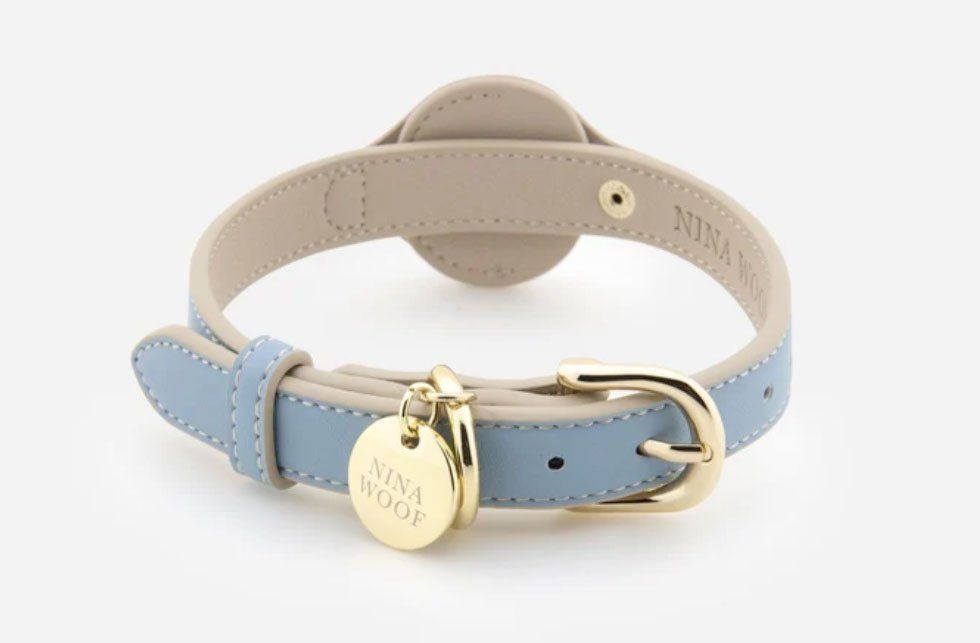 But the commitment doesn't stop at being cruelty-free. Delving deeper into the collar's fabric reveals a strong environmental conscience. By incorporating recycled materials in its design, Nina Woof stands as a beacon of sustainable luxury in the world of pet accessories.
Commitment Beyond Craftsmanship
Nina Woof is more than just its premium products; it's an embodiment of a promise to its patrons. From purchase to post-purchase, Nina Woof ensures a seamless experience with utmost transparency.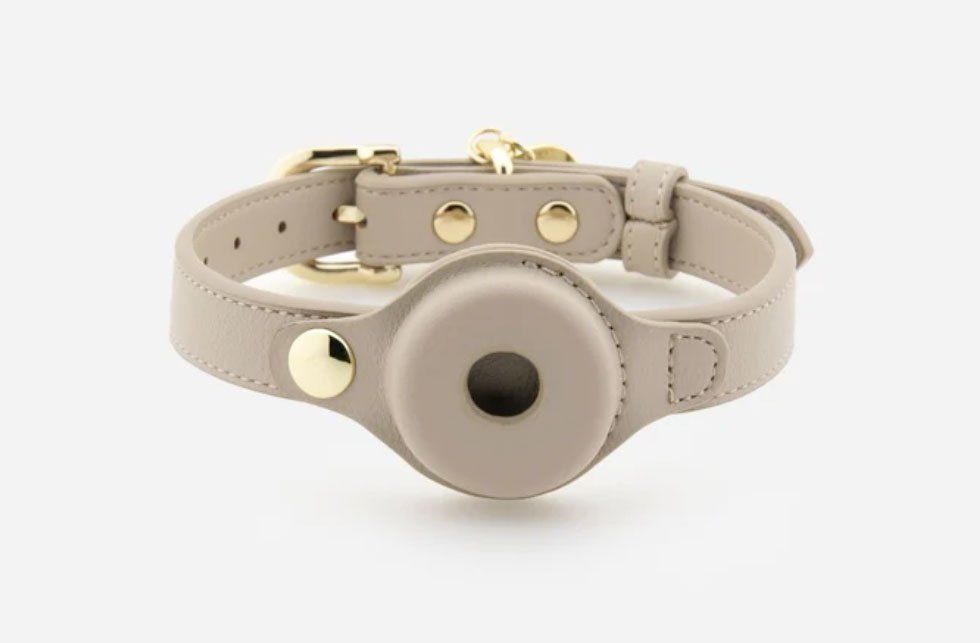 Understanding that sometimes choices need revisiting, Nina Woof offers a straightforward return process. Products can be sent back within ten days of the purchase date, provided they're in new and unused condition. After a quick inspection, expect your refund to be processed promptly, ensuring customer satisfaction remains paramount, even post-purchase.


Elevate your pet's style while ensuring their safety and supporting a sustainable future. The Cupertino Dog Collar is more than just an accessory—it's a fusion of European elegance, innovative tracking, and eco-conscious craftsmanship. Don't let your furry friend miss out on this blend of fashion and function. Visit Nina Woof today and invest in a collar that truly makes a difference!
Education
This viral tool could be a game-changer for some.
Reading is a fundamental tool of learning for most people, which is why it's one of the first things kids learn in school and why nations set literacy goals.

But even those of us who are able to read fluently might sometimes struggle with the act of reading itself. Perhaps we don't read as quickly as we wish we could or maybe our minds wander as our eyes move across the words. Sometimes we get to the end of a paragraph and realize we didn't retain anything we just read.
People with focus or attention issues can struggle with reading, despite having no actual reading disabilities. It can be extremely frustrating to want to read something and have no issues with understanding the material, yet be unable to keep your mind engaged with the text long enough to get "into" what you're reading.
But what if there were a font that could help you stay focused? That could help you not only read faster but better retain what you've just read?
That's what the creators of Bionic Reading claim is possible with their font tool."Bionic Reading revises texts so that the most concise parts of words are highlighted," the Swiss company's website reads. "This guides the eye over the text and the brain remembers previously learned words more quickly."
Give it a try: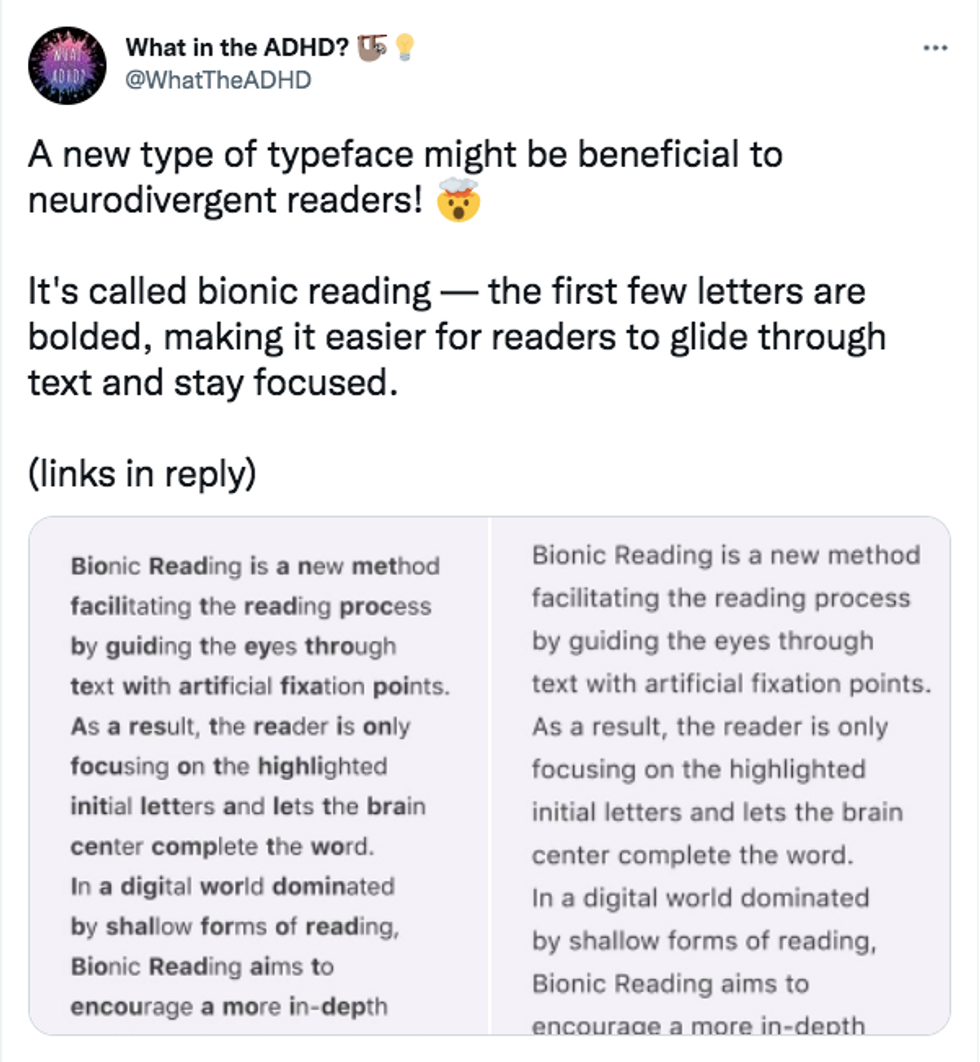 The gist is that our eyes don't need to focus on the entire word because our brains can fill in the rest for us. By bolding the first part of the word, we're more quickly able to move from word to word.
"Bionic Reading aims to play a supporting role in the absorption of volume text," states the website. "We see technological progress as an opportunity for all those who want to increase the pleasure of reading in a noisy and hectic world in a focused way and without distraction."
While there are no studies cited on this method of reading, there are plenty of anecdotes about it being helpful. The example shared by @WhattheADHD on Twitter got people's attention and many people responded with enthusiasm at how much easier the bionic reading text was for them to read.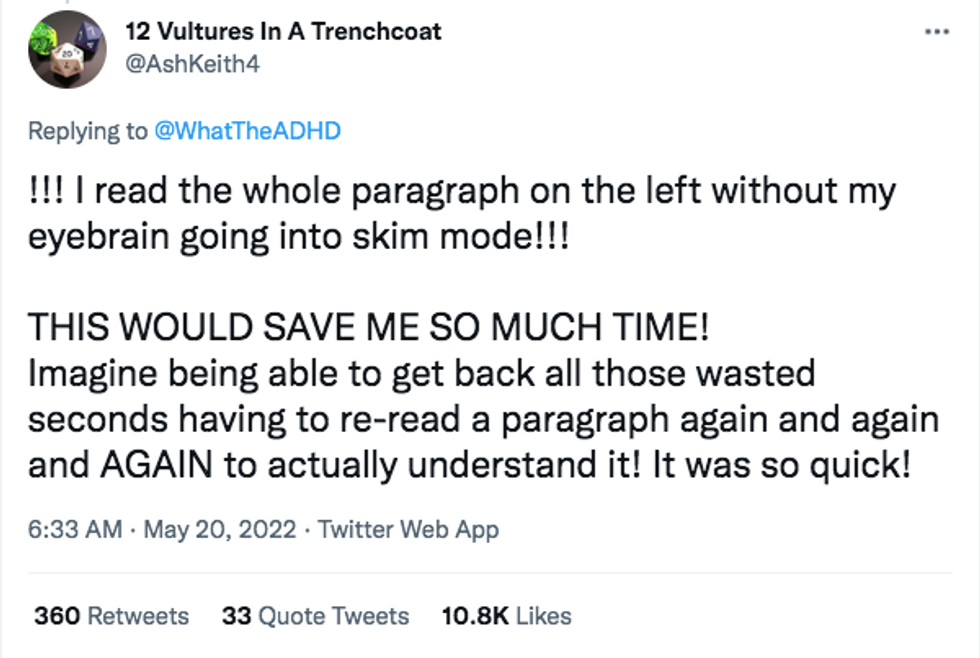 "This is amazing! I have ADHD and I didn't even realize that I was having trouble fixating when I read," wrote one person. "My eye latches right on to the bold face. Can't wait to try reading a book again. It's been all audiobooks for a while."
"It's incredible how reading this feels like finally unlocking 100% of your brain," wrote another.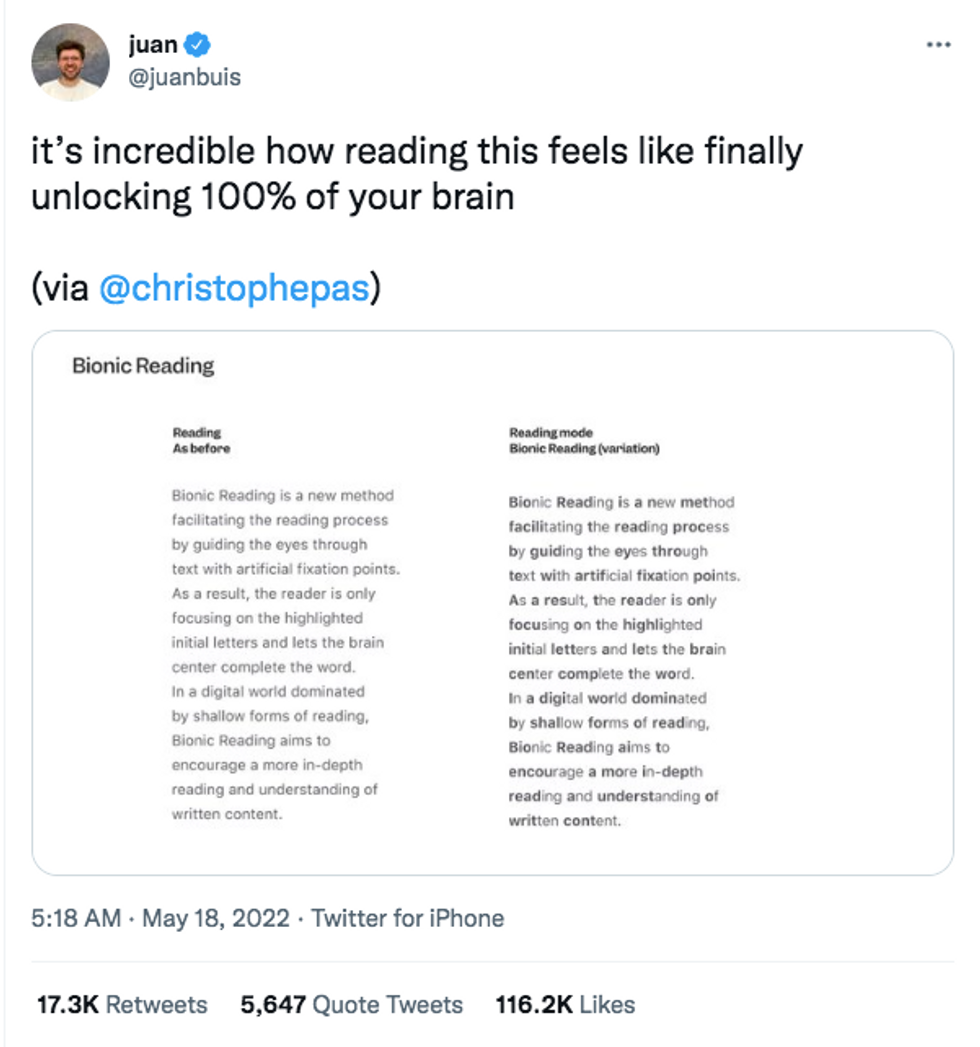 However, not everyone was impressed or thrilled with the sample. Some people said that they had a harder time reading the bionic text or that it distracted or slowed them down. Both positive and negative responses came from a diverse pool of people. Some who described themselves as neurodivergent said that they loved it and some said it was harder. The same went for people who said they were neurotypical, so it's hard to say who this tool may specifically help the most. Everyone's brains work differently, and different people will find different things helpful.
Bionic reading might be a game-changer for some, but it's not the only tool of its kind. There are speed-reading programs that train you to stop reading each word and allow your brain to read visually instead of auditorily. There are also various methods of making reading easier by adjusting how your eyes move across the text.
For instance, check out this "space reading" technique: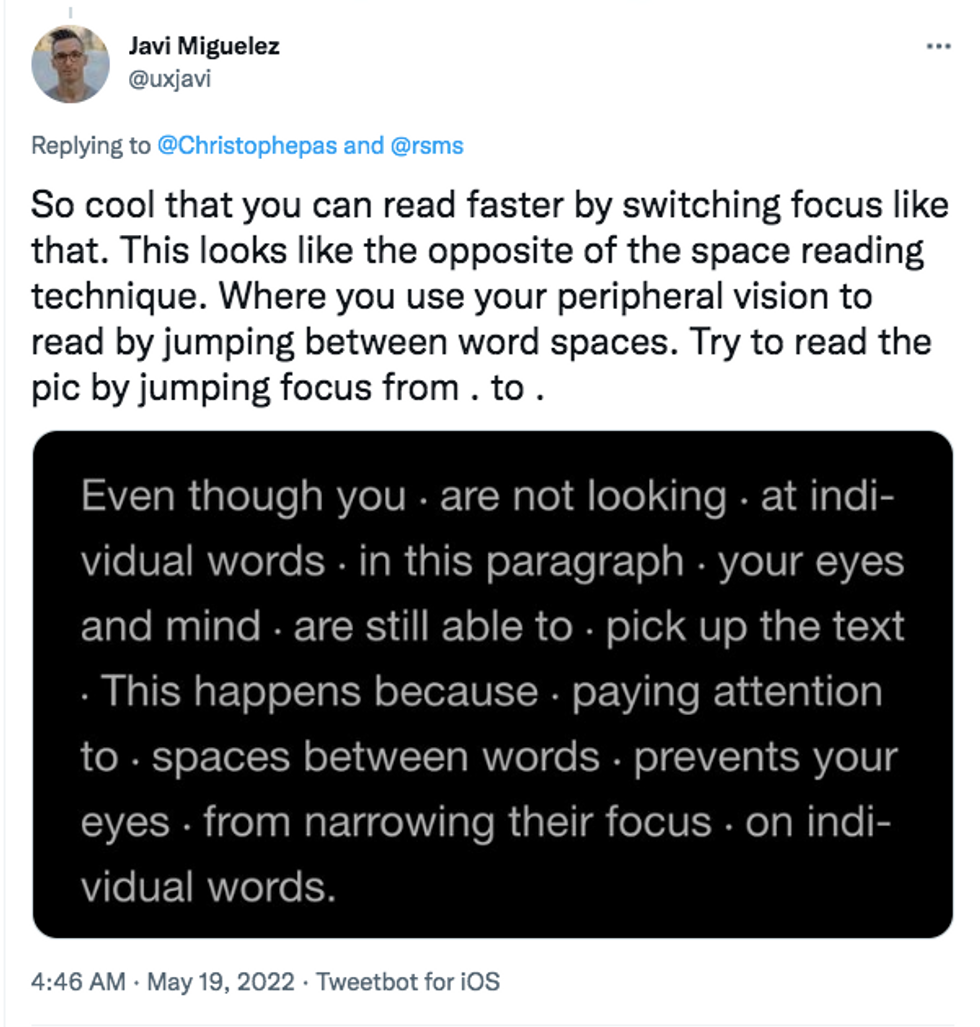 Bionic Reading has a free text converter on its website that you can use to try out its font changes. A YouTube clip from the company also shows possibilities for how the font can be adjusted to individual preferences, making more or less of the initial letters bolded.
And again, if this doesn't work for you, then it's probably not made for you. For people who struggle with reading, something like Bionic Reading could make a huge difference.
Three cheers for technology being used to help people overcome difficulties and make learning easier and more efficient.
This article originally appeared on 5.30.22.
Get stories worth sharing delivered to your inbox