Courtesy of CeraVe
True
Have you ever wondered what drives nurses to do what they do? We took a walk in one nurse's shoes to get a better understanding of what makes her truly remarkable.
Emily Danz of Fort Lee, New Jersey, grew up watching her Yiayia ("grandmother" in Greek), battle heart disease. As a child, she listened with curiosity and amazement as the doctors explained cardiac procedures and outcomes to her family.

Then, when she was old enough to drive, Danz became responsible for taking Yiayia to and from her doctor's appointments and hospital visits.
Inspired by all she learned about her grandmother's journey, Danz decided to enter nursing school after graduating high school—a decision that made her grandmother burst with pride.
"She told me when I graduated nurse practitioner school that it was one of the greatest things she witnessed in all 89 years of her life," said Danz. "She knew I'd go far and do well."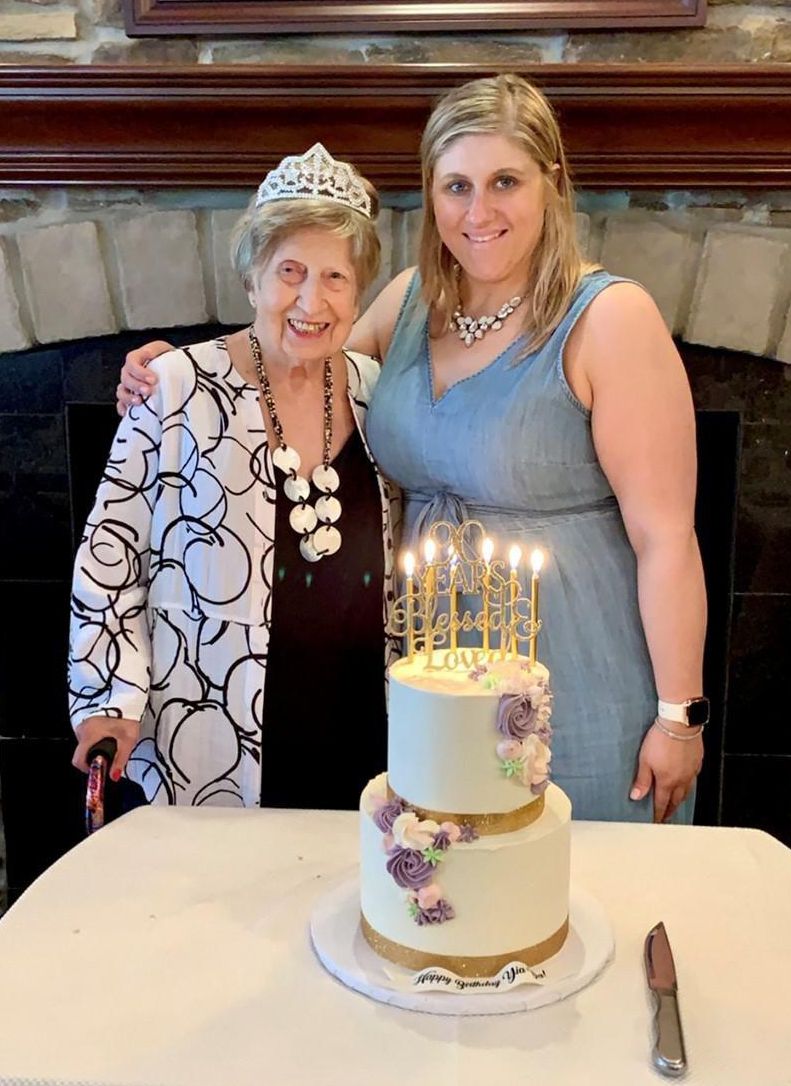 Courtesy of Emily Danz
And she has. Nurse Danz has used her childhood experiences as an onlooker to her grandmother's care as a springboard into caring for others. The very first patient she cared for after graduating nursing school in 2014 was suffering from an active tuberculosis infection. Although tuberculosis is curable and preventable, it's also highly contagious and transmittable by air. It takes the inhalation of only a few of these germs to become infected.
"I remember being petrified to walk into that room," said Danz.
Fortunately, an experienced nurse mentor gave her a pep talk that she will never forget—in fact, she says, it shaped the entire trajectory of her career.
"[She told] me not to be afraid and that caring for a tuberculosis patient is like caring for any other patient, but just with a special mask and gown. From that day on, I realized that there was no reason to ever be afraid or scared of a patient, and I actually took care of that patient every time I worked for the entirety of their stay — which was over three months."
Emily | Heroes Behind the Masks presented by CeraVe www.youtube.com
Years later when she found herself working in a hospital during a global pandemic, Nurse Danz channeled that early experience to get her through the fear of caring for patients infected with COVID-19.
"When I was assigned [my first] COVID patient, it was like my very first day of nursing all over again … my mind quickly traveled to the pep talk I was given and reminded me of the oath I took to care for patients no matter the situation," said Danz. "I continue to carry this empathy with me every day for every single patient I care for—it is something instilled in me."
Danz, who has also become an instructor to nursing students in their last year of nursing school, recognizes the importance of seeing every patient as an individual and not just a number. She teaches these students bedside clinical skills and medication administration, focusing clearly on arming them with the confidence to interact with patients comfortably, no matter the situation.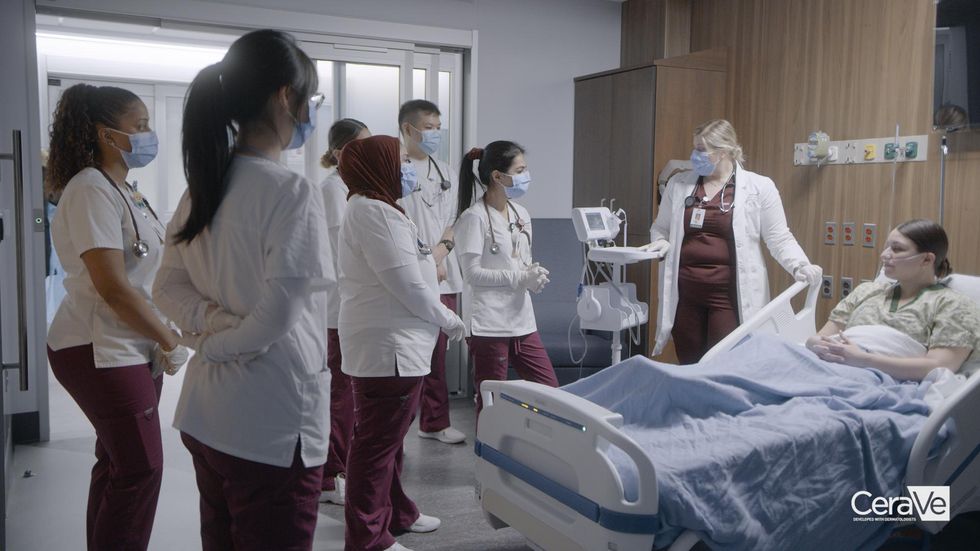 Courtesy of CeraVe
"From day one, I learned not to be afraid and it has helped me tremendously throughout my career. In every single class, I make sure to tell my students stories, events and real-life scenarios I've been through to prepare and engage them. It is imperative that the new nurses coming into the field are confident and empathetic. When you're afraid, patients sense it and it affects their healing," said Danz.
The goal of CeraVe's Heroes Behind the Masks Chapter 2: A Walk In Our Shoes campaign is to highlight exceptional nurses like Nurse Danz and recognize the profound impact they have on their patients and communities. Follow along this week for more stories and to learn about CeraVe's ongoing commitment to the nurse community here.

Joy
It only costs them a little more than $30,000 a year.
True
It takes a special type of person to become a nurse. The job requires a combination of energy, empathy, clear mind, oftentimes a strong stomach, and a cheerful attitude. And while people typically think of nursing in a clinical setting, some nurses are driven to work with the people that feel forgotten by society.
Michelle Santizo is a street medicine nurse working in Los Angeles, California. For her, the field of street medicine requires providing lifesaving health services in unpredictable and sometimes uncomfortable environments, but is where she is most passionate about her work.

Nurse Santizo credits her parents for teaching her resilience, a necessary trait when providing care in places like tents, under bridges, in alleys, vehicles, at libraries, on the side of the freeway or even at a bus stop.
"Every corner of Los Angeles needs our services," said Nurse Santizo. "It can be in a pristine, abandoned, trashed, or graffiti-filled neighborhood."
Michelle | Heroes Behind the Masks presented by CeraVe www.youtube.com
Santizo prepares for the workday by loading her backpack with supplies before heading to a section of downtown L.A. known as "skid row" to care for her clients, who are typically people experiencing homelessness and living on the fringes of society without regular access to healthcare. As the child of immigrant parents, she experienced firsthand a lack of healthcare and basic necessities. Her mother fled from El Salvador as a young woman, arriving in the United States alone and without shelter.
"My mother told me that the only people that acknowledged her while sleeping outside on a bench [were the people going in and out of] the church that was across the street," said Nurse Santizo. She said her mother instilled in her that there are many reasons why people are homeless and that each individual has their own story. "[She] taught me to never judge someone's struggle … my mother's inspiring upbringing taught me if you have the time to help the broken or disadvantaged, then take a moment to acknowledge or help in some positive way."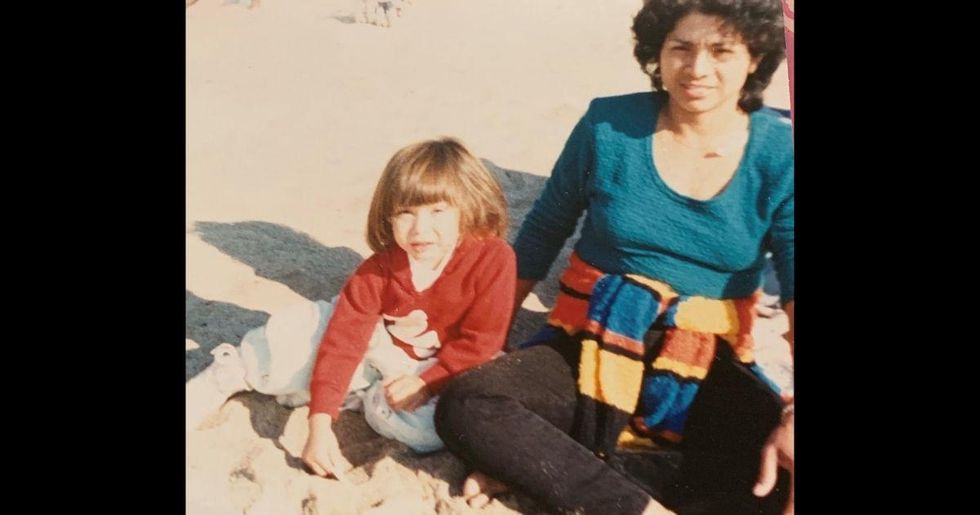 Michelle and her mother on a beachCourtesy of Michelle Santizo
Growing up, Nurse Santizo watched her parents struggle to earn a living wage to keep up with the family's needs. "My father worked nearly seven days of the week and my mother worked as much as she could in jobs like babysitting, cleaning homes or caregiving. Feeding our family was my parent's main concern…healthcare and all the other important aspects of life became secondary or non-existent. My parents could barely make enough income to buy fresh fruit or vegetables," she said.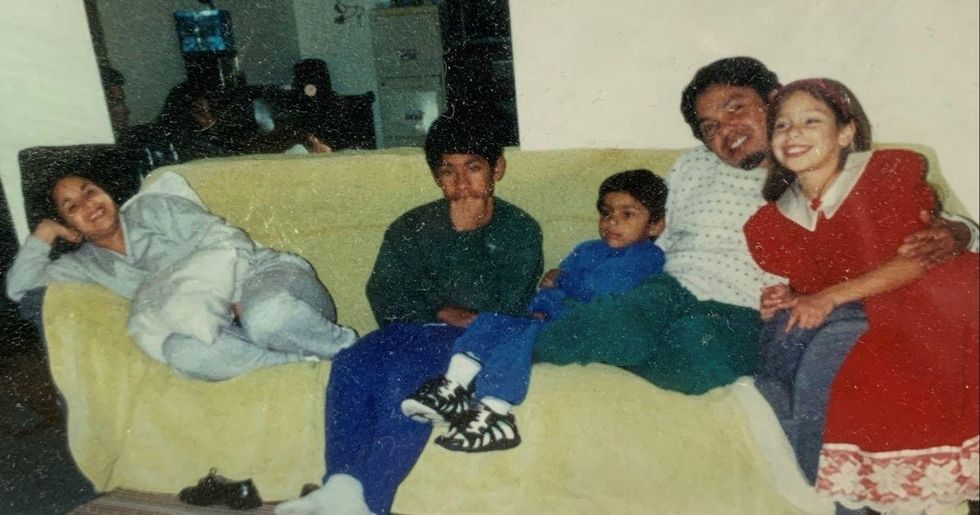 The Santizo familyCourtesy of Michelle Santizo
That upbringing is what drove her to pursue a career in medicine, with the goal of giving back to underserved communities. "[Access to] medicine should not be determined based on your socioeconomic status. It should be a right for someone to seek healthcare when it is needed and important, especially for children and adolescents who will be the future of our generation," said Nurse Santizo. She credits her lack of access to healthcare as a child for empowering her to keep pushing for change.
When the opportunity to practice street nursing arose, Santizo knew instinctively that it was the right fit. Every workday she has meaningful interactions, but one experience in particular had a lasting impression on her. She encountered a middle-aged man who had lost his job during the pandemic and was forced to live on the streets. Nurse Santizo approached, and he asked if she wouldn't mind examining his feet. As she gently inspected the condition of his skin, she explained that he needed a thorough cleaning and a special ointment and offered to wash his feet and patch them up.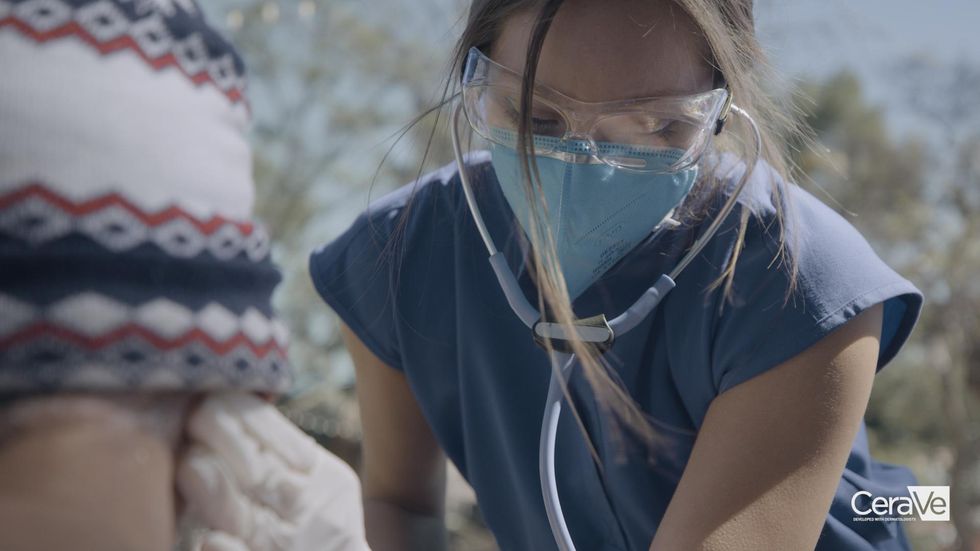 Courtesy of CeraVe
"This kind man stared right into my eyes and nearly cried, as he shared 'no one has ever cared for me like this ever since I've been forced to live on the streets, nor has anyone ever acknowledged my existence,'" recalled Nurse Santizo. "I remember squatting on the side of the street while cars were driving by … my only mission was to devote that moment in time to servicing a person who needed my attention and love. As you can tell, I love what I do, and I could scrub feet for days when servicing the most vulnerable populations."
According to the most recent report, approximately 580,466 people were experiencing homelessness in America in January 2020. Most were individuals (70%) and the rest were people living in families with children. The full effect of the pandemic on the homeless populations across the country have yet to become clear, and hard data will not be fully known until late 2022 or early 2023.
"Bringing medicine to people who are not able to seek medical assistance due to their inabilities whether it be homelessness, chronic illness, or mental health has always been my true calling … to serve the broken, the sick, the vulnerable and the ones who really need a second chance at life," said Nurse Santizo, a reminder that no one knows what another human is battling.
To recognize the healthcare professionals that are so often giving to others before themselves, CeraVe seeks to spotlight those that go beyond the call of duty for their patients and communities. The brand is honoring nurses such as Santizo in the second iteration of a docuseries titled Heroes Behind the Masks Chapter 2: A Walk In Our Shoes.
Follow along in the coming days for more stories of heroism, kindness and love.
From Your Site Articles
Related Articles Around the Web
Get stories worth sharing delivered to your inbox
Get stories worth sharing delivered to your inbox