Photo courtesy of Justin Sather
True
Upworthy and GoFundMe are celebrating ideas that make the world a better, kinder place. Visit upworthy.com/kindness to join the largest collaboration for human kindness in history and start your own GoFundMe.
While most 10-year-olds are playing Minecraft, riding bikes, or watching YouTube videos, Justin Sather is intent on saving the planet. And it all started with a frog blanket when he was a baby.
"He carried it everywhere," Justin's mom tells us. "He had frog everything, even a frog-themed birthday party."
In kindergarten, Justin learned that frogs are an indicator species – animals, plants, or microorganisms used to monitor drastic changes in our environment. With nearly one-third of frog species on the verge of extinction due to pollution, pesticides, contaminated water, and habitat destruction, Justin realized that his little amphibian friends had something important to say.
"The frogs are telling us the planet needs our help," says Justin.
While it was his love of frogs that led him to understand how important the species are to our ecosystem, it wasn't until he read the children's book What Do You Do With An Idea by Kobi Yamada that Justin-the-activist was born.
Inspired by the book and with his mother's help, he set out on a mission to raise funds for frog habitats by selling toy frogs in his Los Angeles neighborhood. But it was his frog art which incorporated scientific facts that caught people's attention. Justin's message spread from neighbor to neighbor and through social media; so much so that he was able to raise $2,000 for the non-profit Save The Frogs.
And while many kids might have their 8th birthday party at a laser tag center or a waterslide park, Justin invited his friends to the Ballona wetlands ecological preserve to pick invasive weeds and discuss the harms of plastic pollution.
Justin's determination to save the frogs and help the planet got a massive boost when he met legendary conservationist Dr. Jane Goodall.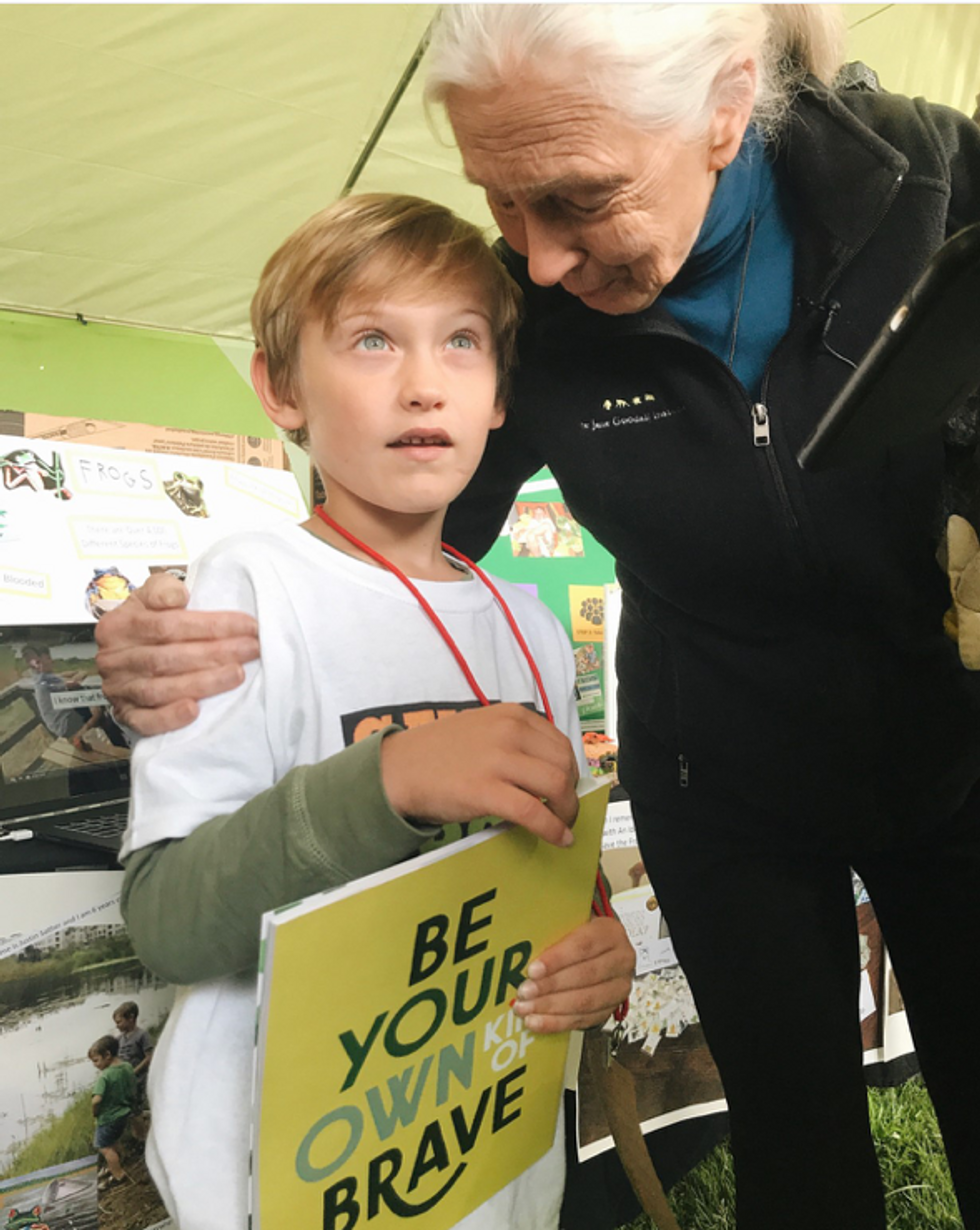 Photo courtesy of Justin Sather
At one of her Roots and Shoots youth initiative events, Dr. Goodall was so impressed with Justin's enthusiasm for helping frogs, she challenged the young activist to take it one step further and focus on plastic pollution as well. Justin accepted her challenge and soon after was featured in an issue of Bravery Magazine dedicated to Jane Goodall.
In the following months, Justin learned how to turn fishing line into bracelets, transform plastic bags into doormats, recycle crayons, and shred plastic to make bowls. For him, turning trash into treasure became a thing of magic. He even collected 200 pounds of plastic caps, and transformed this trash into a buddy bench for his school.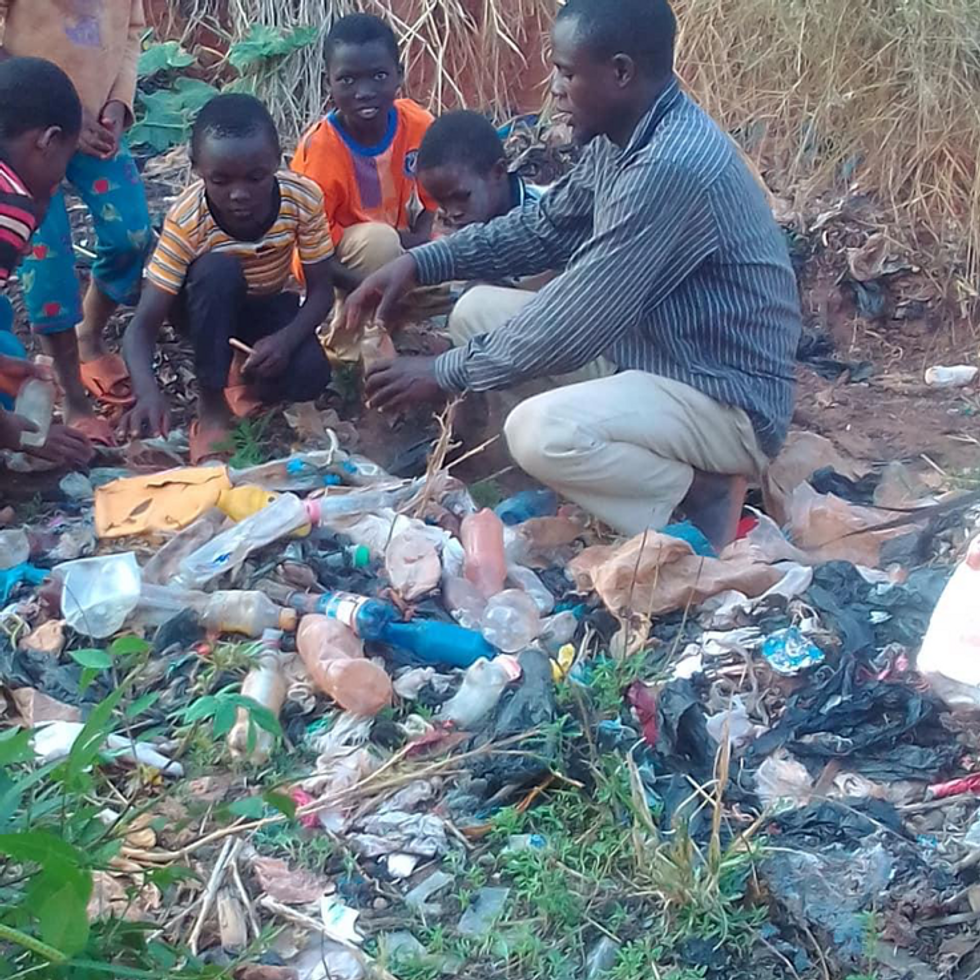 Photo courtesy of Justin Sather
On Earth Day 2019, Perise Foran, an environmental science student from Cameroon reached out to Justin asking for help. Justin saw that the streams where Perise lived were overflowing with plastic garbage, and quickly agreed to help his new friend. The two of them started off with a plan to transform the 8,000 plastic bottles Perise collected on a World Litter Run and had been sitting in his yard for over 6 months.
According to Reuters, every minute, a million plastic bottles are bought around the world. And according to PlasticOceans.org, every minute, a full garbage truck's worth of plastic is dumped into our oceans. Upon learning those facts, Justin further strengthened his resolve.
He started asking everyone he was connected to for suggestions on what could be done with Perise's stockpile of bottles. Soon, creative upcycling ideas began pouring in from all around the world. Justin completed the projects with family and friends in the United States, and encouraged Perise to do the same in "parallel" in Cameroon. That's when Justin's Parallel Projects GoFundMe was created. Its aim is to raise awareness about water quality, find creative solutions to the plastic pollution issue, educate people to move away from single-use plastics, and inspire youth to become eco-heroes.
Soon, the Parallel Projects ideas spread to other countries like Kenya, Canada, Tanzania, and Nigeria, resulting in trash transforming into toys, bottle cap art, flower planters, jewelry, and more.
One might think that Justin had his hands full with all these projects… but he didn't stop there.
This summer, Justin's dream of visiting the rare and exotic frogs of Ecuador's Choco Cloud Forest came true with the Reserva Youth Council. Through his land conservation GoFundMe, and with generous donations from the Rainforest Trust, Old Navy, and the public, Justin purchased 30 acres of land which protected habitat for critically endangered species that were at risk from logging and ranching.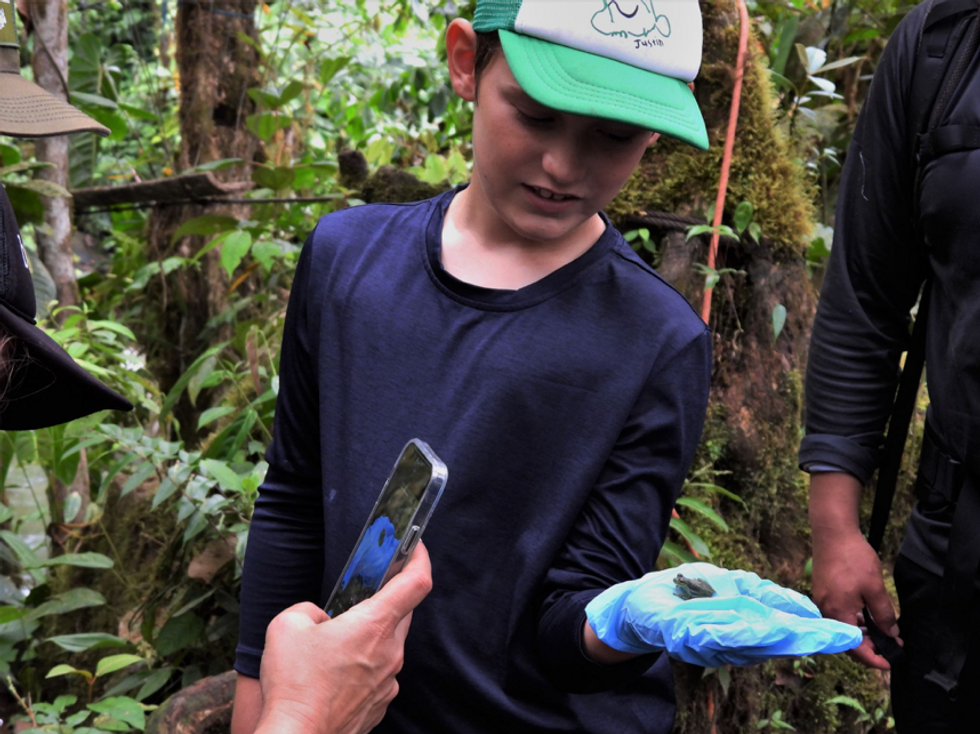 Photo courtesy of Justin Sather
Through a separate Reserva Youth Council initiative, Justin's goal now is to collect a million letters from young people like himself to send to world leaders with the aim of protecting 30% of the planet by 2030.
For anyone looking to help the planet Justin suggests to "start off small, take chances, and be brave."
To learn more about Justin Sather and his initiatives visit his website. Or donate directly to his GoFundMe's For the Love of Frogs, the Parallel Projects, and habitat protection in Ecuador.
Our collective childhoods have been forever influenced by the imaginative, heartwarming stories of Roald Dahl. Classics like Charlie and The Chocolate Factory, Matilda, and Fantastic Mr. Fox continue to grace bookshelves, movie screens, and even the stages of Broadway.

But today, on what would have been Dahl's 104th birthday, we're going to share one of his lesser known- yet arguably most provocative-works of literature.
Despite the whimsical nature of his fictional worlds, Roald Dahl took the importance of immunization seriously, after losing his seven year old daughter Olivia to measles in 1962. Once the measles outbreak made a resurgence in 1986, Dahl wrote his own gut-wrenching call-to-action in the Sandwell Health Authority. His stance on vaccinations is made quite clear:

Measles: A Dangerous Illness
Olivia, my eldest daughter, caught measles when she was seven years old. As the illness took its usual course I can remember reading to her often in bed and not feeling particularly alarmed about it. Then one morning, when she was well on the road to recovery, I was sitting on her bed showing her how to fashion little animals out of coloured pipe-cleaners, and when it came to her turn to make one herself, I noticed that her fingers and her mind were not working together and she couldn't do anything.
"Are you feeling all right?" I asked her.
"I feel all sleepy," she said.
In an hour, she was unconscious. In twelve hours she was dead.
The measles had turned into a terrible thing called measles encephalitis and there was nothing the doctors could do to save her. That was twenty-four years ago in 1962, but even now, if a child with measles happens to develop the same deadly reaction from measles as Olivia did, there would still be nothing the doctors could do to help her.
On the other hand, there is today something that parents can do to make sure that this sort of tragedy does not happen to a child of theirs. They can insist that their child is immunised against measles. I was unable to do that for Olivia in 1962 because in those days a reliable measles vaccine had not been discovered. Today a good and safe vaccine is available to every family and all you have to do is to ask your doctor to administer it.
It is not yet generally accepted that measles can be a dangerous illness. Believe me, it is. In my opinion parents who now refuse to have their children immunised are putting the lives of those children at risk. In America, where measles immunisation is compulsory, measles like smallpox, has been virtually wiped out.
Here in Britain, because so many parents refuse, either out of obstinacy or ignorance or fear, to allow their children to be immunised, we still have a hundred thousand cases of measles every year. Out of those, more than 10,000 will suffer side effects of one kind or another. At least 10,000 will develop ear or chest infections. About 20 will die.
LET THAT SINK IN.
Every year around 20 children will die in Britain from measles.
So what about the risks that your children will run from being immunised?
They are almost non-existent. Listen to this. In a district of around 300,000 people, there will be only one child every 250 years who will develop serious side effects from measles immunisation! That is about a million to one chance. I should think there would be more chance of your child choking to death on a chocolate bar than of becoming seriously ill from a measles immunisation.
So what on earth are you worrying about? It really is almost a crime to allow your child to go unimmunised.
The ideal time to have it done is at 13 months, but it is never too late. All school-children who have not yet had a measles immunisation should beg their parents to arrange for them to have one as soon as possible.
Incidentally, I dedicated two of my books to Olivia, the first was 'James and the Giant Peach'. That was when she was still alive. The second was 'The BFG', dedicated to her memory after she had died from measles. You will see her name at the beginning of each of these books. And I know how happy she would be if only she could know that her death had helped to save a good deal of illness and death among other children.
It almost goes without saying: the subject matter of Dahl's letter is eerily relevant even in our modern era. A proven solution to a seemingly unending health crisis is available, and yet that solution is no match for senseless and unfounded rebellion.

In a time of continued dissonance and confusion, perhaps Roald's words can teach us to think critically, act bravely, and not succumb to fear, just as they have in his beloved creative works.
From Your Site Articles
Related Articles Around the Web
Get stories worth sharing delivered to your inbox