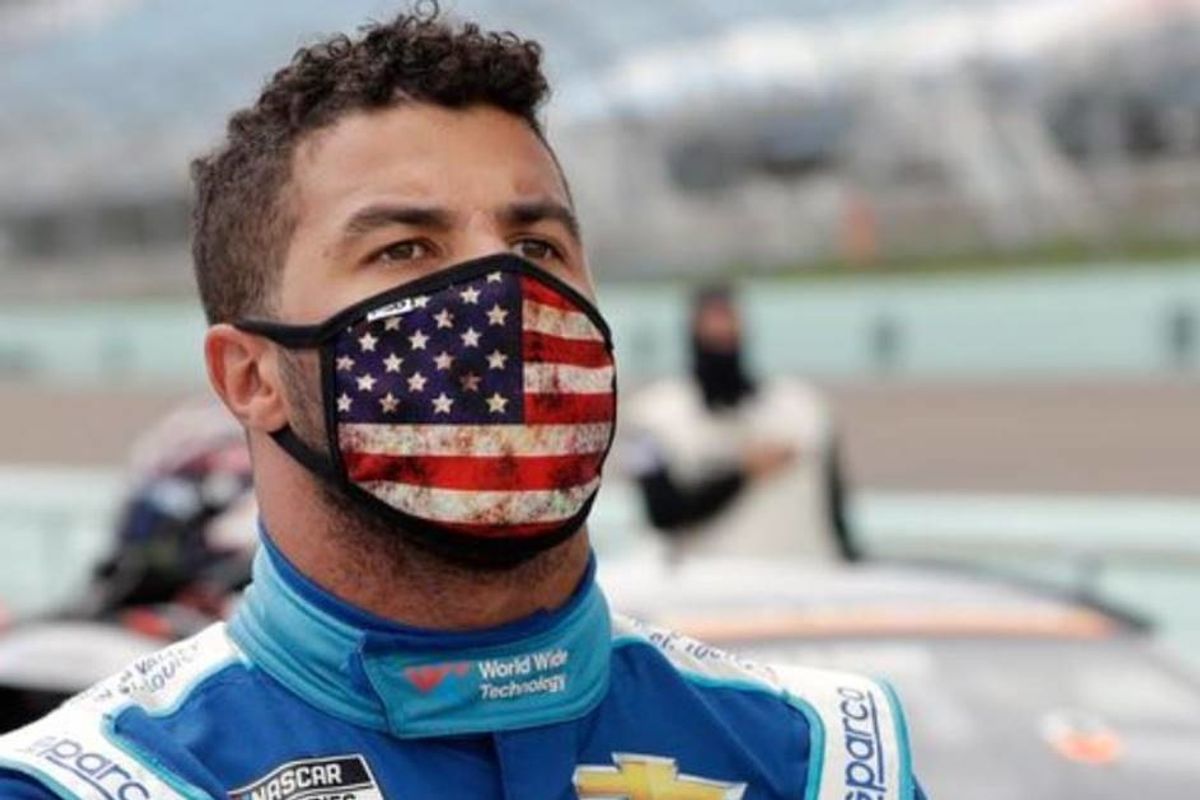 via frankieOz / Twitter
UPDATE: An FBI investigation has revealed that a rope fashioned like a noose was simply being used to prop open a door inside the Talladega garage where Bubba Wallace's NASCAR team was recently assigned. In fact, video and photographic evidence revealed that the noose has been positioned in such a way as late as last fall.
"The FBI report concludes, and photographic evidence confirms, that the garage door pull rope fashioned like a noose had been positioned there since as early as last fall," NASCAR said in its statement. "This was obviously well before the 43 team's arrival and garage assignment.
ESPN broke the news Tuesday afternoon, which came after a huge outpouring of support for Wallace from all corners of professional sports around the world. Wallace, NASCAR's only black driver, has been at the center of the sport's decision to ban Confederate flags from race cars and its arenas.
"We appreciate the FBI's quick and thorough investigation and are thankful to learn that this was not an intentional, racist act against Bubba," NASCAR added in their statement. "We remain steadfast in our commitment to providing a welcoming and inclusive environment for all who love racing."
Original story begins below.
###
NASCAR's Bubba Wallace took a bold stance two weeks ago by pushing the sport to ban the Confederate flag from its events.

Just two days later, NASCAR released a statement announcing the ban, saying that: "The presence of the Confederate flag at NASCAR events runs contrary to our commitment to providing a welcoming and inclusive environment for all fans, our competitors and our industry."
Wallace is the only full-time black driver in NASCAR's top circuit. He drives the No. 43 car with Richard Petty Motorsports.
---
Bubba Wallace wore an "I can't breathe" shirt, and will drive in a car painted with Black Lives Matter art in tonig… https://t.co/Un64zWHGBi

— SportsCenter (@SportsCenter) 1591832548.0
Wallace's bravery was challenged by an extremely cowardly and racist act on Sunday when a noose was hung in his garage at the Talladega Superspeedway in Lincoln, Alabama. There were also many Confederate flags flown outside of the raceway in protest of NASCAR's ban.

Fortunately, according to ESPN, a member of Wallace's team found the noose before Wallace and quickly notified NASCAR authorities.
The incident prompted a stern response from NASCAR.
"Late this afternoon, NASCAR was made aware that a noose was found in the garage stall of the 43 team. We are angry and outraged, and cannot state strongly enough how seriously we take this heinous act," NASCAR said in a statement. "We have launched an immediate investigation, and will do everything we can to identify the person(s) responsible and eliminate them from the sport."
"As we have stated unequivocally, there is no place for racism in NASCAR, and this act only strengthens our resolve to make the sport open and welcoming to all."
Wallace knew there was going to be a backlash to his push to have the flags removed but that didn't stop him from speaking out. "There's going to be a lot of angry people that carry those flags proudly but it's time for change," he said.

Athletes from across the world of American sports have come together to support Wallace in the aftermath of the ugly incident. Many of NASCAR's biggest names apoke out on Twitter.
https://t.co/jfKV0VYN7o

— Richard Petty Motorsports (@Richard Petty Motorsports) 1592842710.0
Hope Bubba wins it tomorrow.

— Dale Earnhardt Jr. (@Dale Earnhardt Jr.) 1592800972.0
I can't begin to fathom the pain this action has caused. I stand with you @BubbaWallace. https://t.co/lV8v46ktWN

— Jimmie Johnson (@Jimmie Johnson) 1592819048.0
I'll race with him on Sunday and ride with him on a Monday. I do this because he's family, our @NASCAR family!!!… https://t.co/VwEY1zOsAX

— Clint Bowyer (@Clint Bowyer) 1592833117.0
Los Angeles Laker LeBron James, arguably the most popular athlete in America, also sent a message of support for Wallace, calling the incident "Sickening!"
Sickening! @BubbaWallace my brother! Know you don't stand alone! I'm right here with you as well as every other ath… https://t.co/oIxYMDU7K2

— LeBron James (@LeBron James) 1592798283.0
Athletes from the NFL, PGA Tour and even the WWE, sent their support as well.
I stand with you champ https://t.co/GGRXWwy2FM

— Tyrann Mathieu (@Tyrann Mathieu) 1592798850.0
This is so gross and pathetic. I've never been much into NASCAR but I am damn sure rooting for @BubbaWallace to bal… https://t.co/opgPhGitPY

— max homa (@max homa) 1592799762.0
I STAND WITH @BubbaWallace ✊🏿✊🏿❤️ https://t.co/5qDnHrQHKi

— Titus O'Neil (@Titus O'Neil) 1592800687.0
.@BubbaWallace this is so powerful what you are doing with @NASCAR https://t.co/3wAXBeUt4T

— kuz (@kuz) 1592795783.0
Wallace has no intention of letting the incident stop his attempts to eliminate racism from the sport.

"Together, our sport has made a commitment to driving real change and championing a community that is accepting and welcoming of everyone," he said in a statement. "Nothing is more important and we will not be deterred by the reprehensible actions of those who seek to spread hate.
"As my mother told me today, 'They are just trying to scare you,'" he said. "This will not break me, I will not give in nor will I back down. I will continue to proudly stand for what I believe in."
https://t.co/koL655AJB9

— Bubba Wallace (@Bubba Wallace) 1592794437.0
In a show of solidarity on Monday, NASCAR drivers and crews pushed Wallace's car to the front of the grid at Talladega before the race.

Multiple NASCAR drivers and crew members joined Bubba Wallace, pushing his No. 43 car to the front at Talladega. (… https://t.co/4wwODWDzZl

— SportsCenter (@SportsCenter) 1592852205.0
From Your Site Articles
Related Articles Around the Web