More
Eight-year-old homeless refugee wins a chess championship, inspires a tidal wave of generosity.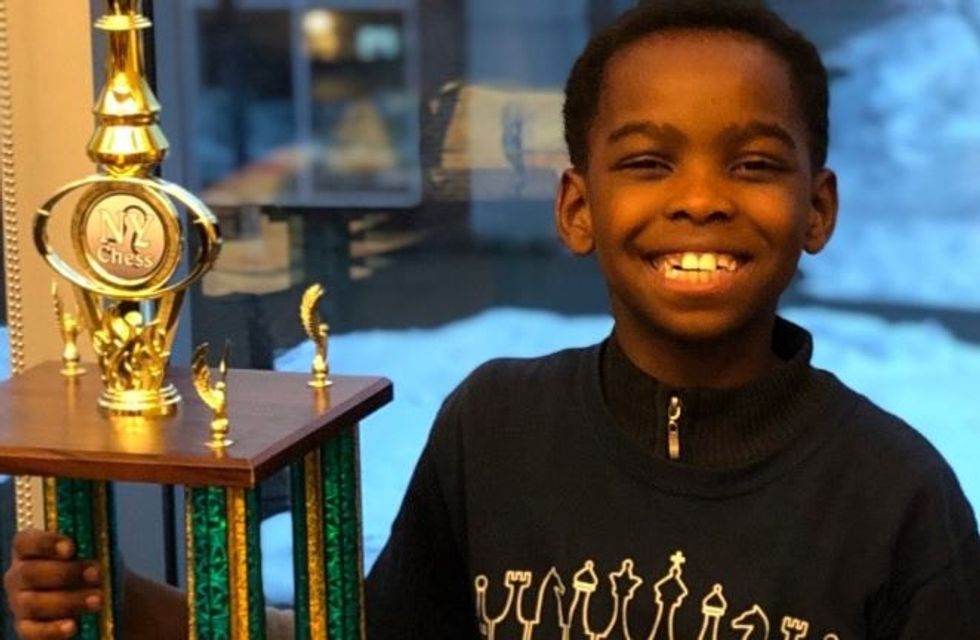 Eight-year-old Tanitoluwa Adewumi won first place in the New York State Scholastic Championships tournament for kindergarten through third grade March 10.
He went undefeated in the tournament beating children from elite private schools.
"I want to be the youngest grandmaster," he told the New York Times.
---
While the feat is impressive, what's even more remarkable is that Tani, as he's known, has only been playing chess for one year. Add to that, he's only lived in America for two years — his family fled northern Nigeria in 2017 avoid being killed by Boko Haram terrorists.
And he lives in a homeless shelter.
For a little more than a year, Tani and his mother and father have lived in a shelter in New York City. His mother recently passed a course to become a home health aide and his father, Kayode, rents a car so he can drive for Uber and recently became a licensed real estate salesman.
The family has requested asylum, but their request is coming along slowly. The have a hearing scheduled for August.
Young Tani already has seven chess trophies that sit beside his bed in the shelter. He became enamored with the game after joining the chess club at his school P.S. 116. When the head of the school's chess program, Russell Makofsky, heard that Tani's Family as homeless he waived the fees.
"He is so driven," his school chess teacher, Shawn Martinez, said. "He does 10 times more chess puzzles than the average kid. He just wants to be better."
In addition to participating in the school chess program, every Saturday he attends a three-hour practice session in Harlem. He also practices every night on his father's laptop.
When news of his astonishing story spread, Makofsky started a GoFundMe campaign to help the family find a place to live. In just four days the campaign has already raised nearly $200,000 for the family — more than enough to get them an apartment.
After the generous donations poured in and the family knew they could get back on their feet, Kayode decided to pay it forward. He announced on the GoFundMe page that the rest of the money would go to create the Tanitoluwa Adewumi Foundation "to share the generosity of others to those in need."
"The U.S. is a dream country," Kayode told The New York Times. "Thank God I live in the greatest city in the world, which is New York, New York."