Culture
'Tipsy cook' shares her brilliant egg-peeling hack that saves time AND finger burns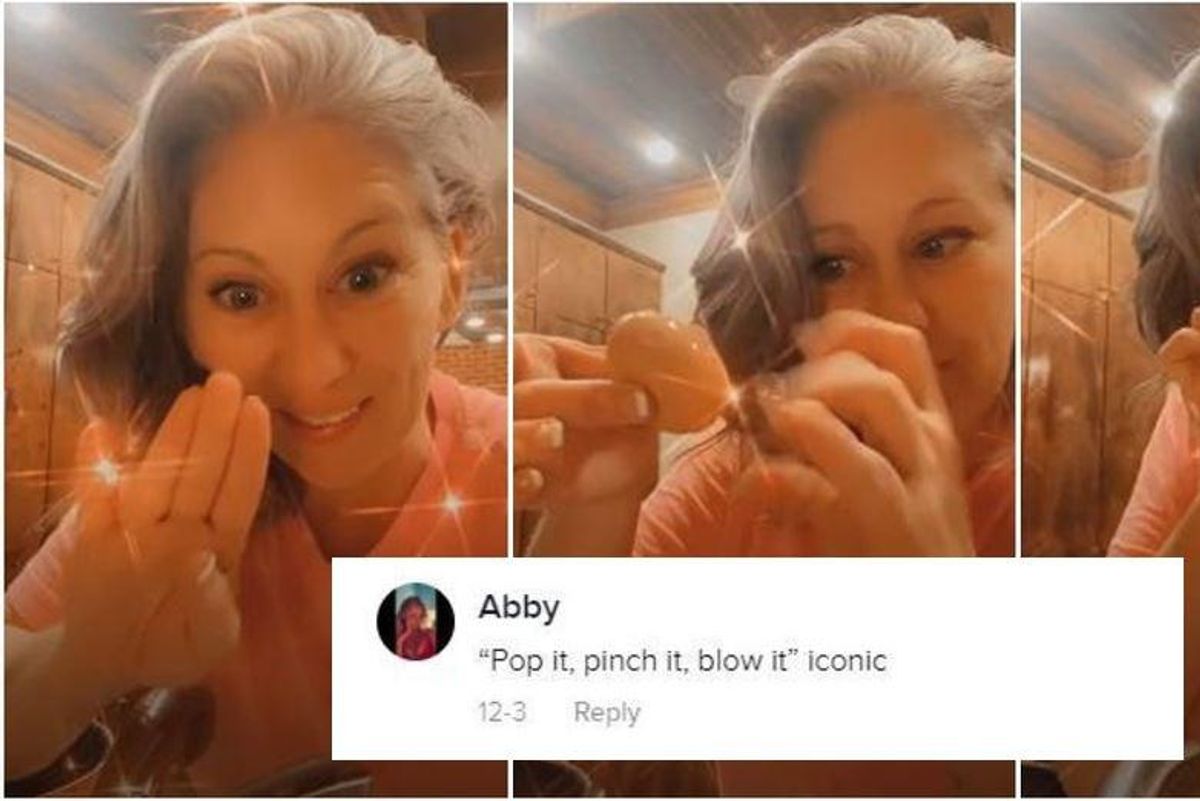 via Melinda L. Friend / TikTok
Hard-boiled eggs are a great source of protein and an affordable way to whip up a quick meal. They're the basis for potato and egg salads, they bring heartiness to a cobb salad and the perfect topping for a Portuguese pizza.

Yep, that's right. In Brazil, they put hard-boiled eggs on top of their pizza and call it a Portuguese pizza. Don't judge it until you've tried it.
But the problem with hardboiled eggs is that they're hot as hell to peel with your fingers and removing the shell can be a painstaking process if it doesn't all come off in one big rip. It's also tough to get the entire shell off when the egg when they're the same color because they blend in together.
---
If you miss a piece you'll get a hard surprise when you bite into the egg.
That's why an egg-peeling hack by TikTok user Melinda L. Friend is getting so much love on social media. She's figured out a magical way to squeeze the egg out of the shell, making the process about 90% faster while preventing finger burns.
The video is also getting a lot of love because she's clearly a bit tipsy in the video. But she has nothing to hide. At the beginning of the clip posted on Thanksgiving, she admits to drinking two bottles of wine.
In the video, Melinda drops a beautiful catchphrase that sounds like it could be the hook to a trap song: "Pop it, pinch it, blow it." It also makes the technique easy to remember.

Needless to say, the commenters were blown away by this amazing cooking hack.
"One more bottle and she might just find the cure for cancer," a TikTok user commented. "Give her three bottles of wine and she might find the cure for COVID," another remarked.
"This only works if you blow a .20 alcohol level," a commenter joked.
There were also more than a few commenters who noted the hack wasn't the healthiest thing to do during a pandemic. "Ok, covid eggs was the first thing I thought, but I couldn't help but laugh," Kristen said.

After the video went viral, Melinda shared a follow-up where she revealed the bottles of wine she drank before making the video. Originally, she said she drank two, but it looks as though she was working on a third.
Well, two bottles of wine can make your memory a bit fuzzy. The video was appropriately set to "Drinking Problem" by Midland.
People say I've got a drinkin' problem
That ain't no reason to stop
People sayin' that I've hit rock bottom
Just 'cause I'm living on the rocks
It's a broken-hearted thinkin' problem
So pull that bottle off the wall
People say I got a drinkin' problem
But I got no problem drinkin' at all