Family
Demi Lovato and Jameela Jamil tag team a take down of a body-shaming headline because size does not matter.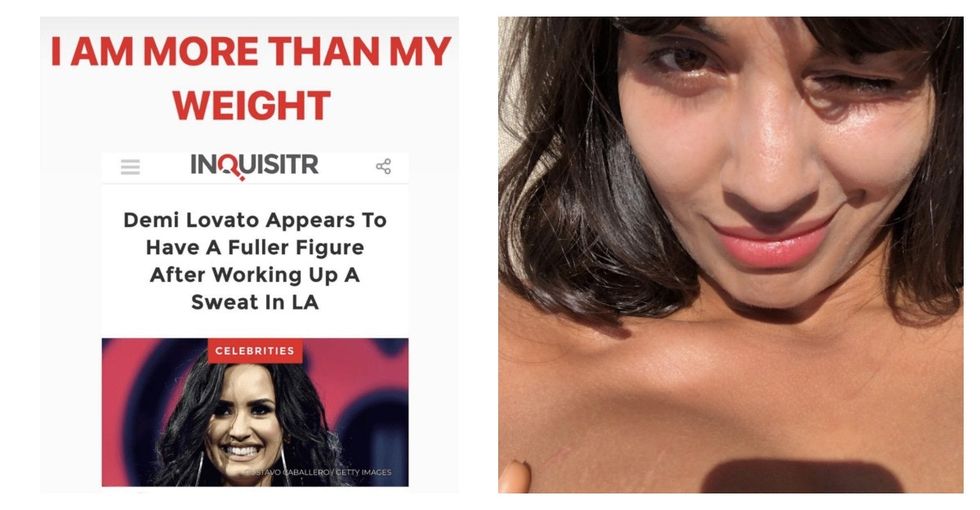 Demi Lovato was body-shamed last week by a publication that called attention to her "fuller figure." They had no idea who they were messing with.
"Demi Lovato Appears To Have A Fuller Figure After Working Up A Sweat In LA," read The Inquisitir's incredibly inappropriate and insensitive headline. Being the body image queen that she is, Lovato, who has struggled with an eating disorder throughout her life, didn't let the incident go unnoticed.
"I AM MORE THAN MY WEIGHT," she wrote in all caps in an Instagram story.
---
[rebelmouse-image 19480549 dam="1" original_size="640x949" caption="All photos via Demi Lovato/Instagram" expand=1]All photos via Demi Lovato/Instagram
But she didn't stop there.
"Unlike in the past, I'm not triggered, I'm not upset that someone wrote a headline about my 'fuller figure.' I'm angry that people think it's OK to write headlines about people's body shapes. Especially a woman who has been so open about being in recovery from an eating disorder. I'm not upset for myself but for anyone easily influenced by the diet culture."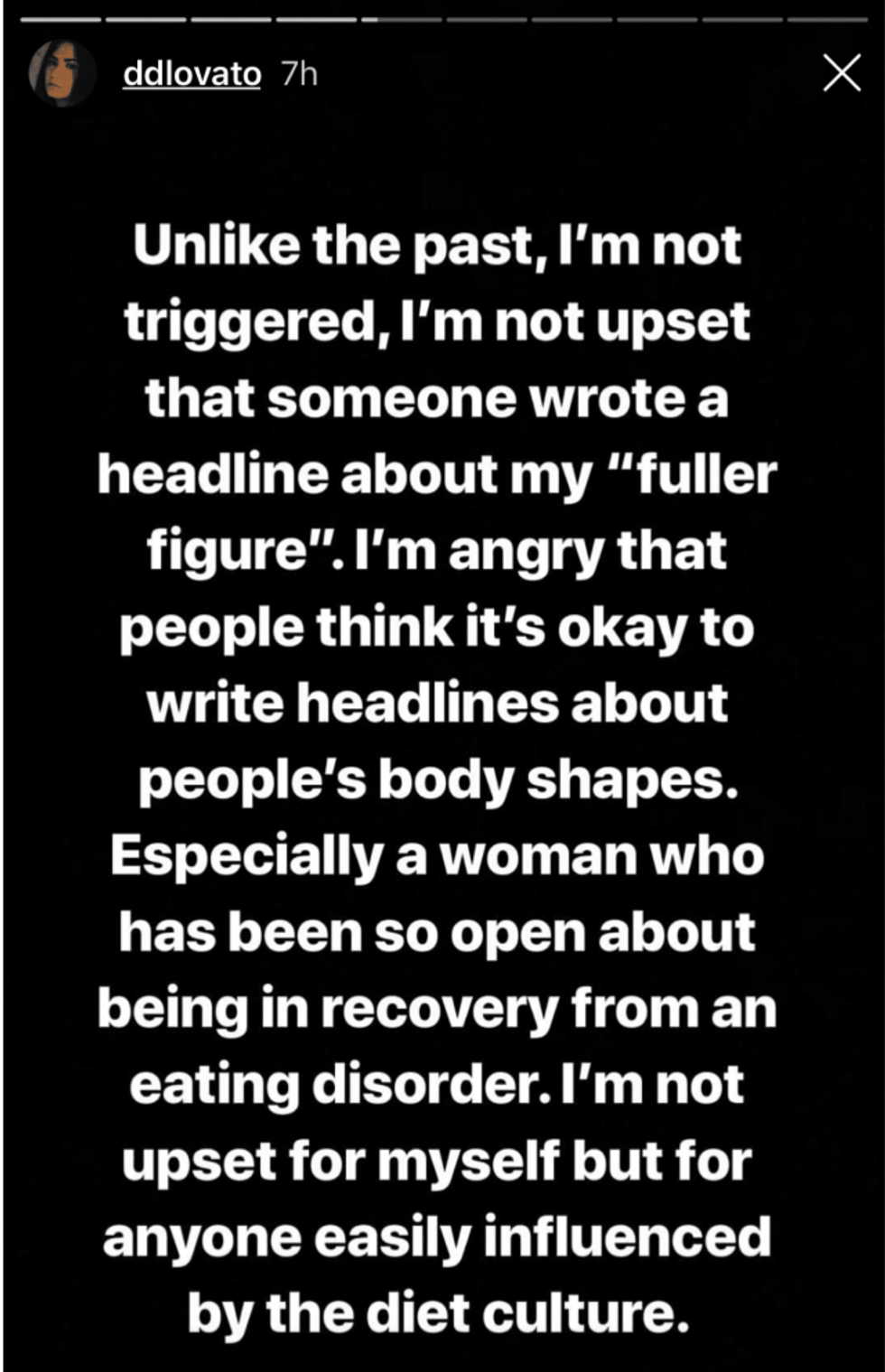 She then pointed out that articles like this contribute to a "toxic way of thinking," because many people "base their ideal body weight off of what OTHERS tell us we should look like or weigh."
Her final message was straight up awesome: "If you're reading this: Don't listen to negative diet culture talk. You are more than a number on a scale. And I am more than a headline about my body shape."
YAAAS, Queen!
Because this is 2019 and we are all in this together, fellow body confidence activist Jamil reopened the dialogue on Tuesday, issuing a warning to body-shaming bullies.
"Do not f–k with Demi Lovato," The Good Place star wrote on Instagram. "She is a queen, and if you think her weight is of any relevance to what she has achieved, or what she has meant to her fans, then you aren't worthy of even licking the sh-t off her Shoes."
In addition to thanking the "Sorry, Not Sorry" singer for being a source of "strength and light," she pointed out that weight should be a non-issue. "Nothing on earth makes your weight relevant unless you are an MMA fighter/wrestler/suitcase," she wrote.
Lovato clearly appreciated the backup, responding to Jamil's support with an all caps "I LOVE YOU," in the comments.
However, Jamil wasn't done. She went on to share a clip from a recent interview where she reminded us that weight is just an inconsequential number.
First, she pointed out how sexist weightism really is. "We don't know what men weigh, we don't care. We only care about what women weigh. We don't care about anything else about them. We just care about how little space they are taking up in this world. And I am fed up with that," she spat.
Jamil recently started the I Weigh movement on Instagram, spreading a message of equality, confidence and self-worth. Even her profile pic offers a new definition of weight — the sum of her parts that makes her special.  In her case, she explains, it is her financial independence, the fact that she is self-made, in a wonderful relationship and is a cancer survivor.
What is so incredibly awesome about Lovato and Jamil's tag team body- shaming takedown, is that they aren't just declaring that discussing someone else's weight is wrong — they're drawing attention to the more important qualities about a person we should be focusing on.
The more public figures stand behind each other in these moments and remind their fans what really matters is underneath their outward appearances, the less power body-shamers will have over all of us.