Science
David Attenborough's remarks after receiving lifetime Champion of the Earth award are a must-watch
Sir David Attenborough says we must see ourselves as citizens of one planet in order to solve our problems.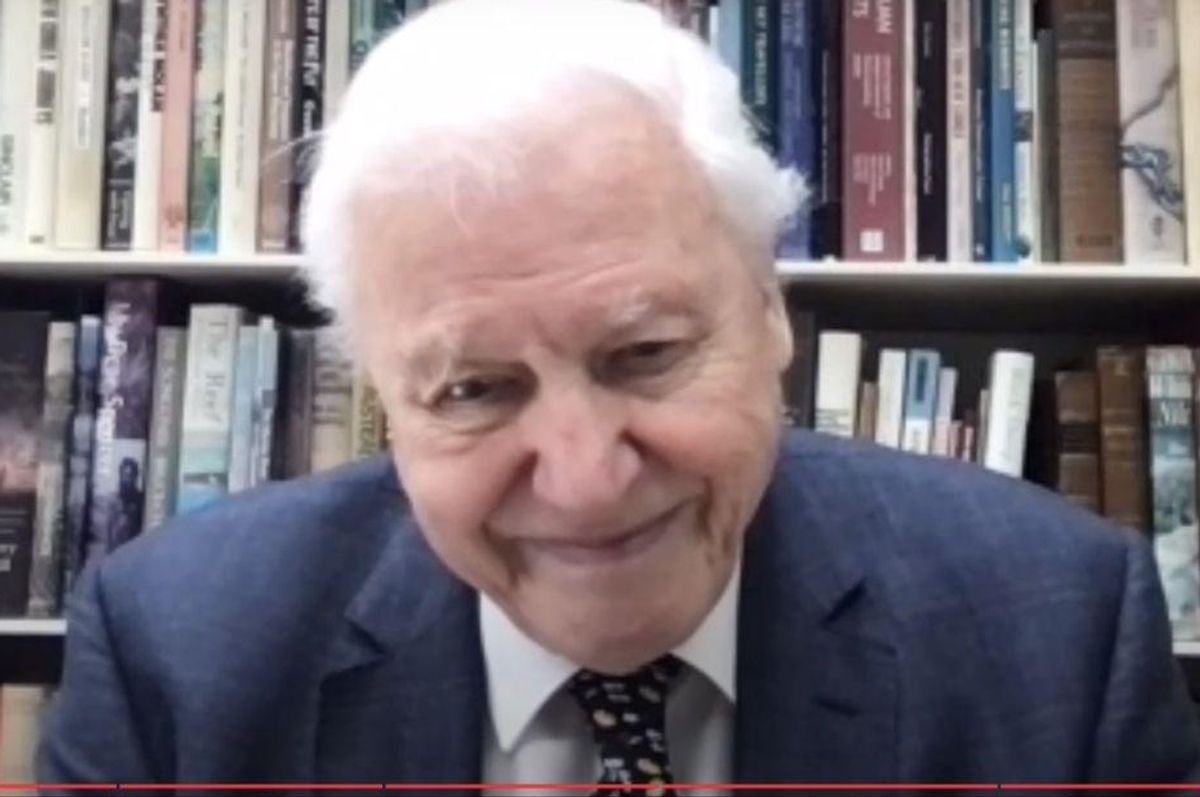 There are few absolutes in this world, but here's one of them: Sir David Attenborough is a priceless human treasure and anyone who disagrees is tragically wrong.
The 95-year-old broadcaster, writer and environmentalist has been educating and entertaining us by producing and narrating documentaries for decades, his soothing voice and gentlemanly British accent creating conservation champions the world over. David Attenborough loves the natural world and he makes others love it too by sharing its wonders and its beauty, in addition to its vulnerabilities due to human activity. His passion makes it nearly impossible to walk away from an Attenborough documentary without a deep desire to do something to protect our planet.
His long life of passionate dedication to conservation is why the UN Environment Programme (UNEP) has honored Attenborough with the prestigious Champions of the Earth Lifetime Achievement award. Having co-created well over 100 documentaries in his life, including recent groundbreaking series such as "Planet Earth," Attenborough has continued his illustrious career well into his 90s. And as the world has careened toward the damaging impacts of climate change, he hasn't let up in his push for humanity to alter our path before too much of that damage becomes irreversible.
"Sir David Attenborough has devoted his life to documenting the love story between humans and nature, and broadcasting it to the world," said UNEP Executive Director Inger Andersen.
"If we stand a chance of averting climate and biodiversity breakdowns and cleaning up polluted ecosystems, it's because millions of us fell in love with the planet that he showed us on television."
---
In an interview with Andersen, Attenborough explained that we will never solve the environmental crisis without the recognition that the world must work together as a unified body.
"We are living in a new era in which nationalism is simply not enough," he said. "We must wave goodbye to it. We must feel that we are all citizens of this one planet, because unless we do we won't solve the problems."
"We know what the problems are and we know how to solve them—all we lack is unified action," he said. "These problems cannot be solved by one nation, no matter how big that single nation is."
Andersen asked how we can get that message across to people. Attenborough excels at going beyond the scientific facts and speaking to people's hearts, and he explained how to capture people's attention and help them see why conservation is important.
"The most evocative pictures you can present are pictures of animals," he said. "They are understood around the world. A picture of a gorilla with its baby moves the hearts of every single human being on this planet. And we now have the technical devices in which we can present these things so that people can see what fantastic riches the world has. And you can explain how we depend upon them, how we are part of them, and that when we are saving them, we are saving ourselves."
Attenborough explained that we've seen great success with whale populations, which had dwindled to near extinction 50 or 60 years ago. People and seagoing nations around the world got together and decided to put a stop to practices that were killing off the whales.
"And we did," he said. "And now there are more whales in the sea than anybody alive as human beings have ever seen before. It's a wonderful success story."
Andersen asked Attenborough what message he wants to send to young people.
"The message is that it can be done. The message is that it is possible. The message is that the natural world has more resources than we can possibly imagine. We've worked out how to kill them. Now we could give them a chance for them to come back and save themselves and save us."
Attenborough closed out his interview with praise for the organization honoring him with the Champions of the Earth award.
"United Nations—two of the most important words in any language," he said. "And more important now than they have ever been.

Watch the interview: