Sustainability
Christmas tree rental provides a solution to the real vs. artificial tree dilemma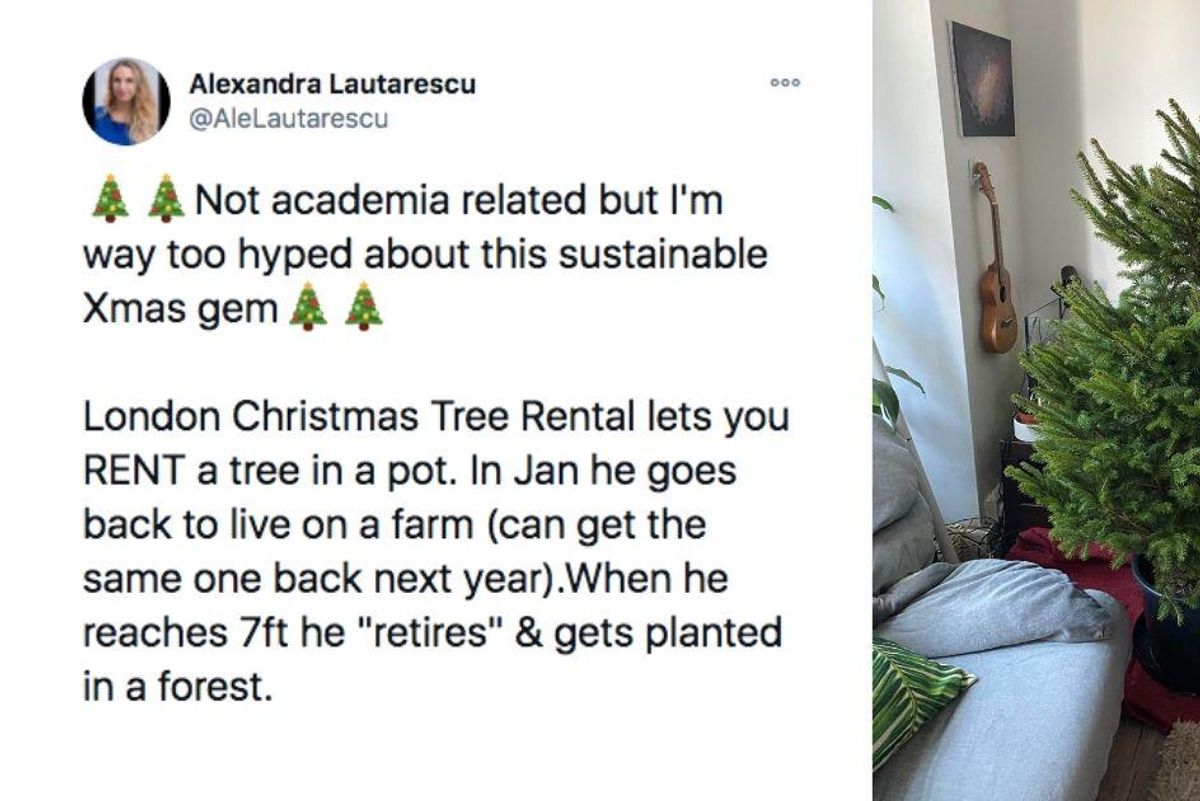 Alexandra Lautarescu/Twitter
It's Though many people are perfectly happy with their artificial versions (which have gotten more realistic over the years), there's nothing like the look and feel—and smell—of a real Christmas tree.
Both options come with an environmental cost, however. The Nature Conservancy states, "In the U.S., around 10 million artificial trees are purchased each season. Nearly 90 percent of them are shipped across the world from China, resulting in an increase of carbon emissions and resources. And because of the material they are made of, most artificial trees are not recyclable and end up in local landfills."
Real trees support tree farms, which only cut down and sell a fraction of the trees they grow and don't have the intensive carbon emissions that artificial trees do to produce and transport. However, if you go the real route, you're still killing a tree every year to decorate your home for the holidays.
This conundrum is why people are going ga-ga over the idea of rented, potted Christmas trees.
---
The concept is quite simple. Instead of buying a cut-down tree, you rent one in a pot for the holiday season. Alexandra Lautarescu shared a photo of her tree-in-a-pot from London Christmas Tree Rental and explained how it works. In January, the gets returned to the tree farm, where it lives the rest of the year.
You can actually rent the same tree each year until it outgrows Christmas tree height, at which time it gets planted in a forest.
🎄🎄Not academia related but I'm way too hyped about this sustainable Xmas gem🎄🎄 London Christmas Tree Rental lets y… https://t.co/g2qYt2442s

— Alexandra Lautarescu (@Alexandra Lautarescu) 1607171049.0
The tree comes with specific instructions for slowly introducing the tree to the temperature of your home and for watering and care. Renters also have to pay a damage deposit that doesn't get refunded if the tree dies, so there is some extra incentive to be a good steward of the tree.
It's a small operation and a side business for owners Catherine Loveless and Jonathan Mearns—a woman who runs a ballet school and a man who works as a public servant.
"It all started when walking the streets of London in January and weaving between the Christmas tree graveyards that Jonathan decided enough was enough," the company's website read. "With 7 million trees going into landfill each year for the sake of 3 weeks of pleasure there must be a better way to do Christmas trees."
The idea has proven to be quite popular. Last year, they rented out 100 trees and have sold out of their stock for this year.
The price of a rental ranges from around 40 to 70 British pounds, which equates to roughly $55 to $95 U.S., which is around the same average price of buying a cut tree.
There are some companies in the U.S. that offer similar live tree rental services. In fact, a California-based company, Rent a Christmas Tree, has been renting out potted Christmas trees since 2009.
As the desire for more sustainable practices becomes more and more embedded into people's consciousness, choices like what kind of Christmas tree to get become more and more relevant. One household's choices might not seem significant, but our individual actions do add up.
And as demand for more sustainable options grows, so will the supply. Just imagine how many more sustainable solutions humanity has up their sleeves.