Family
Christina Aguilera took off her makeup, and the transformation was powerful.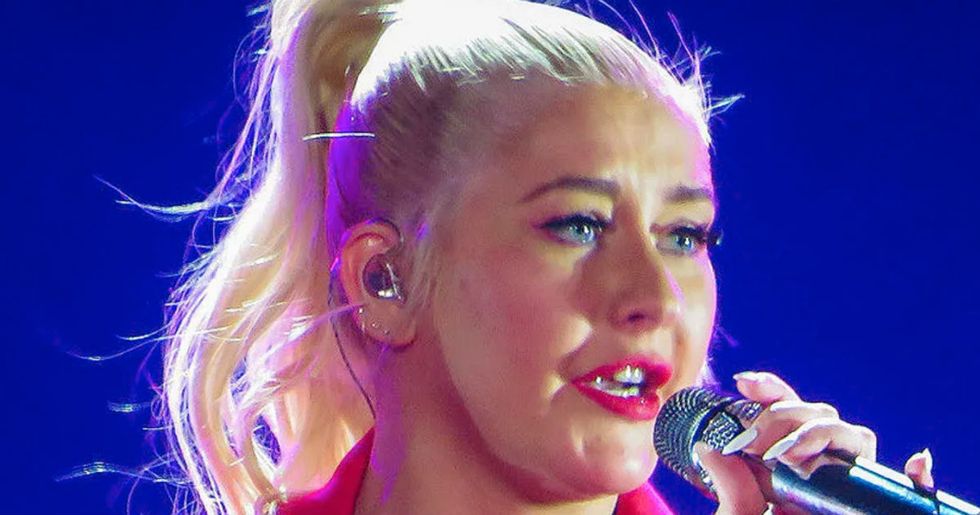 Most everybody knows what Christina Aguilera looks like.
The singer has never shied away from big looks. (Did you see her on the season 10 premiere of "RuPaul's Drag Race"?)
But there's a side you probably haven't seen of Aguilera no matter how long you've been a fan (and her career has spanned over two decades).
In the March issue of Paper magazine — with the theme of transformations — Aguilera went "Back to Basics" and "Stripped" off her makeup for the cover. No heavy lipstick or eyeliner here. Instead, the singer, who's known for her constant reinvention, opted for a dewy, natural look that's gorgeous but almost unrecognizable.
Who knew that Christina Aguilera had freckles? Certainly not the internet, which quickly exploded with support for Aguilera's cover.
But don't let the awe Aguilera's photo inspired get in the way of her message.
While the singer doesn't want us to "get it twisted" about her loving a "beat face" — she appears in avant-garde makeup throughout the rest of her Paper photoshoot and makes it clear that makeup/no makeup isn't a debate but a valid, personal choice. She told reporter Marie Lodi that appearing sans her signature dramatic look is liberating for her. Especially at a time in her career where she's poised to reinvent herself once more.
"I've always been someone that obviously loves to experiment, loves theatrics, loves to create a storyline and play a character in a video or through stage," Aguilera told Paper. "I'm a performer, that's who I am by nature. But I'm at the place, even musically, where it's a liberating feeling to be able to strip it all back and appreciate who you are and your raw beauty."
Raw beauty, of course, can be a loaded term.
Makeup is a form of artistic expression and everyone should feel confident doing what feels best for their style and body. But Aguilera's use of the word "liberation" is an allusion to the pressure that's placed on women to look "picture perfect" all the time.
It's a message that's been echoed by many other pop stars. Demi Lovato, for example, first bared herself in 2015, when she posed nude and un-retouched for Vanity Fair to promote body positivity and loving the skin we're in. More recently, in March 2018, Lovato shot a video for Vogue where she removed everything, from her makeup to her extensions, to show exactly what it takes to get her "performance ready."
"I think society tells us we need makeovers, but why can't we embrace the beauty that we naturally have?" Lovato said of her make-under. "I love makeup. I love doing my hair; I have extensions, but there's a time and a place for everything, and natural beauty needs to be celebrated."
Aguilera has no illusions about the entertainment industry and its double standards. "Either women are not sexual enough or we're not fulfilling enough of a fantasy," she told Paper, "but then if we're overtly sexual or feeling empowered in a certain kind of way, then we're shamed for it."
She's optimistic, however, about the future, saying that the criticism she's received for taking risks has allowed others to push the envelope further. "Madonna had to go through it in her day, and she paved the way for my generation to come up," Aguilera said. "And paying it forward, now a younger generation is coming up and I'm loving what I'm seeing. It's so incredible."
Empowering words. And an important reminder that we should always be ourselves. Let Aguilera inspire you to show off your "raw beauty" — whatever its form may be — every day.