Planet
The ocean is the heart of our planet. It needs our help to be healthy.
Ocean Wise
True
The ocean covers over 71% of the Earth's surface and serves as our planet's heart. Ocean currents circulate vital heat, moisture, and nutrients around the globe to influence and regulate our climate, similar to the human circulatory system. Cool, right?
Our ocean systems provide us with everything from fresh oxygen to fresh food. We need it to survive and thrive—and when the ocean struggles to function healthfully, the whole world is affected.
Pollution, overfishing, and climate change are the three biggest challenges preventing the ocean from doing its job, and it needs our help now more than ever. Humans created the problem; now humans are responsible for solving it.
#BeOceanWise is a global rallying cry to do what you can for the ocean, because we need the ocean and the ocean needs us. If you're wondering how—or if—you can make a difference, the answer is a resounding YES. There are a myriad of ways you can help, even if you don't live near a body of water. For example, you can focus on reducing the amount of plastic you purchase for yourself or your family.
Another easy way to help clean up our oceans is to be aware of what's known as the "dirty dozen." Every year, scientists release an updated list of the most-found litter scattered along shorelines. The biggest culprit? Single-use beverage and food items such as foam cups, straws, bottle caps, and cigarette butts. If you can't cut single-use plastic out of your life completely, we understand. Just make sure to correctly recycle plastic when you are finished using it. A staggering 3 million tons of plastic ends up in our oceans annually. Imagine the difference we could make if everyone recycled!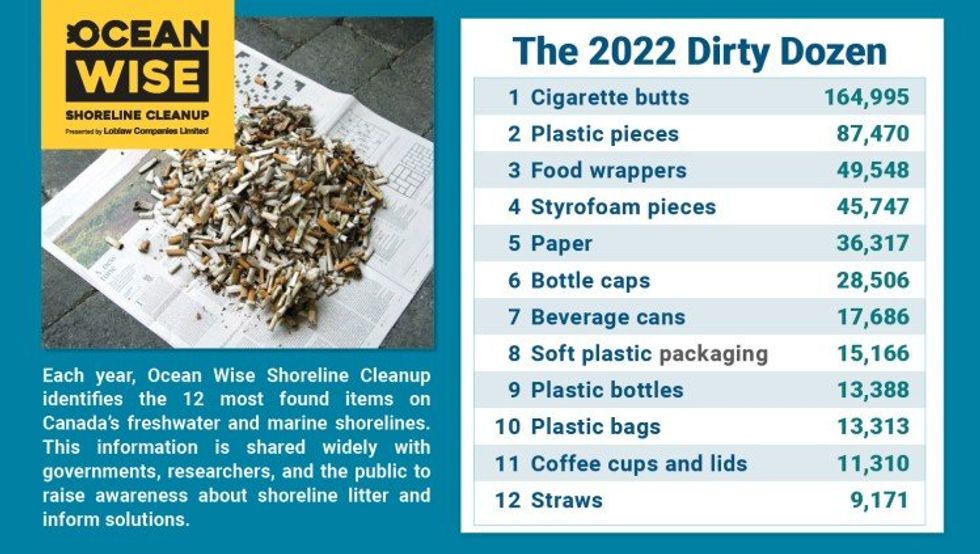 The 2022 "Dirty Dozen" ListOcean Wise
If you live near a shoreline, help clean it up! Organize or join an effort to take action and make a positive impact in your community alongside your friends, family, or colleagues. You can also tag @oceanwise on social if you spot a beach that needs some love. The location will be added to Ocean Wise's system so you can submit data on the litter found during future Shoreline Cleanups. This data helps Ocean Wise work with businesses and governments to stop plastic pollution at its source. In Canada, Ocean Wise data helped inform a federal ban on unnecessary single-use plastics. Small but important actions like these greatly help reduce the litter that ends up in our ocean.
Ocean Wise, a conservation organization on a mission to restore and protect our oceans, is focused on empowering and educating everyone from individuals to governments on how to protect our waters. They are making conservation happen through five big initiatives: monitoring and protecting whales, fighting climate change and restoring biodiversity, innovating for a plastic-free ocean, protecting and restoring fish stocks, and finally, educating and empowering youth. The non-profit believes that in order to rebuild a resilient and vibrant ocean within the next ten years, everyone needs to take action.
Become an Ocean Wise ally and share your knowledge with others. The more people who know how badly the ocean needs our help, the better! Now is a great time to commit to being a part of something bigger and get our oceans healthy again.

Joy
The safe was stolen 22 years ago.
Joy
This is how it's done, folks.
Science
30 dump truck loads and two years later, the forest looks totally different.
Get stories worth sharing delivered to your inbox
Health
The viral videos are a great way to educate men on a sensitive topic.
via TikTok
Menstrual taboos are as old as time and found across cultures. They've been used to separate women from men physically — menstrual huts are still a thing — and socially, by creating the perception that a natural bodily function is a sign of weakness.

Even in today's world women are deemed unfit for positions of power because some men actually believe they won't be able to handle stressful situations while mensurating.
"Menstruation is an opening for attack: a mark of shame, a sign of weakness, an argument to keep women out of positions of power,' Colin Schultz writes in Popular Science.
The big problem with menstrual taboos is the way that males are educated on the subject leaves them with a patchwork of ideas that don't necessarily add up to the whole picture. First, there's the information they get from growing up with women in the house.
Then, there are the cryptic descriptions of menstruation seen in advertising and the cold, scientific way the topic is taught in sex education.
"Boys' early learning about menstruation is haphazard," a 2011 study published in the Journal of Family Issues reads. "The mysterious nature of what happens to girls contributes to a gap in boys' knowledge about female bodies and to some negative views about girls."
Unfortunately, the gaps in the average man's understanding of a complex female health issue can put women in a difficult position. Whether it's denying them positions of power or a failure to understand their discomfort.
That's why it's so important for men to become better educated about menstruation.
A group of women on TikTok are helping the men in their lives better understand the subject by showing them how tampons work on the inside of their bodies by dousing them in water. They call it the Boyfriend Challenge. Some of the guys' reactions are clearly over-the-top, but it's also obvious that many of them have no idea how tampons function.
A video by the Demery family has gone viral attracting nearly eight million views. It's fun to watch, but it also shows men how tampons function and what women go through during their monthly cycle.
This guy was amazed by the absorbancy.
Let's hope this challenge gave some men out there a better understanding of what women go through every month and a little more sympathy for the women in their lives.
Hopefully it also makes them feel a little more comfortable around period products and inspires them to pick up the correct box of tampons next time they're at the grocery store.
This article originally appeared on 01.27.21
Joy
"What's wrong with the way we did it?!?!?"
Upworthy/Instagram
As anyone who has dipped their toe into home improvement waters knows, home remodeling is a mix of excitement and headaches. It's fun to freshen things up and make your own mark on your home, but when you're tearing out the old, you never know what you're going to find. Something toxic like asbestos or mold? Something cool like money or a box of treasures?
How about a photo of previous homeowners introducing themselves and ribbing you for undoing all their hard work?
That's what one home remodeler found when they started remodeling their bathroom, and the notes the former owners left for them are leaving people in stitches.
According to Today.com, Alex and Jessica Monney were having their bathroom remodeled in 2018 when their contractor sent a photo of something they uncovered during the renovation.
An image shared on Reddit shows the photo of a couple with a message written in pen on the wall next to it: "Hi! We're the Shinsekis! We remodeled this bathroom summer 1995. If you're reading this, it means you're remodeling the bathroom again. What's wrong with the way we did it?!?!?"
The Shinsekis also left a photo of their pet bunny, with the note, "Hi! I'm Cassie the bunny rabbit. I lived here, too. (I'm potty trained!) I'm going to be the next Cadbury Bunny!"
People loved the Shinsekis' humor and the entire idea of leaving notes for later homeowners.
"Srsly why doesn't everybody do this when they remodel it's awesome and interesting to see who lived there before you!❤️" wrote one person.
"We left notes, coins, pictures, etc throughout my childhood home as my dad remodeled it. That place is full of little time capsules. Poor people who find them are going to think we were crazy!" shared another.
"We found notes throughout the first house we bought as we remodeled it. No pictures but facts about the couple that lived there etc. And there was even a $1 'so we could say we found money.' We left that along with our own set of notes for the next folks. So fun!" wrote another.
When you buy a home, it's natural to be curious about the history of the house and who lived there before you. Leaving notes for other owners to find years or even decades later is a fun way to connect with people across time in the place you both have called home, and doing so with humor like the Shinsekis did just adds a whole other layer of joy to that connection.
Get stories worth sharing delivered to your inbox