popular
Breaking News: Grand Jury brings charges against former officer in Breonna Taylor case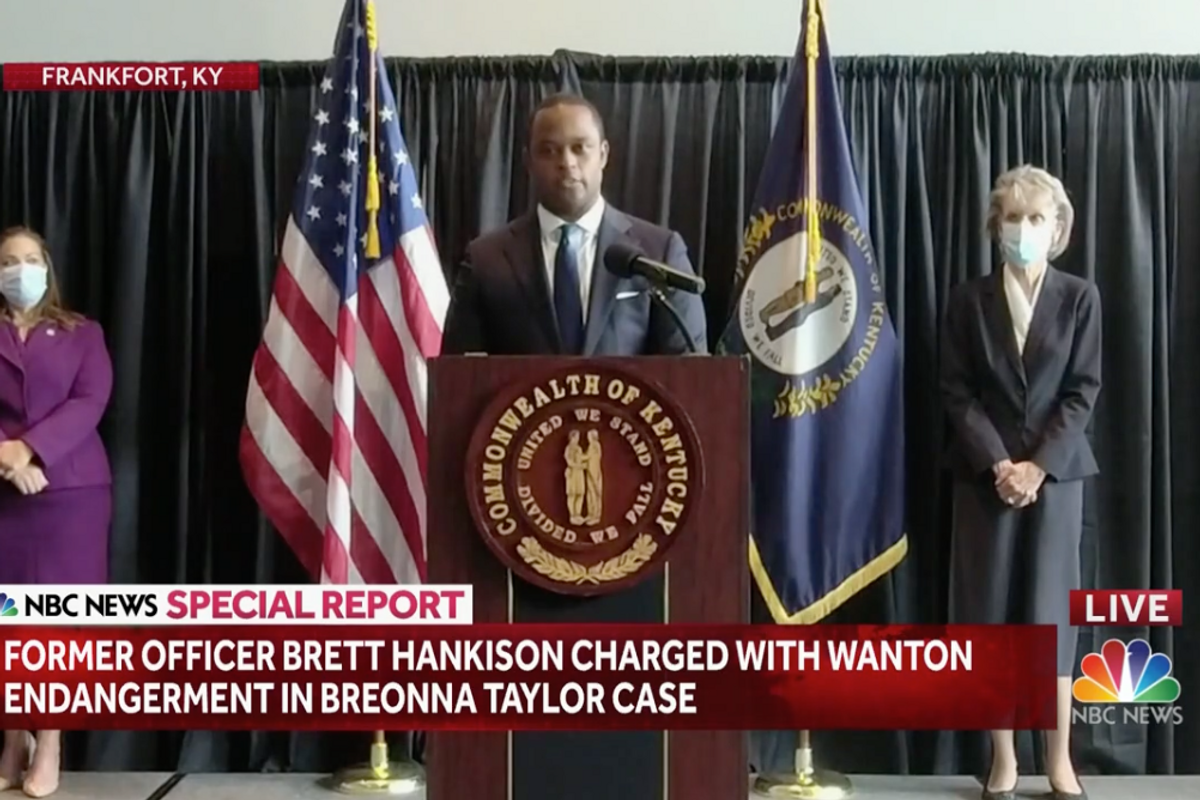 Editor's Note: This story will be updated as events are developing.

A grand jury in Jefferson County, Kentucky has formally charged a former Louisville police officer with with three counts of wanton endangerment in the first degree for his conduct in the shooting that killed Breonna Taylor. According to the Washington Post, the jury said Brett Hankison "wantonly and blindly" shot 10 times into the apartment where Taylor was sleeping. Under the current charges, Hankison faces up to 5 years in prison.
In responding to the charges, Kentucky's Attorney General Daniel Cameron said the grand jury ruled the other officers in the incident -- Sgt. John Mattingly and Det. Myles Cosgrove -- acted accordingly. Cameron urged calm in response to the charge, noting that "peaceful protests are your right as an American citizens," and that many people would be "disappointed" both that the other officers were not charged and some offended that Hankison was charged at all. However, saying acts of "revenge" were not warranted, Cameron said his department's own role is to enforce the law: "It isn't the quest for revenge, it's the quest for truth," adding that he hopes to be part of "the healing process."
---
Former detective Brett Hankison was indicted on three counts of first-degree wanton endangerment. Sgt. Jonathan Mat… https://t.co/JjsW7FWObh

— Nicquel Terry Ellis (@Nicquel Terry Ellis) 1600882143.0
The indictment comes six months after the killing of Taylor, which has sparked national outrage and played a major role in demonstrations around the country in support of the Black Lives Matter movement.
Last week, the city of Louisville entered in a $12 million settlement with Taylor's family over the fatal shooting.
You can watch a livestream of Cameron's remarks here.

In advance of the ruling, officials in Louisville declared a state of emergency, a 9pm curfew and called in the National Guard to help maintain some semblance of order in anticipation of major protests in response to the ruling.

The Courier-Journal reported on how the city was preparing for the verdict:
"Louisville was placed under a state of emergency Tuesday as city officials closed down a more than 25-block perimeter to traffic. Most city administrative buildings and other businesses were boarded up in anticipation of the decision. Protests in Louisville related to Taylor's death in March have been taking place for more than 100 consecutive days."
CNN reported on how other Southern cities have been preparing for fallout from the verdict.
Taylor's death has inflamed political passions across the spectrum. In the days following her death, many people noted that gun rights activists were silent on the killing, asserting that groups like the National Rifle Association to not speak out when Black gun owners are killed in incidents of police misconduct, as opposed to incidents involving white victims.