popular
Balance out heavy holiday eating with some lighter—but still delicious—fare.
Albertson's
True
The holiday season has arrived with its cozy vibe, joyous celebrations and inevitable indulgences. From Thanksgiving feasts to Christmas cookie exchanges to Aunt Eva's irresistible jelly donuts—not to mention leftover Halloween candy still lingering—fall and winter can feel like a non-stop gorge fest.
Total resistance is fairly futile—let's be real—so it's helpful to arm yourself with ways to mitigate the effects of eating-all-the-things around the holidays. Serving smaller amounts of rich, celebratory foods and focusing on slowly savoring the taste is one way. Another is to counteract those holiday calorie-bomb meals with some lighter fare in between.
Contrary to popular belief, eating "light" doesn't have to be tasteless, boring or unsatisfying. And contrary to common practice, meals don't have to fill an entire plate—especially when we're trying to balance out heavy holiday eating.
It is possible to enjoy the bounties of the season while maintaining a healthy balance. Whether you prefer to eat low-carb or plant-based or gluten-free or everything under the sun, we've got you covered with these 10 easy, low-calorie meals from across the dietary spectrum.
Each of these recipes has less than 600 calories (most a lot less) per serving and can be made in less than 30 minutes. And Albertsons has made it easy to find O Organics® ingredients you can put right in your shopping cart to make prepping these meals even simpler.
Enjoy!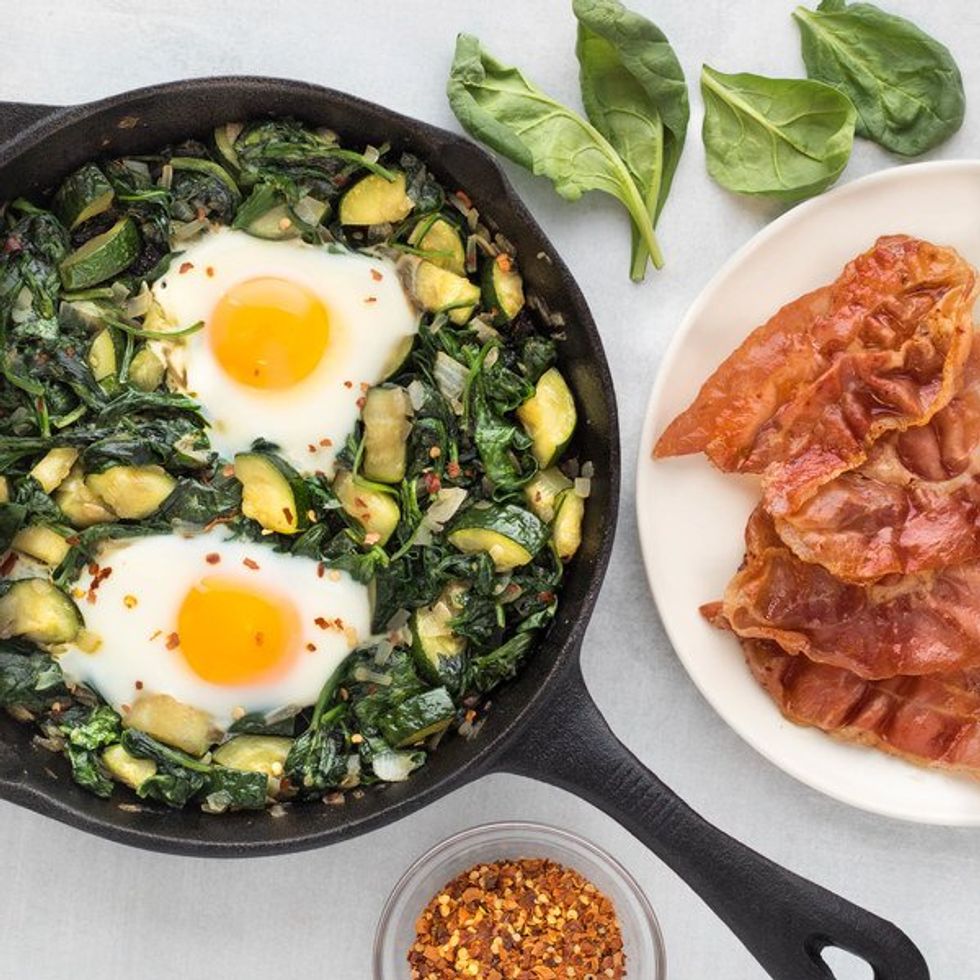 Not quite green eggs and ham, but closeAlbertsons
Breakfast Skillet of Greens, Eggs & Ham
273 calories | 20 minutes
Ingredients:
1 (5 oz) pkg baby spinach
2 eggs
1 clove garlic
4 slices prosciutto
1/2 medium yellow onion
1 medium zucchini squash
1/8 cup butter, unsalted
1 pinch crushed red pepper
Find full instructions and shopping list here.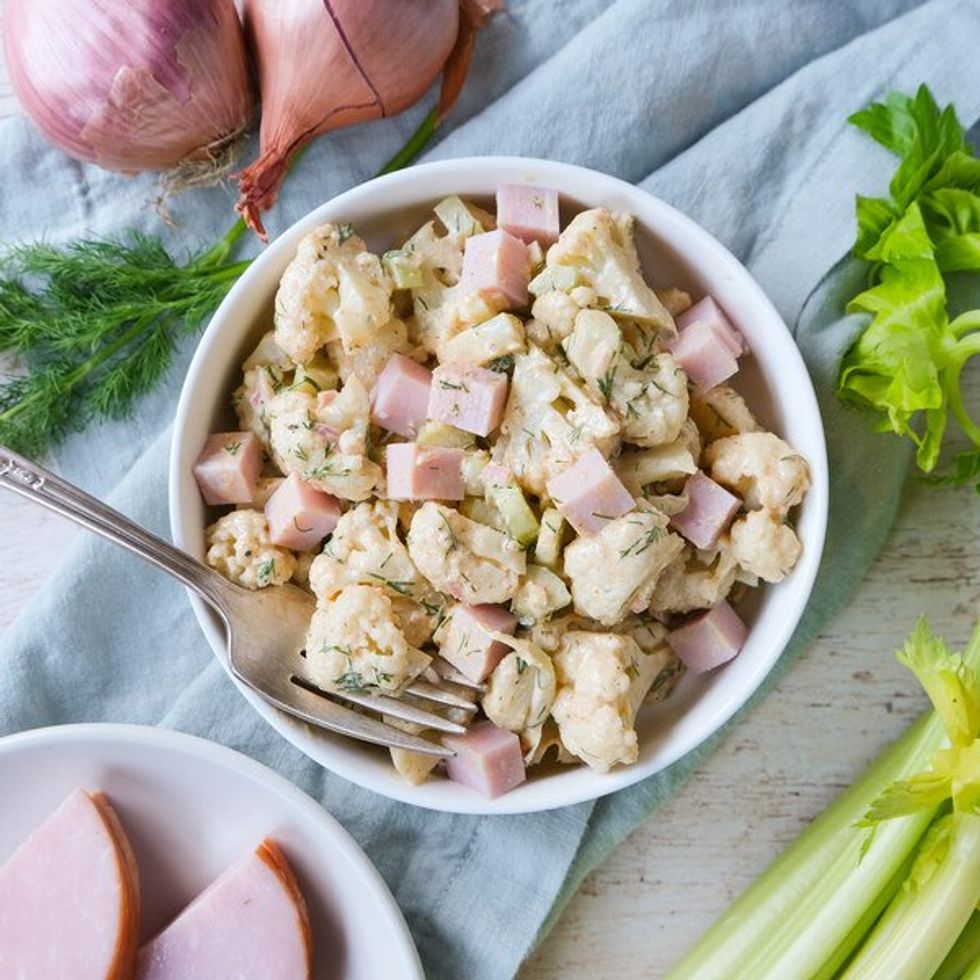 Get your cauliflower power on.Albertsons
Creamy Cauliflower Salad with Ham, Celery & Dill
345 calories | 20 minutes
1/2 medium head cauliflower
1 stick celery
1/4 small bunch fresh dill
8 oz. ham steak, boneless
1/2 shallot
1/4 tspblack pepper
1/4 tsp curry powder
2 tsp Dijon mustard
1/4 tsp garlic powder
3 Tbsp mayonnaise
1/8 tsp paprika
2 tsp red wine vinegar
1/2 tsp salt
Find full instructions and shopping list here.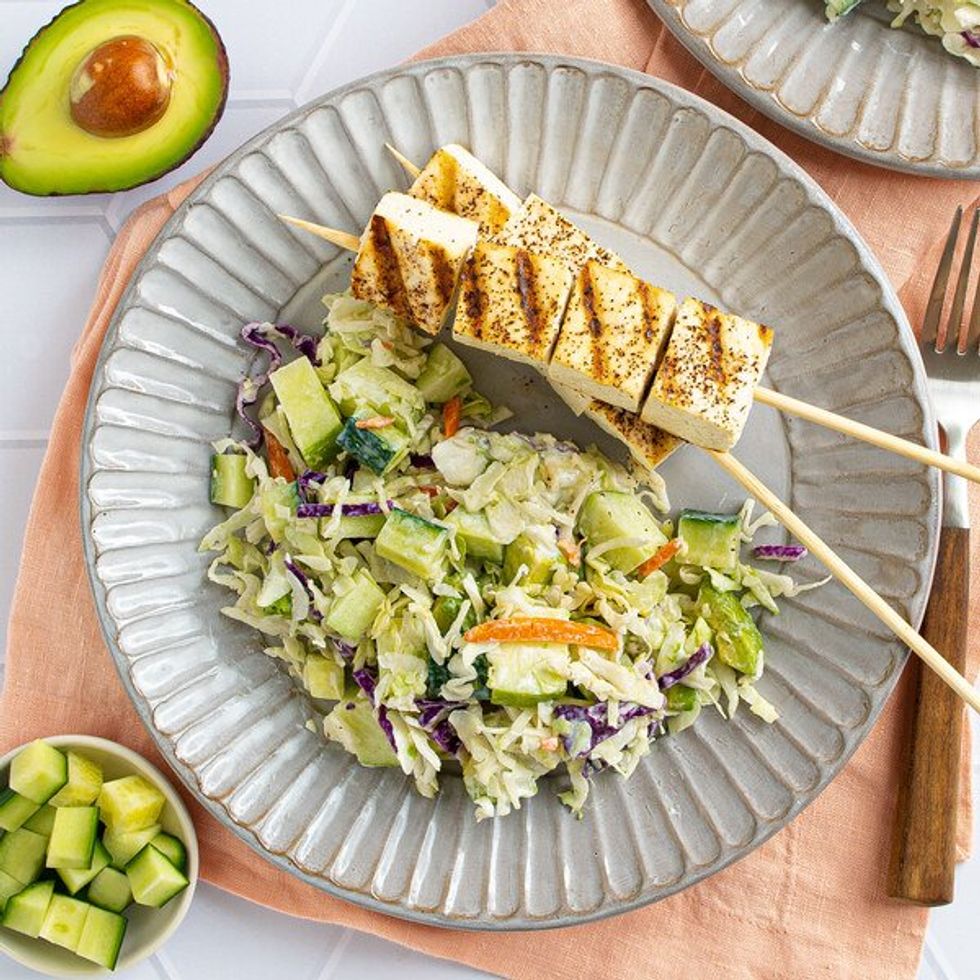 Plant-based food fan? This combo looks yums. Albertsons
Grilled Chili Tofu Skewers with Ranch Cabbage, Apple & Cucumber Slaw
568 calories | 20 minutes
1 avocado
1/2 English cucumber
1 (12 oz.) package extra firm tofu
1 Granny Smith apple
3 Tbsp (45 ml) Ranch dressing
1/2 (14 oz bag) shredded cabbage (coleslaw mix)
2 tsp chili powder
1 Tbsp extra virgin olive oil
1/2 tsp garlic powder
1/2 tsp salt
Find full instructions and shopping list here.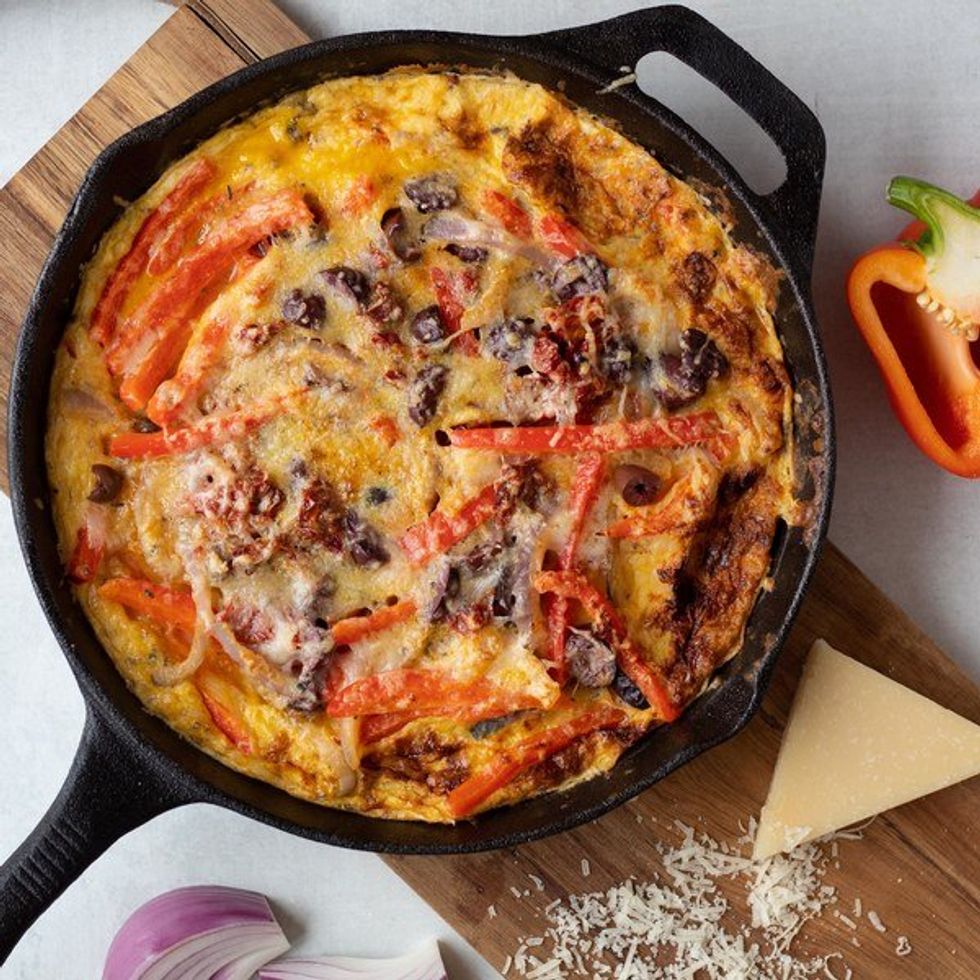 Sometimes you just gotta frittata.Albertsons
Bell Pepper, Olive & Sun-Dried Tomato Frittata with Parmesan
513 calories | 25 minutes
6 eggs
1/2 cup Kalamata olives, pitted
2 oz Parmesan cheese
1 red bell pepper
1/2 medium red onion
8 sundried tomatoes, oil-packed
1/4 tsp black pepper
1 Tbsp extra virgin olive oil
1/2 tsp Italian seasoning
1/4 tsp salt
Find full instructions and shopping list here.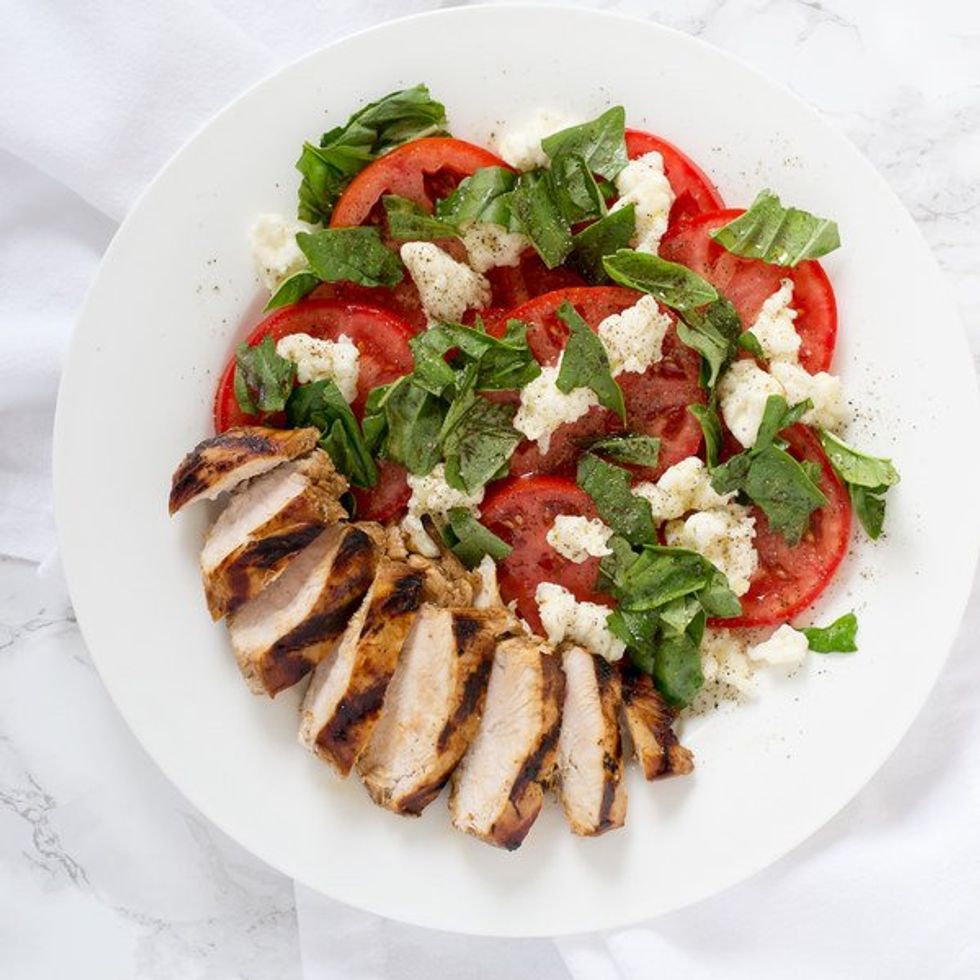 Caprese, if you please.Albertsons
Balsamic Grilled Chicken with Classic Caprese Salad
509 calories | 25 minutes
3/4 lb chicken breasts, boneless skinless
1/2 small pkg fresh basil
1/2 (8 oz pkg) fresh mozzarella cheese
1 clove garlic
3 tomatoes
1 Tbsp balsamic vinegar
4 3/4 pinches black pepper
1 1/2 tsp extra virgin olive oil
3/4 tsp salt
Find full instructions and shopping list here.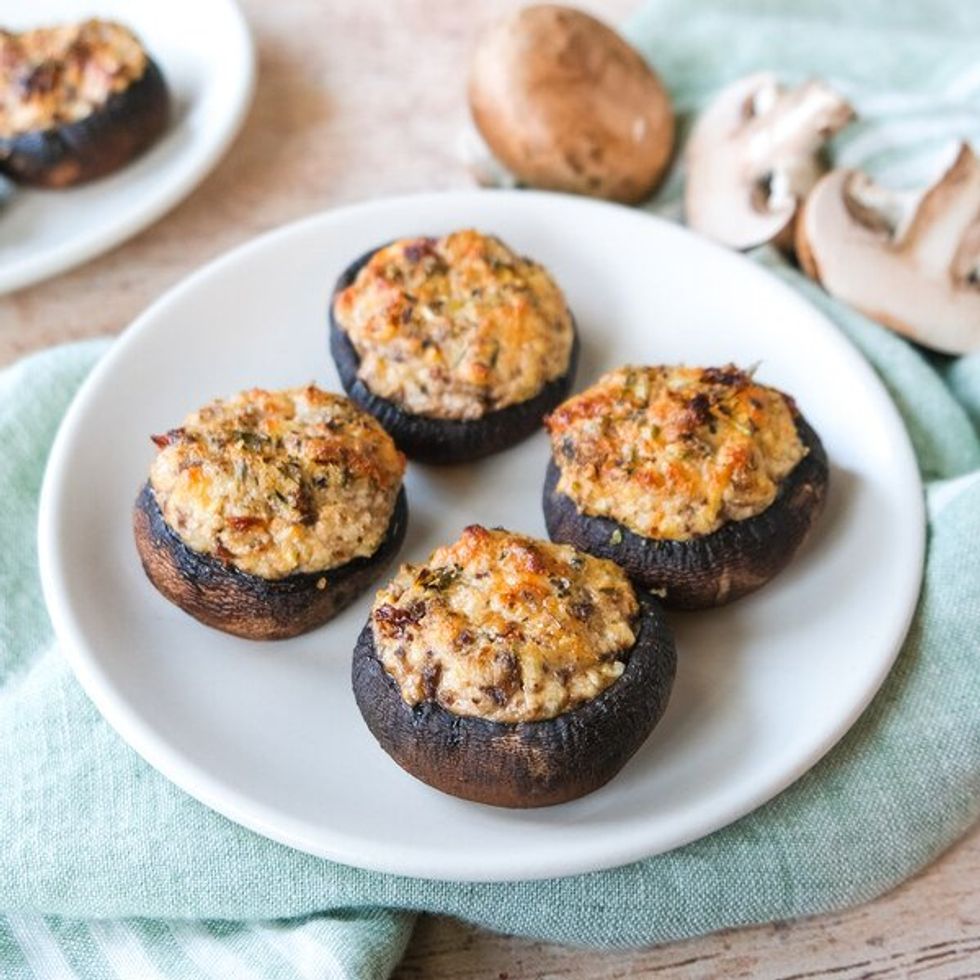 These mushrooms look positively poppable.Albertsons
Warm Goat Cheese, Parmesan & Sun-Dried Tomato Stuffed Mushrooms
187 calories | 35 minutes
1/2 lb cremini mushrooms
1 clove garlic
1/2 (4 oz) log goat cheese
1/4 cup Parmesan cheese, shredded
2 sundried tomatoes, oil-packed
1 1/4 pinches crushed red pepper
1 tsp extra virgin olive oil
1/4 tsp Italian seasoning
2 pinches salt
Find full instructions and shopping list here.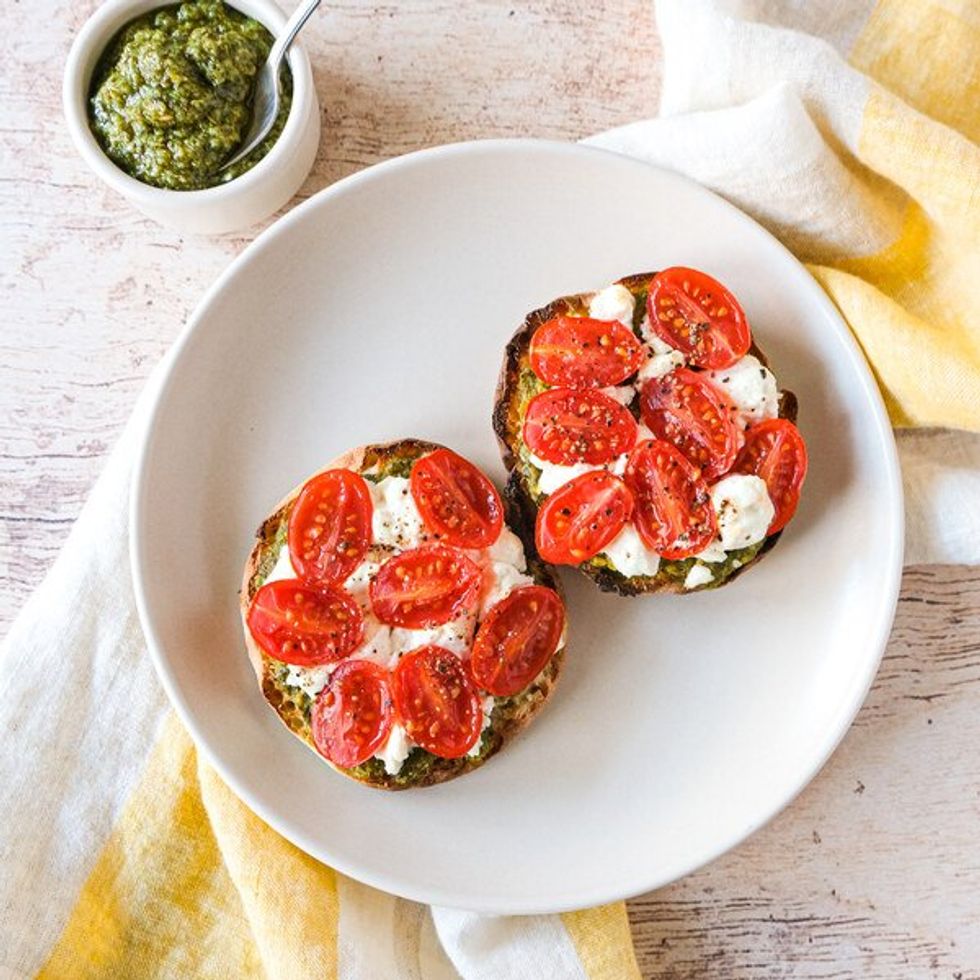 Move over, avocado toast. English muffin pizzas have arrived.Albertsons
English Muffin Pizzas with Basil Pesto, Goat Cheese & Tomatoes
327 calories | 10 minutes
3 Tbsp (45 ml) basil pesto
2 English muffins
1/2 (4 oz) log goat cheese
1/2 pint grape tomatoes
3/4 pinch black pepper
2 pinches salt
Find full instructions and shopping list here.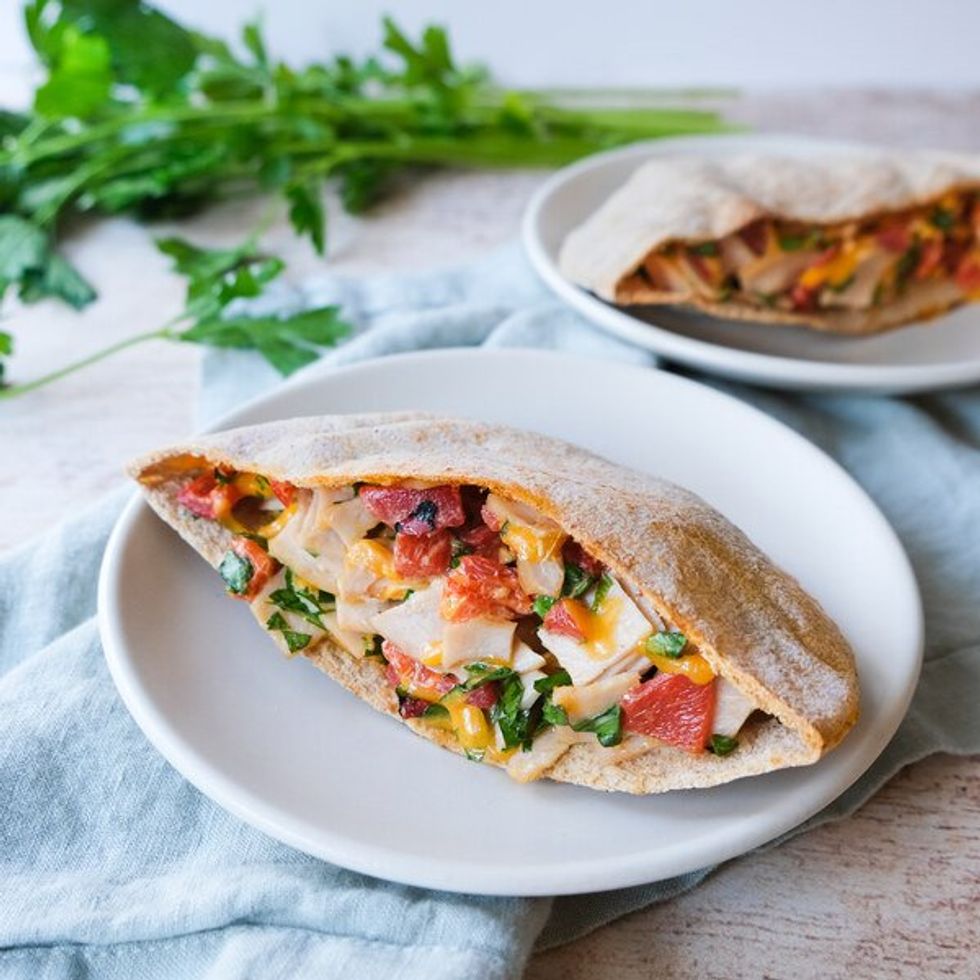 This pita pocket packs a colorful punch.Albertsons
Warm Pita Pocket with Turkey, Cheddar, Roasted Red Peppers & Parsley
313 calories | 20 minutes
1/4 (8 oz) block cheddar cheese
1/2 bunch Italian (flat-leaf) parsley
4 oz oven roasted turkey breast, sliced
1/2 (12 oz) jar roasted red bell peppers
1 whole grain pita
3/4 pinch black pepper
1/2 tsp Dijon mustard
2 tsp mayonnaise
Find full instructions and shopping list here.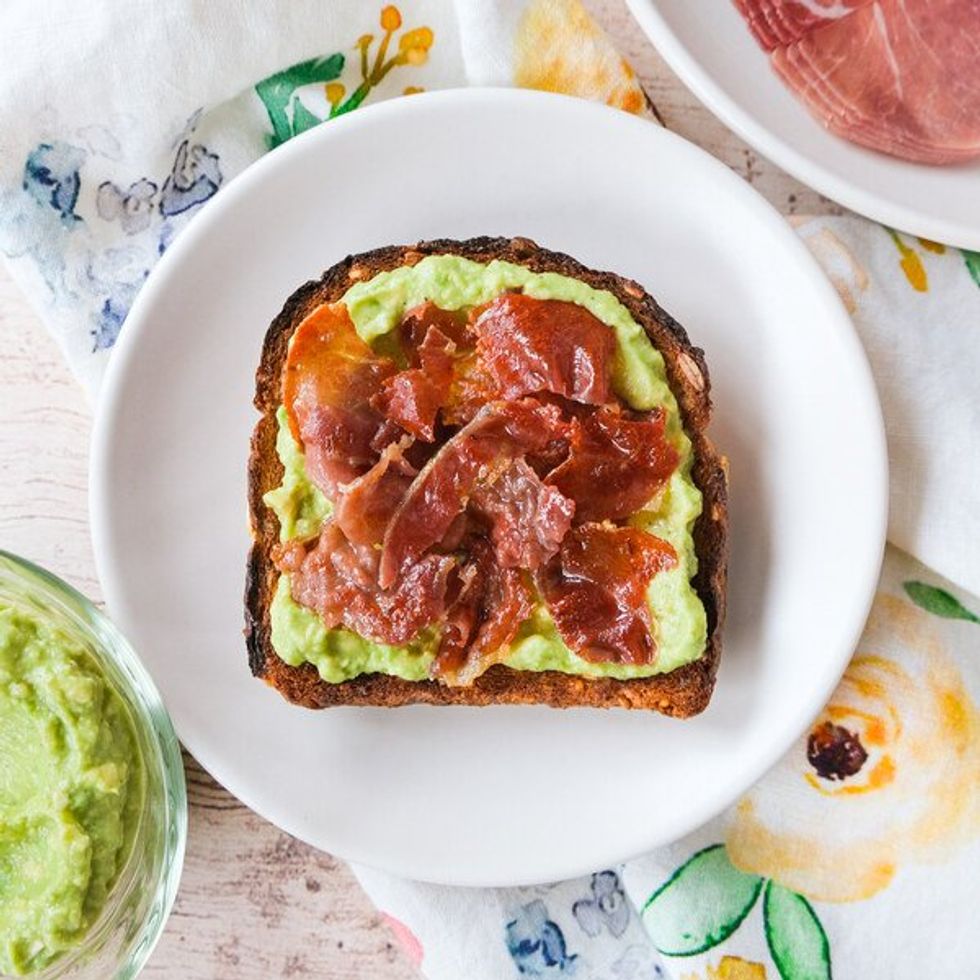 Did we say, "Move over, avocado toast?" What we meant was "Throw some prosciutto on it!" Albertsons
Avocado Toast with Crispy Prosciutto
283 calories | 10 minutes
1 avocado
2 slices prosciutto
2 slices whole grain bread
1 5/8 tsp black pepper
1/2 tsp extra virgin olive oil
1/8 tsp garlic powder
1/8 tsp onion powder
Find full instructions and shopping list here.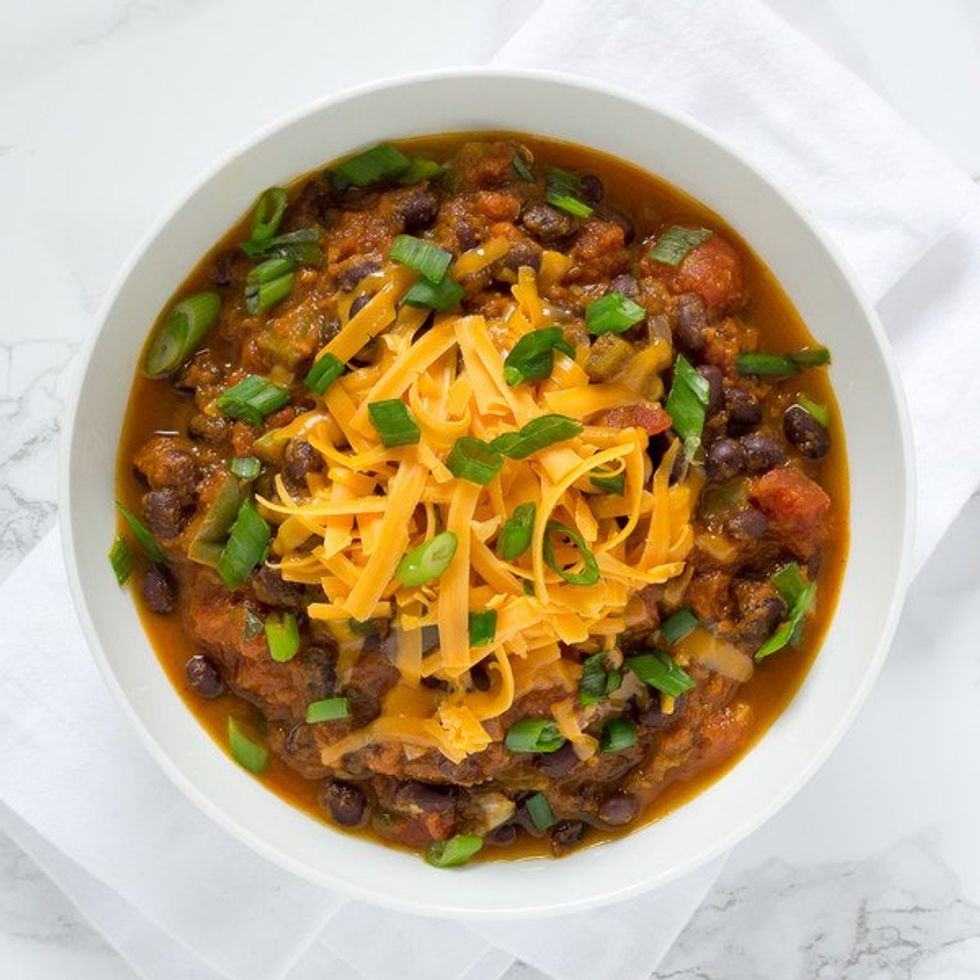 Vegetarian chili with a fall twistAlbertsons
Black Bean & Pumpkin Chili with Cheddar
444 calories | 30 minutes
2 (15 oz can) black beans
1/2 (8 oz ) block cheddar cheese
2 (14.5 oz) cans diced tomatoes
2 cloves garlic
2 green bell peppers
1 small bunch green onions (scallions)
1 (15 oz) can pure pumpkin purée
1 medium yellow onion
1/2 tsp black pepper
5 7/8 tsp chili powder
1/2 tsp cinnamon
2 tsp cumin, ground
1 tsp salt
1 Tbsp virgin coconut oil
Find full instructions and shopping list here.
For more delicious and nutritious recipes, visit albertsons.com/recipes.
Education
Van Gogh saw something it took scientists another 100 years to see.
Van Gough never got to enjoy his own historic success as an artist (even though we've been able to imagine what that moment might have looked like). But it turns out that those of us who have appreciated his work have been missing out on some critical details for more than 100 years.
I'm not easily impressed, OK?
I know Van Gogh was a genius. If the point of this were "Van Gogh was a mad genius," I would not be sharing this with you.
But I found this and I thought, "Oh, what a vaguely interesting thing." And then I got to the part about the Hubble Space Telescope, and, let me tell you: Mind. Blown.

We've got the set up here, but you have to watch the video for the full effect. It's all the way at the bottom.
Get this: Van Gogh was a pretty cool artist (duh), but as it turns out...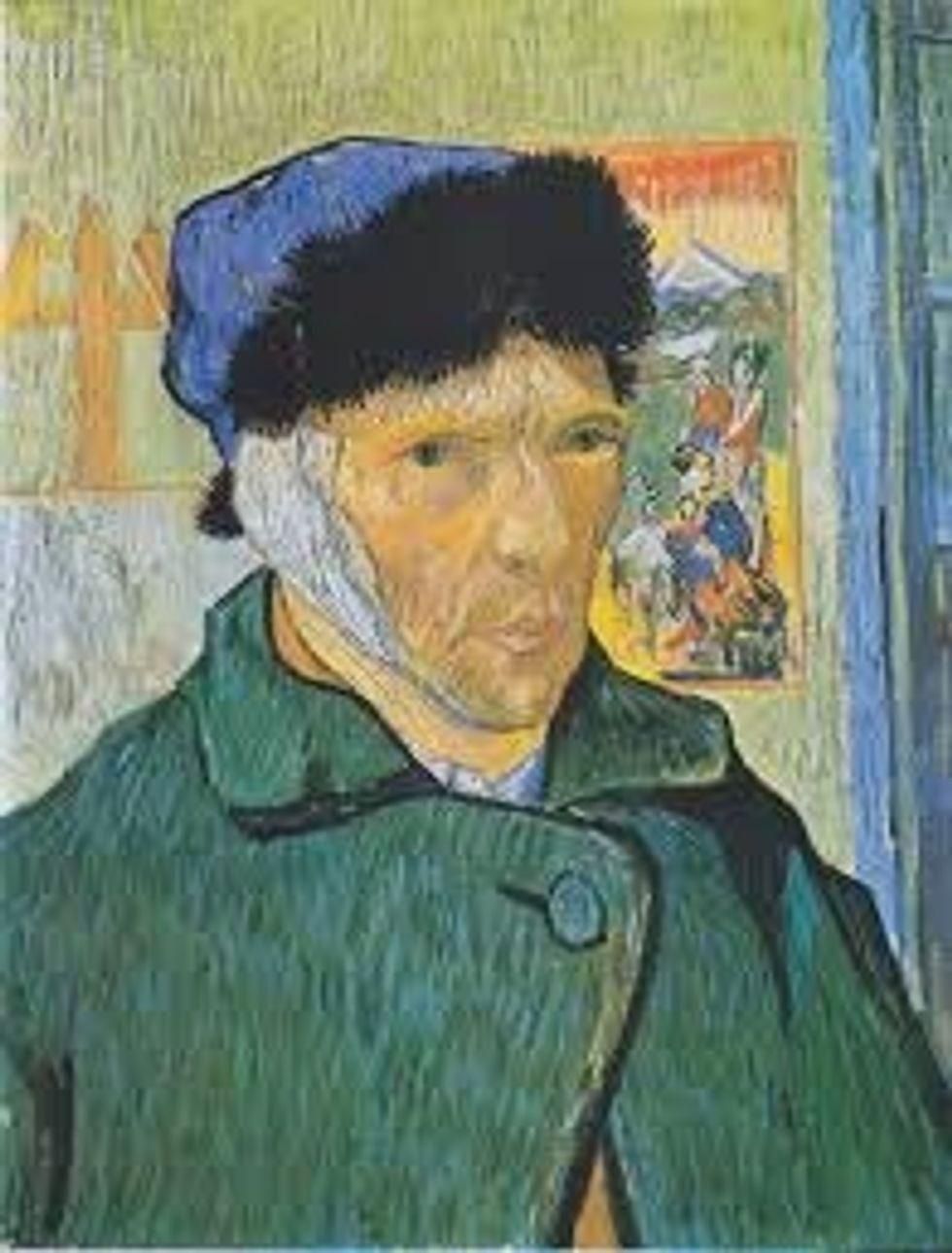 What's the truth behind when you take off an ear?
...he was also A SCIENTIST!*
*Pretty much.

Here's the story.
While Van Gogh was in an asylum in France, after he mutilated his ear during a psychotic episode*...
(*Or, and I'd like to thank the entire Internet for pointing this out, there's a theory that his friend Paul Gauguin actually cut off his ear, in a drunken sword fight, in the dark. The more you know!)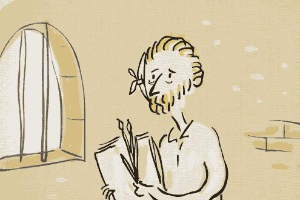 Animated a thinking one-eared Van Gogh.
All Van Gogh GIFs via TED-Ed.
...he was able to capture one of science's most elusive concepts:
~~~TURBULENCE~~~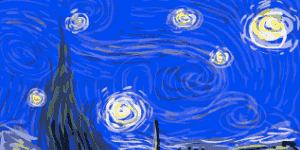 Animated "Starry Night."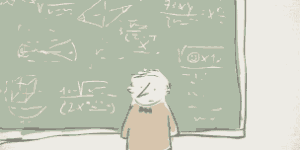 Turbulence expressed through art.
Although it's hard to understand with math (like, REALLY HARD), it turns out that art makes it easy to depict how it LOOKS.
So what is turbulence?
Turbulence, or turbulent flow, is a concept of fluid dynamics where fluid movements are "self-similar" when there's an energy cascade — so basically, big eddies make smaller eddies, and those make even smaller ones ... and so on and so forth.
It looks like this: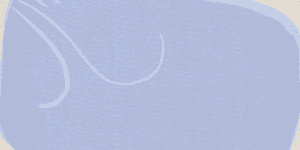 Pictures explain science.
See? It's easier to look at pictures to understand it.
Thing is, scientists are pretty much *just* starting to figure this stuff out.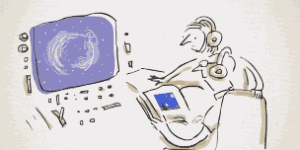 Animation of referencing art to science.
Then you've got Van Gogh, 100 years earlier, in his asylum, with a mutilated ear, who totally nailed it!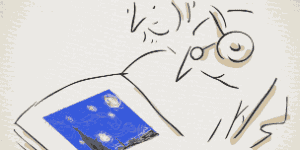 Science studying Van Gogh.
The folks who noticed Van Gogh's ability to capture turbulence checked to see whether other artists did the same. Most impressionists achieved " luminance" with their art (which is the sort-of *pulsing* you see when you look at their paintings that really shows what light looks like).
But did other artists depict turbulence the way Van Gogh did?
NOPE.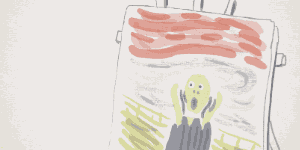 Animated "The Scream."
Not even "The Scream" could hold a candle to Van Gogh!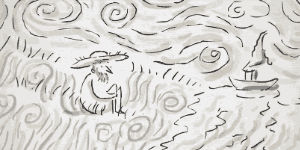 Capturing concepts of nature.
Even in his darkest time, Van Gogh was able to capture — eerily accurately — one of nature's most complex and confusing concepts ... 100 years before scientists had the technology to observe actual star turbulence and realize its similarity to fluid turbulence mathematics as well as Van Gogh's swirling sky. Cool, huh?
Watch the video below to learn even more:
This article originally appeared on November 14, 2014
Family
My dad was an addict, and growing up with him taught me a lot.
Photo with permission from writer Ashley Tieperman.
There was never just one moment in my family when we "found out" that my dad was an addict.
I think I always knew, but I never saw him actually drinking. Usually, he downed a fifth of vodka before he came home from work or hid tiny bottles in the garage and bathroom cabinets.
My name is Ashley, and I am the child of an addict. As a kid, I cried when our family dinner reservation shrunk from four to three after a man with glassy eyes stumbled through the door. I didn't guzzle the vodka, but I felt the heartbreak of missed birthdays. I feel like I should weigh 500 pounds from all the "I'm sorry" chocolate donuts. I had to grow up quicker, but it made me into the person I am today.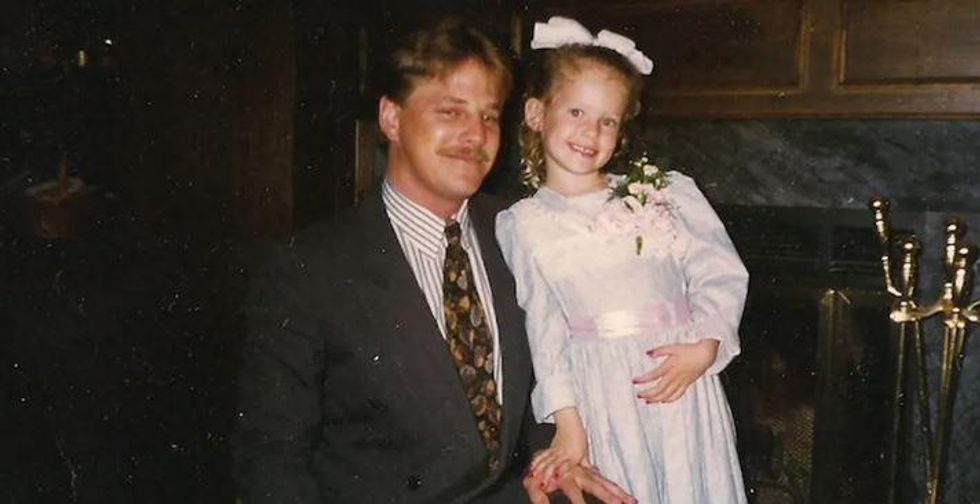 Me and my dad.
Photo with permission from writer Ashley Tieperman.
I spent many years shouting into journals about why this was happening to me. But this is the thing that no one will tell you about loving someone who has an addiction: it will force you to see the world through different eyes.

Here are some things I've learned:
1. When your family's yelling about burnt toast, they're probably also yelling about something else.
My family yelled about everything — and nothing — to avoid the messy stuff. We all handled my dad's addiction differently. My brother devoured sports. My mom took bubble baths. I slammed doors and slammed boyfriends for not understanding my family's secrets.
Regardless of the preferred coping mechanism, everyone feels pain differently.
2. Your "knight in shining armor" can't fix this.
Boyfriends became my great escape when I was young. But when I expected them to rescue me from the pain I grew up with, it never worked out. No matter how strapping they looked galloping in on those white horses, they couldn't save me or fix anything.
In the end, I realized that I had to find healing on my own before I could build a strong relationship.
3. "Don't tell anyone" is a normal phase.
When my dad punched holes in the wall, my mom covered them up with artwork. I wanted to rip the artwork down to expose all the holes, especially as a bratty teenager. But eventually I realized that it wasn't my choice. My parents had bills to pay and jobs to keep. I've learned it's common to cover up for dysfunction in your family, especially when it feels like the world expects perfection.
4. Friends probably won't get it, but you'll need them anyway.
Bulldozed by broken promises, I remember collapsing on a friend's couch from the crippling pain of unmet expectations. I hyperventilated. Things felt uncontrollable and hopeless. My friend rubbed my back and just listened.
These are the kinds of friends I will keep forever, the ones who crawled down into the dark places with me and didn't make me get back up until I was ready.
5. You can't fix addiction, but you can help.
When I was a teenager, I called a family meeting. I started by playing a Switchfoot song: "This is your life. Are you who you want to be?"
Let's skip to the punchline: It didn't work.
It wasn't just me. Nothing anyone did worked. My dad had to lose a lot — mostly himself — before he hit that place they call "rock bottom." And, in all honesty, I hate that label because "rock bottom" isn't just a one-and-done kind of place.
What can you do while you wait for someone to actually want to get help? Sometimes, you just wait. And you hope. And you pray. And you love. And you mostly just wait.
6. Recovery is awkward.
When a counselor gave me scripted lines to follow if my dad relapsed, I wanted to shred those "1-2-3 easy steps" into a million pieces.
For me, there was nothing easy about my dad's recovery. My whole family had to learn steps to a new dance when my dad went into recovery. The healing dance felt like shuffling and awkwardly stepping on toes. It was uncomfortable; new words, like trust and respect, take time to sink in. And that awkwardness is also OK.
7. I still can't talk about addiction in the past tense.
Nothing about an addict's life happens linearly. I learned that early on. My dad cycled through 12-step programs again and again, to the point where I just wanted to hurl whenever anyone tried to talk about it. And then we finally reached a point where it felt like recovery stuck.
But even now, I'll never say, "My dad used to deal with addiction." My whole family continues to wrestle with the highs and lows of life with an addict every single day.
8. Happy hours and wedding receptions aren't easy to attend.
My family will also probably never clink glasses of red wine or stock the fridge full of beer. I'm convinced happy hours and wedding receptions will get easier, but they might not. People get offended when my dad orders a Diet Coke instead of their fine whisky.
Plus, there's the paranoia factor. Surrounded by flowing liquor, I hate watching my dad crawl out of his skin, tempted to look "normal" and tackle small talk with people we barely know. I've learned that this fear will probably last for a while, and it's because I care.
9. If you close your eyes, the world doesn't just "get prettier."
With constant fear of the unknown, sometimes our world is not a pretty place. I remember watching the breaking news on 9/11 and feeling the terror of the planes crashing into the Twin Towers as if I was there.
My dad numbed the anxiety of these dark days with vodka, but this didn't paint a prettier world for him when he woke up the next day. I've dealt with the fear of the unknown with the help of boys, booze, and bad dancing on pool tables. Life hurts for everyone, and I think we all have to decide how we're going to handle the darkness.
10. Rip off the sign on your back that reads: "KICK ME. MY LIFE SUCKS."
Sometimes I look in the mirror and I see only my broken journey. In some twisted way, I'm comforted by the dysfunction because it's kept me company for so long. It's easy to let the shadow of my family's past follow me around and choose to drown in the darkness.
But every day, I'm learning to turn on the light. I have to write the next chapter in my recovery story, but I can't climb that mountain with all this crap weighing me down.
11. It's OK to forgive, too.
Some people have given me sucky advice about how I should write an anthem on daddy bashing, or how to hit the delete button on the things that shaped my story.
Instead, my dad and I are both learning to celebrate the little things, like the day that he could change my flat tire. On that day, I didn't have to wonder if he was too drunk to come help me.
I can't forget all the dark nights of my childhood.
But I've learned that for my own well-being, I can't harbor bitterness until I explode.
Instead, I can love my dad, day by day, and learn to trust in the New Dad — the one with clearer eyes and a full heart. The one who rescues me when I call.
This article was written by Ashley Tieperman and originally appeared on 04.27.16
Identity
'You date people you think you deserve. You deserve better.'
Get stories worth sharing delivered to your inbox
Science
Our relationship with our planet can be mutually beneficial if we commit ourselves to sustainability.
Get stories worth sharing delivered to your inbox