Community
Here's what people facing food insecurity want you to know about solving the hunger problem in America
True
Even though America is the world's wealthiest nation, about 1 in 6 of our neighbors turned to food banks and community programs in order to feed themselves and their families last year. Think about it: More than 9 million children faced hunger in 2021 (1 in 8 children).

In order to solve a problem, we must first understand it. Feeding America, the nation's largest domestic hunger-relief organization, released its second annual Elevating Voices: Insights Report and turned to the experts—people experiencing hunger—to find out how this issue can be solved once and for all.
Here are the four most important things people facing hunger want you to know.
Hunger is still an urgent crisis despite signs of economic recovery. In the months following the peak of the COVID-19 pandemic, headlines report that the nation's economic health is bouncing back after years of hardship. However, a big chunk of our population is experiencing a different reality. Recovery has been uneven nationwide, and grocery prices are still higher than normal despite easing supply chain issues. With the end of the federal support offered throughout the pandemic, child poverty rates have shot up, and families like Donnette McManus' are feeling the squeeze.
"Even though you have your list, you have your budget, things are changing so quickly. Your salary can't keep up. So, you get to the store with the same exact list, the same 10 items can cost you 50% more," said McManus, who lives in Massachusetts.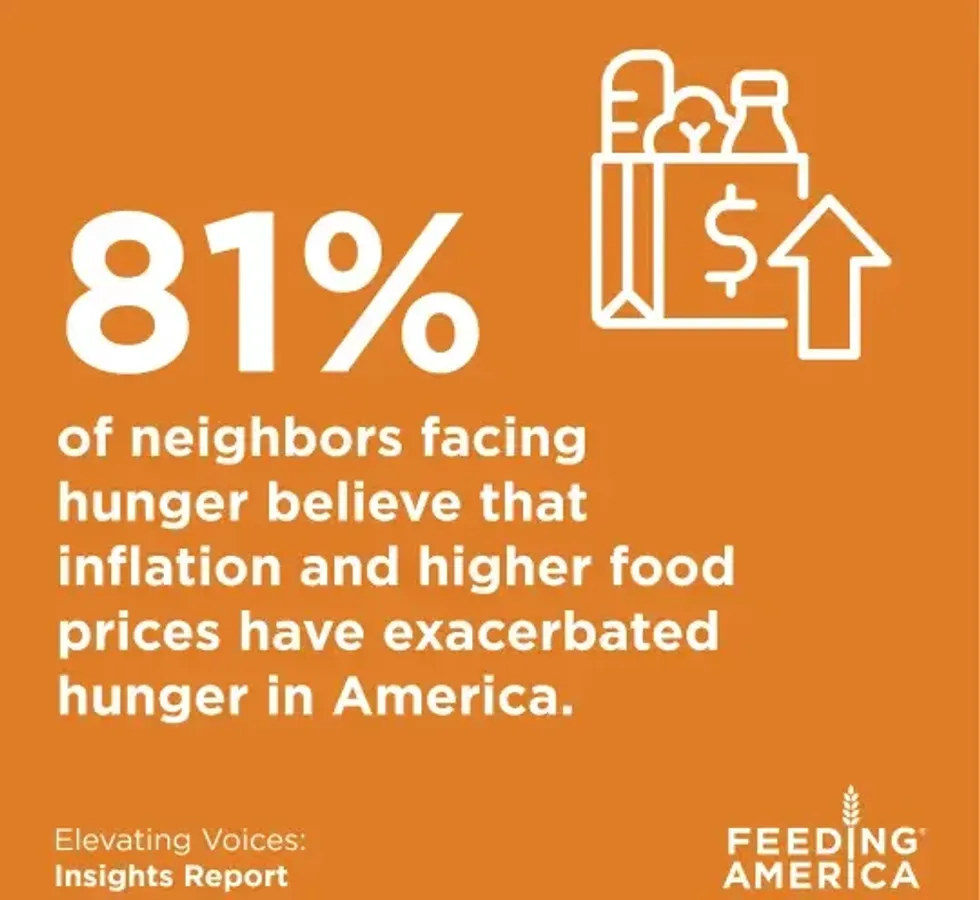 Feeding America Insights Report
People facing hunger say that ending food insecurity is about more than just food. Ending hunger may sound like a simple task: make sure everyone, regardless of who they are and where they live, has access to the food they need. However, as neighbor-advocate Jennifer Estrada of Wisconsin pointed out, the reality is a bit more complex, especially considering that hunger is only a symptom of bigger economic challenges.
"As much as you work, the system is set up for you to continue in a cycle of food insecurity," said Estrada. "Your whole check goes to a rent payment if you're not fortunate enough to own a house, with nothing leftover. But you get kicked off if you make $2 more. There needs to be some security, there needs to be a revamping of the whole system ... It seems like instead of creating less barriers to help the families in our community, it seems like policies and procedures continue to make more barriers."
One of the biggest takeaways from the 2023Insights Report is that housing is unaffordable. Working 40+ hours a week still isn't enough to get by for many folks. Stopping hunger in its tracks is as much about strengthening economic well-being as it is about providing equitable access to enough nourishing food.
Hunger is an issue that intersects with more than what we put on our plates. Hunger strikes without discrimination, affecting anyone, anywhere, at any time. Millions of people in the U.S. are just one job loss, missed paycheck, or medical emergency away from experiencing food insecurity. Due to a long history of racism, discrimination, and oppression in our country, hunger impacts some communities more than others, including communities of color and communities in rural areas.
While the impact of hunger is widespread, people facing it note that the stigma associated with it can strip people of their dignity or deter them from accessing the food assistance programs they're eligible for and need. There are also inequitable systems in place that do not work for everyone.
"Your basic clerk at your local DHS [Department of Human Services] office is only employed to input information and output information back to you. A lot of times, you feel like you're not even a human. You're just a number to them. And if I'm just going to be a number to you, I have a mental meltdown," said Kimberly Harris, a resident of Washington, D.C.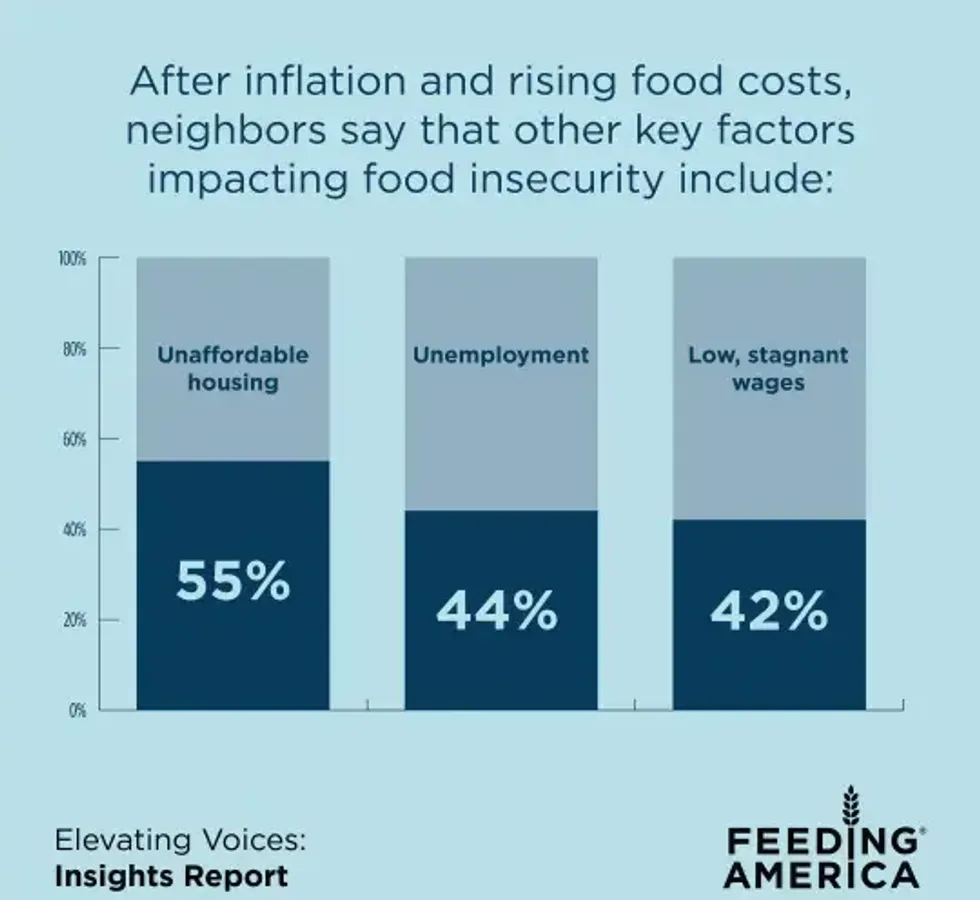 Feeding America Insights Report
Ending food insecurity requires a catalyzing movement. While hunger remains a widespread and persistent problem, our country already has the tools to eradicate it forever—they just need to be utilized. Most people facing hunger said that federal and local governments should treat hunger as an urgent crisis—signaling that it will take all of us to bring hunger to a halt.
So how can you take action right now? Do your part and visit FeedingAmerica.org/ElevatingVoices to read the 2023 Elevating Voices: Insights Report and sign a petition to encourage Congress to pass legislation that will help ensure no one in America goes hungry. Let's all pitch in to make the wealthiest nation become the happiest and most prosperous—for all.
Education
This viral tool could be a game-changer for some.
Reading is a fundamental tool of learning for most people, which is why it's one of the first things kids learn in school and why nations set literacy goals.

But even those of us who are able to read fluently might sometimes struggle with the act of reading itself. Perhaps we don't read as quickly as we wish we could or maybe our minds wander as our eyes move across the words. Sometimes we get to the end of a paragraph and realize we didn't retain anything we just read.
People with focus or attention issues can struggle with reading, despite having no actual reading disabilities. It can be extremely frustrating to want to read something and have no issues with understanding the material, yet be unable to keep your mind engaged with the text long enough to get "into" what you're reading.
But what if there were a font that could help you stay focused? That could help you not only read faster but better retain what you've just read?
That's what the creators of Bionic Reading claim is possible with their font tool."Bionic Reading revises texts so that the most concise parts of words are highlighted," the Swiss company's website reads. "This guides the eye over the text and the brain remembers previously learned words more quickly."
Give it a try: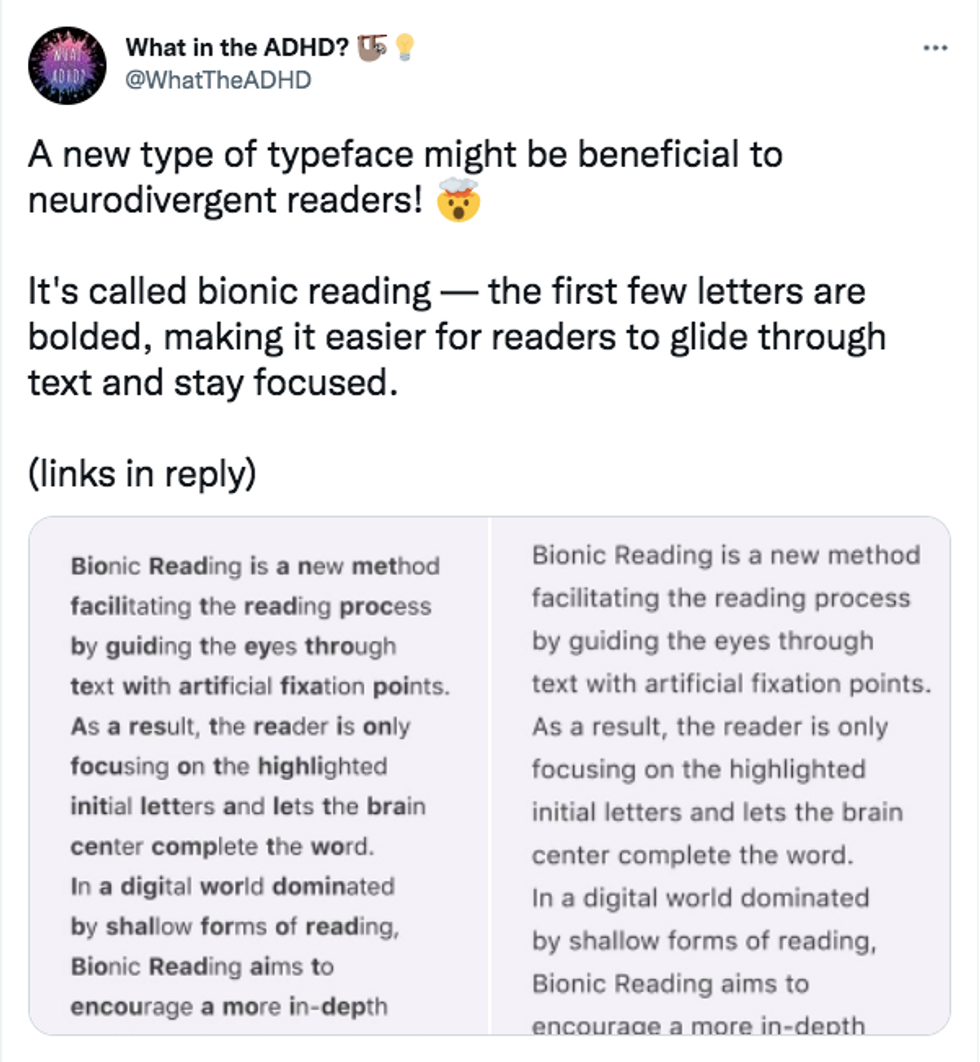 The gist is that our eyes don't need to focus on the entire word because our brains can fill in the rest for us. By bolding the first part of the word, we're more quickly able to move from word to word.
"Bionic Reading aims to play a supporting role in the absorption of volume text," states the website. "We see technological progress as an opportunity for all those who want to increase the pleasure of reading in a noisy and hectic world in a focused way and without distraction."
While there are no studies cited on this method of reading, there are plenty of anecdotes about it being helpful. The example shared by @WhattheADHD on Twitter got people's attention and many people responded with enthusiasm at how much easier the bionic reading text was for them to read.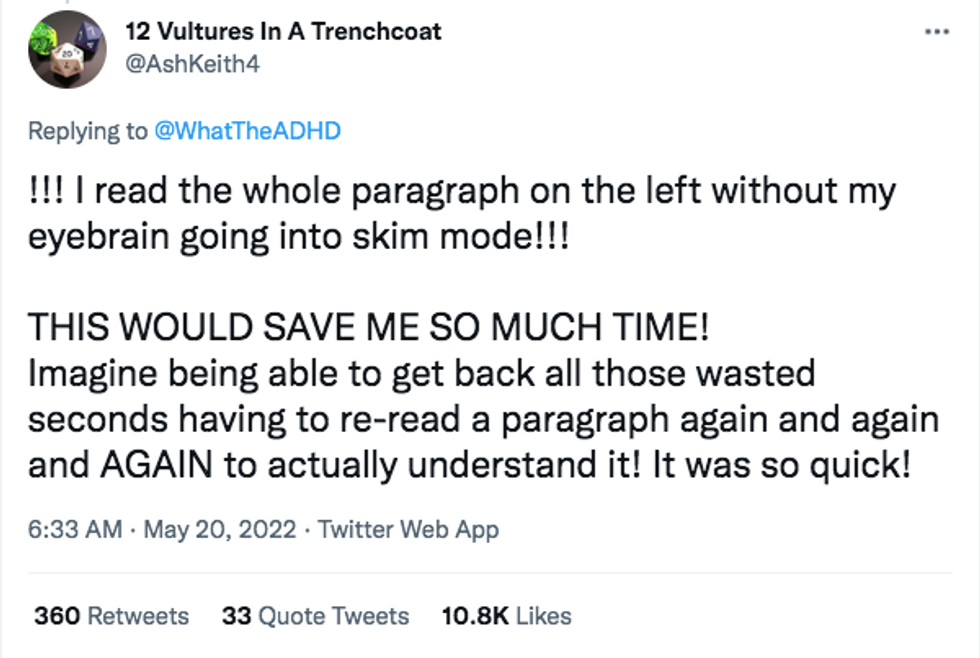 "This is amazing! I have ADHD and I didn't even realize that I was having trouble fixating when I read," wrote one person. "My eye latches right on to the bold face. Can't wait to try reading a book again. It's been all audiobooks for a while."
"It's incredible how reading this feels like finally unlocking 100% of your brain," wrote another.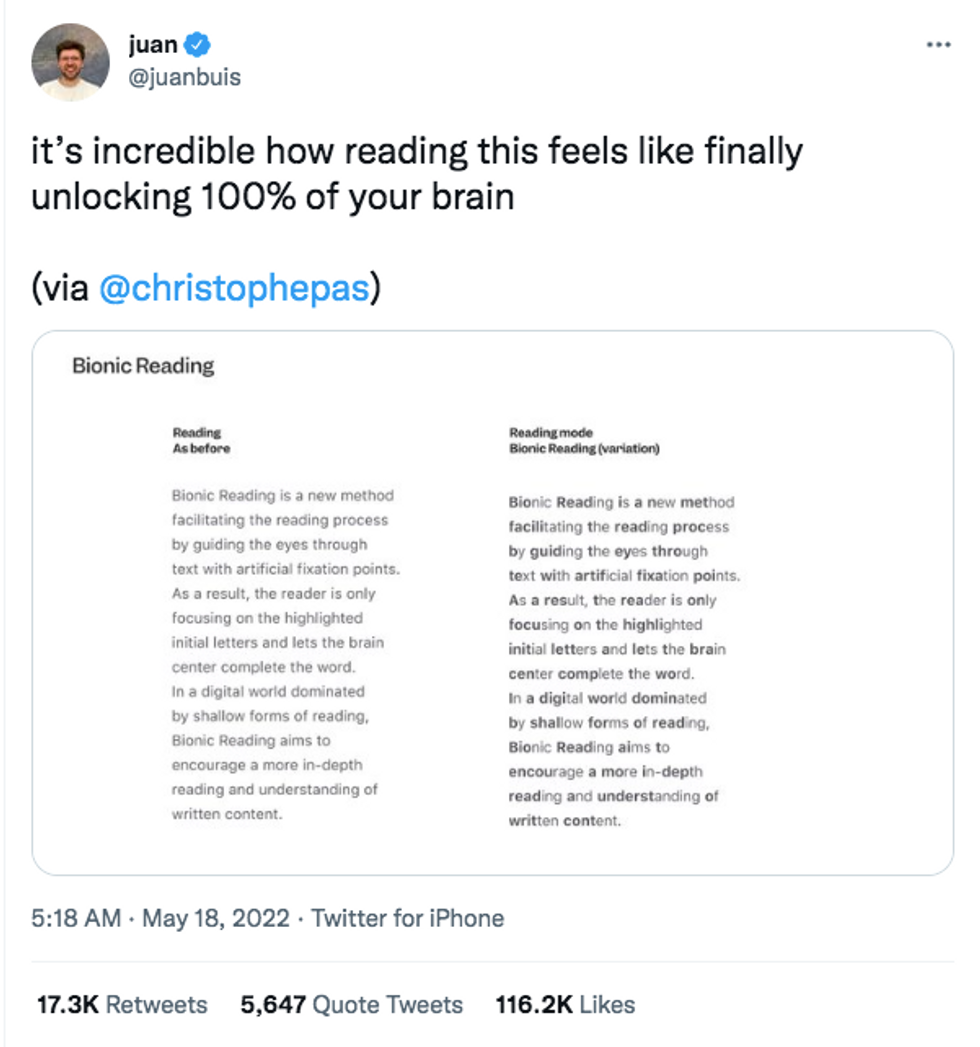 However, not everyone was impressed or thrilled with the sample. Some people said that they had a harder time reading the bionic text or that it distracted or slowed them down. Both positive and negative responses came from a diverse pool of people. Some who described themselves as neurodivergent said that they loved it and some said it was harder. The same went for people who said they were neurotypical, so it's hard to say who this tool may specifically help the most. Everyone's brains work differently, and different people will find different things helpful.
Bionic reading might be a game-changer for some, but it's not the only tool of its kind. There are speed-reading programs that train you to stop reading each word and allow your brain to read visually instead of auditorily. There are also various methods of making reading easier by adjusting how your eyes move across the text.
For instance, check out this "space reading" technique: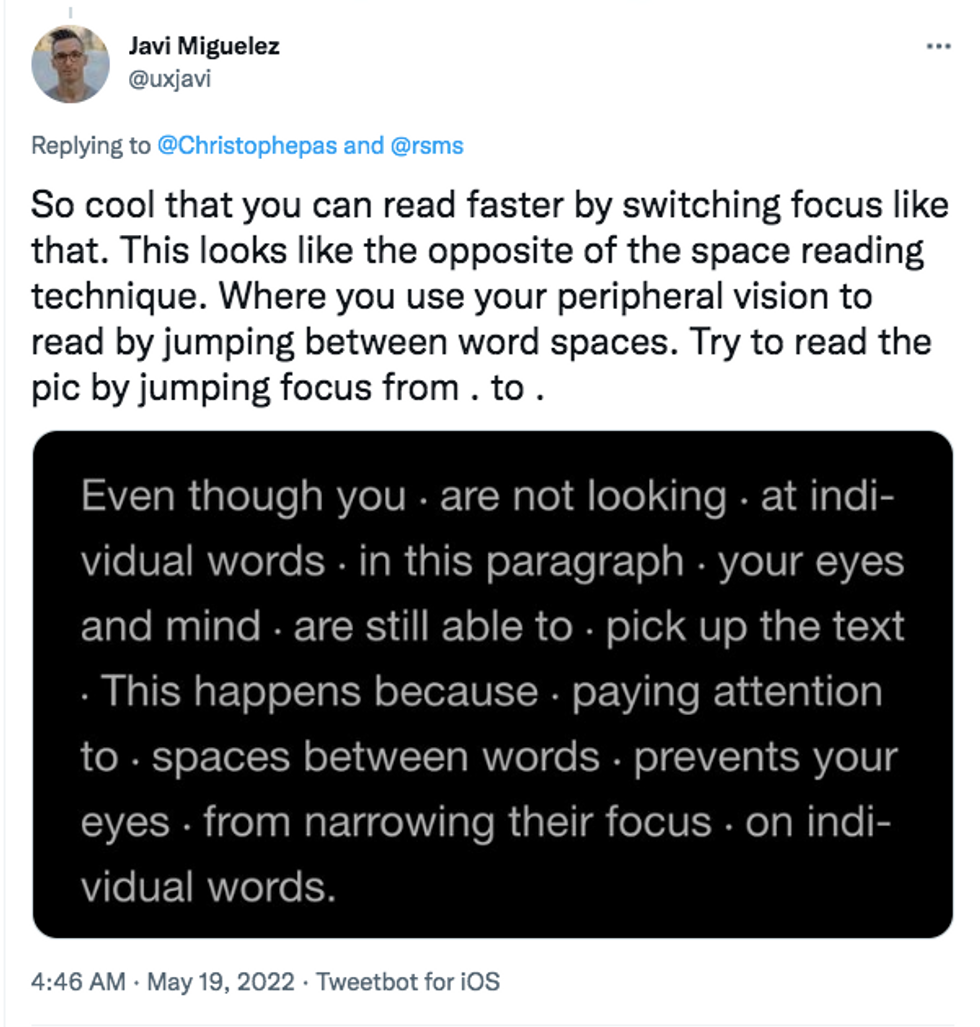 Bionic Reading has a free text converter on its website that you can use to try out its font changes. A YouTube clip from the company also shows possibilities for how the font can be adjusted to individual preferences, making more or less of the initial letters bolded.
And again, if this doesn't work for you, then it's probably not made for you. For people who struggle with reading, something like Bionic Reading could make a huge difference.
Three cheers for technology being used to help people overcome difficulties and make learning easier and more efficient.
This article originally appeared on 5.30.22.
Pets
A quick trip to the vet confirmed the cats' and family's suspicions.
Get stories worth sharing delivered to your inbox
Joy
"She got an entire childhood in less than a minute."
Photo: courtesy BioCarbon Engineering/WikiCommons
Technology is the single greatest contributor to climate change but it may also soon be used to offset the damage we've done to our planet since the Industrial Age began.

In September 2018, a project in Myanmar used drones to fire "seed missiles" into remote areas of the country where trees were not growing. Less than a year later, thousands of those seed missiles have sprouted into 20-inch mangrove saplings that could literally be a case study in how technology can be used to innovate our way out of the climate change crisis.
"We now have a case confirmed of what species we can plant and in what conditions," Irina Fedorenko, co-founder of Biocarbon Engineering, told Fast Company. "We are now ready to scale up our planting and replicate this success."
According to Fedoranko, just two operators could send out a mini-fleet of seed missile planting drones that could plant 400,000 trees a day -- a number that quite possibly could make massive headway in combating the effects of manmade climate change.
The drones were designed by an ex-NASA engineer. And with a pressing need to reseed an area in Myanmar equal to the size of Rhode Island, the challenge is massive but suddenly within reach. Bremley Lyngdoh, founder and CEO of World Impact, says reseeding that area could theoretically house as many as 1 billion new trees.
"Obviously, planting a billion trees will take a long time without the help of drones," Lyngdoh told Fast Company.
But they've now got a powerful new ally in their corner. For context, it took the Worldview Foundation 7 years to plant 6 million trees in Myanmar. Now, with the help of the drones, they hope to plant another 4 million before the end of 2019.

Myanmar is a great case study for the project. In addition to the available land for the drone project, the nation has been particularly hit by the early effects of climate change in recent years. Rising sea levels are having a measurable impact on the population. In addition to their ability to clear CO2 from the atmosphere, healthy trees can also help solidify the soil, which can reduce the kind of soil erosion that has been affecting local populations in Myanmar.

Going forward, technologies like seed-planting drones could help stem the tide of catastrophic climate change while our governments and societies work to change the habits of consumers and corporations that are driving the problem. Our endless hunger for new technology may be the driving force behind climate change and deforestation but it could also end up being the solution to a problem.
This article originally appeared on 4.17.19
Health
"Our moral compass is skewed if we think things like this are acceptable."
Photo courtesy of CC BY-ND, Immo Klink and Marco Godoy
These are called "anti-homeless spikes." They're about as friendly as they sound.
As you may have guessed, they're intended to deter people who are homeless from sitting or sleeping on that concrete step. And yeah, they're pretty awful.
The spikes are a prime example of how cities design spaces to keep homeless people away.
Not all concrete steps have spikes on them, but outdoor seating in cities like Montreal and Tokyo have been sneakily designed to prevent people from resting too comfortably for too long.
This guy sawing through a bench was part of a 2006 protest in Toulouse, France, where public seating intentionally included armrests to prevent people from lying down.
Of course, these designs do nothing to fight the cause or problem of homelessness. They're just a way of saying to homeless people, "Go somewhere else. We don't want to look at you,"basically.
One particular set of spikes was outside a former night club in London. And a local group got sick of staring at them.
Leah Borromeo is part of the art collective "Space, Not Spikes" — a group that's fed up with what she describes as "hostile architecture."
"Spikes do nothing more than shoo the realities of poverty and inequality away from your backyard — so you don't have to see it or confront what you can do to make things more equal," Borromeo told Upworthy. "And that is really selfish."

"Our moral compass is skewed if we think things like this are acceptable."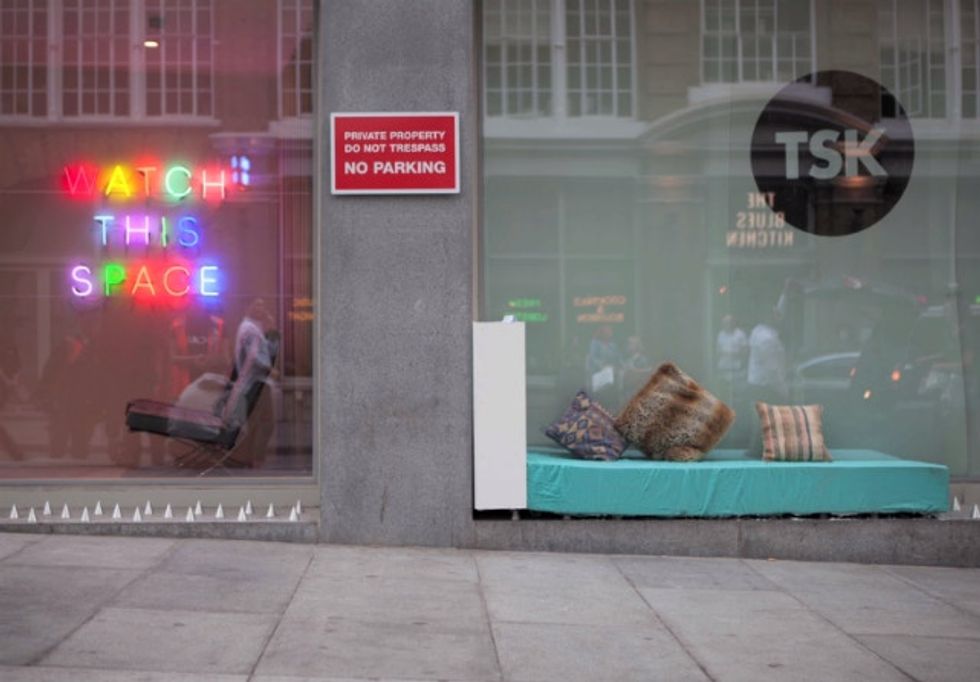 A bed covers up spikes on the concrete.
The move by Space, Not Spikes has caused quite a stir in London and around the world. The simple but impactful idea even garnered support from music artist Ellie Goulding.
"That was amazing, wasn't it?" Borromeo said of Goulding's shout-out on Instagram.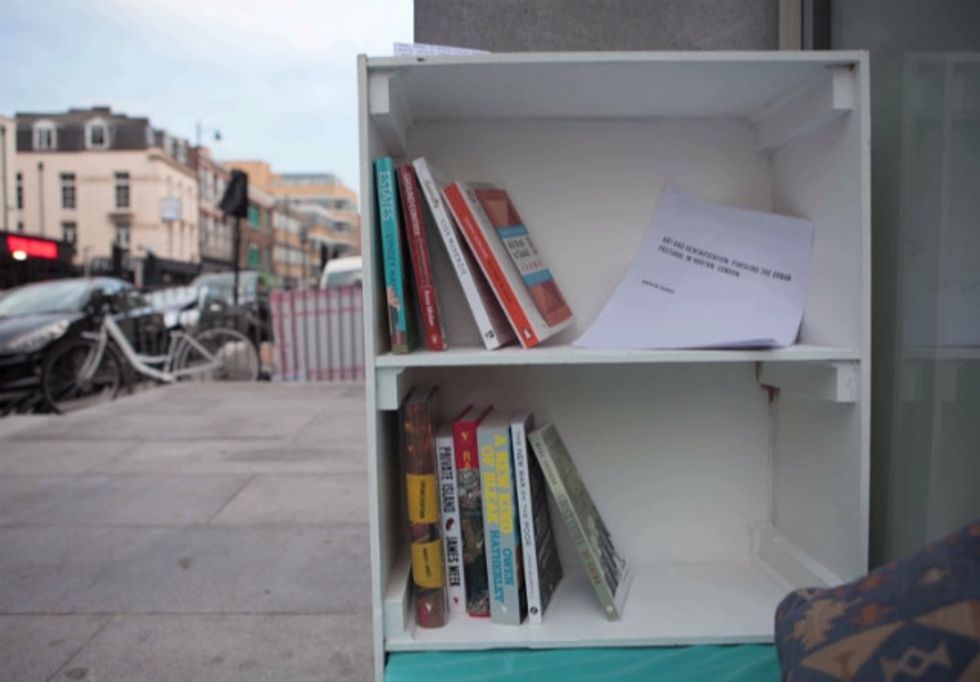 Artist's puppy books and home comforts.
"[The project has] definitely touched a nerve and I think it is because, as a whole, humans will still look out for each other," Borromeo told Upworthy. "Capitalism and greed conditions us to look out for ourselves and negate the welfare of others, but ultimately, I think we're actually really kind."

"We need to call out injustice and hypocrisy when we see it."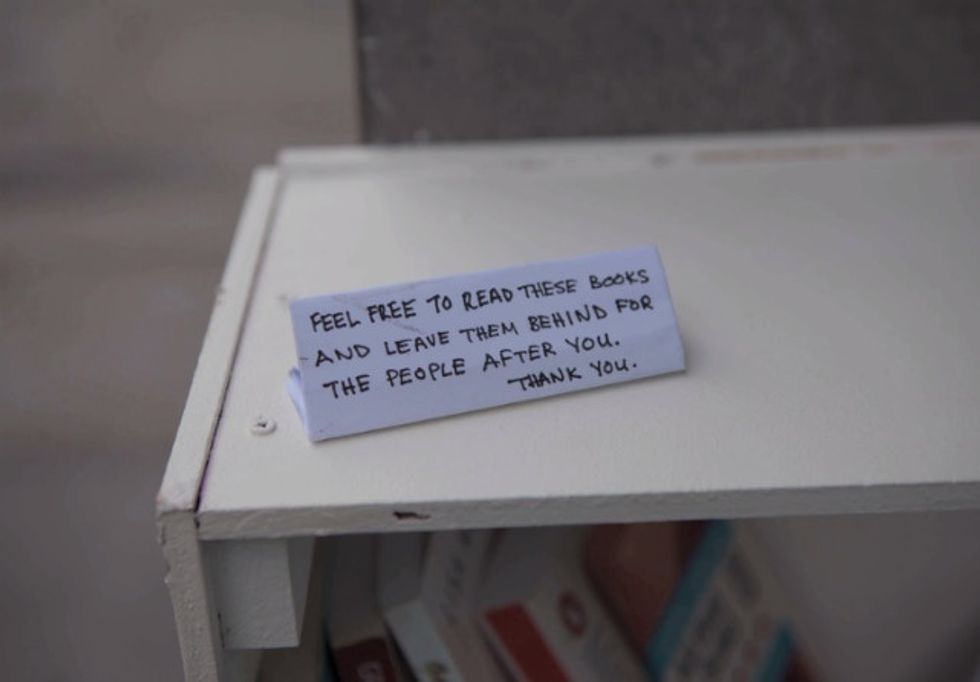 A message to offer support in contrast with current anti-homeless laws.
These spikes may be in London, but the U.S. definitely has its fair share of anti-homeless sentiment, too.

Spikes are pretty obvious — they're a visual reminder of a problem many cities are trying to ignore. But what we can't see on the street is the rise of anti-homeless laws that have cropped up from sea to shining sea.
Legislation that targets homeless people — like bans on panhandling and prohibiting people from sleeping in cars — has increased significantly in recent years.
For instance, a report by the National Law Center on Homelessness & Poverty that analyzed 187 American cities found that there's been a 43% hike in citywide bans on sitting or lying down in certain spaces since 2011.
Thankfully, groups like "Space, Not Spikes" are out there changing hearts and minds. But they need our help.
The group created a video to complement its work and Borromeo's hoping its positive underlying message will motivate people to do better.
"[The world] won't always be happy-clappy because positive social change needs constructive conflict and debate," she explained. "But we need to call out injustice and hypocrisy when we see it."
Check out their video below:
This article originally appeared on 07.24.15
Get stories worth sharing delivered to your inbox