Joy
'Moon bloopers' from NASA is the space footage we didn't know we needed
Apparently, walking on the moon is harder than it looks.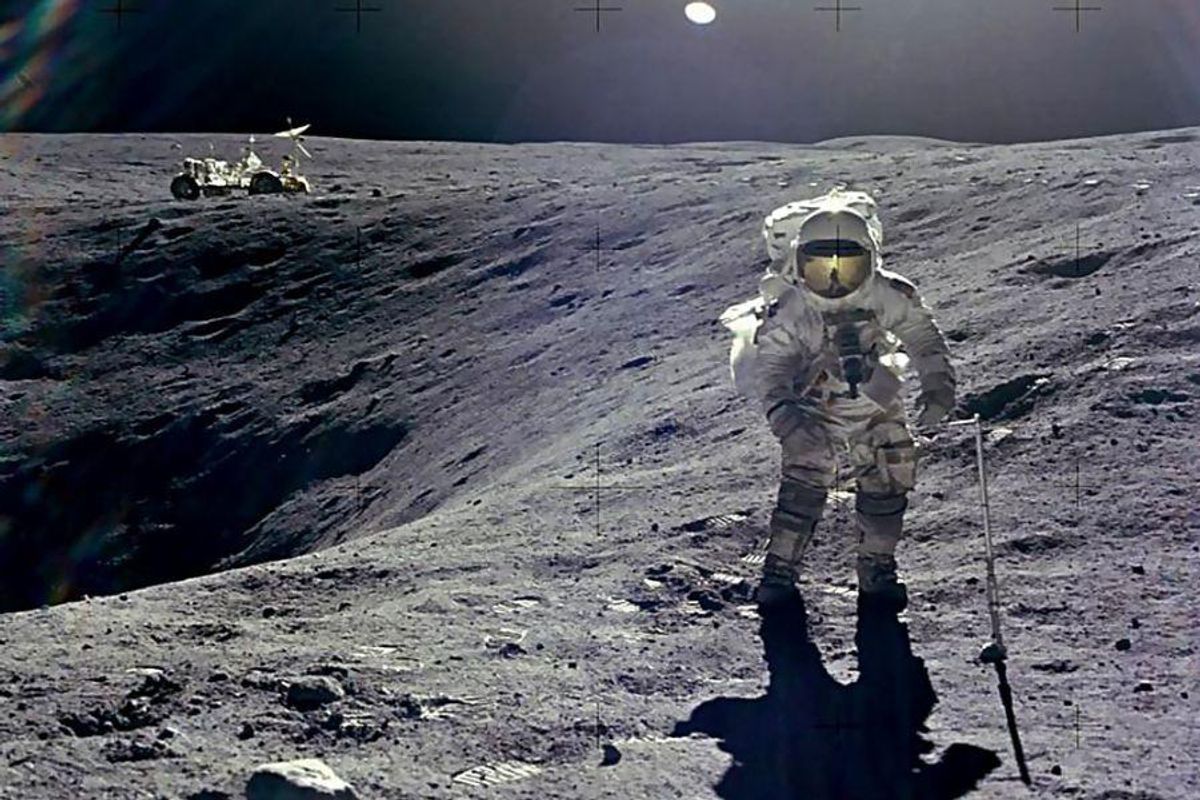 When Neil Armstrong became the first human to set foot on the moon on July 20, 1969, the story of life on Earth was dramatically and forever changed. No longer were we bound to the land on our own planet. We had set foot on another orb in space, broken a new frontier, literally going where no man had gone before.
The words, "That's one small step for man, one giant leap for mankind," spoke to the technological advances that had catapulted the human race from the first sustained, powered human flight to landing a man on the moon in less than 70 years. It was truly an incredible feat.
That "one small step," that people around the world watched on their television sets was seriously momentous. But the steps the world didn't see were genuinely hilarious.
---
NASA has footage of astronauts trying to walk around on the moon's low gravity, zero atmosphere surface, and apparently, it's a lot harder than it looks. The graceful bouncing of astronauts we've seen in moon landing films belies how easy it was to fall and trip. And once you fall down in a huge space suit in gravity conditions your body isn't used to, it's not so easy to get back up again.
Universal Curiosity shared a montage of "moon bloopers," if you will, sped up 2x for optimal comedic effect. Watch these brilliant space scientists stumble Three Stooges-style as they make their way around the moon:
\u201cFunny footage of Apollo astronauts falling on the moon. Sped up 2x.\n\nCredit: NASA\u201d

— Universal Curiosity (@Universal Curiosity) 1593270043
Eight of the 12 astronauts who have walked on the moon shared recollections of their time on the moon with Forbes in 2019. Nearly across the board, they talked about having a keen understanding of the historic nature of their moon missions, but also being totally focused on the checklists of what they needed to do while they were there. Each Apollo moon mission was limited by time, so there wasn't a lot of opportunity to just goof around.
Some astronaut falls were accidental, including one that nearly cost astronaut Charlie Duke his life during the Apollo 16 mission. While jumping up and down on the moon to see how high he could go—not part of the mission—Duke lost his balance and fell backward onto his fiberglass shell backpack. Thankfully, it didn't crack, but it was a deadly possibility that would have left him without life support and victim to the vacuum of space.
Other falls were planned experiments to see how the conditions on the moon affected human locomotion, providing valuable information for scientists. Still hilarious to watch, though.
This Dark5 documentary segment shares more details about why walking on the moon is such a challenge and the actually quite serious stories behind some of these falls: