Well Being
Anti-maskers are sharing a deadly coronavirus hoax on Facebook. Here's how to identify and stop it.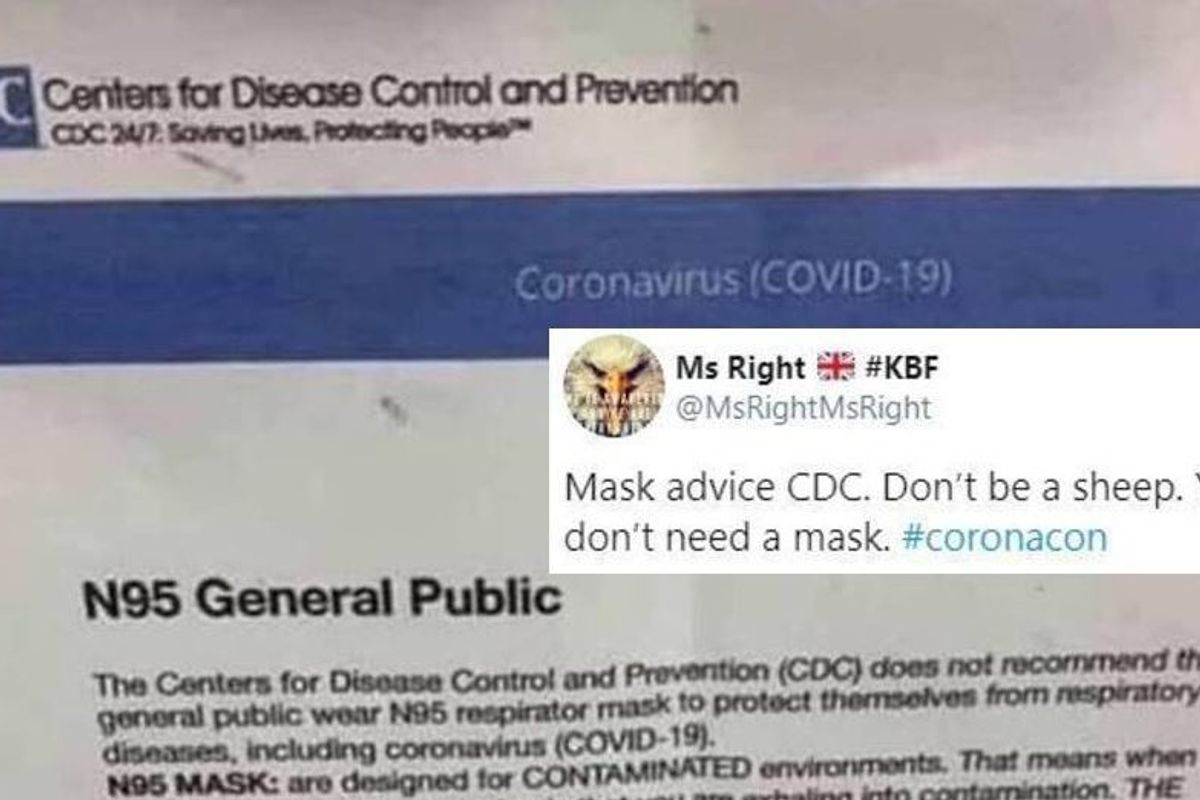 via Facebook
Anti-maskers have been passing around a bogus letter they claim is from the Centers for Disease Control that says the organization "does not recommend that the general public wear N95 respirator mask to protect themselves from respiratory diseases, including coronavirus (COVID-19)."

The document also claims that N95 masks are "designed and approved for sterile environments" and that they clog "quickly" rendering them "useless."
It also says that if you come in contact with the virus the mask "traps it" and you "become a walking virus dispenser."
---
So why is it mandatory to wear a mask when the CDC says not to? 😳 https://t.co/KSOOiIetbT

— Scott Green (@Scott Green) 1594961175.0
Mask advice CDC. Don't be a sheep. You don't need a mask. #coronacon https://t.co/Ek3XHIS6OY

— Ms Right 🇬🇧 #KBF (@Ms Right 🇬🇧 #KBF) 1594634845.0
The letter looks official because it's printed on what appears to be CDC letterhead.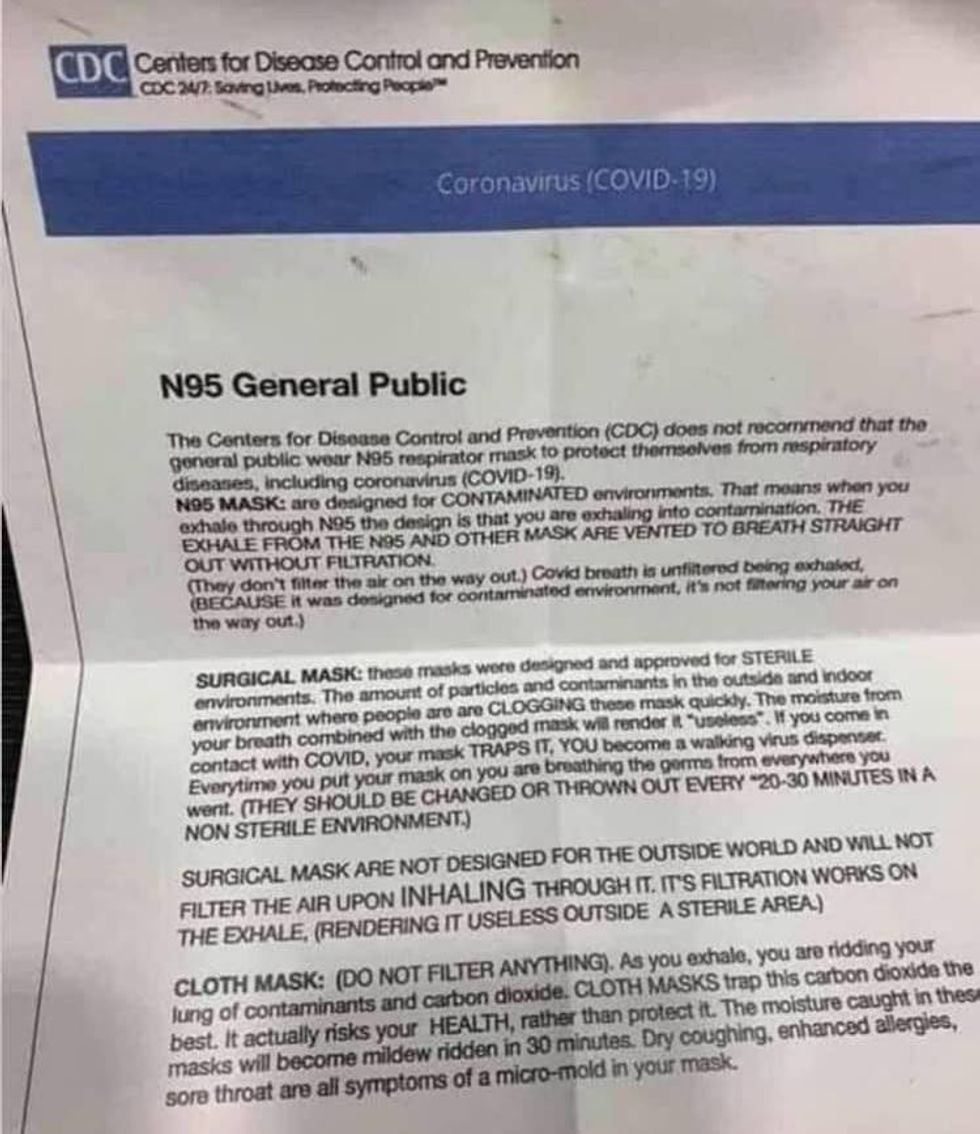 However, it is hard to read and littered with typographical errors.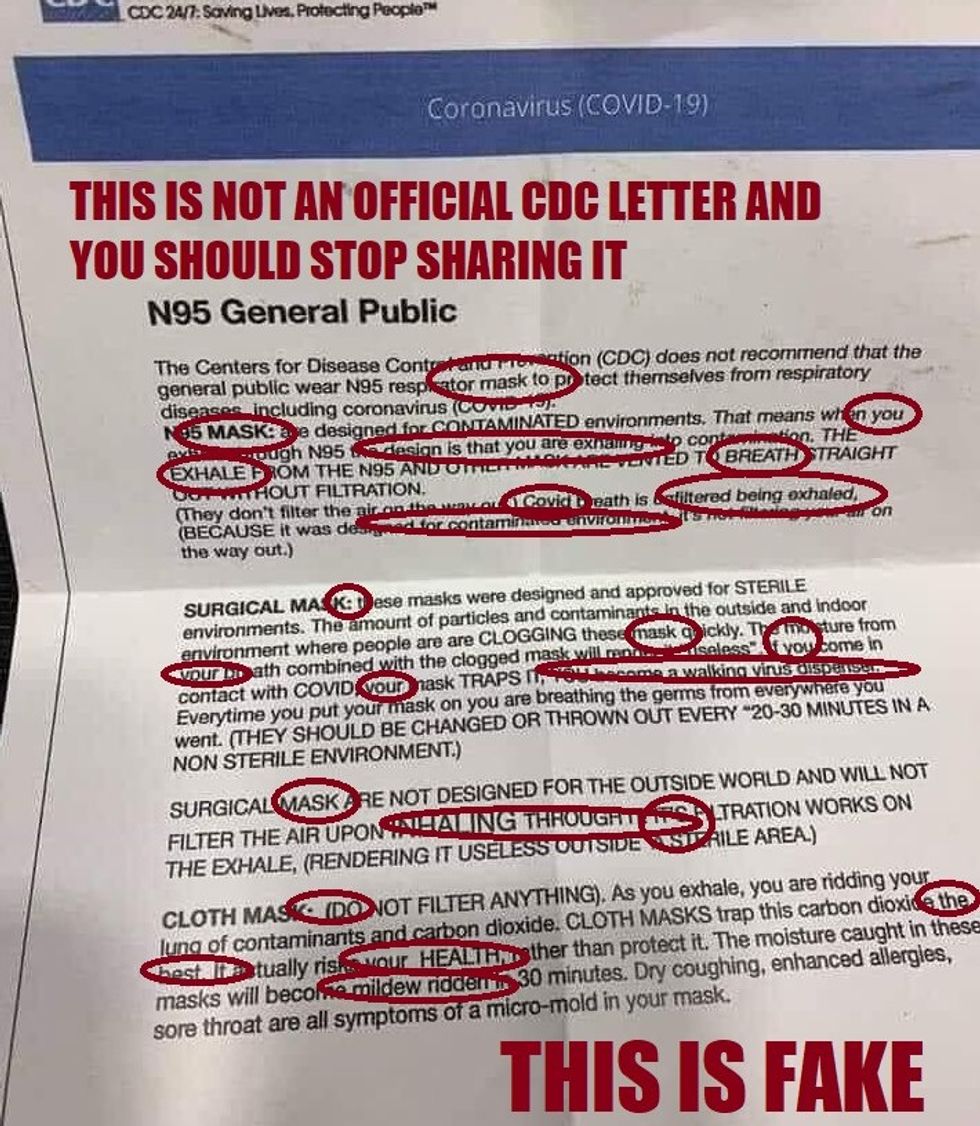 via Facebook
Dr. Jason McKnight with the Texas A&M School of Medicine told KTBX why the documents is obviously fake and how to identify other misinformation campaigns online.

"One, there are very vague terms. Another thing is, if you look and actually read the context or the content, there are a lot of grammar issues and a lot of misspelled words," said McKnight.
He also said the letter was filled with falsehoods.
"As far as the surgical masks go, there's a big falsehood in this document. It says they're useless after 20 to 30 minutes and they're only meant to be used in a sterile environment. That's not exactly true either. They do serve some purpose outside of an operating room and they can be used for way longer than 20 to 30 minutes," said McKnight.
The CDC has also spoken out about the letter.
"CDC typically does not issue guidance or recommendations to the public in such a format," an agency spokesperson told The Daily Beast. It also noted that the letter being shared on social media is a printed notice, something the CDC doesn't do.
"CDC's guidance and recommendations are distributed on the agency's website, officials social media accounts, and through news media," a spokesperson added.
The CDC's website recommends that people should wear masks and that they are safe and effective.
"To reduce the spread of COVID-19, CDC recommends that people wear cloth face coverings in public settings when around people outside of their household, especially when other social distancing measures are difficult to maintain," the site reads.
At a time when there is a deadly virus running rampant, hoaxes like the fake CDC letter can kill people. Those that believe the letter and stop wearing a mask can either die of COVID-19 or unknowingly spread it to someone who does.
That's why it's so important for people to call out fake documents and conspiracies. The more people that fall for fake information the more will get sick and the longer we'll have to live on lock down.
So if you see something fake being posted online, tell the poster to take it down or report them to content moderators so the misinformation doesn't spread like the virus we're trying to contain.