Most Shared
Alex Trebek made a very sad announcement, but his positivity and humor has everyone fighting with him.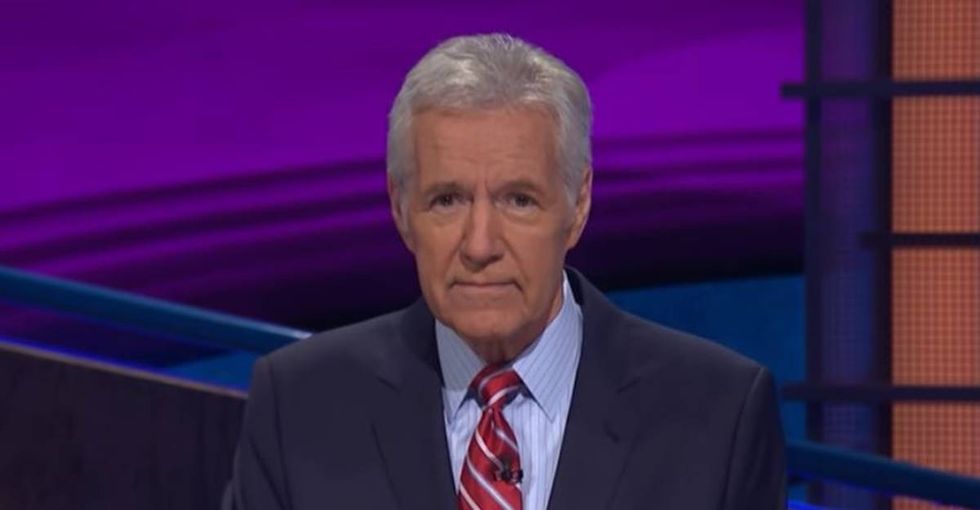 Alex Trebek has been a mainstay in American homes since he began hosting "Jeopardy!" in 1984. The 78-year-old game show host is as synonymous with the quiz show as its iconic theme song.
It's impossible to imagine anyone else standing behind that podium calling out a Daily Double.
On Wednesday, Trebek made a sobering announcement about his health. "Just like 50,000 other people in the United States each year, this week I was diagnosed with stage 4 pancreatic cancer," he said in a video taped on the "Jeopardy!" stage.
---
The survival rate for people with stage 4 pancreatic cancer is very low, but Trebek is remaining positive.
"Now normally, the prognosis for this is not very encouraging, but I'm going to fight this, and I'm going to keep working," Trebek said. "And with the love and support of my family and friends and with the help of your prayers also, I plan to beat the low survival rate statistics for this disease."
He ended his announcement with his trademark dry wit, saying he has to beat the cancer for professional reasons.
"Because under the terms of my contract, I have to host Jeopardy! for three more years," he said with a grin. "So help me. Keep the faith and we'll win."
Last November, amid rumors of his retirement, Trebek signed a contract to host the show through 2022.
While the news of Trebek's illness is definitely a gut punch for his fans, he will continue to host the show as long as his health holds up. This gives everyone the opportunity to appreciate his one-of-a-kind talent while we're still lucky enough to have him around.