Love Stories
A young woman was sad her boyfriend would never meet her mom. Turns out he already had.
Their connection is romantic comedy worthy.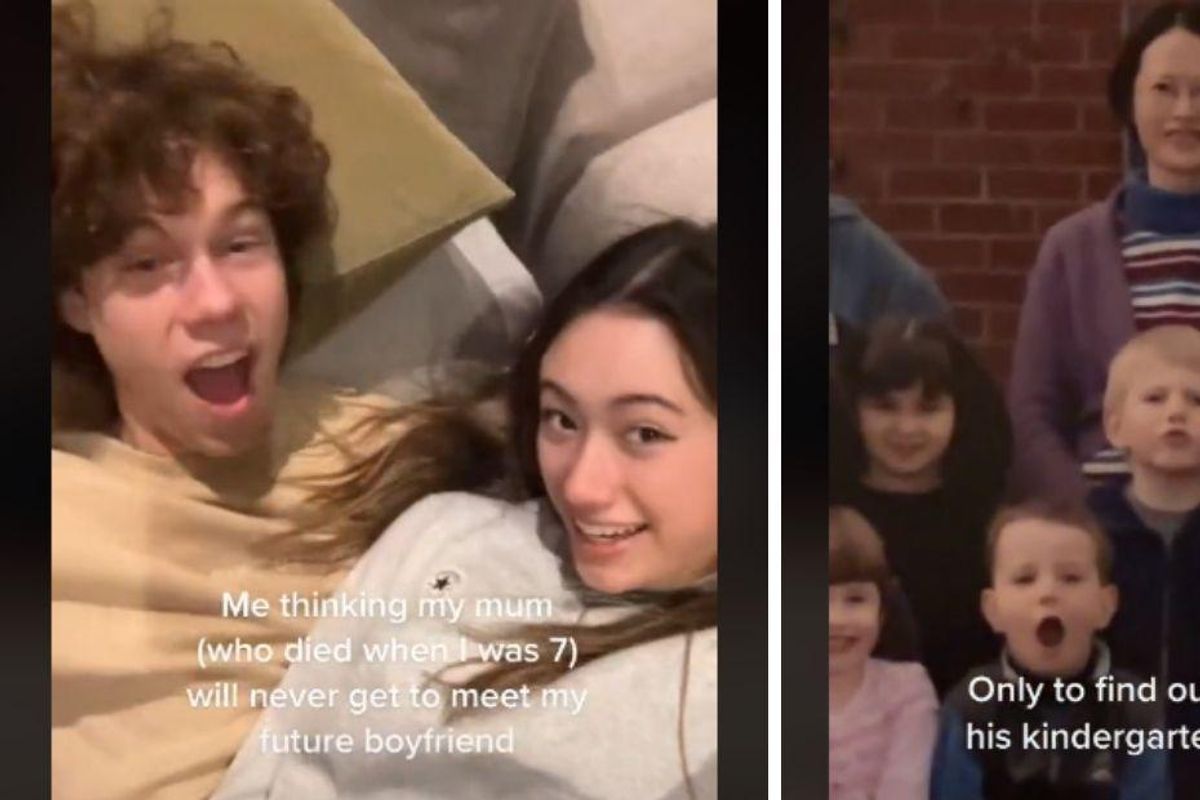 When you start dating the love of your life, you want to share it with the people closest to you. Sadly, 18-year-old Leah Menzies couldn't do that. Her mother died when she was 7, so she would never have the chance to meet the young woman's boyfriend, Thomas McLeodd. But by a twist of fate, it turns out Thomas had already met Leah's mom when he was just 3 years old. Leah's mom was Thomas' kindergarten teacher.
The couple, who have been dating for seven months, made this realization during a visit to McCleodd's house. When Menzies went to meet his family for the first time, his mom (in true mom fashion) insisted on showing her a picture of him making a goofy face. When they brought out the picture, McLeodd recognized the face of his teacher as that of his girlfriend's mother.
Menzies posted about the realization moment on TikTok. "Me thinking my mum (who died when I was 7) will never meet my future boyfriend," she wrote on the video. The video shows her and McLeodd together, then flashes to the kindergarten class picture.
"He opens this album and then suddenly, he's like, 'Oh my God. Oh my God — over and over again," Menzies told TODAY. "I couldn't figure out why he was being so dramatic."
Obviously, Menzies is taking great comfort in knowing that even though her mother is no longer here, they can still maintain a connection. I know how important it was for me to have my mom accept my partner, and there would definitely be something missing if she wasn't here to share in my joy. It's also really incredible to know that Menzies' mother had a hand in making McLeodd the person he is today, even if it was only a small part.

@speccylee

Found out through this photo in his photo album. A moment straight out of a movie 🥲

♬ iris - 🫶
"It's incredible that that she knew him," Menzies said. "What gets me is that she was standing with my future boyfriend and she had no idea."
Since he was only 3, McLeodd has no actual memory of Menzies' mother. But his own mother remembers her as "kind and really gentle."
The TikTok has understandably gone viral and the comments are so sweet and positive.
"No the chills I got omggg."
"This is the cutest thing I have watched."

"It's as if she remembered some significance about him and sent him to you. Love fate 😍✨"
In the caption of the video, she said that discovering the connection between her boyfriend and her mom was "straight out of a movie." And if you're into romantic comedies, you're definitely nodding along right now.
Menzies and McLeodd made a follow-up TikTok to address everyone's positive response to their initial video and it's just as sweet. The young couple sits together and addresses some of the questions they noticed pop up. People were confused that they kept saying McLeodd was in kindergarten but only 3 years old when he was in Menzies' mother's class. The couple is Australian and Menzies explained that it's the equivalent of American preschool.
They also clarified that although they went to high school together and kind of knew of the other's existence, they didn't really get to know each other until they started dating seven months ago. So no, they truly had no idea that her mother was his teacher. Menzies revealed that she "didn't actually know that my mum taught at kindergarten."
"I just knew she was a teacher," she explained.
She made him act out his reaction to seeing the photo, saying he was "speechless," and when she looked at the photo she started crying. McLeodd recognized her mother because of the pictures Menzies keeps in her room. Cue the "awws," because this is so cute, I'm kvelling.