True
When a pet is admitted to a shelter it can be a traumatizing experience. Many are afraid of their new surroundings and are far from comfortable showing off their unique personalities. The problem is that's when many of them have their photos taken to appear in online searches.
Chewy, the pet retailer who has dedicated themselves to supporting shelters and rescues throughout the country, recognized the important work of a couple in Tampa, FL who have been taking professional photos of shelter pets to help get them adopted.

"If it's a photo of a scared animal, most people, subconsciously or even consciously, are going to skip over it," pet photographer Adam Goldberg says. "They can't visualize that dog in their home."
Adam realized the importance of quality shelter photos while working as a social media specialist for the Humane Society of Broward County in Fort Lauderdale, Florida.
"The photos were taken top-down so you couldn't see the size of the pet, and the flash would create these red eyes," he recalls. "Sometimes [volunteers] would shoot the photos through the chain-link fences."

That's why Adam and his wife, Mary, have spent much of their free time over the past five years photographing over 1,200 shelter animals to show off their unique personalities to potential adoptive families. The Goldbergs' wonderful work was recently profiled by Chewy in the video above entitled, "A Day in the Life of a Shelter Pet Photographer."

At long last, Adele's name is buzzing around the headlines again.

Anyone who follows the megastar on social media knows the announcement of her new album, "30," has been a bit of a global phenomenon. She was recently on both, yes, BOTH, covers of U.S. and British Vogue, where she gave her first interview in five years.
Her interviews cover a wide range of topics, where she answers questions in her quintessential relatable, slightly sailor-mouthed style we've all come to know and love. And whether she's talking about her divorce, weight loss or accountability as a celebrity, she's giving us a new look at owning your life. For me, those lessons are:
Admitting when you're wrong is more important than maintaining your image.
In her British Vogue interview, Adele was asked about the criticism she received for a picture posted on Instagram during the Notting Hill Carnival last year. The photo showed the pop star sporting Bantu knots while she wore a Jamaican flag bikini, which received backlash calling her out for cultural appropriation.
And yet, despite the negative comments, Adele's picture has remained on her feed. Not out of pride, however. Quite the opposite.
In the interview, she states:
"I could see comments being like, 'the nerve to not take it down,' which I totally get. But if I take it down, it's me acting like it never happened … And it did. I totally get why people felt like it was appropriating."
Never one to resist self-deprecating humor, she admits, "I didn't read the f**king room."
Sometimes learning from our mistakes is more important than saving face. And it's something that not many are willing to do, especially those with careers dependent upon public personas. I agree that taking down the photo would be, in turn, a way of erasing it all from history. By not taking it down, Adele holds both humility AND integrity.
Body positivity is no one's business but your own.
Especially when it comes to self-care. The iconic singer had also received some negative feedback regarding her weight loss, including but not limited to: loud opinions, uniformed theories and outright accusations of being a sellout.
Sellout? More like someone who prioritizes mental health.
She said in the British Vogue interview:
"It was because of my anxiety. Working out, I would just feel better. It was never about losing weight, it was always about becoming strong and giving myself as much time every day without my phone. I got quite addicted to it. I needed to get addicted to something to get my mind right."
As for why she didn't document her workout regime: "I did it for myself and not anyone else. So why would I ever share it? I don't find it fascinating. It's my body."
And to the accusatory spectators, she says, "People have been talking about my body for 12 years. They used to talk about it before I lost weight. But yeah, whatever, I don't care. You don't need to be overweight to be body positive, you can be any shape or size."
Getting real about what makes you happy—or unhappy—is the best way to set an example.
When asked about her divorce from Simon Konecki and how it had affected their young son Angelo, Adele told U.S. Vogue, "It made him really unhappy sometimes. And that's a real wound for me that I don't know if I'll ever be able to heal."
She added that the latest album, in part, was to show her son:
"Who I am and why I voluntarily chose to dismantle his entire life … If I can reach the reason why I left … if I can find that happiness and he sees me in that happiness, then maybe I'll be able to forgive myself for it … I want my son to see me really love, and be loved. It's really important to me … I've been on my journey to find my true happiness ever since."
Is there a Grammy for Best Use of an Album to Teach Your Children Self-Love? If so, that award goes to Adele.
Owning your part is the way to heal a broken heart.
Many fans who got through break-ups by belting out the lyrics to "Chasing Pavements" might be a touch disappointed by this, but: Adele's new album will not not be featuring themes of retribution and heartbreak. This is a good thing.
Instead of making a finger-pointing divorce album, Adele described "30" as "It was more me divorcing myself. Just being like, Bitch, fuckin' hot mess, get your fuckin' shit together!"
While reflecting on her previous works, she noted:
"I realized that I was the problem … all the other albums are like, You did this! You did that! Fuck you! Why can't you arrive for me? Then I was like: Oh, shit, I'm the running theme, actually. Maybe it's me!"
If only more pop artists could allow their lyrics to reflect more nuance and maturity. Sure, it might feel cathartic to sing at the top of your lungs how someone did you wrong, but where is the personal growth in that? What Adele is sharing here carries so much more value, and reminds us all to take back our own personal power.
Like many fans, I cannot wait to check out "30." I'm expecting this woman (who is the exact same age as myself) to offer the wisdom of a thousand lifetimes. If the suspense is killing you, check out a quick teaser of one of Adele's new songs below.
Adele - Easy On Me (Clip) www.youtube.com
True
When Sue Hoppin was in college, she met the man she was going to marry. "I was attending the University of Denver, and he was at the Air Force Academy," she says. "My dad had also attended the University of Denver and warned me not to date those flyboys from the Springs."
"He didn't say anything about marrying one of them," she says. And so began her life as a military spouse.
The life brings some real advantages, like opportunities to live abroad — her family got to live all around the US, Japan, and Germany — but it also comes with some downsides, like having to put your spouse's career over your own goals.
"Though we choose to marry someone in the military, we had career goals before we got married, and those didn't just disappear."
Career aspirations become more difficult to achieve, and progress comes with lots of starts and stops. After experiencing these unique challenges firsthand, Sue founded an organization to help other military spouses in similar situations.
Sue had gotten a degree in international relations because she wanted to pursue a career in diplomacy, but for fourteen years she wasn't able to make any headway — not until they moved back to the DC area. "Eighteen months later, many rejections later, it became apparent that this was going to be more challenging than I could ever imagine," she says.
Eighteen months is halfway through a typical assignment, and by then, most spouses are looking for their next assignment. "If I couldn't find a job in my own 'hometown' with multiple degrees and a great network, this didn't bode well for other military spouses," she says.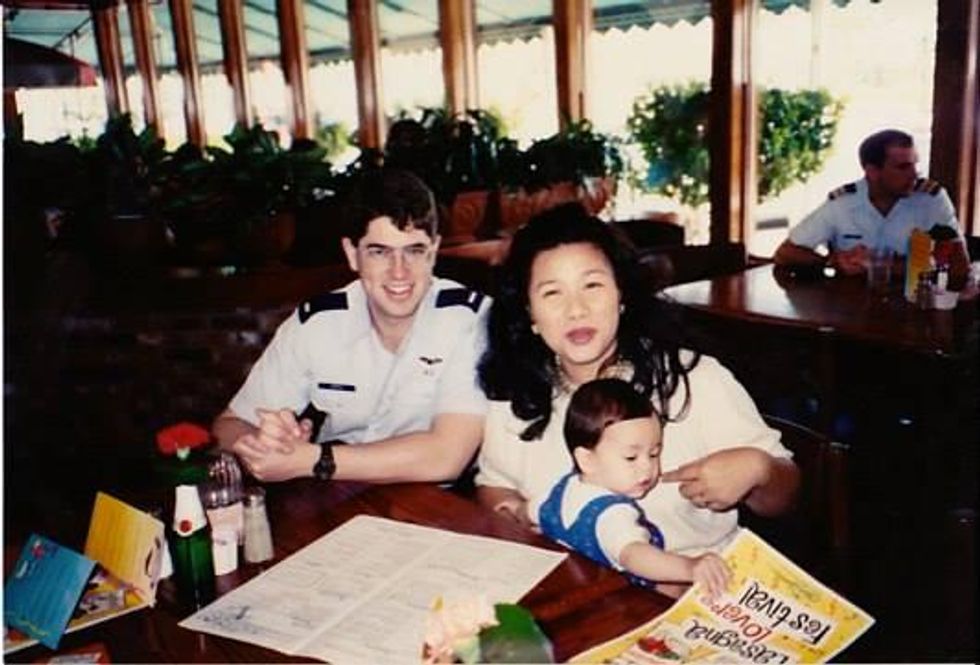 She's not wrong. Military spouses spend most of their lives moving with their partners, which means they're often far from family and other support networks. When they do find a job, they often make less than their civilian counterparts — and they're more likely to experience underemployment or unemployment. In fact, on some deployments, spouses are not even allowed to work.

Before the pandemic, military spouse unemployment was 22%. Since the pandemic, it's expected to rise to 35%.
Sue eventually found a job working at a military-focused nonprofit, and it helped her get the experience she needed to create her own dedicated military spouse program. She wrote a book and started saving up enough money to start the National Military Spouse Network (NMSN), which she founded in 2010 as the first organization of its kind.
"I founded the NMSN to help professional military spouses develop flexible careers they could perform from any location."
"Over the years, the program has expanded to include a free digital magazine, professional development events, drafting annual White Papers and organizing national and local advocacy to address the issues of most concern to the professional military spouse community," she says.
Not only was NMSN's mission important to Sue on a personal level she also saw it as part of something bigger than herself.
"Gone are the days when families can thrive on one salary. Like everyone else, most military families rely on two salaries to make ends meet. If a military spouse wants or needs to work, they should be able to," she says.
"When less than one percent of our population serves in the military," she continues, "we need to be able to not only recruit the best and the brightest but also retain them."
"We lose out as a nation when service members leave the force because their spouse is unable to find employment. We see it as a national security issue."
"The NMSN team has worked tirelessly to jumpstart the discussion and keep the challenges affecting military spouses top of mind. We have elevated the conversation to Congress and the White House," she continues. "I'm so proud of the fact that corporations, the government, and the general public are increasingly interested in the issues affecting military spouses and recognizing the employment roadblocks they unfairly have faced."
"We have collectively made other people care, and in doing so, we elevated the issues of military spouse unemployment to a national and global level," she adds. "In the process, we've also empowered military spouses to advocate for themselves and our community so that military spouse employment issues can continue to remain at the forefront."
Not only has NMSN become a sought-after leader in the military spouse employment space, but Sue has also seen the career she dreamed of materializing for herself. She was recently invited to participate in the public re-launch of Joining Forces, a White House initiative supporting military and veteran families, with First Lady Dr. Jill Biden.
She has also had two of her recommendations for practical solutions introduced into legislation just this year. She was the first in the Air Force community to show leadership the power of social media to reach both their airmen and their military families.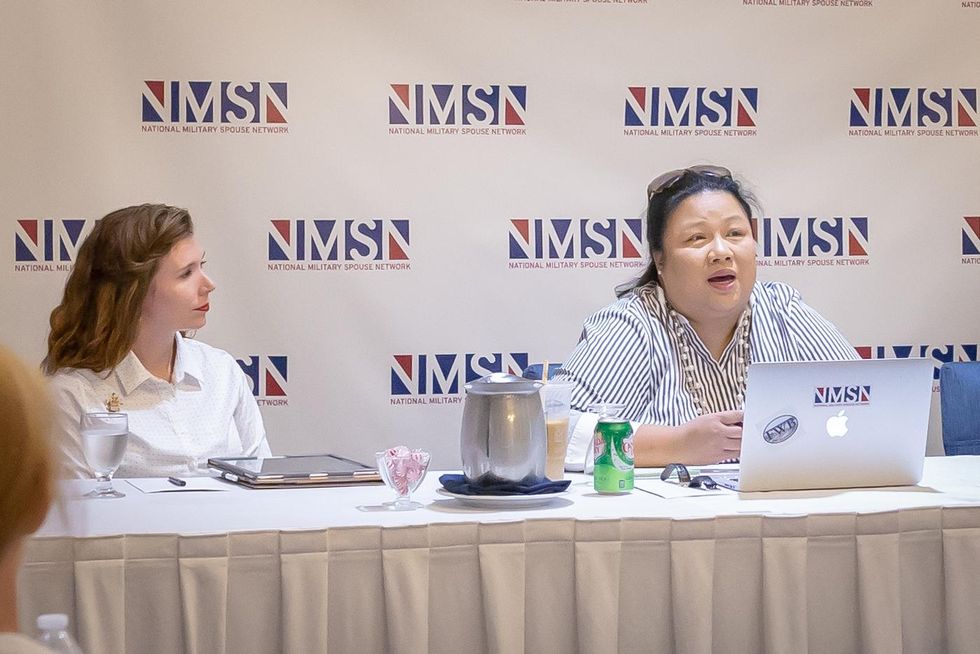 That is why Sue is one of Tory Burch's "Empowered Women" this year. The $5,000 donation will be going to The Madeira School, a school that Sue herself attended when she was in high school because, she says, "the lessons I learned there as a student pretty much set the tone for my personal and professional life. It's so meaningful to know that the donation will go towards making a Madeira education more accessible to those who may not otherwise be able to afford it and providing them with a life-changing opportunity."

Most military children will move one to three times during high school so having a continuous four-year experience at one high school can be an important gift. After traveling for much of her formative years, Sue attended Madeira and found herself "in an environment that fostered confidence and empowerment. As young women, we were expected to have a voice and advocate not just for ourselves, but for those around us."

To learn more about Tory Burch and Upworthy's Empowered Women program visit https://www.toryburch.com/empoweredwomen/. Nominate an inspiring woman in your community today!
Get stories worth sharing delivered to your inbox