Photo courtesy of Justin Sather
True
Upworthy and GoFundMe are celebrating ideas that make the world a better, kinder place. Visit upworthy.com/kindness to join the largest collaboration for human kindness in history and start your own GoFundMe.
While most 10-year-olds are playing Minecraft, riding bikes, or watching YouTube videos, Justin Sather is intent on saving the planet. And it all started with a frog blanket when he was a baby.
"He carried it everywhere," Justin's mom tells us. "He had frog everything, even a frog-themed birthday party."
In kindergarten, Justin learned that frogs are an indicator species – animals, plants, or microorganisms used to monitor drastic changes in our environment. With nearly one-third of frog species on the verge of extinction due to pollution, pesticides, contaminated water, and habitat destruction, Justin realized that his little amphibian friends had something important to say.
"The frogs are telling us the planet needs our help," says Justin.
While it was his love of frogs that led him to understand how important the species are to our ecosystem, it wasn't until he read the children's book What Do You Do With An Idea by Kobi Yamada that Justin-the-activist was born.
Inspired by the book and with his mother's help, he set out on a mission to raise funds for frog habitats by selling toy frogs in his Los Angeles neighborhood. But it was his frog art which incorporated scientific facts that caught people's attention. Justin's message spread from neighbor to neighbor and through social media; so much so that he was able to raise $2,000 for the non-profit Save The Frogs.
And while many kids might have their 8th birthday party at a laser tag center or a waterslide park, Justin invited his friends to the Ballona wetlands ecological preserve to pick invasive weeds and discuss the harms of plastic pollution.
Justin's determination to save the frogs and help the planet got a massive boost when he met legendary conservationist Dr. Jane Goodall.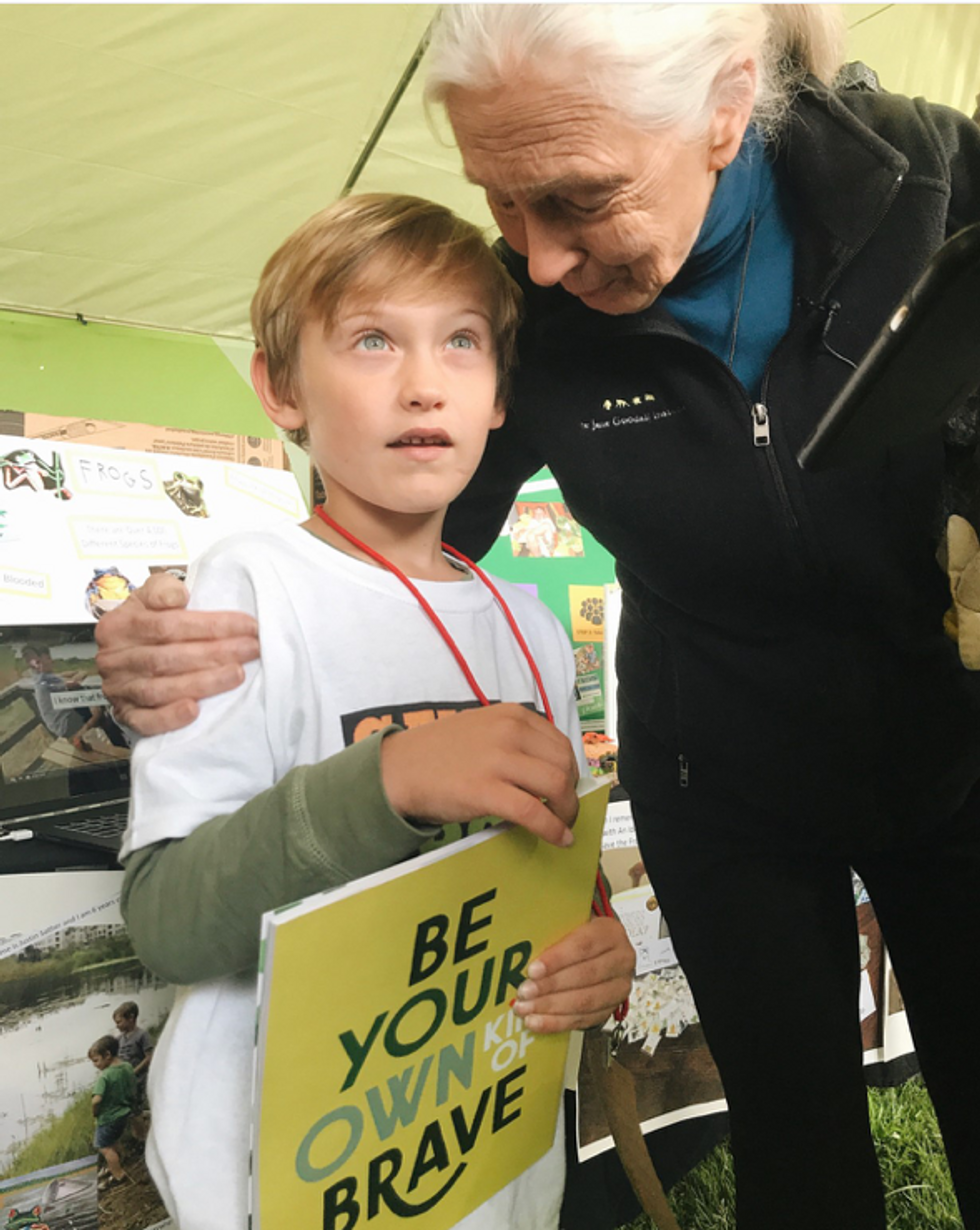 Photo courtesy of Justin Sather
At one of her Roots and Shoots youth initiative events, Dr. Goodall was so impressed with Justin's enthusiasm for helping frogs, she challenged the young activist to take it one step further and focus on plastic pollution as well. Justin accepted her challenge and soon after was featured in an issue of Bravery Magazine dedicated to Jane Goodall.
In the following months, Justin learned how to turn fishing line into bracelets, transform plastic bags into doormats, recycle crayons, and shred plastic to make bowls. For him, turning trash into treasure became a thing of magic. He even collected 200 pounds of plastic caps, and transformed this trash into a buddy bench for his school.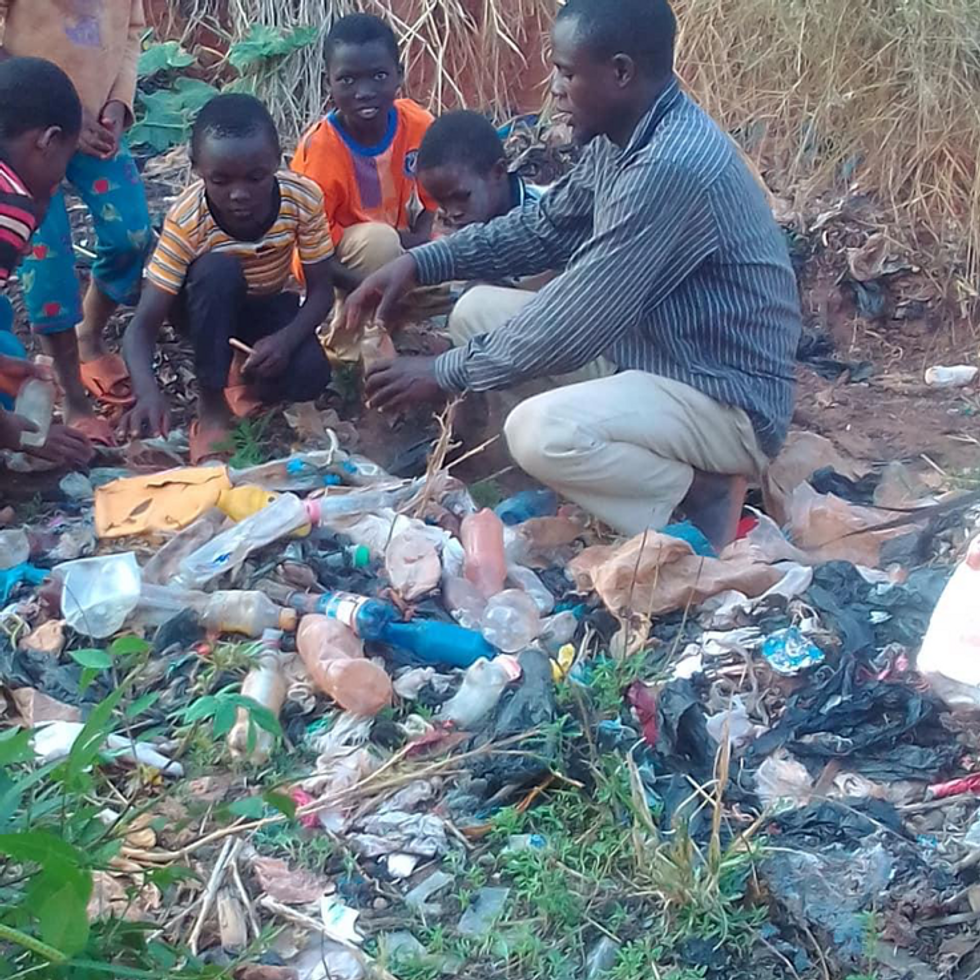 Photo courtesy of Justin Sather
On Earth Day 2019, Perise Foran, an environmental science student from Cameroon reached out to Justin asking for help. Justin saw that the streams where Perise lived were overflowing with plastic garbage, and quickly agreed to help his new friend. The two of them started off with a plan to transform the 8,000 plastic bottles Perise collected on a World Litter Run and had been sitting in his yard for over 6 months.
According to Reuters, every minute, a million plastic bottles are bought around the world. And according to PlasticOceans.org, every minute, a full garbage truck's worth of plastic is dumped into our oceans. Upon learning those facts, Justin further strengthened his resolve.
He started asking everyone he was connected to for suggestions on what could be done with Perise's stockpile of bottles. Soon, creative upcycling ideas began pouring in from all around the world. Justin completed the projects with family and friends in the United States, and encouraged Perise to do the same in "parallel" in Cameroon. That's when Justin's Parallel Projects GoFundMe was created. Its aim is to raise awareness about water quality, find creative solutions to the plastic pollution issue, educate people to move away from single-use plastics, and inspire youth to become eco-heroes.
Soon, the Parallel Projects ideas spread to other countries like Kenya, Canada, Tanzania, and Nigeria, resulting in trash transforming into toys, bottle cap art, flower planters, jewelry, and more.
One might think that Justin had his hands full with all these projects… but he didn't stop there.
This summer, Justin's dream of visiting the rare and exotic frogs of Ecuador's Choco Cloud Forest came true with the Reserva Youth Council. Through his land conservation GoFundMe, and with generous donations from the Rainforest Trust, Old Navy, and the public, Justin purchased 30 acres of land which protected habitat for critically endangered species that were at risk from logging and ranching.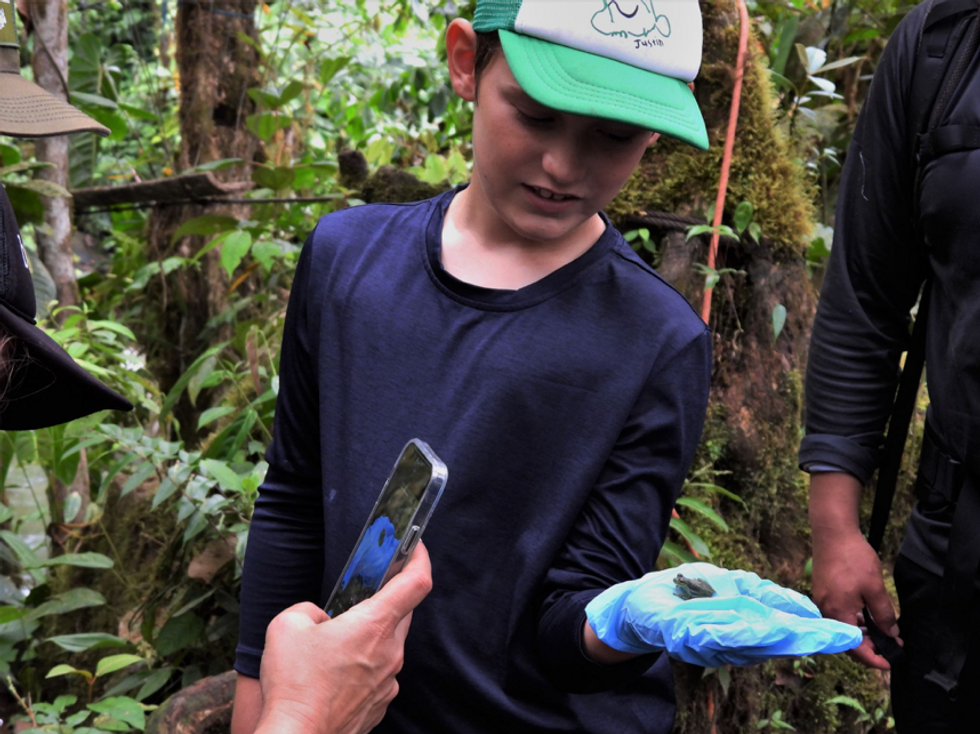 Photo courtesy of Justin Sather
Through a separate Reserva Youth Council initiative, Justin's goal now is to collect a million letters from young people like himself to send to world leaders with the aim of protecting 30% of the planet by 2030.
For anyone looking to help the planet Justin suggests to "start off small, take chances, and be brave."
To learn more about Justin Sather and his initiatives visit his website. Or donate directly to his GoFundMe's For the Love of Frogs, the Parallel Projects, and habitat protection in Ecuador.
True
Often, parents of children with special needs struggle to find Halloween costumes that will accommodate medical equipment or provide a proper fit. And figuring out how to make one? Yikes.
There's good news; shopDisney has added new ensembles to their already impressive line of adaptive play costumes. And from 8/30 - 9/26, there's a 20% off sale for all costume and costume accessory orders of $75+ with code Spooky.
When looking for the right costume, kids with unique needs have a lot of extra factors to consider: wheelchair wheels get tangled up in too-long material, feeding tubes could get twisted the wrong way, and children with sensory processing disorders struggle with the wrong kind of fabric, seams, or tags. There are a lot of different obstacles that can come between a kid and the ability to wear the costume of their choice, which is why it's so awesome that more and more companies are recognizing the need for inclusive creations that make it easy for everyone to enjoy the magic of make-believe.
Created with inclusivity in mind, the adaptive line is designed to discreetly accommodate tubes or wires from the front or the back, with lots of stretch, extra length and roomier cut, and self-stick fabric closures to make getting dressed hassle-free. The online shop provides details on sizing and breaks down the magical elements of each outfit and accessory, taking the guesswork out of selecting the perfect costume for the whole family.
Your child will be able to defeat Emperor Zurg in comfort with the Buzz Lightyear costume featuring a discreet flap opening at the front for easy tube access, with self-stick fabric closure. There is also an opening at the rear for wheelchair-friendly wear, and longer-length inseams to accommodate seated guests. To infinity and beyond!
An added bonus: many of the costumes offer a coordinating wheelchair cover set to add a major boost of fun. Kids can give their ride a total makeover—all covers are made to fit standard size chairs with 24" wheels—to transform it into anything from The Mandalorian's Razor Crest ship to Cinderella's Coach. Some options even come equipped with sounds and lights!
Catch our friends @Rollettes_LA dancing their way into spooky szn with our adaptive Halloween offerings, available… https://t.co/U6uPnf8EVl

— shopDisney (@shopDisney)1629144012.0
From babies to adults and adaptive to the group, shopDisney's expansive variety of Halloween costumes and accessories are inclusive of all.
Don't forget about your furry companions! Everyone loves to see a costumed pet trotting around, regardless of the occasion. You can literally dress your four-legged friend to look like Sven from Frozen, which might not sound like something you need in your life but...you totally do. CUTENESS OVERLOAD.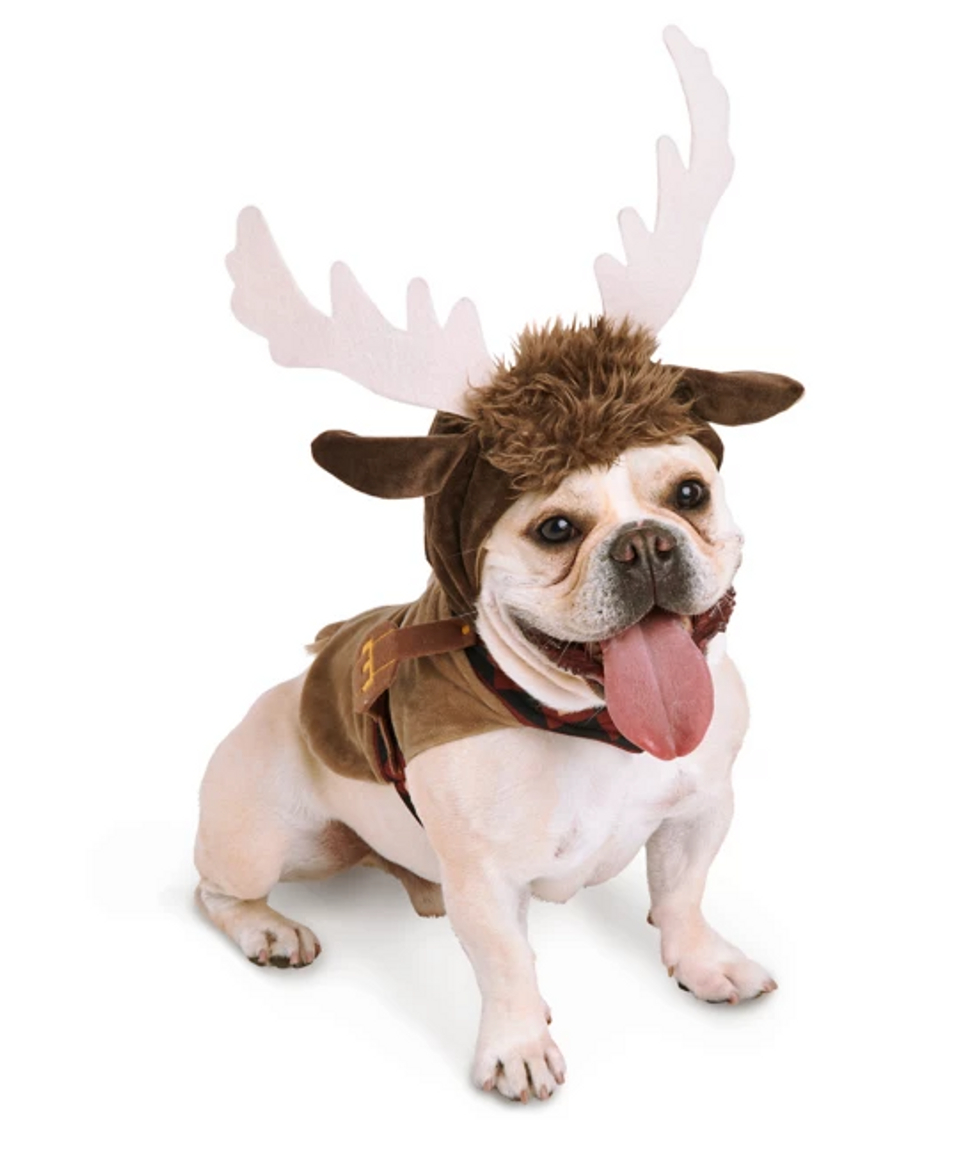 This year has been tough for everyone, so when a child gets that look of unfettered joy that comes from finally getting to wear the costume of their dreams, it's extra rewarding. Don't wait until the last minute to start looking for the right ensemble!
*Upworthy may earn a portion of sales revenue from purchases made through affiliate links on our site.
From Your Site Articles
Related Articles Around the Web
Get stories worth sharing delivered to your inbox