Family
A letter to the woman who told me to stay in my daughter's life after seeing my skin.
'I'm not a shiny unicorn. There are plenty of black men like me who love fatherhood.'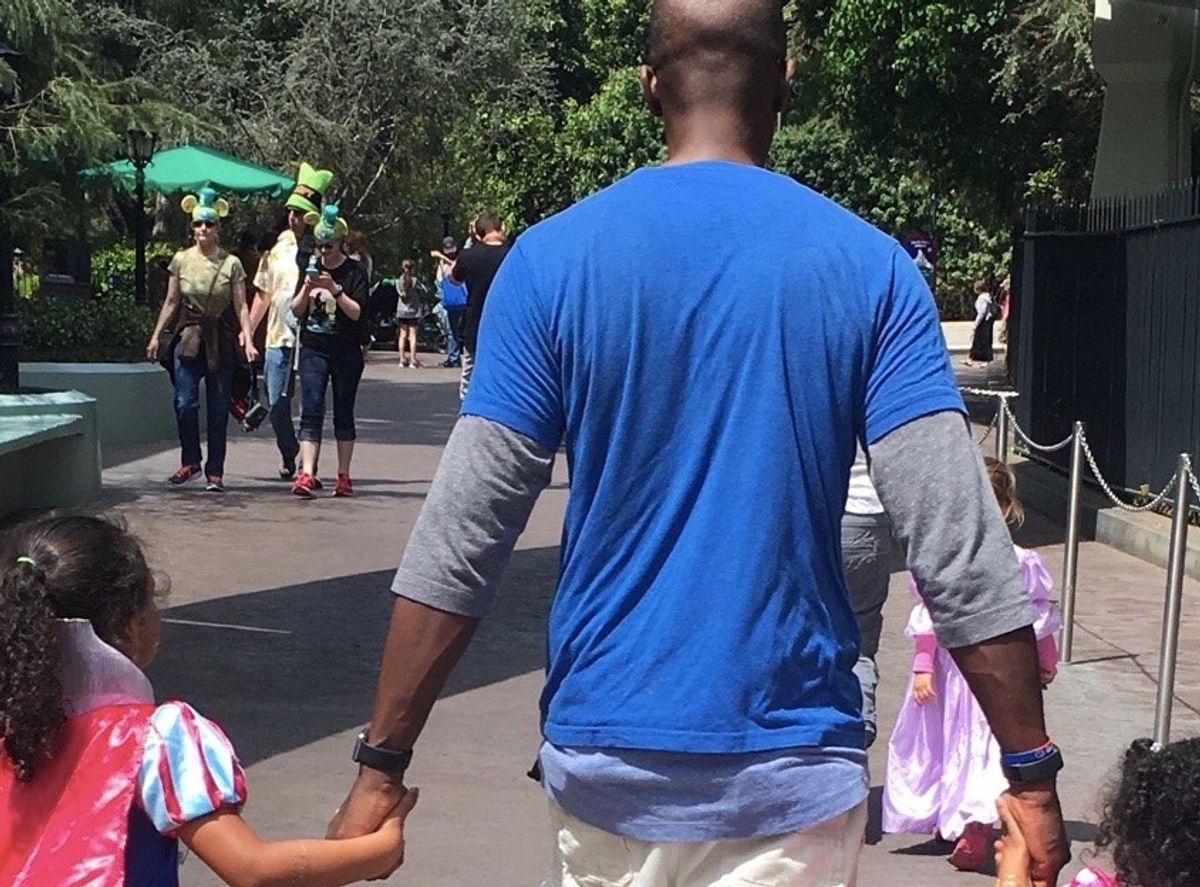 Doyin Richards
True
Fathers Everywhere
This article originally appeared on 06.15.16
To a stranger I met at a coffee shop a few years ago who introduced me to what my life as a parent would be like:

My "welcome to black fatherhood moment" happened five years ago, and I remember it like it happened yesterday.
I doubt you'll remember it, though — so let me refresh your memory.
---
It was a beautiful Saturday morning in Los Angeles in 2011, and I decided to walk my then 3-month-old daughter to the corner Starbucks. That's when I met you — a stylish older white woman who happened to be ahead of me in line.
You were very friendly and offered up many compliments about how cute my daughter was, and I agreed wholeheartedly with you. She's cute.
But after you picked up your drink, you delivered this parting shot:
"No offense, but it's not often that I see black guys out with their kids, but it's such a wonderful thing," she said. "No matter what happens, I hope you stay involved in her life."
And then you put on your designer sunglasses and left.
Meanwhile, I was like...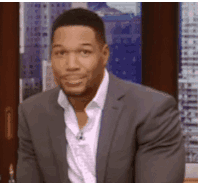 That was unexpected.
GIF from "Live with Kelly and Michael."
Here's the thing: I'm not angry with you, but I want you to understand the impact you had on my life.
Do I think you're a mean-spirited racist? No, I don't. Actually, I bet you're a really nice lady.
But let's be real for a second: Your view on black dads was tough for me to stomach, and I want you to know a few things about what it's really like to be me.
1. I want you to know that we have challenges that other dads don't experience.
I know what you're thinking: "Oh boy — let me brace myself while he 'blacksplains' how hard his life is while shaming me for ignoring my white privilege."
But that would be missing the point. We all have our challenges in life, and I'm not about to bring a big bottle of whine to a pity party.
Instead, as you probably know, today's dads are trying to shed the stigma of being clueless buffoons.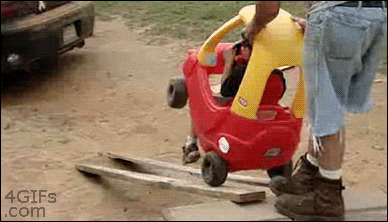 Kid, you're gonna love this! Wheeeee ... uh oh.
But black dads have an additional obstacle to hurdle in that we're often seen as completely disinterested in fatherhood. Trust me, it gets old when people automatically assume you're not good at something because of the color of your skin.

Our encounter was the first of many examples of this that I've witnessed, directly or indirectly, in my five and a half years of fatherhood, and I'm sure there will be more to come.
2. I want you to know that I'm not a shiny unicorn. There are plenty of black men just like me who love fatherhood.
During the months that followed our brief meeting, I felt a need to prove that you — a complete stranger — were wrong. I needed to prove there were plenty of black men just like me who loved being dads.
I knew a lot of these great men personally: My dad, my two brothers, and many others embraced fatherhood. But could any data back up how much black dads embraced fatherhood? Because the examples in mainstream media were few and far between.
Thankfully, the answer is yes.
A few years after I met you, a study from the Centers for Disease Control and Prevention showed that 70% of black dads are likely to engage in common child-rearing activities such as diaper changing, bathing, toilet training, etc., on a daily basis. That's a higher percentage than white or Hispanic fathers.
Full stop.
This isn't about black dads being "the best" because parenthood isn't a competition. It's about showing that we're not even remotely as bad as society makes us out to be.
And outside of the CDC study, I saw firsthand how hands-on black dads are when I was thrust into the public eye, too, because a lot of them reached out to me to tell their stories.
We nurture our kids.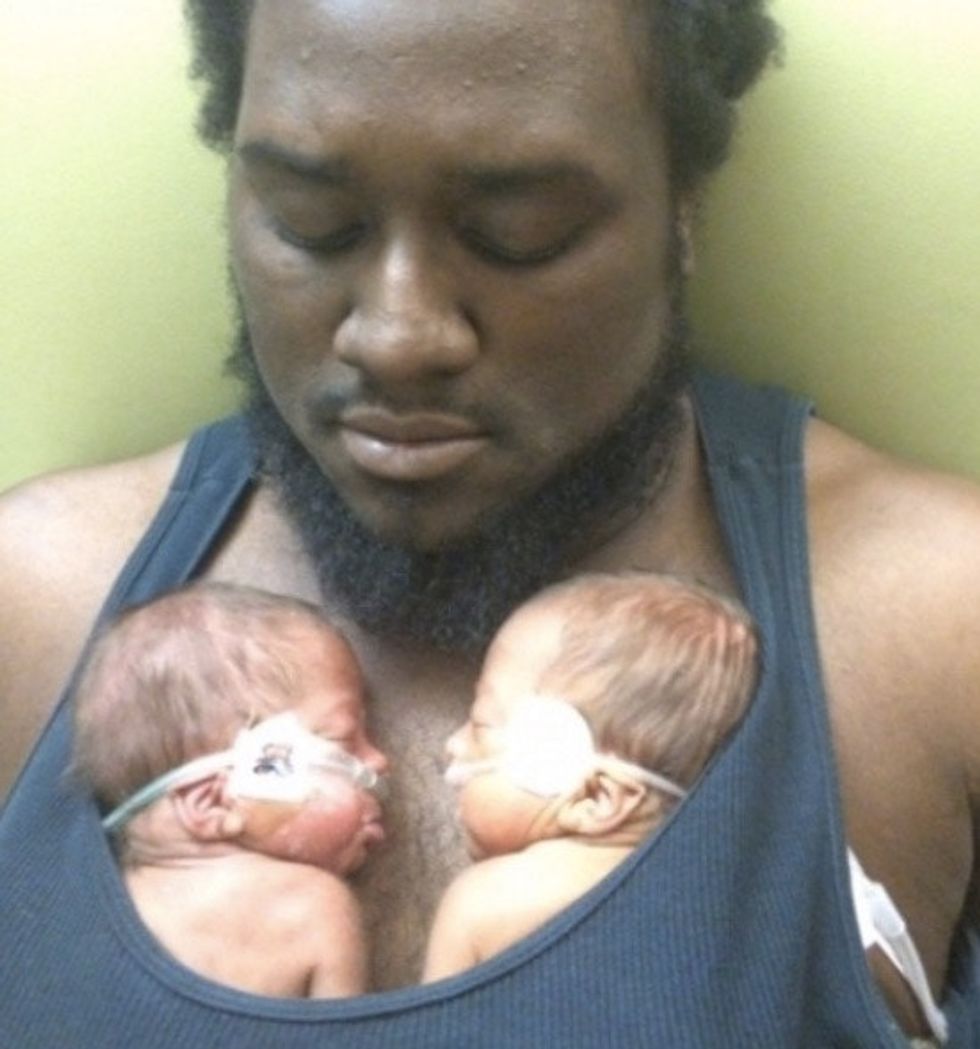 Getting close to the twins.
Photo taken from the Daddy Doin' Work Instagram feed and used with permission.
We're affectionate with our kids.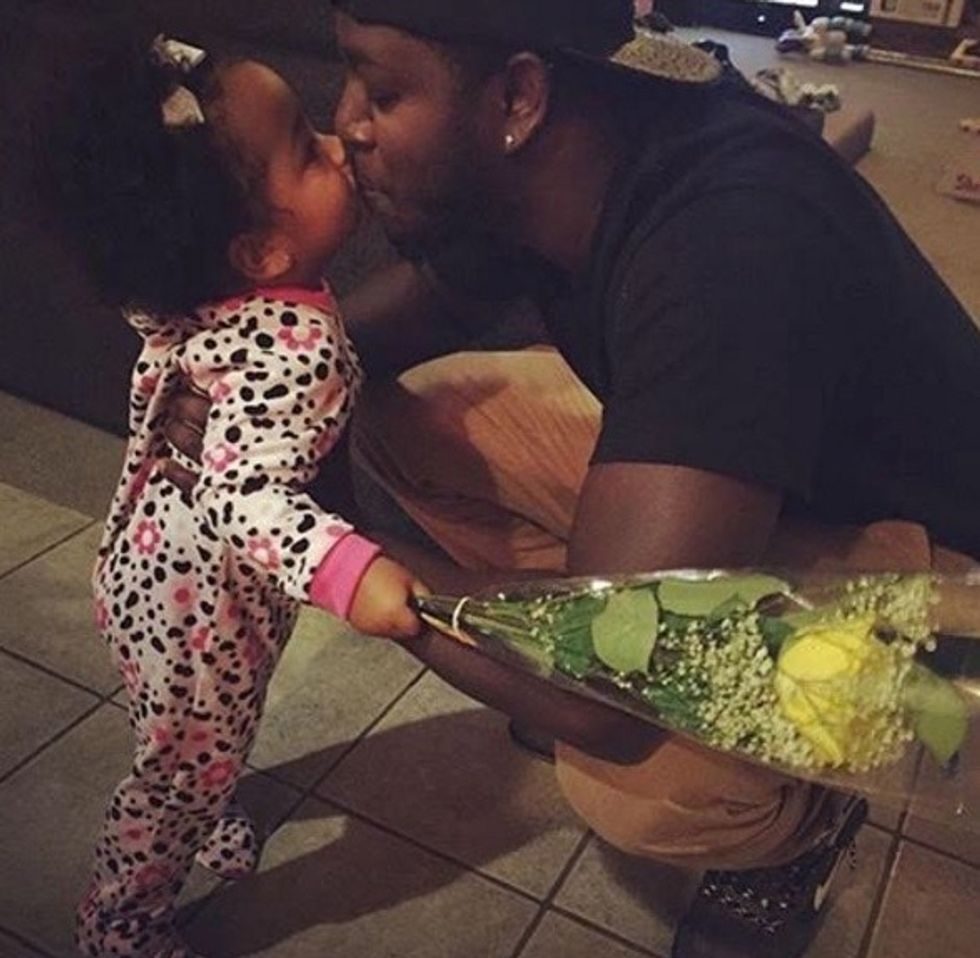 Love is universal.
Photo taken from the Daddy Doin' Work Instagram feed and used with permission.
And we do whatever our kids need us to do.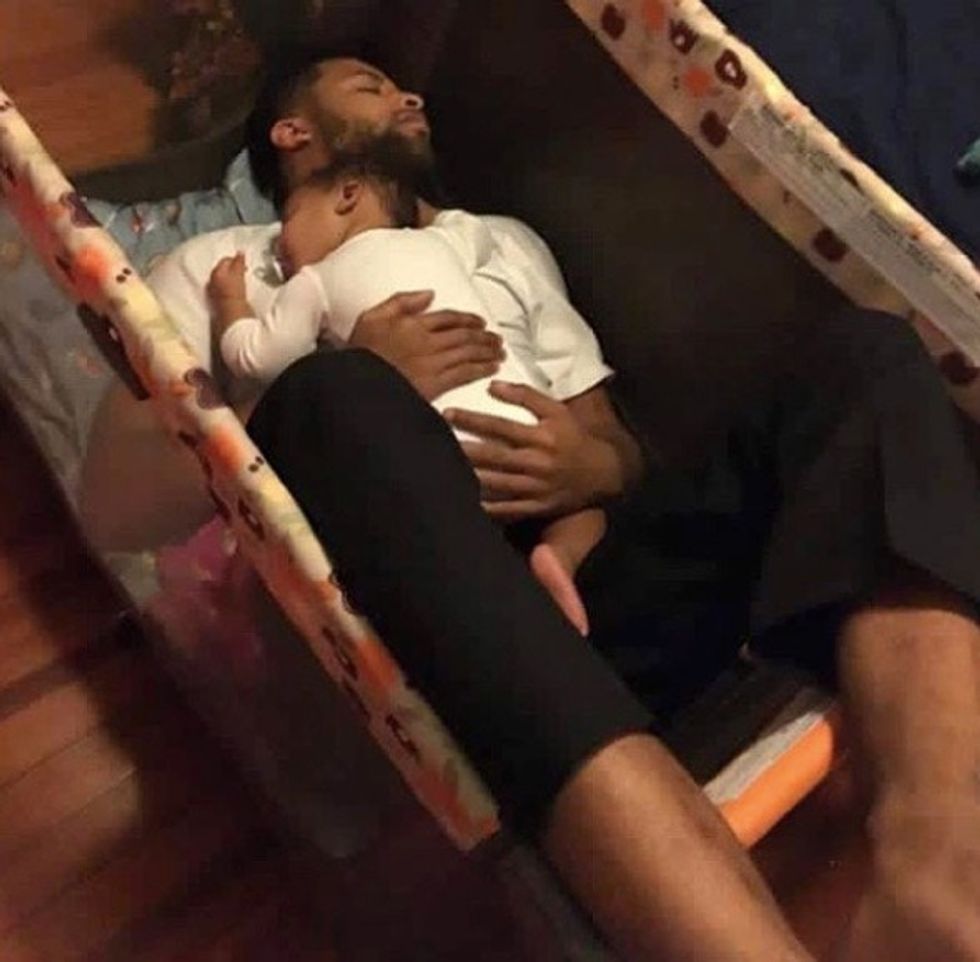 Dad takes a deserved nap.
Photo taken from the Daddy Doin' Work Instagram feed and used with permission.

And none of that should come as a surprise to anyone.
3. I want you to know that I believe you meant well when you praised me for being involved in my daughter's life, but that's what I'm programmed to do.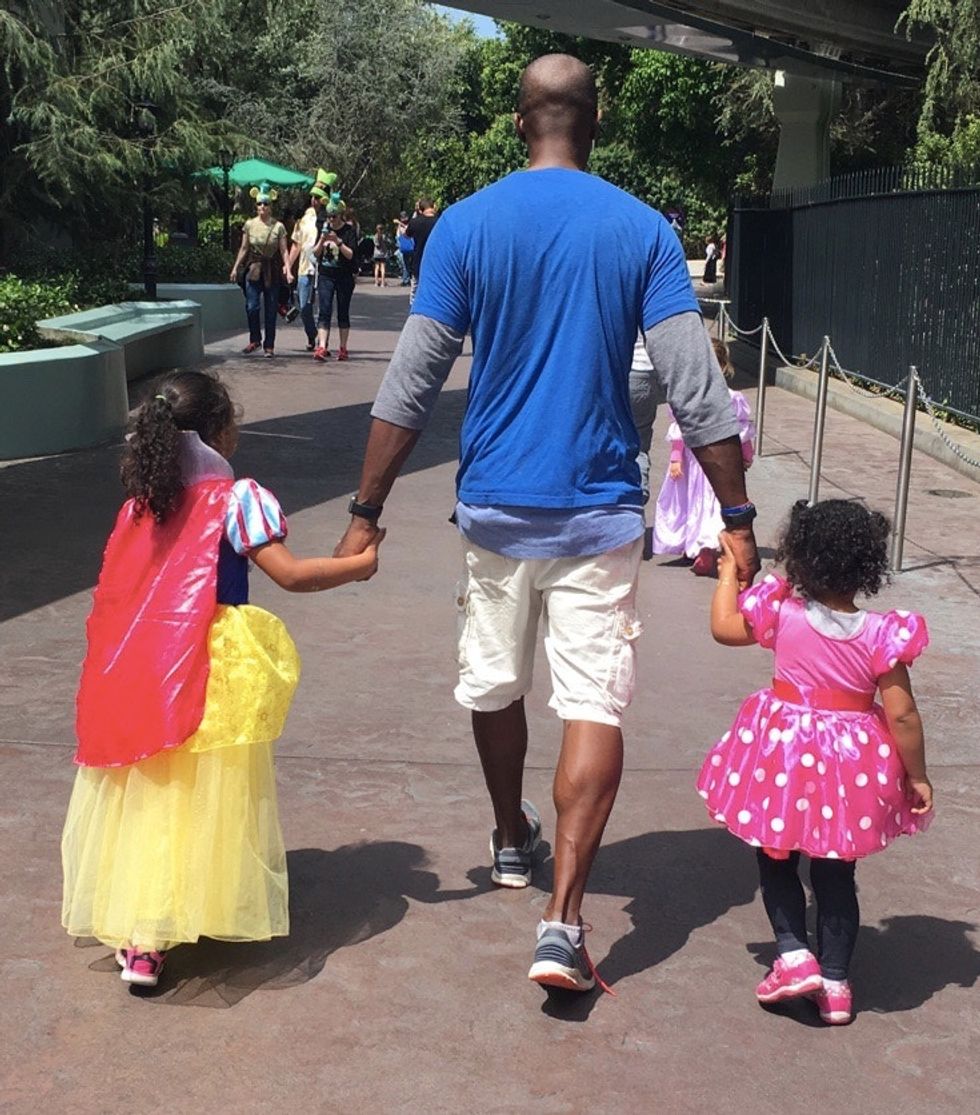 Princess dresses at Disneyland? You bet.
Photo taken from the Daddy Doin' Work Instagram feed and used with permission.
I will always be there for her and her baby sister.
Even though I just described how black dads are different from many dads, I hope the takeaway you have from this is that we have a lot of similarities, too.
Please don't fall into the trap of saying that you want to live in a colorblind world because it makes it harder to identify with inequality when it happens. Instead, I hope you can recognize that we have the same hopes, dreams, and fears as other parents, but the roads we travel may not be the same.
And no, I don't want an apology.
But I hope when you pick up your next latte and see a dad who looks like me that you'll smile knowing he's the rule rather than the exception.