More
A homeless man left a note on a bus stop. The teenager who found it changed his life.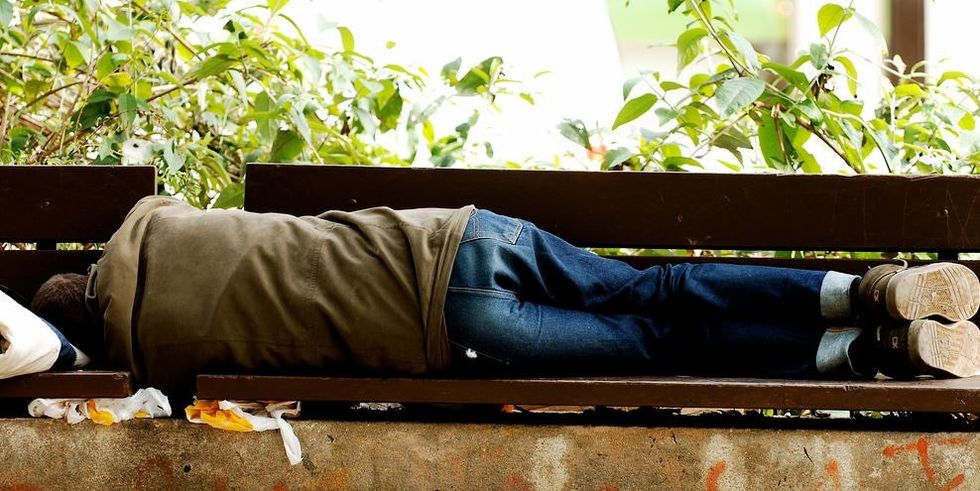 Of all the horrors that people experiencing homelessness endure, being shunned by humanity is one of the most difficult to bear.
Gregory P. Smith, a man who had no home for 25 years before turning his life around and receiving his PhD, has great advice for how we should treat people experiencing homelessness.
"Maybe you cannot make a difference to that person's circumstances, but you can make a difference to how you see them," he said. "Many are hurting with the shame and stigma of being homeless. Don't pretend they don't exist: they are people too."
---
Charlotte Howard, a 16-year-old in England, didn't look the other way when she saw a homeless person reaching out, and it made all the difference.
[rebelmouse-image 19480362 dam="1" original_size="731x425" caption="via GoFundMe" expand=1]via GoFundMe
After nine years on the street, Anthony Johnson, 36, left a note on a bus stop that read:
I will do a trial for free to show how I work. I don't take drugs or drink. I will also do dog walking/minding, window cleaning, shopping, gardening, car valeting/washing, housework, cooking.. Anything to earn a living and make life seem worth living.
Johnson's note was part of his recent commitment to turning his life around. "I didn't want to do the things I used to do," he told the Hastings and St. Leonards Observer. "My social circles used to be drug takers and criminals. Now it's pastors and people doing outreach work."
Howard found the note, posted it to Facebook, and started a GoFundMe page to help get Johnson a trailer. "There is a caravan for sale and it cost £100, the goal is £300 as it needs some work done," she wrote.
In six days, the campaign has raised over £1,735 ($2300) for Johnson. He was able to get the trailer and a homeless charity is in the process of finding a permanent place for it. Johnson also received a job as a handyman from landscape gardener Nelson Smith.
Hastings bus stop note lands homeless man job https://t.co/vZnSdhTKgp https://t.co/X8CMQgMJxy

— More UK News (@More UK News) 1553264596.0
"I have had problems with mental health in recent years and in this post I saw someone trying to help themselves," Nelson told the Hastings and St. Leonards Observer.
Johnson's story is the perfect example of what can happen when people experience homelessness aren't treated as if they don't exist.
"It's not like I haven't previously been asking for help but all it takes is an open-minded person like Charlotte to come along and help," Johnson said. "She saw me and recognized my position and decided she wanted to do something to help. I wouldn't have got anywhere looking for a job if it wasn't for her."