More
A boxer grabbed a female reporter and kissed her mouth during an interview. It's as bad as it looks.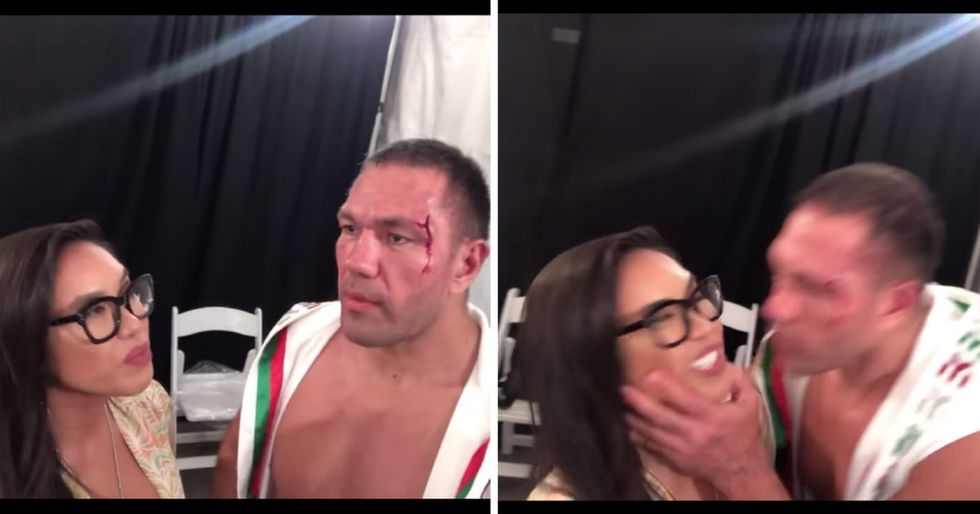 There's only one type of professional who can expect to get kissed as part of their job, and it's not a sports reporter.
And yet, many female sports reporters have found themselves subject to unwanted gropes and kisses by athletes.
After a recent fight, Bulgarian heavyweight champion Kubrat Pulev kissed Vegas Sports Daily contributor Jenny Sushe during an interview. The boxer, "elated" from his win, grabbed Sushe's chin and planted one square on her mouth. The reporter nervously giggled, then muttered "Jesus Christ." The kiss was caught on camera.  
---
When Sushe was asked about the kiss on Twitter, she called the moment, "(A little) embarrassing. Strange."
@jaibednall @BoxingNbt Iil embarrassing. Strange

— Jenny SuShe (@Jenny SuShe) 1553473232.0
Pulev refused to apologize for the kiss, because Sushe was "actually a friend of mine." Pulev posted a statement on Twitter, insisting the kiss was harmless. "On the video, after our kiss, we both laughed about it and thanked each other. There really is nothing more to this," Pulev wrote.
For the most commented kiss in the world! https://t.co/T1Ktlprff4

— Kubrat Pulev (@Kubrat Pulev) 1553571363.0
Some people even went on Twitter to defend Pulev, saying they saw nothing wrong with the kiss, or that Sushe must have wanted it based off of how close she was standing to him.
But Vegas Sports Daily, the news outlet Sushe works for, sees the moment differently. Vegas Sports Daily called Sushe the "victim of an unwanted, unexpected and unsolicited forceful kiss," and issued a statement regarding Pulev's actions. "What happened to Ms. Sushe was completely blindsiding and unwarranted and we share in her shock, hurt, embarrassment and general outrage," the statement read. "We want to make it clear that women should feel safe and comfortable to exercise the duties of their job, free of abuse, advances, harassment, etc in the workplace." Vegas Sports Daily plans on investigating the incident.  
Sushe also had plenty of Twitter users coming to her defense.
@SuSheArt @jaibednall @BoxingNbt I found it damn right disrespectful. You were very professional which I applaud bu… https://t.co/z9ZAdB2UVX

— Teddy Smith (@Teddy Smith) 1553476423.0
Can I just say how appalled I am at the act of the Bulgarian boxer Kubrat Pulev, who kissed the female reporter Jen… https://t.co/mJPD4X0OFx

— Oyinbo Geh (@Oyinbo Geh) 1553526583.0
@SuSheArt @jaibednall @BoxingNbt Not sure whats worse, the Brute and his entitled behaviour or the men that dont see this as a problem 🙄

— Passion & Purpose (@Passion & Purpose) 1553550134.0
@SuSheArt @jaibednall @BoxingNbt He is getting quite some heat in Bulgaria as well. It is shameful and embarrassing… https://t.co/twitDcLfgb

— Боян Юруков (@Боян Юруков) 1553593989.0
@SuSheArt @jaibednall @BoxingNbt Uncool, to say the least

— Fred (@Fred) 1553550904.0
Sushe was on the clock when the unsolicited kiss happened. It's wouldn't be acceptable for someone to kiss their barista after they were served an amazing cup of coffee. It wouldn't be acceptable for someone to kiss a doctor when they find out they're healthy. So why would it be acceptable for someone to kiss a sports reporter after winning a match?
We need to remember that sports reporters are there to do a job, not to be a sex object.