Photo courtesy of Macy's
True
Macy's and Girls Inc. believe that all girls deserve to be safe, supported, and valued. However, racial disparities continue to exist for young people when it comes to education levels, employment, and opportunities for growth. Add to that the gender divide, and it's clear to see why it's important for girls of color to have access to mentors who can equip them with the tools needed to navigate gender, economic, and social barriers.
Anissa Rivera is one of those mentors. Rivera is a recent Program Manager at the Long Island affiliate of Girls Inc., a nonprofit focusing on the holistic development of girls ages 5-18. The goal of the organization is to provide a safe space for girls to develop long-lasting mentoring relationships and build the skills, knowledge, and attitudes to thrive now and as adults.
Rivera spent years of her career working within the themes of self and community empowerment with young people — encouraging them to tap into their full potential. Her passion for youth development and female empowerment eventually led her to Girls Inc., where she served as an agent of positive change helping to inspire all girls to be strong, smart, and bold.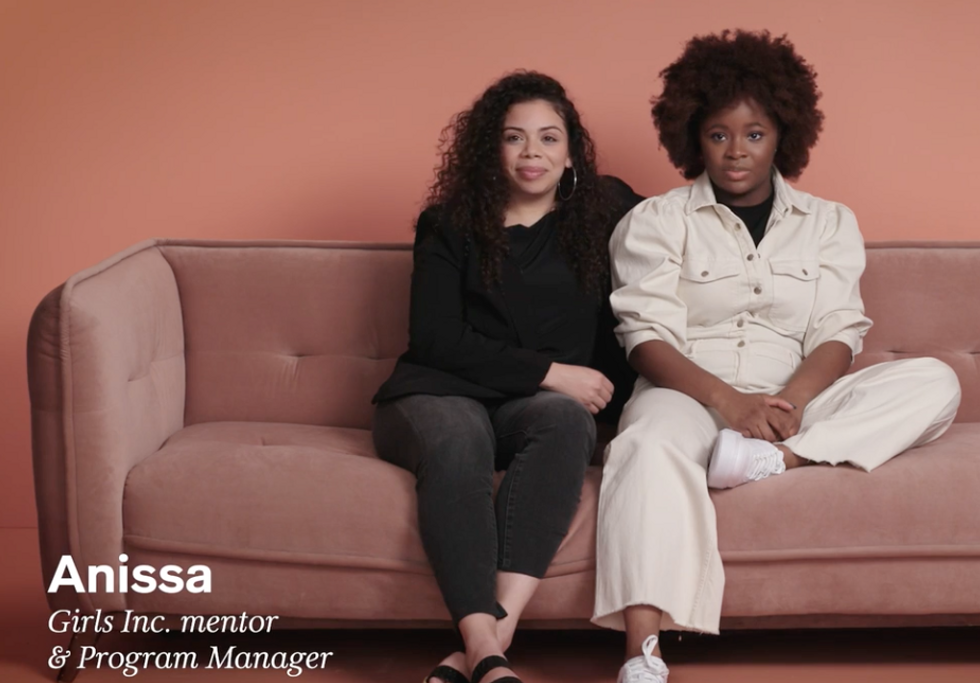 Photo courtesy of Macy's
Inspiring young women from all backgrounds is why Macy's has continued to partner with Girls Inc. for the second year in a row. The partnership will support mentoring programming that offers girls career readiness, college preparation, financial literacy, and more. Last year, Macy's raised over $1.3M for Girls Inc. in support of this program along with their Science, Technology, Engineering, and Math (STEM) programming for more than 26,000 girls. Studies show that girls who participated are more likely than their peers to enjoy math and science, score higher on standardized math tests, and be more equipped for college and campus life.

Thanks to mentors like Rivera, girls across the country have the tools they need to excel in school and the confidence to change the world. With your help, we can give even more girls the opportunity to rise up. Throughout September 2021, customers can round up their in-store purchases or donate online to support Girls Inc. at Macys.com/MacysGives.
Who runs the world? Girls!
In the Pacific Northwest, orca sightings are a fairly common occurrence. Still, tourists and locals alike marvel when a pod of "sea pandas" swim by, whipping out their phones to capture some of nature's most beautiful and intelligent creatures in their natural habitat.
While orcas aren't a threat to humans, there's a reason they're called "killer whales." To their prey, which includes just about everything that swims except humans, they are terrifying apex predators who hunt in packs and will even coordinate to attack whales several times their own size.
So if you're a human alone on a little platform boat, and a sea lion that a group of orcas was eyeing for lunch jumps onto your boat, you might feel a little wary. Especially when those orcas don't just swim on by, but surround you head-on.
Watch exactly that scenario play out (language warning, if you've got wee ones you don't want f-bombed):
I would've shit my pants https://t.co/eJa6GDyNkk

— Eye- (@Eye-)1632579048.0
Ummm, yeah. An orca sighting is one thing, but this is a whole other story. Orcas have been known to knock large prey off of icebergs, so the whole "orcas don't hurt humans" thing doesn't feel super reassuring in this scenario.
The footage came from TikTok user @nutabull, whose now-deleted account stated she was from Vancouver Island.
The second video is even more intimidating.
The viral video sparked a debate about whether the sea lion should be kicked off the boat or not. The woman kept telling the sea lion it "had to go" with a frank "Sorry, buddy, that's life," message, though she never actively tried to push it off. Many commenters joked about yeeting the sea lion off the boat to avoid a potentially disastrous encounter with the orcas. Others were on #teamsealion, saying they wouldn't have the heart to boot the poor thing.
This part of the video: The Sea Lion jumps back into the water, tries to jump back up when chased by the Orcas, and… https://t.co/V87R9E7HrI

— Jermaine (@Jermaine)1632651277.0
The reality is orcas eat sea lions—the circle of life and whatnot. Most of us just don't find ourselves in the middle of that circle, having to figure out whether the apex predators surrounding our boat are going to patiently wait for their lunch to come back or take it upon themselves to bump it back into the water.
Thankfully for the woman, the sea lion seemed to decide on its own that its options were limited and dove back in to take its chances with the orcas. But phew, that encounter would be harrowing for just about anyone.
Best of luck, sea lion. Hope you're an exceptional swimmer.
Get stories worth sharing delivered to your inbox