True
Davina Agudelo was born in Miami, Florida, but she grew up in Medellín, Colombia.

"I am so grateful for my upbringing in Colombia, surrounded by mountains and mango trees, and for my Colombian family," Agudelo says. "Colombia is the place where I learned what's truly essential in life." It's also where she found her passion for the arts.
While she was growing up, Colombia was going through a violent drug war, and Agudelo turned to literature, theater, singing, and creative writing as a refuge. "Journaling became a sacred practice, where I could leave on the page my dreams & longings as well as my joy and sadness," she says. "During those years, poetry came to me naturally. My grandfather was a poet and though I never met him, maybe there is a little bit of his love for poetry within me."
In 1998, when she left her home and everyone she loved and moved to California, the arts continued to be her solace and comfort. She got her bachelor's degree in theater arts before getting certified in journalism at UCLA. It was there she realized the need to create a media platform that highlighted the positive contributions of LatinX in the US.
"I know the power that storytelling and writing our own stories have and how creative writing can aid us in our own transformation."
In 2012, she started Alegría Magazine and it was a great success. Later, she refurbished a van into a mobile bookstore to celebrate Latin American and LatinX indie authors and poets, while also encouraging children's reading and writing in low-income communities across Southern California.

When the pandemic hit in 2020, she decided it was time to do even more to serve people during these difficult times.
"It became clearer to me that the lack of representation in the book publishing industry for BIPOC/LatinX writers & poets had to change," she says. "I want to be an agent of change in the publishing industry and contribute to its transformation."
She created Alegría Publishing to nurture and produce works by indie LatinX storytellers and expanded the mobile bookstore to celebrate BIPOC/LatinX writers and poets, as well as the books published by Alegría publishing. And one day she hopes that she can take the bookstore across the United States and discover even more emerging writers.
Today, Agudelo also mentors indie authors two nights a week through the Alegría Writing Collective for LatinX writers. "They rock my world every class," she says.
"The amount of talent in our community pushes me to keep growing our company so the world can read their work and remember their names."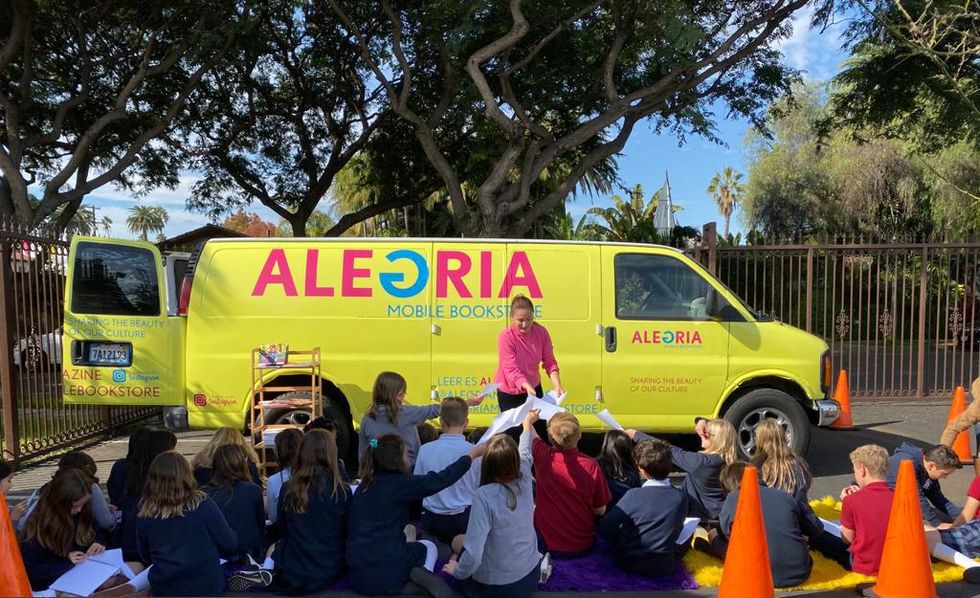 Agudelo has made it her mission to empower women and her community. "My career has been such a blessing filled with magical milestones and I never take these moments for granted," she says. "There is nothing like being able to make a woman's dream of publishing their first book and bring it to life. Watching their reaction, when they look at their book for the first time is priceless."

"As women, we are naturally powerful, we just have to keep reminding each other of our power."
Agudelo is one of Tory Burch's Empowered Women this year. The donation she receives as a nominee is being awarded to The Sims Library of Poetry, which is the first black-owned poetry library in California.
"Hiram Sims, its founder, started lending books to his university students out of this suitcase after mandating that they read one book of poetry a week. As demand grew, his suitcase library was forced to seek a larger home," says Agudelo. "Their mission is to serve, educate, and foster a love for poetry, especially for marginalized people of color in the community of South Los Angeles."
To learn more about Tory Burch and Upworthy's Empowered Women program visit toryburch.com/empoweredwomen. Nominate an inspiring woman in your community today.
Bad news usually grabs the headlines so it can be hard to remember that we live in a world full of beauty. Here are 10 stories that made us happy this week because they feature amazing comebacks, powerful acts of giving, and one super-amazing cow.

1. Man brushing his cow to Bruno Mars is a moment of pure zen
This video is the perfect example of how man and nature can live in harmony. Thor the cow is in pure bliss as his human friend brushes him at a farm in Emmett, Idaho.
2. Zalia Avant becomes the first Black American to win the Annual Scripps National Spelling Bee
Zalia's achievement is even more spectacular being that she has only been competing in spelling tournaments for two years. The 14-year-old practices about 13,000 words a day for up to seven hours.
3. Visual effects guy transforms himself into random objects and it's pure magic

Toronto-based animator and video wizard Kevin Parry has gone mega-viral for his mind-boggling collection of videos where he turns himself into random objects. In this series of quick clips he changes into everything from a pumpkin to a bright yellow banana and in most of the videos, he appears to suffer a ridiculous death.
4. High schooler mocked for wearing the same clothes every day surprised by football players

When Michael Todd started his freshman year at MLK prep school in Memphis, Tennessee, his classmates made fun of him because he only had one outfit to wear. "I really don't have clothes at home," he told KTVI. "My mom can't buy clothes for me because I'm growing too fast." But all of that changed when two football players surprised him with bags full of shirts, shorts, and shoes.
Football players give student clothes www.youtube.com
5. Record number of Americans are 'thriving'—even more than before the pandemic, Gallup finds
Americans were asked to rank their current and future life on a ladder scale of zero to ten and the number who ranked themselves as seven or above reached 59.2% in June, eclipsing the previous high of 57.3% set in September 2017.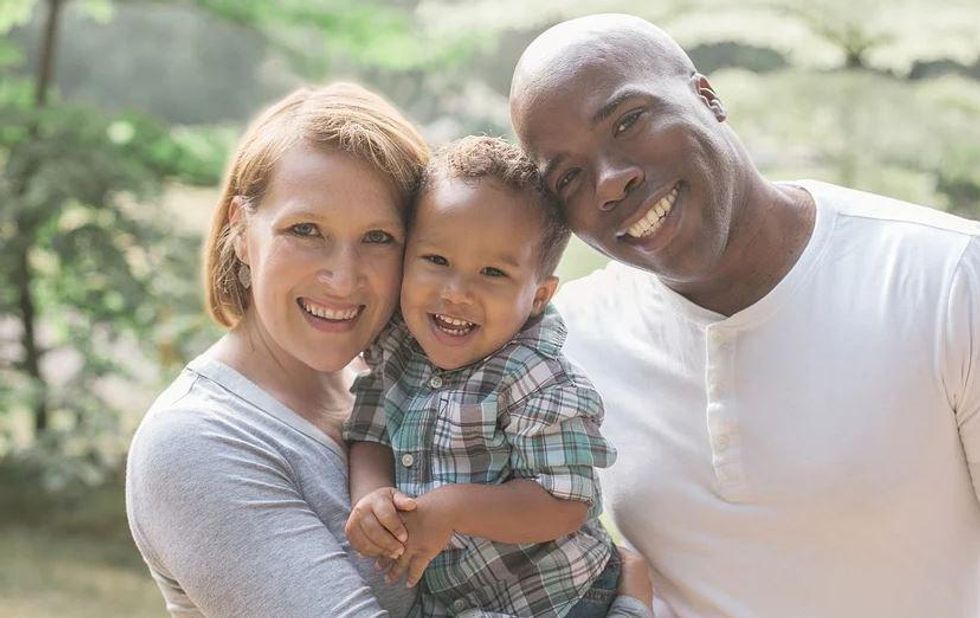 via Pixabay
6. 1980s cultural icon Michael Winslow made an emotional comeback on 'America's Got Talent'
Actor, comedian, and self-proclaimed "voicetramentalist," Michael Winslow was just about everywhere in the '80s. However, he put his career on the backburner to raise his family after the death of his wife in 1993. This week, he made a stunning comeback on "American's Got Talent" winning four big yesses from the show's judges.
America's Got Talent 2021 Michael Winslow Full Performance & Judges Comments Auditions Week 7 S16E07 www.youtube.com
7. Hundreds offer to donate cars to South Carolina mechanic who fixes them for those in need
Mechanic Eliot Middleton fixes old cars and donates them to rural families without a ride. After being profiled on CBS News, people have donated nearly 8000 cars to the cause. "Whatever glowing feeling is inside me, it just transferred from that TV screen and went inside them," he said.
8. Kenyan scientists genetically alter their bananas to save them from devastating bacteria

A bacterial disease was ravaging banana plants in Kenya. So scientists at the International Institute of Tropical Agriculture (IITA) created a genetically modified banana that was bacterial resistant.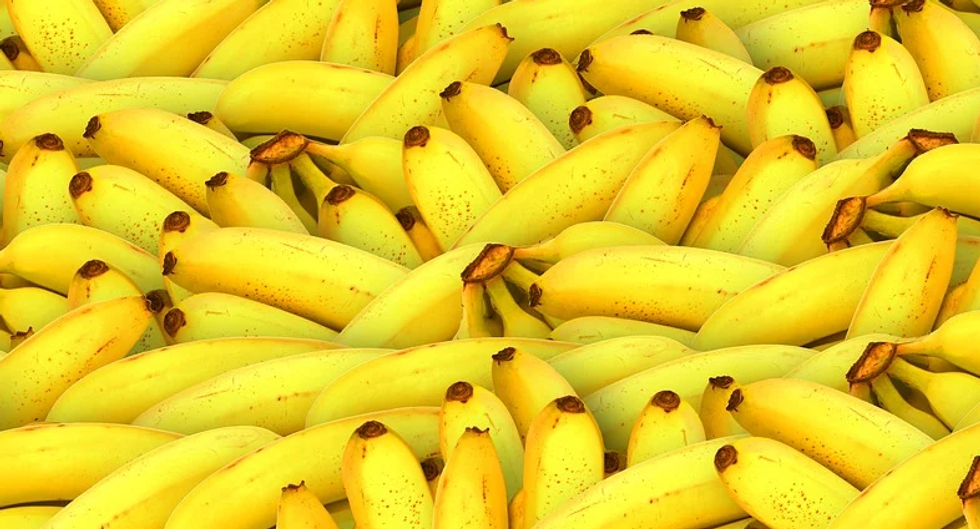 via Pixabay
9. Japanese swimmer Rikako Ikee beats leukemia
The highly decorated swimmer was a shoo-in for the summer Olympics in Tokyo but had her hopes derailed when she was diagnosed with leukemia. Rikako fought hard, overcame the disease, and won the 100-meter butterfly race at the Olympic trials, earning her a spot in the 4X100 medley relay races at the games. "I was not expecting to win the 100 meters at all, and I was feeling far less confident than during the Olympic qualifiers five years ago," she said. "It's a miracle just to be sitting here – it's a miracle I'm alive."
10. Track star Quanesha Burks goes from working at McDonald's to the Tokyo games

After suffering a bone injury last year, Quanesha was unsure if she'd be able to compete in the Olympics. But by reflecting on her past, she was able to overcome the injury and made the Team USA roster.
"At one point, my coach told me, 'I don't know if you're going to physically be able to go to the trials.' The doctors didn't know if I would be back in time… I was facing so much, but I kept going back to when I worked at McDonald's. I had my goals set and I knew I could do it," she said.
Get stories worth sharing delivered to your inbox