popular
A 3-year-old cancer survivor can't leave his house. Now strangers are showing up to cheer him on.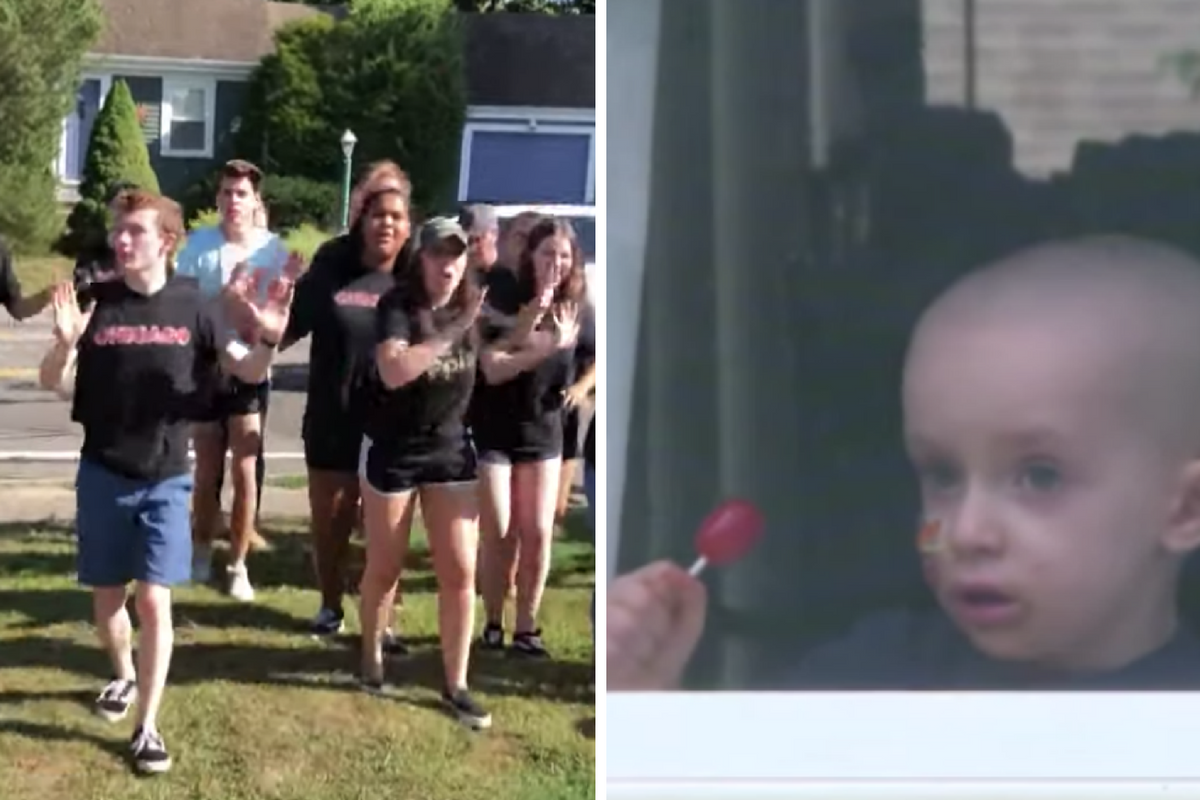 Front lawn becomes a stage for a house-ridden boywww.youtube.com
What happens when a three-year old cancer survivor, whose immune system is compromised, is told he can't leave the house the summer before he's supposed to start pre-school? Well, a bunch of strangers organize to come to him and make it a summer he'll never forget, and it's heart-warming as all get out.
---
One day shortly after his second birthday Quinn Waters' older sister Maggie noticed he was walking weird and falling over, and told their mother Tara. After a trip to the hospital and an MRI they were given the bad news – Quinn was diagnosed with Medulloblastoma, a type of large brain tumor.
The stem cell treatment Quinn received left his immune system compromised to such a degree that a simple cold could land him in the hospital and risk his life. That led to isolation in his house, with the only people allowed to make direct contact with him being his immediate family.
That's hard for a little boy who just wants to play outside in the summer sun, "…there would be days when Quinn is literally pounding to get out." Tara Waters said.
So, they created a Facebook page and the world took note. All of a sudden Quinn found that he opened the window and the world, literally, had come to play with him.
He got all kinds of guests. He saw a carnival, a whole carnival! He got a command performance from local Boston band The Dropkick Murphys.
He was even given a special visit from a whole bunch of his favorite super heroes. And you really have to give it up for the guy dressed as Batman, it looks like it's pretty hot in there.
"He's a feisty, rambunctious 3-year-old — full of energy," said Jarlath Waters, 42, who works as a union carpenter. "He's also a fighter, and we knew he wouldn't let this get him down. But what we didn't expect was such a huge outpouring of support."
And one of the finest displays to date was when the Winslow police and fire departments showed up and put on a show for Quinn. After a great time they drove away to get back on patrol and blasted their sirens. "Be safe!" Quinn yelled after them, which if you think about is incredible since he's still worried about others despite his condition. And it had to have warmed his mom's heart since she works as a police officer.
Even the Europeans got in the act, starting a GoFundMe campaign to help raise money for his treatments.
Recently Quinn landed back in the hospital when a blood infection threatened his life, but his indomitable spirit and the help of a local blood drive to help collect for a necessary blood transfusion. Just another way folks are helping the afflicted boy.
Quinn's got a long road ahead of him, but with practically the Earth itself behind him we have high hopes for his recovery. If you'd like to learn more about how you might be able to help Quinn and his family visit some of the links provided in this article for more information.