More
We've really got to stop doubting women's talents — for the sake of us all.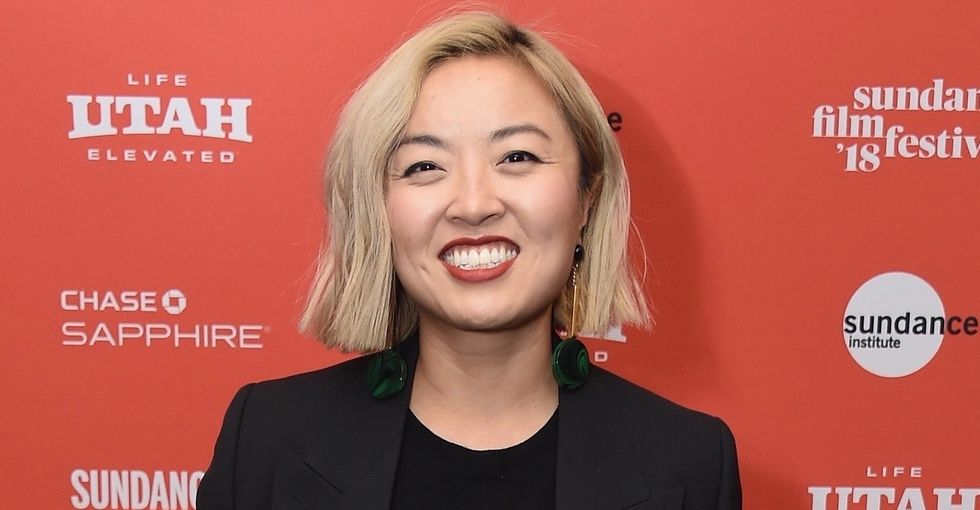 When news broke that Cathy Yan was tapped to direct the upcoming "Suicide Squad" spin-off "Birds of Prey," a lot of people were pretty excited.
Deadline's Mike Fleming Jr. was first to report that Yan, whose only other feature-length credit was directing the small-budget darling of Sundance "Dead Pigs," would take the helm of the film fronted by Margot Robbie.
Yan will become the first Asian woman to direct a big-budget superhero movie and the third female director in the DC Extended Universe alongside Patty Jenkins ("Wonder Woman") and Ava DuVernay ("New Gods"). Given the less-than-pleasant reviews of director David Ayers' "Suicide Squad" (currently sitting at an abysmal 27% fresh rating on Rotten Tomatoes), Yan's hire could be the key to saving the franchise.
---
Jen Yamato of the Los Angeles Times called the hire "a major milestone for women and directors of color in Hollywood, where studio directors remain largely white and male."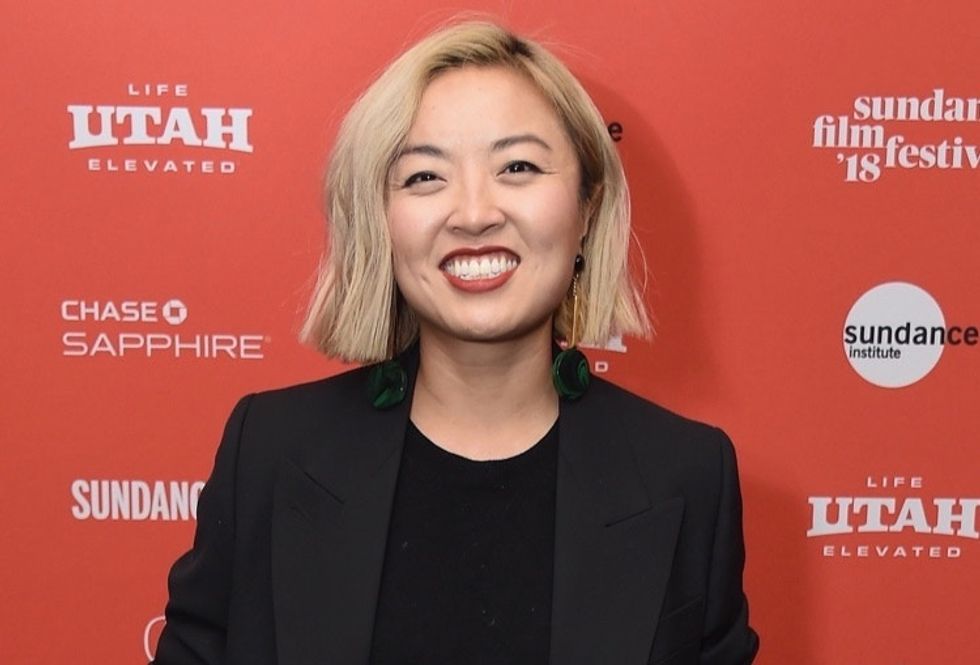 Yan attends the "Dead Pigs" premiere at the 2018 Sundance Film Festival. Photo by Michael Loccisano/Getty Images.
Meanwhile, Fleming framed Yan's hire as a pretty big risk.
On its own, of course, that's not really a problem. Let's be real: Handing over the keys of a franchise to a relatively inexperienced director is taking a pretty big risk. Tens of millions of dollars ride on these types of decisions. Here's what Fleming had to say (emphasis added):
"This is a bold bet for Warner Bros' Geoff Johns and Walter Hamada, who oversee DC under Toby Emmerich. Yan got the job over numerous well established male directors, and because she is taking this giant leap with just one small-budget indie movie under her belt. That would be 'Dead Pigs,' a film that won the World Cinema Dramatic Award For Ensemble Acting at Sundance last January. Despite being a new talent, Yan's presentation for 'Birds of Prey' was exceptional, and Robbie held firm to her desire for this film to be directed by a woman."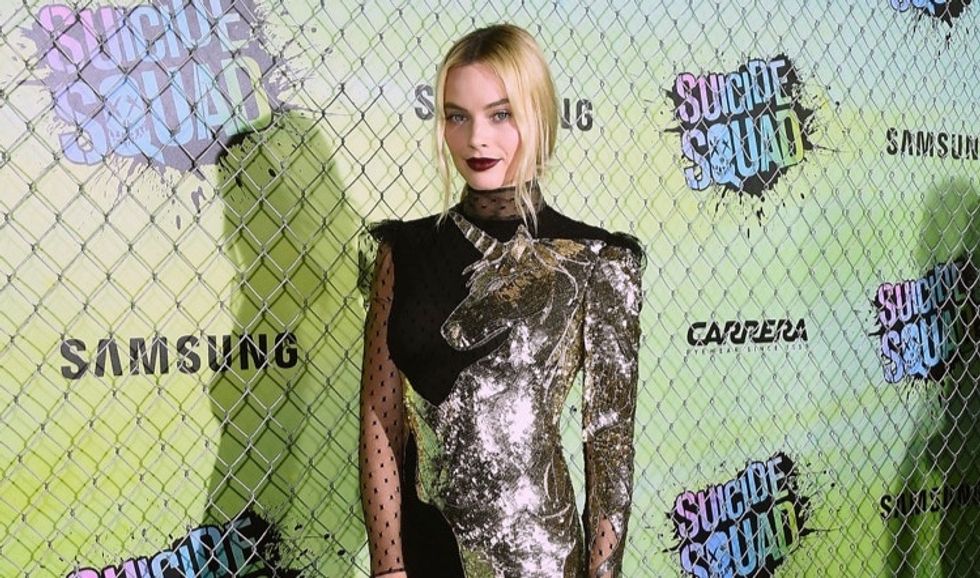 Margot Robbie will reprise her role as Harley Quinn in the upcoming "Birds of Prey" film. Photo by Ilya S. Savenok/Getty Images for Samsung.
If you compare how the same writer at the same outlet described decisions to hire similarly inexperienced white men, however, there's a clear contrast.
Following the publication of the Yan announcement, TV writer Nancy Kiu called attention to Fleming's 2013 post on Deadline about Colin Trevorrow taking on "Jurassic World."
Hey @DeadlineMike remember yr article on Colin Trevorrow getting called up to direct Jurassic World? Let me refresh… https://t.co/zU2cXRHMV9

— nancy kiu (@nancy kiu)1524000976.0
Here's an excerpt from that piece (again, emphasis added):
"Trevorrow made his jump to features on 'Safety Not Guaranteed,' which FilmDistrict acquired and released and which grossed $4 million. He's making a humungous step up in every way by joining a franchise which, in three films, has grossed nearly $2 billion worldwide, with Universal preparing a theatrical rerelease of the first film in 3D on April 5.

Why Trevorrow? He met with the studio and filmmakers, and they felt he was a good match for the material, having grown up a huge fan of the trilogy and part of a new generation of directors steeped in all things dinosaur. They felt he would preserve and protect the characters in the story they created."


In other words, Trevorrow was celebrated for his personal accomplishment while a lot of hedging and second-guessing was applied to Yan.
As a culture, we have a tendency to second-guess women and people of color.
And we do this in ways we wouldn't second-guess white men — even when it's not intentional.
To be clear, Fleming and Deadline certainly aren't the only offenders. When "Wonder Woman" was about to be released, The Hollywood Reporter drew the ire of many over an article and tweet that referred to the hire of Patty Jenkins as a "gamble."
In hindsight, the concern seems pretty silly as "Wonder Woman" took in more than $820 million worldwide and accumulating some major critical praise.
#WonderWoman: Warner Bros. is gambling $150M with a filmmaker whose only prior big-screen credit was an $8M indie… https://t.co/KQ5kOQ44PB

— Hollywood Reporter (@Hollywood Reporter)1496247426.0
This goes way beyond just how we write about movies. In fact, its effects are felt in just about everything we do.
A shocking and saddening 2017 study found that girls as young as age 6 had come to believe that women can't be brilliant. The researchers concluded that gendered stereotypes played a big role in girls' self-doubt.
"These stereotypes discourage women's pursuit of many prestigious careers; that is, women are underrepresented in fields whose members cherish brilliance," the study's authors wrote.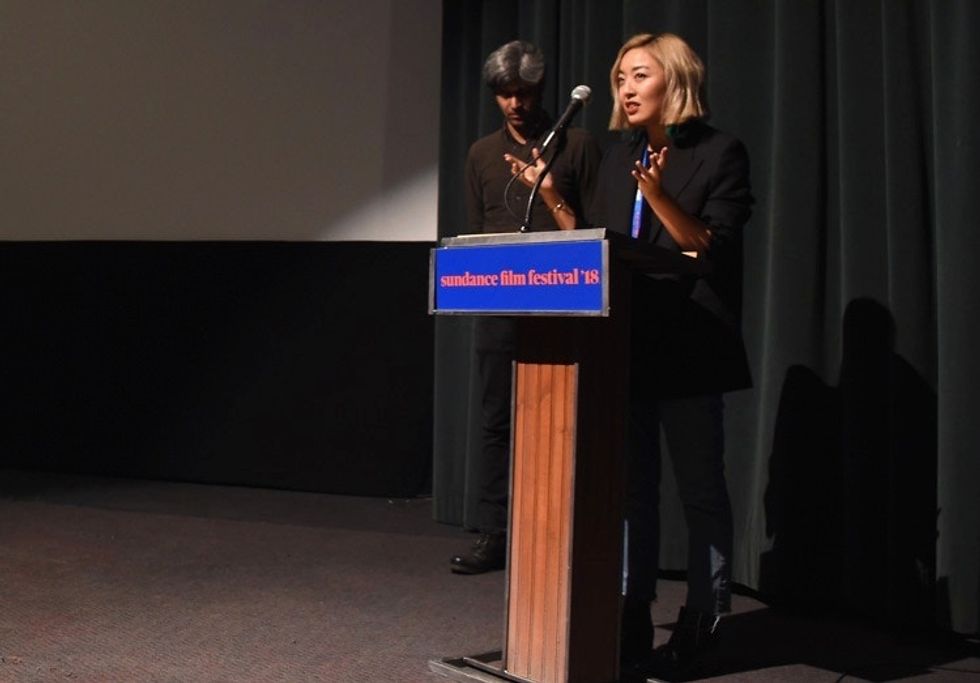 Yan introduces her film "Dead Pigs" at the 2018 Sundance Film Festival. Photo by Michael Loccisano/Getty Images.
That effect happens at the larger cultural level, but luckily, there's something we can do about it — focus. Focusing on which words we choose, whether we're expressing doubt (and doing so fairly) and why we might describe one person's career move as a "leap forward" versus a "gamble. However that applies in our individual lives with our colleagues, parents, or friends, we can all be more conscious about the powerful words we use.
Upworthy has reached out to Deadline writer Mike Fleming Jr. and will update if a response is received.