More
11 people killed in Virginia Beach mass shooting, several others injured. 'Thoughts and prayers' are not enough.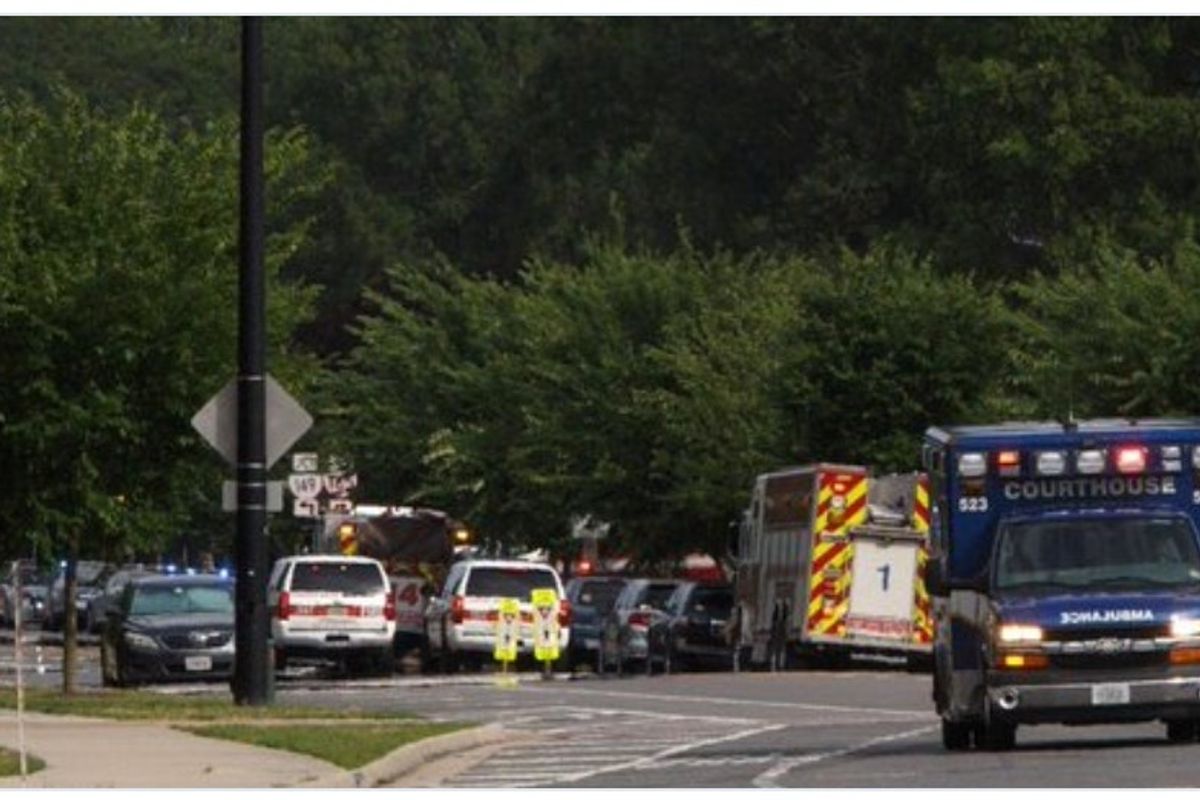 BREAKING: A shooting at a Virginia Beach municipal center has resulted in "multiple injuries," police say, adding t… https://t.co/ejJtQMpRSs

— The Associated Press (@The Associated Press) 1559337338.0
A mass-shooting in Virginia Beach has left 11 people dead and many other injured. According to the Washington Post, a longtime municipal employee opened fire in a public works building before being killed by police who exchanged gunfire with the assailant.
---
One officer is among the wounded. Police Chief Kames A. Cervera said that his life was saved by his protective vest as he was hit by the gunman who "fired indiscriminately" throughout the building. "This is the most devastating day in the history of Virginia Beach." said Mayor Bobby Dyer.
Six patients were admitted to hospitals in Virginia Beach after Friday's shooting. https://t.co/39TymTSaca

— Twitter Moments (@Twitter Moments) 1559341804.0
As our own writer Annie Reneau eloquently stated less than one month ago:
I am a person of faith, but I am done with our first and only response to mass shootings being to think about and pray for victims. Thoughts and prayers are a given, not a solution.
I'm done with lone wolf after lone wolf after lone wolf—the majority of which actually have some striking commonalities—terrorizing my country because we refuse to take any serious steps to prevent the easiest means of mass murder.
I'm done with blaming mental health when every other country in the world has mentally unstable people and nowhere near our number of mass shootings.
As the thoughts and prayers for the victims of the Virginia Beach shooting roll in, here's a list of top recipients… https://t.co/7R06UoLwhm

— Public Citizen (@Public Citizen) 1559345314.0
Now, with yet another mass shooting on the books, it's time to shift away from "thoughts and prayers" and lean into common sense action.

After the Parkland shooting, one site put together a list of 30 concrete examples of things we can all do now to support sensible gun control and put an end to mindless, and yes, systemic, gun violence. That was followed by another guide to sensible gun control solutions that gained immediately popularity but is in continual need of greater attention. Here are 10 of the best solutions, but you can read all of them here.
DONATE TO A GUN REFORM (GVP) GROUP. It's sad but true - money talks.
CALL YOUR MEMBER OF CONGRESS.
JOIN A LOCAL GUN REFORM GROUP
DONATE TO POLITICIANS, WHO ADVOCATE FOR COMMONSENSE GUN REFORMS (See #1)
SHOP WITH AMAZON? MAKE SURE THAT YOU SIGN UP FOR AMAZON SMILE AND DONATE TO A GUN VIOLENCE PREVENTION (GVP) ORGANIZATION
IF YOU HAVE GUNS IN THE HOME, LEARN ABOUT PREVENTING CHILD ACCESS TO GUNS IN THE HOME
ASK YOUR LOCAL ORGANIZATIONS ABOUT THEIR GUN POLICIES AND DEMAND THAT THEY PUBLISH THEM
OIN A CAMPAIGN TO GET COMPANIES TO BAN GUNS IN THEIR STORES
SPEAK AT YOUR HOUSE OF WORSHIP OR COMMUNITY GROUP ABOUT GUN REFORM
PLEDGE TO SUPPORT ONLY CANDIDATES WHO WILL FIGHT TO REDUCE GUN VIOLENCE
We can't stop gun violence overnight but we can change our cultural approach to guns and gun violence very quickly. Politicians and corporations follow the lead of the people, for better and for worse. Sending a message through our voices, and our wallets, that we demand sensible change now is the surest way to create a cultural wave that protects all Americans and puts our nation's First Amendment back on top of the interests of those who seemingly only think about our Second Amendment.