True
This story was originally shared on Capital One.
Inside the walls of her kitchen at her childhood home in Guatemala, Evelyn Klohr, the founder of a Washington, D.C.-area bakery called Kakeshionista, was taught a lesson that remains central to her business operations today.

"Baking cakes gave me the confidence to believe in my own brand and now I put my heart into giving my customers something they'll enjoy eating," Klohr said.
While driven to launch her own baking business, pursuing a dream in the culinary arts was economically challenging for Klohr. In the United States, culinary schools can open doors to future careers, but the cost of entry can be upwards of $36,000 a year.
Through a friend, Klohr learned about La Cocina VA, a nonprofit dedicated to providing job training and entrepreneurship development services at a training facility in the Washington, D.C-area.
La Cocina VA's, which translates to "the kitchen" in Spanish, offers its Bilingual Culinary Training program to prepare low-and moderate-income individuals from diverse backgrounds to launch careers in the food industry.
That program gave Klohr the ability to fully immerse herself in the baking industry within a professional kitchen facility and receive training in an array of subjects including culinary skills, food safety, career development and English language classes.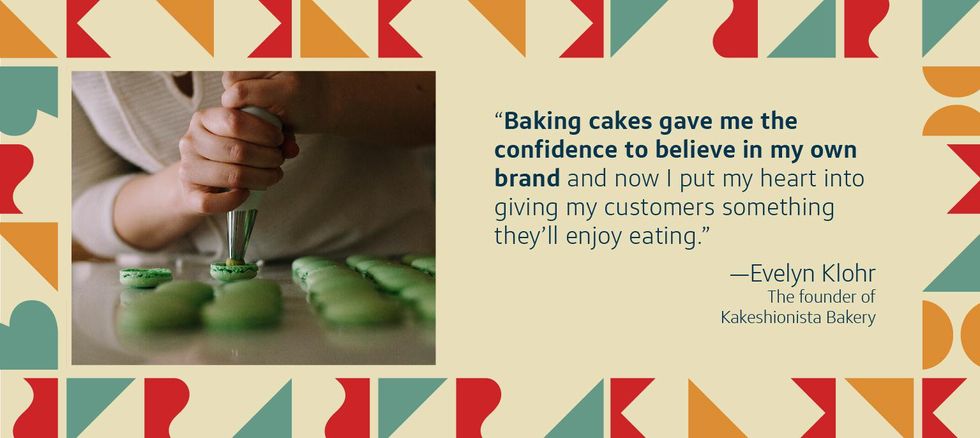 Photo courtesy of Capital One
The organization also offers participants the opportunity to enroll in its Culinary Small Business Incubator, a 9-week training course that teaches participants to create and scale their own food-based startups.
During that program, LA Cocina VA provides participants with support for developing the internal operations of their businesses and provides a shared kitchen for community members to rent space at affordable rates.
Patricia Funegra, who founded La Cocina VA in 2014, said that helping people like Klohr is exactly why she wanted to create the incubator.
"I have firsthand experience of the difficulties of being an immigrant and person of color in America," said Funegra. "At the same time, I also know the enormous opportunities that exist here to improve people's lives."
With the help of funding from Capital One, the center has been able to support 160 participants since opening with roughly 85% of graduates being hired for jobs in the food industry upon completion.
La Cocina VA also received support from Capital One's Community Finance team as it provided financing for the construction of Gilliam Place, an affordable housing unit in which La Cocina VA moved its operations into in 2020.
After moving into Gilliam Place, Funegra launched the Zero Barriers Training and Entrepreneurship Center, a hub for startup founders that includes a kitchen incubator and a community cafe to provide workforce development opportunities for residents.
That support comes as part of the Capital One Impact Initiative, a multi-million dollar commitment to support growth in underserved communities and advance socioeconomic mobility by closing gaps in equity and opportunity.
La Cocina VA students also worked alongside Capital One Cafe ambassadors to learn skills in management and personal finance.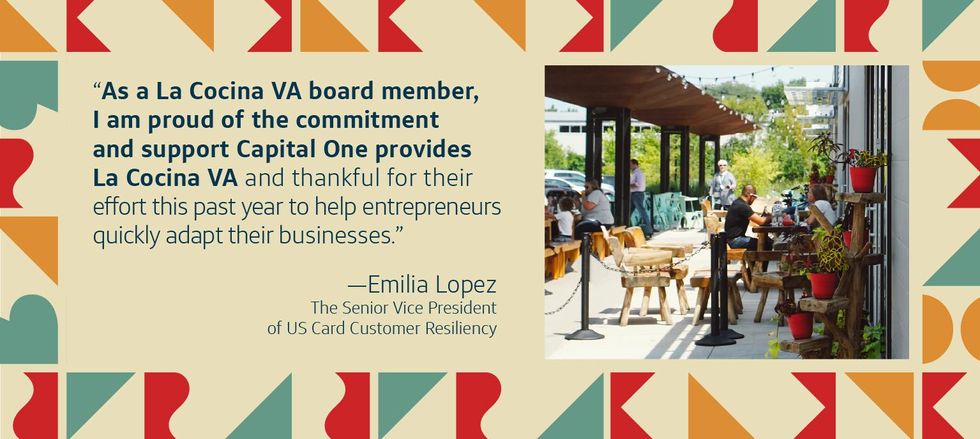 Photo courtesy of Capital One
"The COVID-19 pandemic forced entrepreneurs, especially people of color and immigrants, to shift their entire business models just to survive," said Emilia Lopez, the Senior Vice President of US Card Customer Resiliency, who serves on La Cocina VA's Board of Directors. "As a La Cocina VA board member, I am proud of the commitment and support Capital One provides La Cocina VA and thankful for their effort this past year to help entrepreneurs quickly adapt their businesses to support alternative dining options."
La Cocina VA is also in constant communication with employers, partners, hotels and restaurants to make them aware of their pipeline of graduates.
"La Cocina VA taught me not just the physical work that goes into baking and cooking but also how to have a good understanding to mentally and financially launch my business," said Klohr. "They're helping me make those connections and I know they'll always have my back."
Psychological horrors terrify us. Not with jump scares and gore, but by seeping deep into our dark and twisted insides. As the audience, we are left not exactly spooked. More like utterly unnerved.
It's a form of storytelling that inspires so much creative layering and nuance, that even those who are normally horror averse can find something to sink their teeth into.
Just what makes these movies so compelling? The answer to that is obvious when we look in the mirror.
The foundational formula for this horror subgenre is simple: Start with mystery, incorporate elements of horror and be sure to add a dash–or five–of disturbing psychological components. Anything from mental illness to extreme cult practices, it's all fair game in this world.
Instead of monsters, ghosts and chainsaw-waving hillbillies, the victims in psychological horror are often fleeing from more insidious types of darkness: trauma, society and human nature itself. Unlike a fun, campy slasher flick (no offense Jason and Freddy), the "evils" of psychological horror are what we universally face on a daily basis, at least on an emotional level. One might not ever find oneself physically turning into a demon bird ballerina like Natalie Portman in "Black Swan," but most of us have felt the specter-like presence of perfectionism.
Because psychological horror movies take on real human evils, the scary appeal is often timeless. Take, for instance, the dark side of celebrity worship, as seen in "Misery." That movie was made more than 30 years ago and still delivers a gut punch. Or in "Rosemary's Baby," one of the first psychological horrors ever made popular. Gee, I can't imagine how the terror of a woman not having body autonomy can have relevance in this day and age…
When society is the story's villain, life-threatening danger is disrupting the status quo. You know, like not being a proper housewife, as with "Stepford Wives." Or being poor, like in Netflix's biggest show ever, "Squid Game." Its theme about the "games" we are forced to play in an often capitalist, money-driven world transcends language. After all, who hasn't felt victimized and utterly trapped in a society out to get them?
Other times, trauma is the relentless ghost of the genre. And the story takes a more heartfelt approach, as with Netflix horror king Mike Flanagan's "Haunting of Hill House." His captivating story is really a family drama, about siblings haunted by death who cannot escape the grips of grief. To survive, they have to process what really happened. That's a journey many of us face.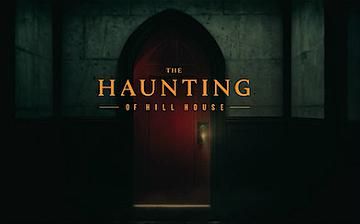 Psychological horrors are the ultimate scary movie. upload.wikimedia.org
Psychological horror can expose us to the real-life atrocities of humanity in a way that we can't ignore, inspiring real change. There's no better modern-day example of this than Jordan Peele's "Get Out," a film that views racism through the lens of a comedy horror. In his screenwriting tips, Peele suggests, "When writing comedy or horror, know that both present the truth. Use writing projects to dig you out of your own fear and darkness. Use that fear to learn how to scare the audience." The truth in the case of "Get Out" is the very real, still-existent racism, even in post-Obama America, and the fear Black Americans have of losing their identity.
The film went on to receive an Academy Award nomination for Best Picture, proving the profound power horror can have when it carries emotional substance.
Basically, what I'm saying is this: As Halloween approaches, and you find yourself looking for the next scary flick to watch, why not give yourself some real nightmare fuel? The darkness of the human race will continue to evolve and change over time, and psychological thrillers will evolve alongside it. So you'll never run out of options. Plus, they'll leave you with an intense, all-consuming type of dread in a way that not other horror genre can't.
Isn't that what the holiday is all about?
Get stories worth sharing delivered to your inbox