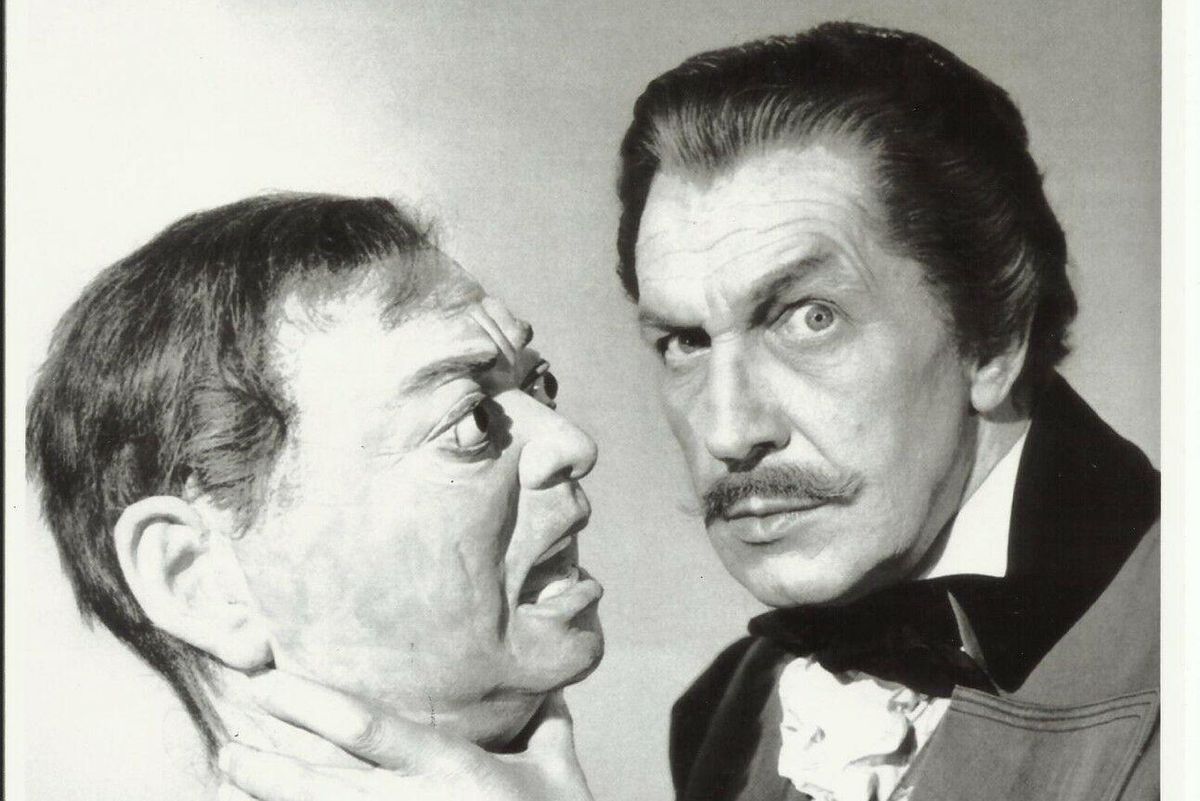 When I saw that Vincent Price was trending, I assumed that it was for something Halloween oriented. After all, the man is pretty much the king of the holiday, is he not?
Much to my ignorant surprise, that was not the case. As it turns out, one Twitterer was giving the world a crash course on all things VP, and her informative thread received so much positive attention, #VincentPrice began breaking the internet. Many, like myself, were thrilled to learn a bit more about the Halloween King, who was actually a real-life hero.
---
For those who would like a quick education on the man, or simply seek to fill themselves with renewed appreciation, keep reading! You just might find some fun icebreakers to test out at your next Halloween party.

He was the Robin Hood of the art world

OK, he didn't steal anything, but Vincent Price would collect the original masterpieces of legends like Picasso, Rembrandt and Pollock and place them into a Sears department store for discounted purchase.
The exhibit, called The Vincent Price Collection, offered buyers a chance to purchase a work for as little as $5/month. Imagine putting an original Dali surrealist piece on layaway!
One of the most surreal things I've ever learned is that horror icon Vincent Price, who believed everyone should have access to art, would travel around the world selecting original paintings by artists like Picasso, Rembrandt, and Chagall to be sold in Sears department stores. pic.twitter.com/QQggNmlce7
— Sarah McGonagall (@gothspiderbitch) August 17, 2020
In his video promoting the collection for Sears, Price said, "Art belongs to everyone … [it] is the visual experience of man … done by extremely disciplined human beings who are trying to allow you … to see through their eyes the visual beauty of this world."
He also advocated for Indigenous art
Price's love of art transcended beyond Western cultures. He was also passionate about helping Indigenous artists prosper from their creativity. In addition to serving for 14 years on the Indian Arts and Crafts Board, he also developed a creative writing award for Native students and read their poems aloud during his interview with Johnny Carson. And to top it all off, Price integrated their work into that Sears fine art collection.
For 14 years, Vincent Price served on the Indian Arts & Crafts Committee to promote the economic development of Indigenous artists. He established the first creative writing award for Indigenous students, and insisted on using his interview with Johnny Carson to read their poems. pic.twitter.com/XCqd4ebeix
— Sarah McGonagall (@gothspiderbitch) October 12, 2021
And was an activist before it was cool
We're quite used to seeing celebrities use their platforms to speak out about social justice issues.Sometimes as a genuine effort to create change, and other times, sadly, as a performative strategy to appear "on brand." There was a time, however, when this was not normalized, and even had a certain level of risk. That didn't stop Price. While starring in a popular radio show "The Saint," he delivered speeches about racism and religious intolerance. Though delivered more than half a century ago, what he had to say feels relevant even now.
Especially this part:
"Poison doesn't always come in bottles … marked with the skull and crossbones of danger. … Poison can take the form of words and phrases and acts. The venom of racial and religious hatred."
Vincent Price also delivered two powerful speeches denouncing racism and religious intolerance while starring in the popular radio show "The Saint" in both 1948 and 1950, and they still ring very true today. pic.twitter.com/BUrY9uit3S
— Sarah McGonagall (@gothspiderbitch) October 12, 2021
Special shoutout to Sarah McGonagall on Twitter, who is clearly a Vincent Price trivia connoisseur and wholehearted fan.

Schooling everyone, she even had super exclusive, lesser-known facts about the Hollywood icon. Like the one about Price's grandfather inventing cream of tartar.
Also Vincent's grandpa invented cream of tartar. I don't know how you invent a chemical dust or why I wanted to add that but I feel like the people need to know.
— Sarah McGonagall (@gothspiderbitch) August 12, 2020
Or the one about Vincent Price originally being the voice of Santa in "The Nightmare Before Christmas," before being overcome with sadness over the loss of his wife:
Time for the loveliest Vincent Price fact of all:
He originally voiced Santa in Nightmare Before Christmas. He even recorded all his lines, but due to the recent death of his beloved wife, his voice was filled with such sadness that it overtook the story, so they recast the role.
— Sarah McGonagall (@gothspiderbitch) October 12, 2021
As to how she found all these interesting facts, her answer is good old-fashioned memoir reading. She wrote "For all those asking, I got most of this information from the beautiful memoir written by Vincent's daughter, Victoria. I highly recommend it in both physical and audiobook form!"
That book can be found here.

McGonagall ends her Price thread by noting her "favorite Price moment," where he presented the "most devastatingly savage explanation of why humans are the most terrifying monsters of all" in his movie "The Monster Club."

And, in my personal favorite Price moment, in his movie "The Monster Club", Vincent delivered the most devastatingly savage explanation of why humans are the most terrifying monsters of all. pic.twitter.com/4JbnqPvlIP
— Sarah McGonagall (@gothspiderbitch) October 12, 2021
It wasn't long before others started contributing their own Vincent Price tidbits.
One person tweeted about Price's legendary memorization prowess, saying "The Hilarious House of Frightenstein" hired Price for two days to record dozens of little poems to introduce the segments. But Price was so fast at learning his lines—and never messing up—that they were done in half a day.
I heard a great story about Price's appearances on the Canadian children's show, "The Hilarious House of Frightenstein".

Price was hired to do the opener, closer, and interstitials (https://t.co/veTeItBSPK) for the show. 1/x
— James HG Redekop 🏳️🌈 (@JHGRedekop) October 13, 2021
Another shared how Price, according to his daughter, was openly bisexual (along with his 3rd wife).
One person even posted Price's cookbook, "A Treasury of Great Recipes." For those who didn't know, myself included, Price's two passions were art and cooking.
Who knew that so much could be learned from one Twitter trend? One thing is clear, Vincent Price most assuredly deserves every bit of internet love he's receiving today. The man not only gives Halloween a distinctly fun and spooky voice, he also continues to be an inspiration by standing up for what he believed in and expressing himself fully.

As this Twitterer astutely stated, "Vincent Price is just the Goth Mr. Rogers."
Vincent Price is just the Goth Mr. Rogers really
— 🎃Snow|It's freakin' shrikes! I love Halloween!🎃 (@sciendere) October 13, 2021