True
Innovation is awesome, right? I mean, it gave us the internet!
However, there is always a price to pay for modernization, and in this case, it's in the form of digital eye strain, a group of vision problems that can pop up after as little as two hours of looking at a screen. Some of the symptoms are tired and/or dry eyes, headaches, blurred vision, and neck and shoulder pain1. Ouch!
Eye strain from staring at devices is a widespread issue. Most people work, play, and maintain relationships through screens, which averages out to 6 hours and 35 minutes per day (and that's in addition to work or school)! That translates to 46 hours and 5 minutes per week, or 2,402 hours and 55 minutes per year.2
With numbers like these, attention to eye health is more important now than ever; our dependence on technology certainly isn't going anywhere. And just like innovation brought us technology, innovation also holds the key to combating the effects it has on our bodies. Here are some key suggestions from eye care professionals to help reduce common symptoms of digital eye strain. Spoiler alert: none of them involve wearing glasses!
Follow the 20-20-20 rule.
You can find some relief by taking a 20-20-20 break: every 20 minutes, look at something 20 feet away for 20 seconds. It's easy to remember because we all want 20/20 vision, and it's a good excuse to look out the window.
Adjust your workspace screen to be slightly below eye level and about an arm's length away.
This simple tweak to your work area can really improve your posture, as well as the amount of strain on your eyes. A win-win!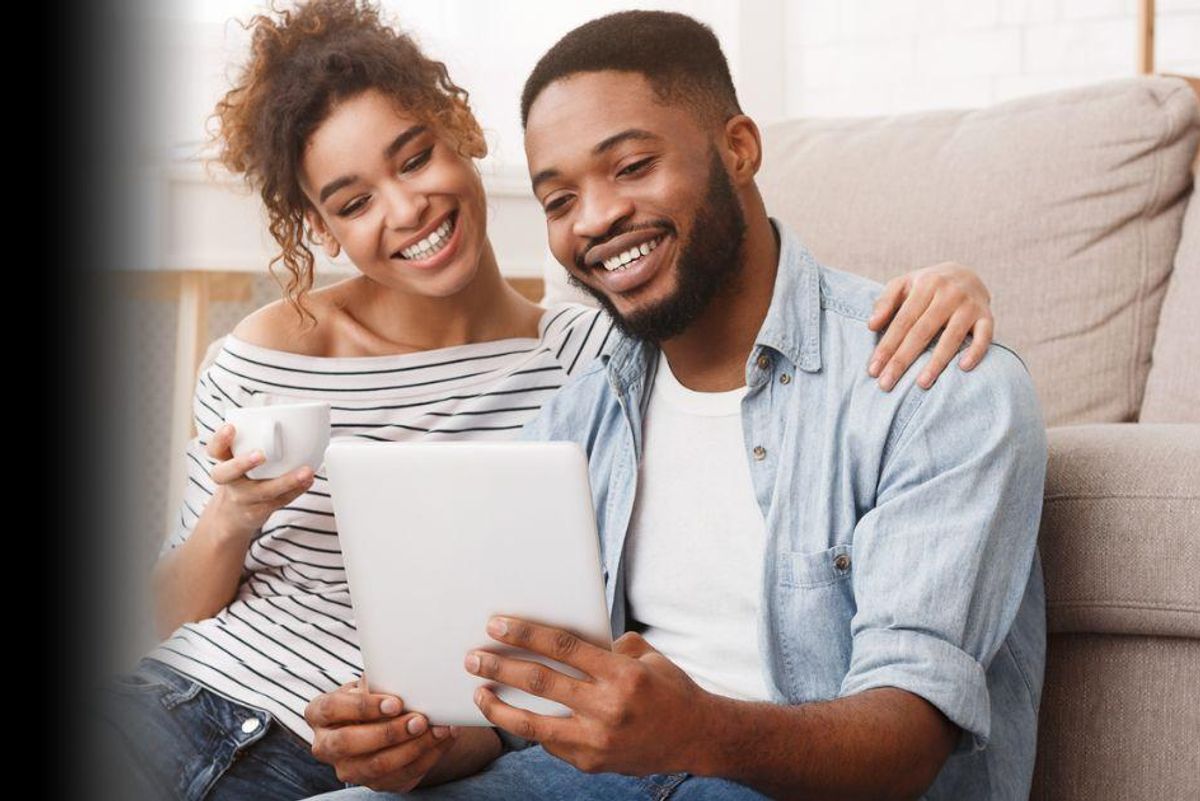 Adjust the brightness of your device.
Brightness levels also play into how hard our eyes have to work. Our screen brightness should match our surroundings, especially during the evening hours.
Say hello to Biofinity Energys® contact lenses!
These contact lenses are specifically made to address eye dryness and tiredness caused by digital devices. Digital Zone Optics® lens design and Aquaform® Technology are two innovations that when combined help with the tiredness and dryness that can be caused by digital eye fatigue.
Additionally, Biofinity Energys® monthly replacement contact lenses are designed to help our eyes better adapt for a more comfortable wearing experience3. This part is tricky because contacts can be hard to adjust to, and trust me—no one wants what feels like gritty sandpaper in there. Comfort is key!
If you're sick of wearing glasses all the time and feel ready to do something new, visit biofinityenergys.com to learn more and to get your free trial certificate.

Asurion-sponsored survey by Market Research Firm Solidea Solutions conducted August 18-20, 2019 of 1,998 U.S. smartphone users, compared to an Asurion-sponsored survey conducted by market research company OnePoll between Sept. 11 – 19, 2017 of 2000 U.S. adults with a smartphone.
This article originally appeared on 08.27.18
In addition to being the star of Marvel franchise "Thor," actor Chris Hemsworth is also a father-of-three? And it turns out, he's pretty much the coolest dad ever.
In a clip from a 2015 interview on "The Ellen DeGeneres Show," Hemsworth shared an interesting conversation he had with his 4-year-old daughter India.
"My daughter's kind of envious of my boys," Hemsworth told Ellen. "She came to me the other day, and she's like 'You know, Papa, I want one of those things that Sasha and Tristan have.' And I'm like, 'What do you mean?' She said, 'You know the things in between their legs that you have.'"
Hemsworth said he tried to explain the differences between male and female bodies, but his daughter wasn't having it.
"She goes, 'I really want one!' Hemsworth said. "I'm like, 'A penis?' And she's like, 'I want a penis!'
And then, Hemsworth had the best possible response. He recalls:
She's four and I'm like, 'You know what, you can be whatever you want to be.' And she goes, 'Thanks, Dad.' Runs off into the playground and that was it.
And then, I cannot confirm, but I'm pretty sure the Ellen audience did this:
Major kudos to Hemsworth for taking a potentially awkward parenting situation and turning it into a lesson about love and acceptance.
You can watch the full clip here:
This article originally appeared on 08.20.21

Sometimes you see something so mind-boggling you have to take a minute to digest what just happened in your brain. Be prepared to take that moment while watching these videos.
Real estate investor and TikTok user Tom Cruz shared two videos explaining the spreadsheets he and his friends use to plan vacations and it's...well...something. Watch the first one:
So "Broke Bobby" makes $125,000 a year. There's that.
How about the fact that his guy has more than zero friends who budget $80,000 for a 3-day getaway? Y'all. I wouldn't know how to spend $80,000 in three days if you paid me to. Especially if we're talking about a trip with friends where we're all splitting the cost. Like what does this even look like? Are they flying in private jets that burn dollar bills as fuel? Are they bathing in hot tubs full of cocaine? I genuinely don't get it.
To be crystal clear here, the top 5 friends on the Forbes list are willing to spend more than double what the guy at the bottom of the Welfare 10 list makes per year on a 3-day guy's trip. I don't know what to do with this information.
\u201c@Radio_Reem Those that make less are called the "Welfare 10" \ud83d\ude2d\ud83d\ude2d\ud83d\ude29\u201d

— Karim Alammuri (@Karim Alammuri) 1629292830

But that's not even the full spreadsheet. It might make sense if this guy was just rich, had always been rich, only knew rich people, and therefore having multiple millionnaire friends was his normal. Surely that's some people's reality who were born into the 1%.
That's not the case here, though, because Cruz also has a Welfare 10 list. He says this group of friends who make less than $100K a year call themselves that, and perhaps that's true. (If I were a part of this group, I might call myself a welfare case too because everything's relative and some of these dudes spend more in an hour of vacation than I spend on my mortgage each month.)
It's like we can see our society's wealth gap all laid out nice and neatly in a spreadsheet, only these people aren't even the uber-wealthy and uber-poor. This is just the range of this one guy's friends.
I have nothing against people who build success and wealth for themselves, and even $5 million per year is hardly obscenely wealthy by billionaire standards. But Cruz says he's known most of his "welfare" friends since college, which presumably means most of those guys have college degrees and are making pittance in comparison with the Forbes list. One could claim the guy making $5 million a year just works harder, but does he really work 100 times harder than the guy making $50,000? Doubt it.
Money makes money, and after a certain threshold of wealth or income, it's actually quite easy to get and stay rich without actually "earning" more money, assuming you're reasonably wise and responsible. So maybe the guys who are willing to shell out $125,000 for a week-long trip should offer to pay the travel expenses of the friends they "hang out with regardless of income" who don't even make that in a year, since that's probably just the interest they're making on their wealth anyway.
But what do I know? This is like an entirely different world to me and probably 99+% of Americans, as evidenced by some of the responses.
\u201c@araless Broke Bobby every time it\u2019s time for a trip https://t.co/VTUf3xW1DW\u201d

— Karim Alammuri (@Karim Alammuri) 1629292830
\u201c@_jasminwats @Radio_Reem I noticed everyone with PTO has less than is legally required in the U.K., crazy!!\u201d

— Karim Alammuri (@Karim Alammuri) 1629292830
Naturally, there will be a range of incomes in any group of people, but 1) most of us don't actually know how much our friends make, and 2) even fewer of us make spreadsheets with that information in order to rank our friends and figure out who can go on which vacations.
People are just endlessly fascinating. That's all I've got.