More
Two adult men who raped teen girls have walked this week. WTF is wrong with our system?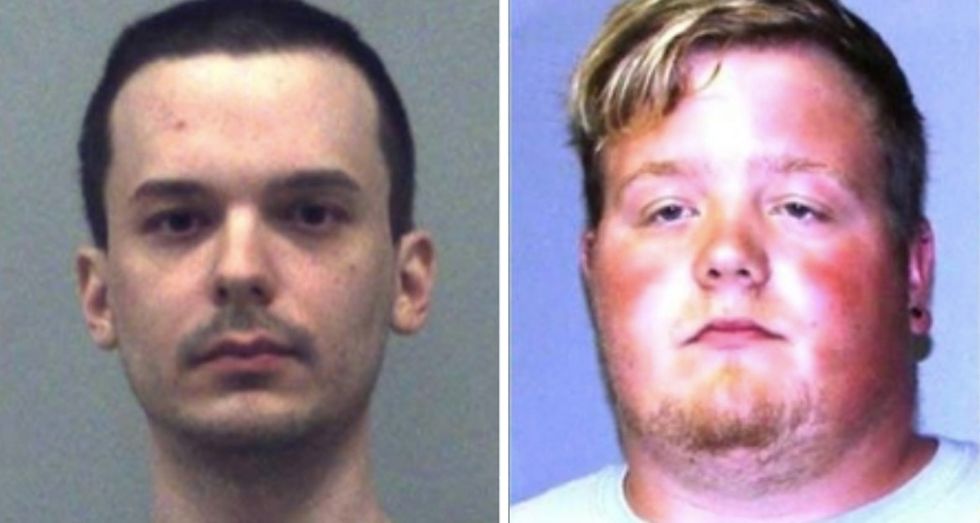 If you thought the ridiculous outcome of the Brock Turner case was a fluke, think again.
Two stories have come through the news cycle this week that show just how messed up our justice system can be when it comes to sexual assault. Two adult men. Two teen girls. One man luring a 14-year-old to his house, giving her alcohol, then raping her. Another man finding a 15-year-old in an online anorexia forum, convincing her to leave her family to live with him at 16, and then holding her captive for a year as his sex slave.
The former pled guilty and won't spend a single day in jail. The latter served eight months in detention and has been sentenced to time served, meaning he will spend no more time in jail.
---
If you feel like there must be something missing from these stories, there is—namely, justice for the victims and any semblance of human decency.
Shane Piche raped a 14-year-old he met while driving her school bus.
According to the Watertown Daily News, Shane Piche was 25 when he met his 14-year-old victim as herschool bus driver. The fact that the girl rode a school bus should have been a clue to Piche that sex with her was not an option, regardless of consent. But after communicating with her on social media, he lured her to his house with gifts and alcohol, and then he raped her.
This isn't a he said/she said case. She said "He did this." He admitted, "Yeah, I did that." There is no question that the rape happened.
And somehow, under New York law, the guy was able to walk away as a Level 1 sex offender with no jail time. Level 1 means he is considered low risk and won't be included in online sex offender databases. He's not allowed to be alone with anyone under 17 other than friends and family, and he had to pay around $1400 in fees. He'll receive sex offender counseling while on probation, but no jail time.
Oh, and you know why Judge McClusky designated him a Level 1 sex offender instead of Level 2, which the D.A. requested? Because he had no prior offenses and only had one victim.
Only one victim. Ugh.
Michael Wysolovski spent less time in jail than he did keeping his teenage victim in sexual captivity. Seriously.
If Shane Piche's story didn't leave you scratching your head, this one from The Atlanta Journal-Constitution will.
Michael Wysolovski found his victim in an online anorexia forum when she was 15. By the time she was 16, he'd convinced her to run away and live with him. Her family didn't know where she was for a year.
Michael Wysolovski, 31, was arrested on false imprisonment, aggravated sodomy, interference with custody and cruelty to children charges.

Posted by CBS News on Sunday, June 25, 2017
In 2017, she tried to leave, but Wysolovski wouldn't let her. She reached out in an anorexia forum and someone there alerted the FBI. According to her father's statement, when police found her at Wysolovski's home she was malnourished, had ringworm, and suffered from back problems from being repeatedly held in a dog cage.
According to the AJC:
"The victim and Wysolovski agreed to enter a "consensual non-consensual" sexual relationship, a type of BDSM (bondage, domination, submission, masochism) relationship in which the partners agree to simulate non-consensual sex acts, prosecutor Michael DeTardo said during the plea hearing. Over time, Wysolovski violated the set boundaries for this arrangement, refusing to use 'safe words' and using 'excessive force' including biting and physical violence. The victim, who was anorexic, initially encouraged Wysolovski to control her eating habits and kept journals detailing her desire to lose weight, DeTardo said. Wysolovski later used food to punish the victim or force her to perform sexual acts."
The age of consent in Georgia is 16, and prosecutors said there was too much "gray area" to submit the case to a jury. Wsyolovski was indicted on charges of rape, aggravated sodomy, cruelty to children, false imprisonment and interstate interference with custody, but the rape and aggravated sodomy charges were dropped as part of his plea deal. He was held for eight months before he made bail. He has to register as a sex offender and is on probation for 10 years.
For holding a teen girl hostage and sexually abusing her for a year, this fully grown adult man who should know right from heinously wrong was detained for eight months and will serve no further jail time.
Eight months. That's it.
Our justice system seems to forget that teens are still children—and that women are actual human beings.
Some people will try to blame the victims here, claiming that they put themselves in the situations they ended up in. But these girls were 14 and 15 when they met their rapists. Young teens. Impressionable youths. No adult male in his right mind should be thinking about having sex with these girls, much less coercing them or forcing them to do anything that's been described in these cases.
But to actually commit these crimes and not even go to jail? How did we get here? How do we place more value on the life of a grown man who victimizes girls than on the life of the girl he victimizes? How can our justice system fail so miserably at dispensing justice?
There are people serving jail sentences for marijuana possession, a crime which is no longer a crime in 10 states. And yet admitted rapists walk among us having served no time? How do they get away with that?
Someone explain how any of this makes sense, please, because I've grown tired of trying to understand it every time it happens.