Family
Tinder deleted George Zimmerman's profile and banned him from the app in the name of public safety.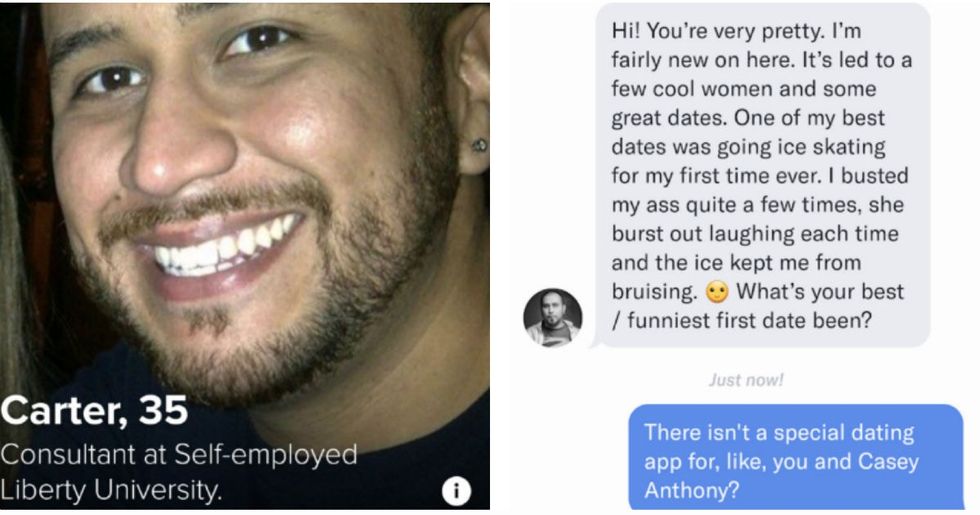 Images via Creative Loafing/screenshots from Tinder
Believe it or not, there are worse things than unsolicited sexual harassment on dating apps.
George Zimmerman was acquitted of shooting and killing an unarmed 17-year-old Trayvon Martin in 2012. Since then, he's been keeping a low profile, but apparently that doesn't extend to his dating profile.
Zimmerman was recently banned from Tinder after he created a profile on the app under a fake name.
---
Screenshots of Zimmerman's Tinder profile (including the requisite smiling while holding a dog photo) were captured by Creative Loafing Tampa Bay.
Zimmerman aka"Carter" listed himself a "Consultant, Self-Employed," and a Liberty University graduate.
"I'm looking for carefree, fun," Zimmerman's profile used to read. "I love the outdoors, fishing camping and hiking. I love adventure not into huge crowds. I'm also down for a quiet night with Longhorn takeout."
He didn't list his other interests, which include allegedly throwing a bottle of wine at his ex-girlfriend, and allegedly stalking a private investigator hired by a production company working on a documentary about Martin, and apparently not using commas correctly in his dating app profile.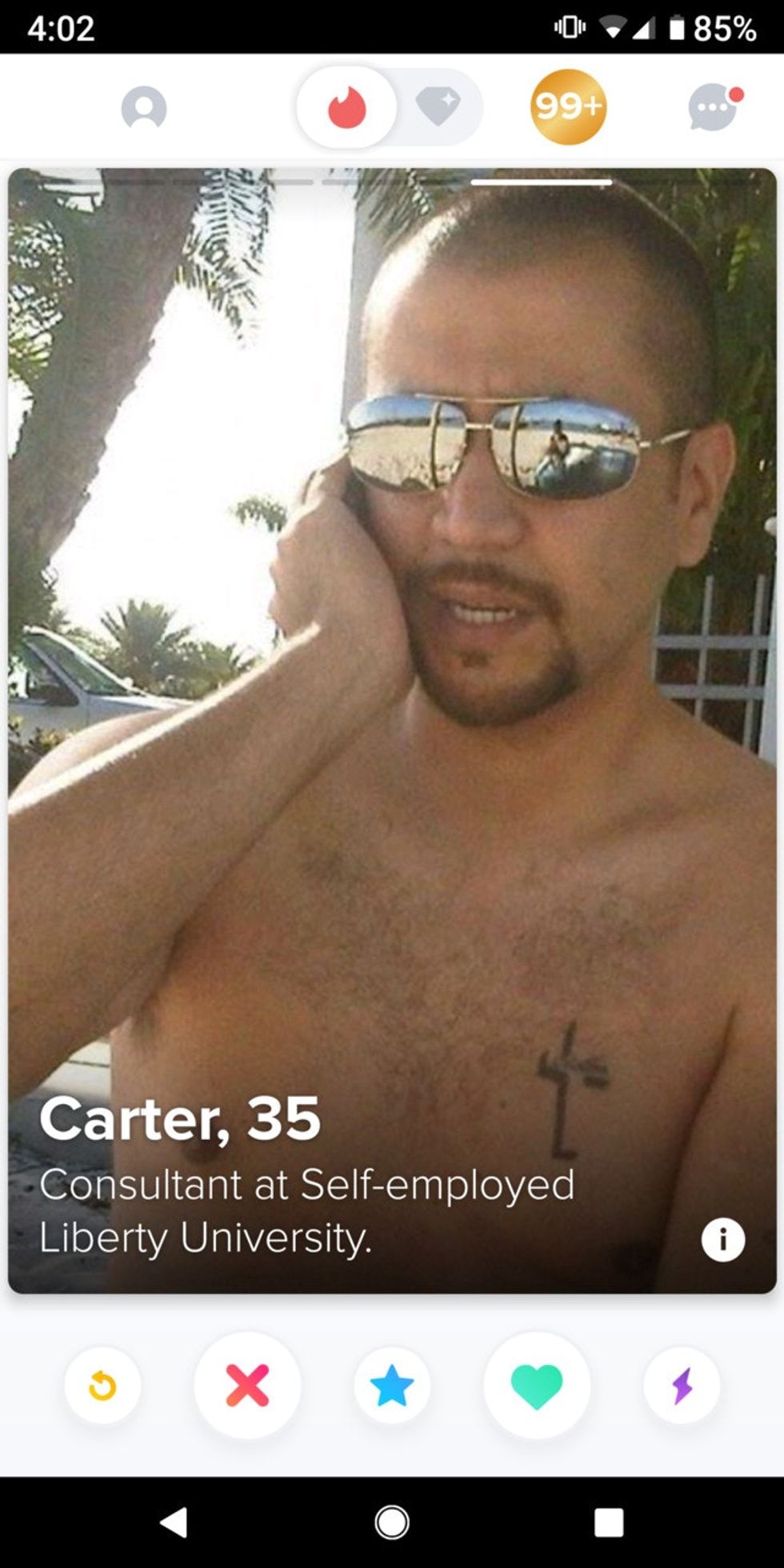 Images via Creative Loafing/screenshots from Tinder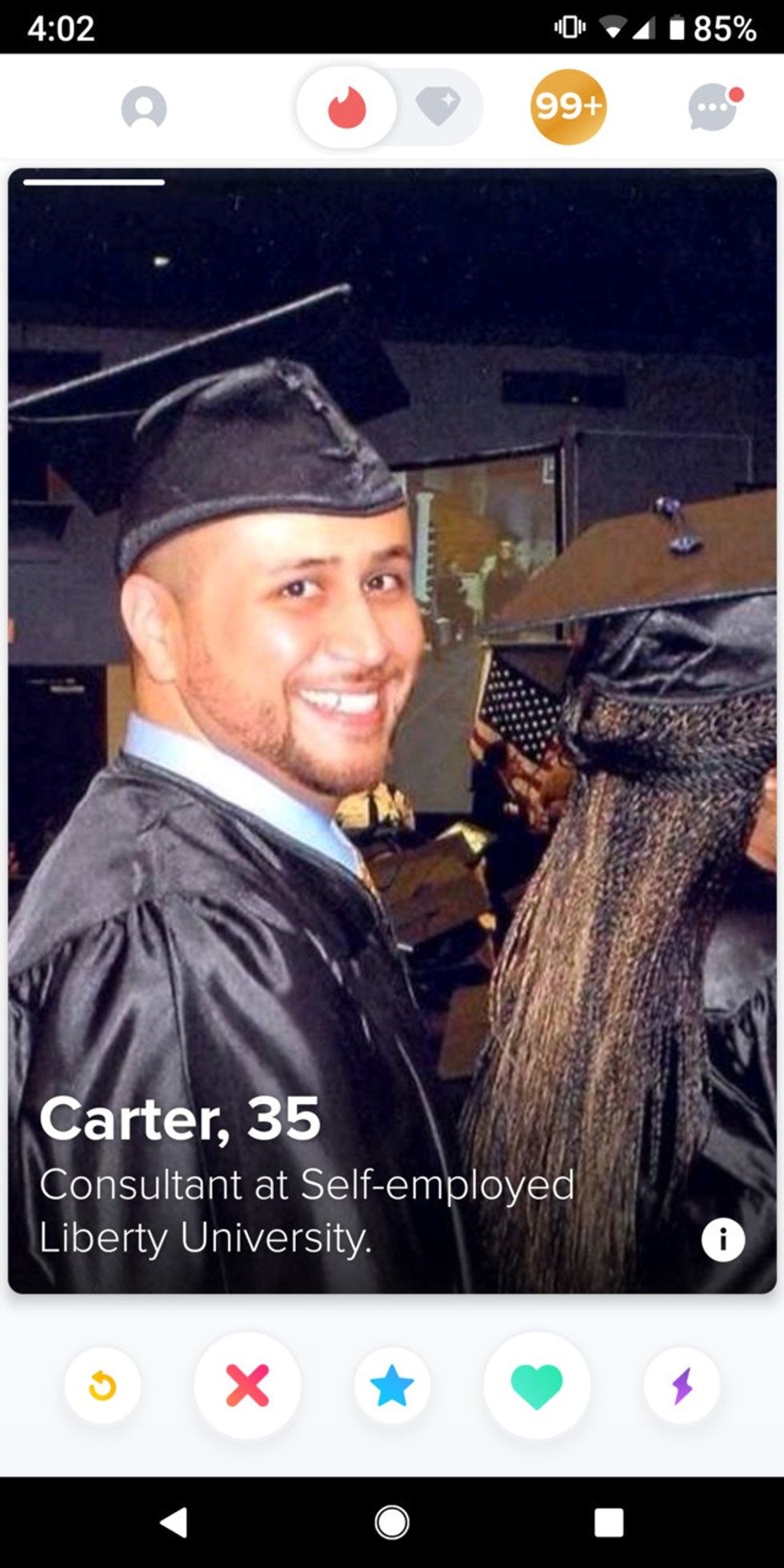 Images via Creative Loafing/screenshots from Tinder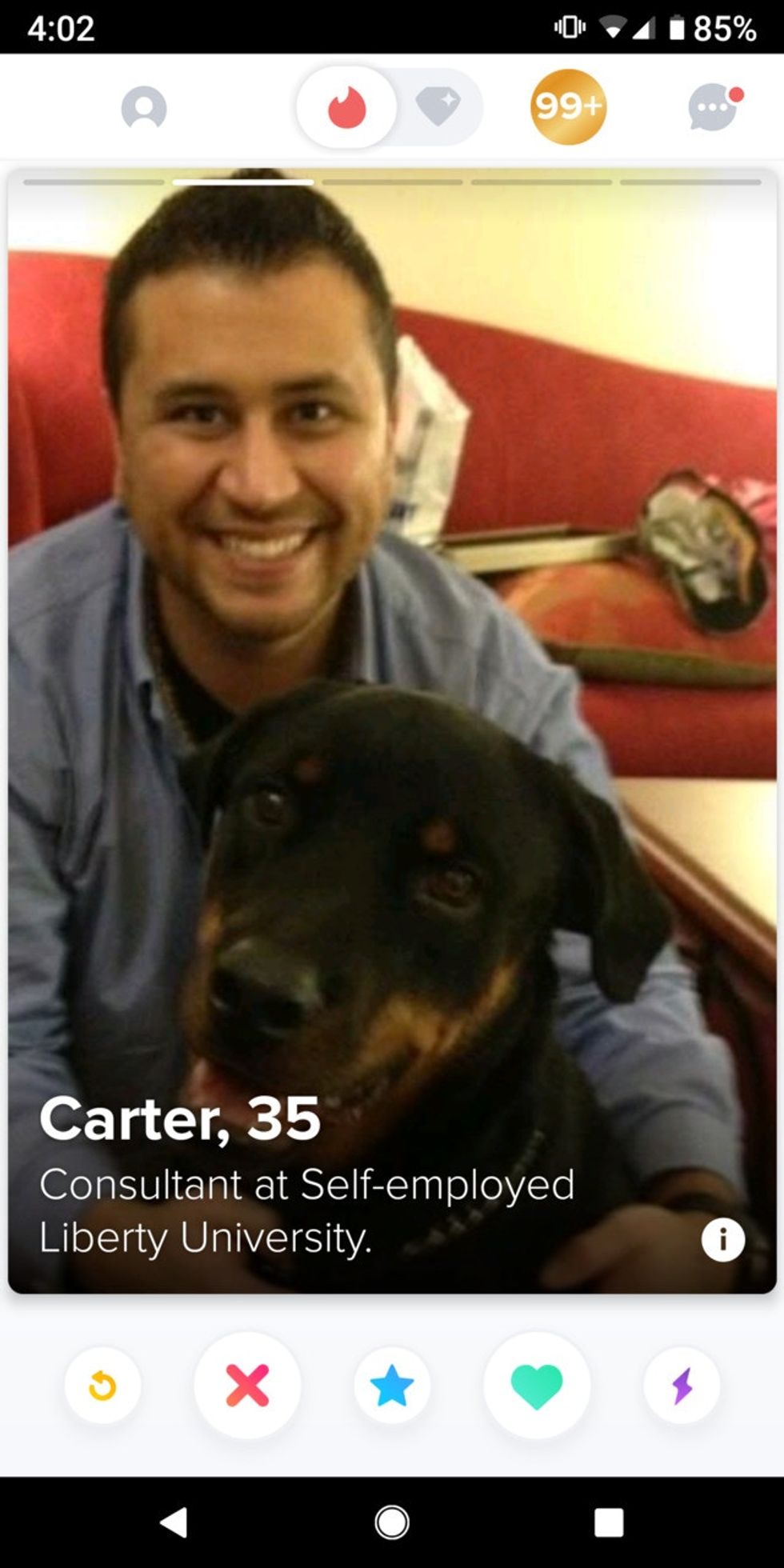 Images via Creative Loafing/screenshots from Tinder
How is he still single? Oh. Right…
"We take the safety of our users very seriously and acted appropriately once the profile was discovered," Tinder said in a statement. "We utilize a network of industry-leading automated and manual moderation and review tools, systems and processes — and spend millions of dollars annually — to prevent, monitor and remove bad actors who have violated our Community Guidelines and Terms of Use from our app." They didn't elaborate on the matter beyond that, but then again, do they really need to?
This isn't the first time Zimmerman's been removed from a dating app.
He was also banned by Bumble in 2018. "George Zimmerman was blocked and banned in December 2018 when we first discovered his profile and we have blocked and banned him again after we were informed by our users that he had created a new unverified profile," Bumble said. "We have thousands of moderators working tirelessly with our users to make Bumble the safest and most empowering social networking platform and this is another example of those efforts."
Zimmerman's old Bumble profile listed the former neighborhood watch coordinator as a "jury consultant" (whatever that is), with only a high school education. He said he loves cake pops and was looking for a mature woman.
According to Creative Loafing, Zimmerman is still floating around on OK Cupid and still using cheesy pickup lines.
You never know what creeps you're going to run across on dating apps, so be careful out there!