More
This year's Miss America, Miss USA, and Miss Teen USA winner are all black women.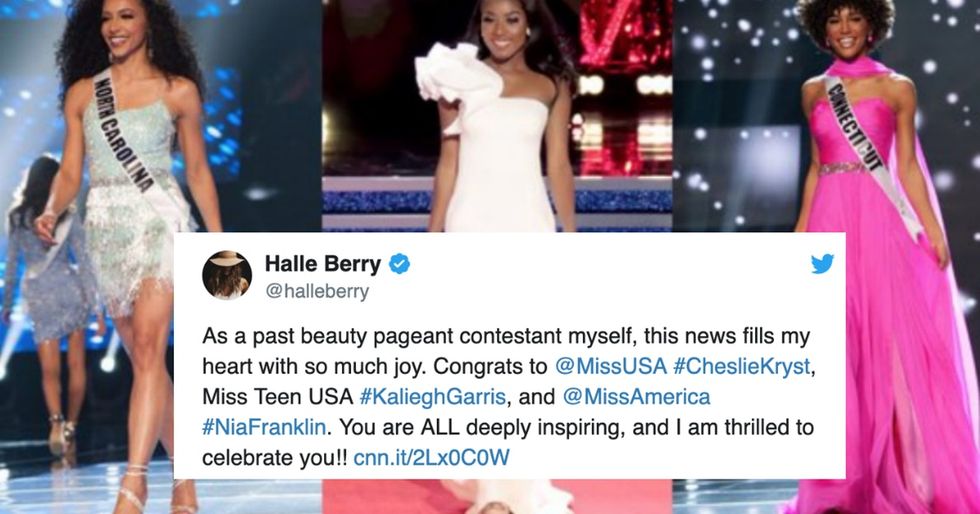 For the first time in history, three black women have been crowned as @MissUSA, @MissTeenUSA and @MissAmerica. Ch… https://t.co/9YEzDcdZhj

— CBS This Morning (@CBS This Morning) 1557179856.0
This is as great a time as ever to remind everyone that black is beautiful. I mean, the evidence is literally overwhelming.
For the first time in history, all three crowns of America's biggest beauty pageants — Miss America, Miss USA and Miss Teen USA — went to black women.
American beauty pageants have not always been kind to women of color. For years, black women were not even allowed to participate in beauty contests across the country. And America didn't have its first black Miss America until Vanessa Williams made history in 1983.
---
But the times have clearly changed and 2019 is a year of beautiful black female dominance in the beauty pageant world.
"The three young women who have focused their energy on demonstrating how standards of black beauty speak for American standards of beauty are to be commended," Thomas DeFrantz, a professor in the Department of African and African American Studies at Duke University, told NBC News. "These three standard-bearers prove that black beauty is at the heart of a 21st century American ideal."
#MissAmerica, #MissUSA, and #MissTeenUSA are all Black women. What a time to be alive! ✊🏾✊🏽✊🏿 #BlackGirlMagic https://t.co/GgazyPy8sg

— ESSENCE (@ESSENCE) 1556893285.0
Along with being a major historical accomplishment, the beauty pageant trifecta is a showcase of three exceptional young women making a difference in the world:
Miss America winner Nia Franklin has been open about how racism impacted her childhood and how she was able to overcome it.
"I grew up at a predominately Caucasian school, and there was only 5% minority, and I felt out of place so much because of the color of my skin," she told CNN. "But growing up, I found my love of arts, and through music that helped me to feel positive about myself and about who I was."
As a past beauty pageant contestant myself, this news fills my heart with so much joy. Congrats to @MissUSA… https://t.co/JfHJPbTszW

— Halle Berry (@Halle Berry) 1557019233.0
And Miss USA Cheslie Kryst is doing important work in criminal justice reform, working to help people who have received unusually harsh sentences and helping those who have reentered society through her work with programs like Dress for Success. And it wasn't just Kryst, the Miss USA contestants provided questions for each other that touched on immigration, the 2020 election, MeToo and gun control.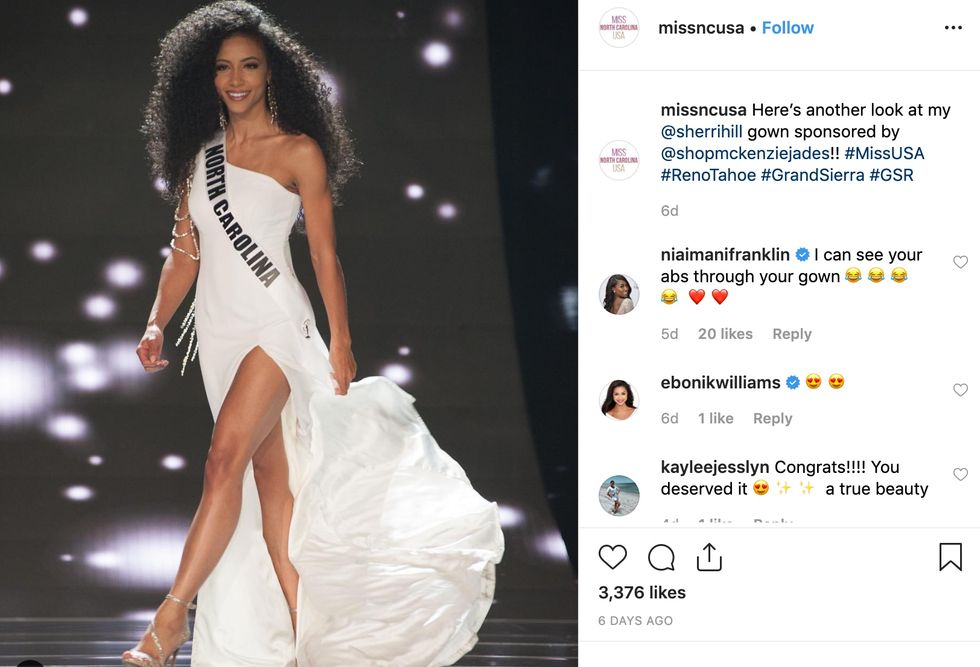 Instagram
Finally, Miss Teen USA winner Kaliegh Garris made a statement of her own by appearing in the contest with her natural hair.
"I know what I look like with straight hair, with extensions, and with my curly hair, and I feel more confident and comfortable with my natural hair," Garris told Refinery29.
All three women have achieved major milestones in winning their respective pageants. Together, they're serving as a statement about cultural progress, inclusivity and how somewhat antiquated competitions like beauty pageants can still serve a progressive purpose in 2019.
"It is important to little brown and black girls to see 3 strong figures, 3 strong women, African-American women th… https://t.co/GK4wle9JMd

— The New York Times (@The New York Times) 1557090003.0
As Franklin said in an interview with CBS:
"I am so proud, I'm actually honored as well. This is something that I couldn't have planned myself. So just to have this moment is so inspirational to not only me but I think to young women across the world that we made this history that we didn't even know we were making at the time."