More
This hockey player left a game in tears after racist fans taunted him and his family.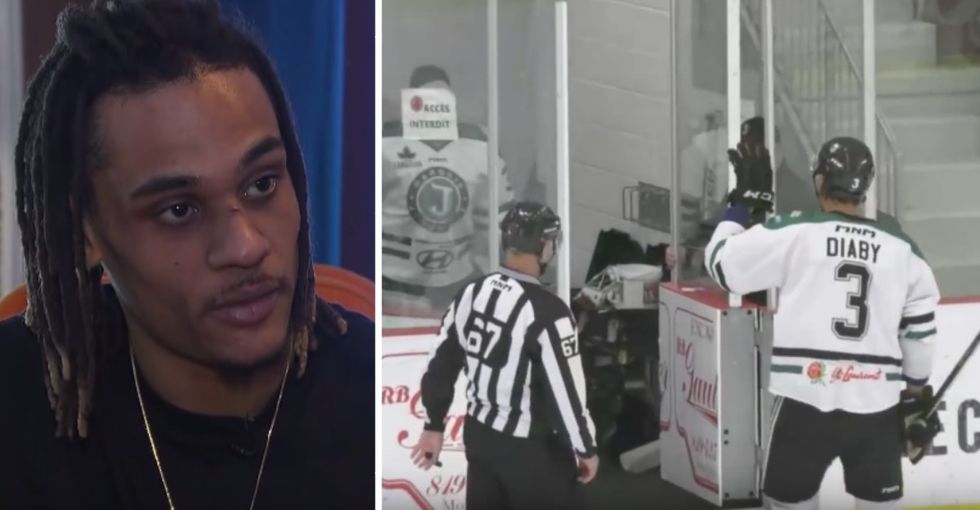 It's 2019, and horrible, blatant racism is still alive and well—even in Canada.
Anti-racism activists have gone to great lengths to address systemic, institutional racism and unconscious, implicit racial bias in our society. But those subtler forms of racism are not all that's left to tackle. Far too often, racism still presents itself with no veils, no pretense, and no shame.
Take the story of Jonathan Diaby, a 24-year-old Canadian hockey player who left a game early in tears because racists in the crowd kept taunting him and his family. It's a story one might expect to hear from the American south in the 1950s, not from seemingly progressive Canada in 2019. And yet, here we are.
---
Diaby said he'd faced racism before, but it's never been this bad.
CBC reports the racist abuse from a handful of fans began in the first quarter of the game on February 24. Video shows a spectator taunting Diaby with monkey-like movements and allegedly showing him pictures of primates on his phone.
"I had to put my jersey over my face because I was like, I had teardrops, you know," Diaby told the Canadian news outlet. "They started yelling racist stuff at my parents and my sister and myself. Go negro, baboons, a bunch of stuff.
"My dad was told to go back home," Diaby added. "That he had no business in this country. They were touching his hair, making fun of him. My sister was scared, my girlfriend was scared."
The taunting got so bad that Diaby left the ice and his family left the arena before the end of the game.
Security allowed the racist fans to stay because "nobody threw any punches."
Diaby said that referees did nothing to protect him or his family from the harassment, and security didn't kick any of the taunters out of the arena, reportedly because there was no physical violence.
Diaby's coach Benoit Gratton said, "It's 2019, it's something we shouldn't see anymore. I think it's disgusting."
The league, Ligue Nord-Americaine de Hockey (LNAH), issued a formal apology. League commissioner Jean-Francois Laplante told the CBC that racist, sexist, and homophobic comments are unacceptable, and that if the abusers are identified, they will be banned from LNAH matches.
"This is not hockey," said Diaby. "Nobody should feel threatened to go watch his son play a hockey game."
Racist abuse is unacceptable anywhere, at any time. Even if no one is being physically assaulted, such behavior is harmful. Free speech is one thing, but hate speech and racist taunting is another.
Watch the report from CBC News here: