Family
This empty nesters' hilarious viral photo shoot has parents everywhere in stitches.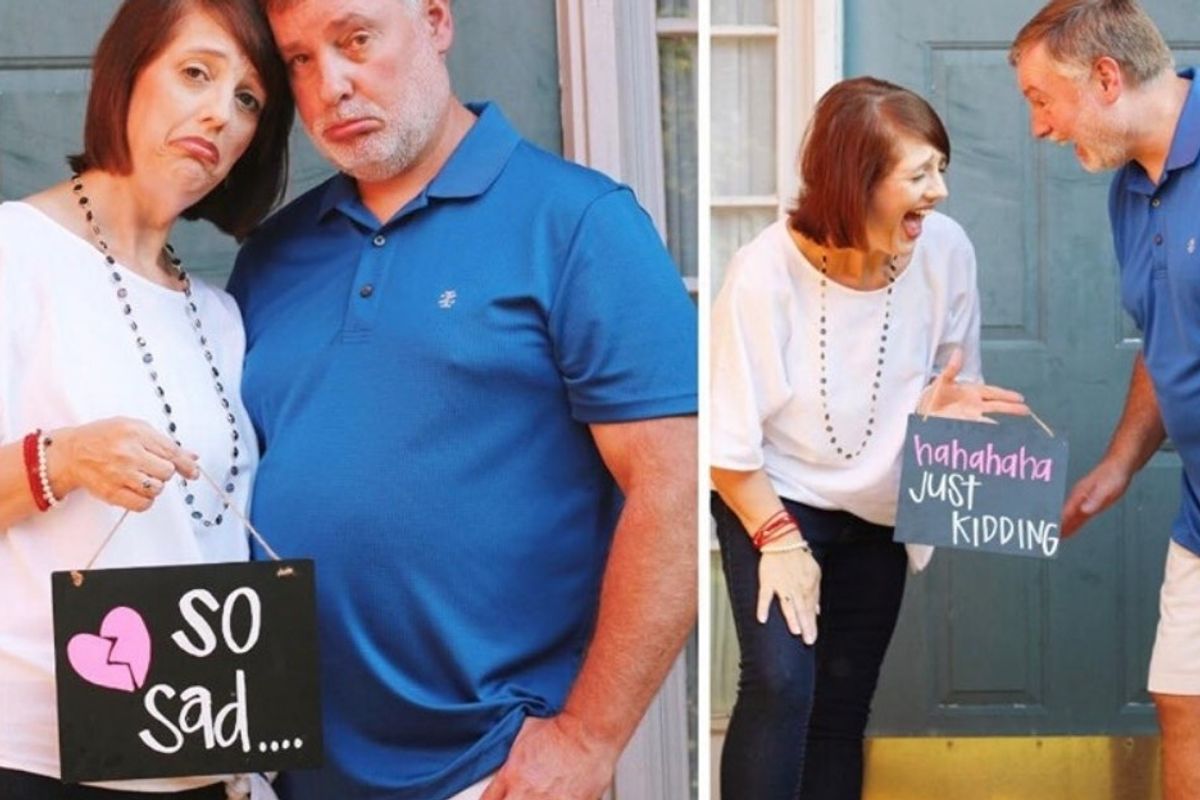 Many parents lament when their last child leaves the nest.
As graduation photos flood our social media accounts, so do words of sadness and parental longing. Kids growing up evokes a huge range of emotions in parents, and it's natural to feel wistful and nostalgic as we watch our children emerge into adulthood.
---
I mean, who doesn't see their sweet baby in the face of their grown child? Who doesn't get a lump in their throat as their offspring walk across a stage in a cap and gown? What parents don't think about how they'll miss the pitter patter of little feet and the delightful chaos of a houseful of loinfruit?
Who looks around their empty nest without a sense of loss?
As this hilarious viral photo shoot shows, not all empty nesters have a hard time moving on.
When my kids were little, I remember feeling like it would be so hard to let them go when the time came for them to move on to their own lives. And when my oldest turned 18, I did get hit by "Where did the time go?" and "OMG, MY BABYYYYY."
But that phase passed quickly, soon replaced by "Hallelujah, we raised an adult!" and "OMG, I CAN SMELL SWEET FREEDOM COMING."
So yeah. I can totally see why this photo shoot by Haley Marie Photography is resonating with parents everywhere.
"Most parents are a little sad when they hit the "empty nest" phase of life," the post reads. "HOWEVER, my parents seem thrilled 🤣🤣 also... how cute are they??!! 👫🏠"
The photos show a couple who are clearly thrilled to be empty nesters and not afraid to celebrate that fact.
They took a photo with their dogs and a sign that read "OUR FAVORITE KIDS."
That was followed up by side-by-side photos—one of the couple looking sad while holding a sign with a broken heart that read, "So sad...." and one of them laughing and holding a sign that said, "hahahaha JUST KIDDING."

Playing on the classic expectant parents theme, the dad holds a "0" balloon while the mom holds an "Expecting 0 kids June 2019" sign.

Are these two adorable or what?
Parenting requires a sense of humor, and clearly these two have it in spades.
People are loving this photo shoot because it's funny, but also relatable. There's a reason the post has been shared 160,000 times in two days.
We all love our kids, but full-time parenting is a marathon and it's natural to celebrate when you reach the finish line.
We dedicate decades to raising our children, and most of the time we're happy to do so. It's hard, but there's also a profound joy that comes with the hustle and bustle of family life when kids are young.

But it's a season, and you bet your britches we'll be tossing confetti when our kids start building their own nests and my husband and I start the next stage of our life.
Congrats to the happy couple! And thanks to Haley Marie Photography for giving us all a good laugh.