Family
The Rock's Mom interrupted his interview with Jimmy Fallon for a song and it was adorable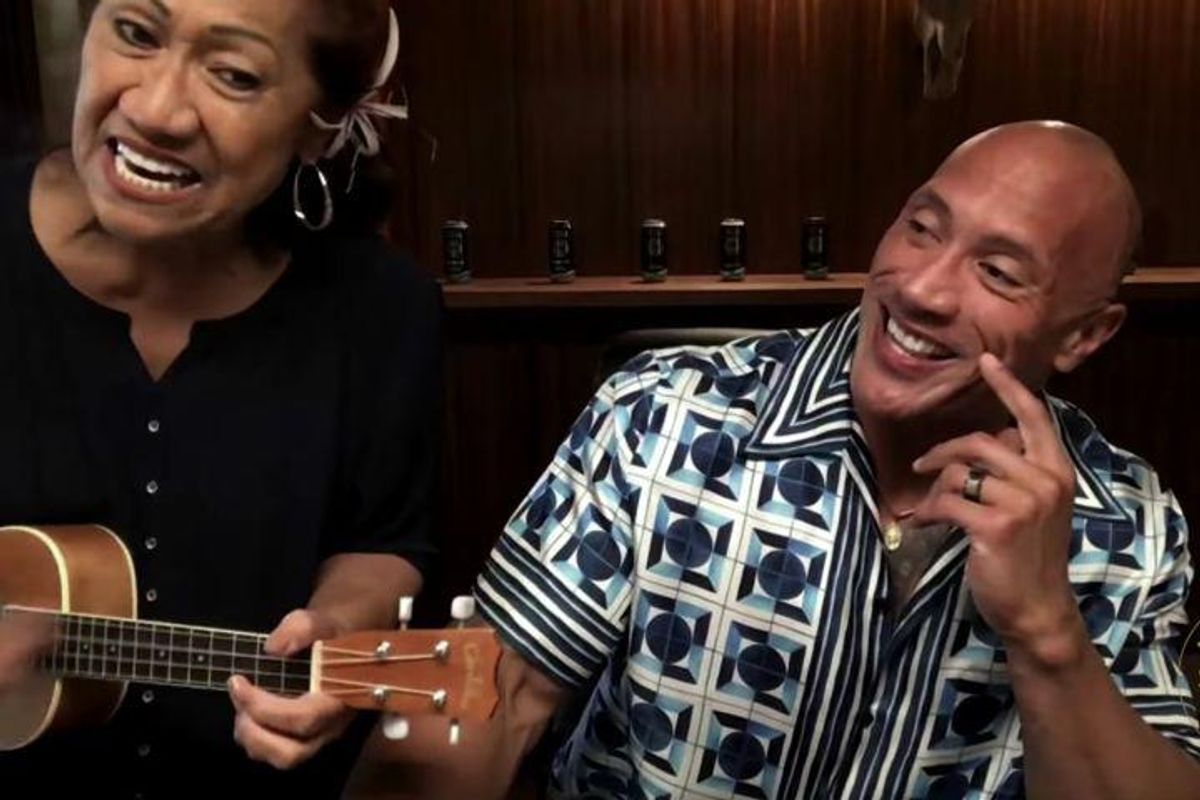 Now we know where Dwayne 'The Rock' Johnson's talent and charisma come from!

On Wednesday night, he went on The Tonight Show with Jimmy Fallon to promote his new comedy special "Young Rock," which is loosely based on his life and his story as a struggling, competitive wrestler and actor.
They discussed the casting of the show and the importance of finding the right person to play his Samoan Mom, and then Jimmy casually mentioned that he had recently seen The Rock's Mom playing ukulele and singing a song at his grandparent's grave in Hawaii on Instagram. The Rock told Jimmy, "she's right here," and called his Mom over to say hello.
---
Ata Johnson, 72, jumped right into her son's interview with a big smile, and together they burst into an unexpected rendition of "Savalivali Means Go For a Walk," a Samoan song. Dwayne, 46, looked confused at first, and then he suddenly seemed like a little boy swept into the charms of his Mother, as he dropped his head in his hand and began to sing along.

Then Ata excitedly announced, "We have one more!" to which her son replied: "No we don't have one more! What's happening?" and burst into confused laughter.
The next song was just as charming, and Jimmy couldn't stop blushing as they sang the words in perfect harmony together:
"We love you, Jimmy / Oh, yes, we do / We love you, Jimmy / and that is true. When we're away from you/we're blue. Oh Jimmy, we love you."
Jimmy blew kisses back to her and said: "You just stole the interview. You're unbelievable. You are a superstar!"
The Rock said on Twitter that his Mom had a great time because she absolutely loves Jimmy Fallon - "I think more than me, as she's never sung this song to me!?"
On Instagram he also reacted:
"My mom ADORES @jimmyfallon like a son, so I thought she'd love to come on impromptu style and sing him a song w/ her ukulele.
But after the first song finishes she says , 'We've got one more'.... to which I said, 'NO WE DON'T HAVE ONE MORE'... 😂😂😂 🛑
But she started strumming anyway and the moment she started singing..
"WE LOVE YOU JIMMYYYYY OH YES WE DOOOOO...."
I fell in lock step with her and started singing too 🤷🏾
At this point I surrendered any control and power I thought I had and just let this big ol' slice of goodness pie 🥧😇 be enjoyed!!!!
I'm a lucky son of a gun to have such a positive force of a mama. What a happy soul she's got 🙏🏾
I'll admit, her mana is pretty infectious ✨
People on the internet are obsessed with their adorable relationship, and now there are calls for Mom to release more songs.
People over at Upworthy's Instagram continued their praise when we shared the fun clip:

We've always known The Rock is a good guy - now we see exactly why!
His new show "Young Rock" premieres next Tuesday on NBC.