via Wikimedia Commons
Republican Representative Liz Cheney of Wyoming sits on the wrong side of a rift in her party that her career may not survive. Her refusal to believe and promote the "Big Lie," as she calls it, has not only put her leadership role as the third-ranking House Republican in jeopardy but her place in politics altogether.

The Big Lie is the right-wing conspiracy theory that the 2020 election was stolen from Donald Trump and that the insurrection on January 6 wasn't incited by GOP lawmakers.
Cheney has also become persona non grata in her party for being one of the few Republican lawmakers to vote to impeach the former president for his role in the Capitol riot.
The 2020 presidential election was not stolen. Anyone who claims it was is spreading THE BIG LIE, turning their bac… https://t.co/kMmjACP0xg

— Liz Cheney (@Liz Cheney)1620052062.0
Unfortunately for Cheney, and Democracy, her reluctance to kowtow to the Trump cult of personality that's overtaken the Republican Party has put her on the outside looking in.

"The conflict here does not stem from Cheney's refusal to move on from the lies that sparked the Capitol riot, but from the fact that the Republican Party has embraced those lies as foundational to Republican identity in 2021," Adam Serwer writes in The Atlantic.
Cheney made her position clear in an op-ed published by The Washington Post on Wednesday. Cheney argues that "The Republican Party is at a turning point, and Republicans must decide whether we are going to choose truth and fidelity to the Constitution."
The op-ed was a brave move for the Representative who may be on the right side of history but the wrong side of the GOP rift. Given the damage that the Big Lie is doing to American politics, her decision to fight back is a clear example of someone putting country before party.
Cheney believes that Trump's behavior is not only beyond the pale for a former president but dangerous to democracy itself. "Trump is seeking to unravel critical elements of our constitutional structure that make democracy work — confidence in the result of elections and the rule of law. No other American president has ever done this," she writes.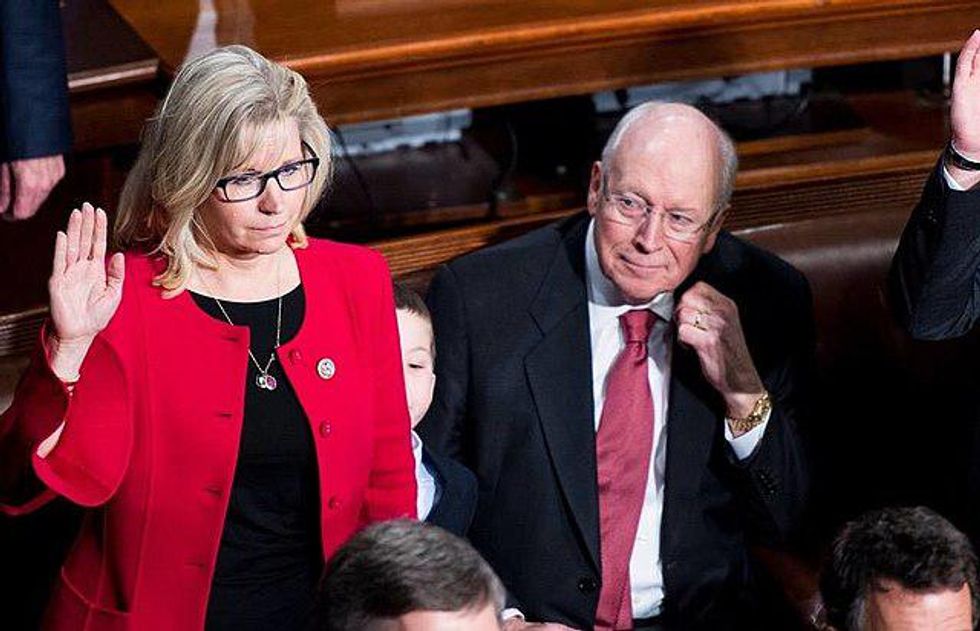 via Wikimedia Commons
The daughter of former Republican Vice President Dick Cheney believes that the GOP's current antics is putting a fragile democracy at risk.

"I have worked overseas in nations where changes in leadership come only with violence, where democracy takes hold only until the next violent upheaval. America is exceptional because our constitutional system guards against that," she writes. "At the heart of our republic is a commitment to the peaceful transfer of power among political rivals in accordance with law. President Ronald Reagan described this as our American 'miracle.'
Her reference to "The Gipper" shows she still believes the GOP can be the party of Reagan which is probably wishful thinking. Her distancing from the rest of her party shows how incredibly loyal it still is to Trump. The party's decision to demonize immigrants, scuttle free trade deals, embrace authoritarian leaders, support Trump's vulgarity, and denigrate democracy shows how far it has moved from Reagan.
Cheney suggests three ways that the party can move forward. First, by supporting "the ongoing Justice Department criminal investigations of the Jan. 6 attack."
Second, by supporting a "parallel bipartisan review by a commission with subpoena power to seek and find facts" relating to the January 6 attack. And finally, "to stand for genuinely conservative principles, and steer away from the dangerous and anti-democratic Trump cult of personality."
Cheney's plea for the GOP to return to its traditional values probably won't change many minds in a party that is still under the spell of Trump. But it's a valiant effort that puts her on the record for being on the right side of history.
Her family name is synonymous with Republican politics, so standing against a strong political headwind at a time when she could easily go with the flow is commendable.
"History is watching. Our children are watching," she writes. "We must be brave enough to defend the basic principles that underpin and protect our freedom and our democratic process. I am committed to doing that, no matter what the short-term political consequences might be."
Courtesy of CeraVe
True
"I love being a nurse because I have the honor of connecting with my patients during some of their best and some of their worst days and making a difference in their lives is among the most rewarding things that I can do in my own life" - Tenesia Richards, RN

From ushering new life into the world to holding the hand of a patient as they take their last breath, nurses are everyday heroes that deserve our respect and appreciation.
To give back to this community that is always giving so selflessly to others, CeraVe® put out a call to nurses to share their stories for a chance to be featured in Heroes Behind the Masks, a digital content series shining a light on nurses who go above and beyond to provide safe and quality care to patients and their communities.
First up: Tenesia Richards, a labor and delivery nurse working in New York City who, in addition to her regular job, started a community outreach program in a homeless shelter that houses expectant mothers for up to one year postpartum.
Tenesia | Heroes Behind the Masks presented by CeraVe www.youtube.com
Upon learning at a conference that black mothers in the U.S. die at three to four times the rate of white mothers, one of the widest of all racial disparities in women's health, Richards decided to take further action to help her community. She, along with a handful of fellow nurses, volunteered to provide antepartum, childbirth and postpartum education to the women living at the shelter. Additionally, they looked for other ways to boost the spirits of the residents, like throwing baby showers and bringing in guest speakers. When COVID-19 hit and in-person gatherings were no longer possible, Richards and her team found creative workarounds and created holiday care packages for the mothers instead.
"The packages were personalized to each mother with their names, a hand-written love note from the nursing team and items based on their pregnancy stage (which trimester, pregnant/postpartum) including newborn items (bottles, pacifiers, diapers, wipes, toiletries), toiletries and maternity clothes from the mother, as well as self-care items (journal, uplifting reading books, aromatherapy). My favorite part of the care package was hand-made quilts created by an 80+ [year old] retired doctor."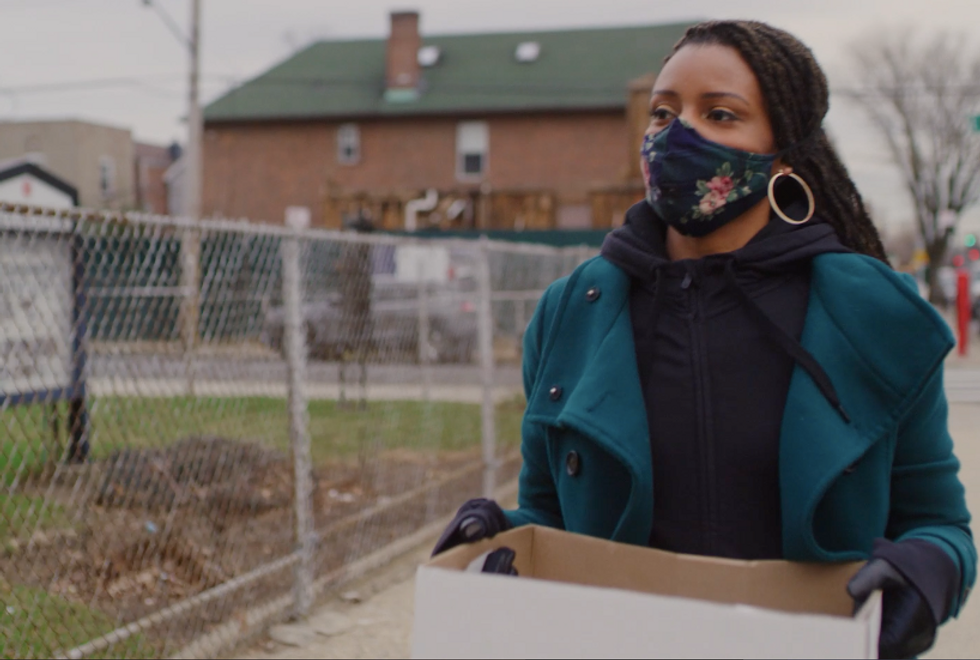 Courtesy of CeraVe
Continuing with her service, Richards is currently working on starting a non-profit organization, Our Mommas Heal, an expansion of the work that she's already doing in the community. "Our goal is to be the advocates for these at-risk mothers by connecting them to the necessary resources to ensure they have a high-quality, safe, equitable, uncomplicated pregnancy and delivery: education, other organizations like nurse family partnership, vetted health care providers," said Richards.

As a dermatologist-developed brand rooted in the medical community, CeraVe® is committed to supporting and celebrating healthcare professionals like Nurse Richards. Richards' story is the first of four we'll be sharing in the coming weeks.
As part of its commitment to nurses, CeraVe® is also a proud sponsor of the ANA Enterprise and their Healthy Nurse, Healthy Nation™ initiative, a movement designed to transform the health of the nation by improving the health of the nation's 4.2 million registered nurses. Through the initiative, ANA is connecting and engaging with nurses to inspire them to take action in five key areas: activity, sleep, nutrition, quality of life, and safety.
Additionally, over the past year, CeraVe® has donated more than 500,000 products to hospitals to help provide therapeutic skincare relief to healthcare workers and is continuing the product donation efforts. Nurses looking to engage with the brand and learn more about these initiatives can join the Shift Change: Nurse Essentials Facebook group, an online community hosted by CeraVe® where nurses come together for personal and professional empowerment.
To see more stories about nurse heroes, visit www.heroesbehindthemasks.com/.

Get stories worth sharing delivered to your inbox