A breastfeeding mother's experience at Vienna's Schoenbrunn Zoo is touching people's hearts—but not without a fair amount of controversy.
Gemma Copeland shared her story on Facebook, which was then picked up by the Facebook page Boobie Babies. Photos show the mom breastfeeding her baby next to the window of the zoo's orangutan habitat, with a female orangutan sitting close to the glass, gazing at them.
"Today I got feeding support from the most unlikely of places, the most surreal moment of my life that had me in tears," Copeland wrote.


"I visited Schoenbrunn zoo in Vienna whilst on a mini-break with my partner and son. We nipped in to see the orangutans at the end of our day who were happily playing in the enclosure, so I went to the window for a closer look and sat down by the window so my lb could see the orangutan who was roughly 5/6ft away. She then got up, carried a piece of cloth to the window and sat down with me. She looked directly into my eyes then placed her hand up as if to touch my son. I was in awe of this beautiful creature already."
"My son wanted feeding and as it was quiet I fed him whilst I sat there. The way the orangutan reacted took my breath away she kept looking at me, then my son then back again," she continued. "She sat with me for approximately half an hour, kept stroking the glass and lay down next to me as if to support and protect me.
I had to share this because my mind was blown. We may be a species apart but breastfeeding connected us today in a once in a lifetime moment that will stay with me forever. I'm also incredibly lucky that my partner caught all of this on video 💕"
The Facebook page added a story about a gorilla being taught to breastfeed by women from La Leche League, an organization dedicated to supporting breastfeeders:
"Did you know that women from La Leche League once taught a mother gorilla to breastfeed? The Mamma gorilla had been born and raised in captivity and didn't know what to do with her firstborn, and her baby sadly died. When she next became pregnant, breastfeeding women volunteered to sit beside the gorilla's enclosure and breastfeed their babies, showing the gorilla what to do. When the gorilla gave birth, a volunteer came over and breastfed her baby, showing Mamma gorilla what to do, step by step. Mamma gorilla watched, and then copied, and went on to successfully feed her baby
"

The story has been shared more than 37,000 times, with many commenters stating how beautiful and moving it was. Others, while appreciating the beauty of the animal encounter, expressed sadness at seeing such a creature in captivity. As with practically every post about animals in zoos, debate broke out over whether or not zoos are helpful or harmful to the animals they house.
And like most debates, people's opinions fall along a broad spectrum. Some feel that zoos are the best way for people to learn about animals first-hand, which leads them to care more about protecting them in the wild. Some acknowledge that captivity isn't ideal, but that many animals die individually or go extinct as species without the work they do. Some feel that it's always wrong to keep an animal in captivity, no matter what. Even animal experts don't agree on this front.
And not all zoos are created equal. Many zoos have moved more toward a rehabilitation and conservation model, and there's no question that many animals who have been raised in captivity would not survive if they were suddenly released into the wild. There's also the issue of whether trying to limit natural breeding in captivity falls under the ethical treatment of animals, as breeding is a natural animal instinct. And what about the animals that have gone extinct in the wild and can only be found in zoos? There are a million questions with a million unclear answers when it comes to zoos.
However there is one thing most can agree on. Whether or not you think zoos are helpful or harmful, necessary or not, they largely exist today because of human activity mucking with nature. The same nature that compels this creature to connect with a human mother, despite her unnatural surroundings. The same nature that humans are destroying to get palm oil for our cookies and soaps, leading orangutans to the brink of extinction. The same nature that we are all responsible for protecting.
Whether we find this story sweet or sad or something in between, the reality for orangutans in the wild is worth our attention. Visit www.theorangutanproject.org/ to learn more about how to help.
Science
Now, this is body positivity.
Everyone knows that fat animals are infinitely more visually appealing, much to veterinarians' collective dismay. They may not be at their pinnacle of health, yet we love them anyway, especially when they're babies. Bears, however, are supposed to get chunky so they get a pass. Before the winter when they hibernate, they're all about feeding their faces and storing fat for the winter. Wildlife archivists Explore has put all these fat bears in one place so we can vote on who gets to be supreme Fat Bear. Fat Bear Week is an annual event that anyone with internet access can participate in.
The bears, unfortunately, don't win any prizes for being named the fattest bear in Alaska, but America wins a prize by seeing big fuzzy bear bellies. Sure, the bears make you wish you could pet them and give them all the head scratches, and yes they'd probably try to eat you if you actually tried. That doesn't stop this from being the cutest competition out there. The event is well run, with brackets to predict the winner. I don't know what brackets are but it makes it sound so much more exciting.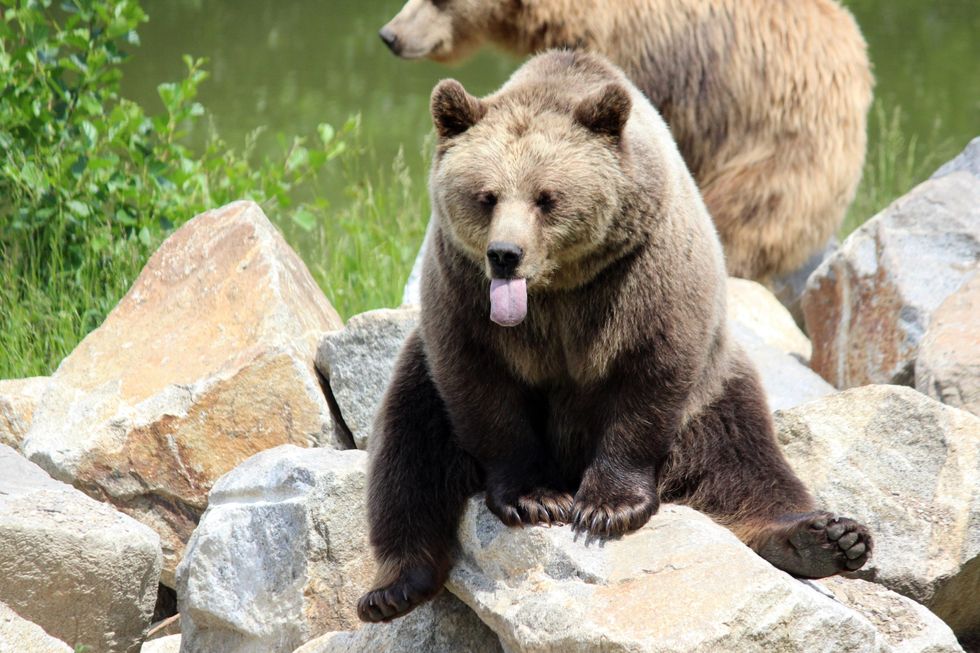 Photo by
Rey Emsen
on
Unsplash
When exactly is Fat Bear Week, you may be asking? It's now, like right now, so go download your bracket thingy and enter your picks or whatever you do with brackets. Fat Bear Week runs from October 5 through October 11 and match-ups for voting start at 12 p.m. and end at 9 p.m. EST. This contest is ruthless because there are no second chances. If a bear's extra fluff isn't up to the internet's standards then it's eliminated. No take backs.
For every head-to-head match-up between chubby little cubbies, you get one vote to pick the bear that's showing the most fat gained. The bear with the most votes gets to move to the next round and the bear with the least amounts of votes gets to no longer be judged by random strangers on the internet. Wait, I think we all would like the prize of not being judged by strangers on the internet.
This all may seem like a weird thing to have turned into a competition but it really isn't. Fat Bear Week started in 2013 after someone took pictures of the same bear from the bear cam and commented on how fat the bear had gotten when preparing for hibernation. According to video journalist Mike Fritz, he noticed comments under the videos of the bears from the bear cam about how chubby all of the bears were getting, and an idea was born.
Can you blame the commenters? These fat bears are seriously cute and once I figure out what brackets are and how to use them, I'm going to vote in this unexpectedly wholesome contest. May the fattest bear win and come out of hibernation looking as if they haven't skipped a meal and are well rested. Now, go vote! It'll make you feel better.
Health
Here are 17 changes that can have big results.
Get stories worth sharing delivered to your inbox
Get stories worth sharing delivered to your inbox