More
The possessions of welfare recipients are not our business. Period.
Here's a sweet Christmas story for you: Timmy* really loved his big sister. So one year, he decided he was going to give her a big surprise for Christmas.
*Not his real name, but this story is inspired by a real Tumblr thread.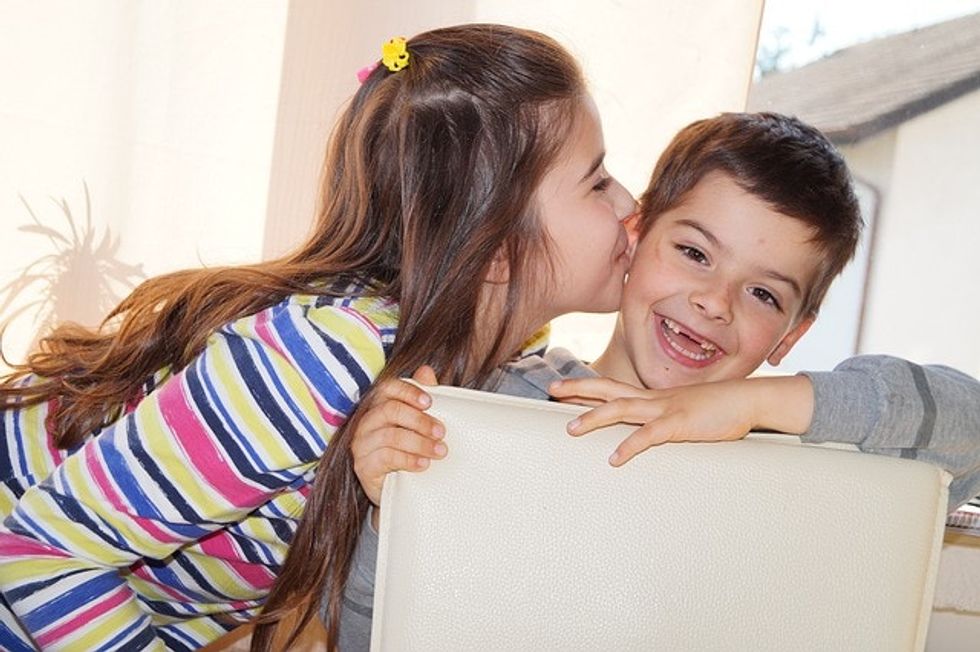 <p class="image-caption">Photo via <a href="https://pixabay.com/en/siblings-sister-good-luck-brother-929939/" target="_blank">marcisim/Pixabay</a>.</p><p dir="ltr" style="line-height:1.38;margin-top:0pt;margin-bottom:0pt;"><em></em></p><p dir="ltr" rel="line-height:1.38;margin-top:0pt;margin-bottom:0pt;" style="line-height:1.38;margin-top:0pt;margin-bottom:0pt;"><strong>He wanted to buy her a Nintendo DS Lite. Since their family was poor, Timmy knew he would have to work really hard and save money to get her the gift.</strong></p><p dir="ltr" rel="line-height:1.38;margin-top:0pt;margin-bottom:0pt;" style="line-height:1.38;margin-top:0pt;margin-bottom:0pt;"><br></p><p>For months, Timmy worked hard to earn money. He was so determined to treat his sister that he pushed past his social anxiety to ask neighbors if there were any chores he could do for them.</p><h2>After nine months of counting his earnings every day to track his progress, his hard work paid off. </h2><p>He had earned enough to buy a DS Lite and a Pokémon game to go with it.<br></p><p><img src="//upw-prod-images.global.ssl.fastly.net/nugget/56729bde450d410026000011/attachments/pokehug-298755faf0ae76fe834e331d4552c502.gif"><span class="redactor-invisible-space"><br></span></p><p class="image-caption"><span class="redactor-invisible-space">Awww. &lt;3 GIF via "Pokemon."</span></p><h2 dir="ltr">But that's where the story takes a turn.</h2><p dir="ltr" style="line-height:1.38;margin-top:0pt;margin-bottom:0pt;">A few weeks after Christmas, a neighbor saw Timmy and his sister with the system outside their house. He approached them and yelled at them. Why?</p><h2 dir="ltr">He felt entitled to comment on their possessions because their family was on food stamps.</h2><p dir="ltr" style="line-height:1.38;margin-top:0pt;margin-bottom:0pt;"><strong></strong>According to his sister — who told this story in a Tumblr thread — the neighbor's words stayed with Timmy for years. He started to withdraw from friends and avoided going outside for fear of running into the neighbors. </p><h2 dir="ltr">But a person's possessions only tell a small part of someone's story. </h2><p><img type="lazy-image" data-runner-src="https://assets.rebelmouse.io/eyJhbGciOiJIUzI1NiIsInR5cCI6IkpXVCJ9.eyJpbWFnZSI6Imh0dHBzOi8vYXNzZXRzLnJibC5tcy8xOTQ4NzAwOS9vcmlnaW4uanBnIiwiZXhwaXJlc19hdCI6MTYyNzg5MDY2NH0.L-vSoNRPvjbnSUHKUuIHHagmOFBaqmD0mA8HcgljUf8/img.jpg?width=980" id="09591" class="rm-shortcode" data-rm-shortcode-id="68c19eff41b89b19c673ef546cb41d01" data-rm-shortcode-name="rebelmouse-image"></p><h2>What does being poor look like? The truth is that there is no one answer.</h2><p>Many people have assumptions about what living in poverty <em>should </em>look like, but it's important to remember that every situation is different. And there's an infinite number of <a href="http://www.nytimes.com/2014/09/03/opinion/what-makes-people-poor.html" target="_blank">possible paths to poverty</a>. One possession does not cancel out financial hardship, whether it's a <a href="http://www.salon.com/2014/10/08/im_the_welfare_mom_with_a_coach_purse/" target="_blank">designer purse</a>, <a href="http://mediamatters.org/research/2011/07/22/fox-cites-ownership-of-appliances-to-downplay-h/148574" target="_blank">refrigerator</a>, or <a href="http://www.npr.org/2012/05/15/152751116/why-so-many-ph-d-s-are-on-food-stamps" target="_blank">a Ph.D</a>.</p><h2>We're taught that we shouldn't judge a book by its cover. That rule still applies when we're talking about people living in poverty.</h2><p><strong>Imagine how much better our world would be if we took the energy spent judging people on social assistance programs and put it towards fixing the problems that led them there in the first place?</strong></p><p>Read the screenshot of the entire Tumblr thread that inspired this piece below:<br></p><p style="text-align: center;"><img type="lazy-image" data-runner-src="https://assets.rebelmouse.io/eyJhbGciOiJIUzI1NiIsInR5cCI6IkpXVCJ9.eyJpbWFnZSI6Imh0dHBzOi8vYXNzZXRzLnJibC5tcy8xOTQ4NzAxMC9vcmlnaW4uanBnIiwiZXhwaXJlc19hdCI6MTYyODQ4MjA0NH0.F9oZAJ-7sta8Tw_gynjlnu594D58se6bUB3LA4p8C5M/img.jpg?width=980" id="70c15" class="rm-shortcode" data-rm-shortcode-id="e6918c4cb33c532685a3ed0c62bb2767" data-rm-shortcode-name="rebelmouse-image"></p>