Two decades ago, in a crime that stunned the country, college student Matthew Shepard was tortured and violently murdered — because he was gay.
One of the killers argued Shepard made a sexual advance toward him while the two murderers were robbing him. He was so upset by the alleged flirtation, the murderer claimed, that he killed Shepard in a fit of blind rage.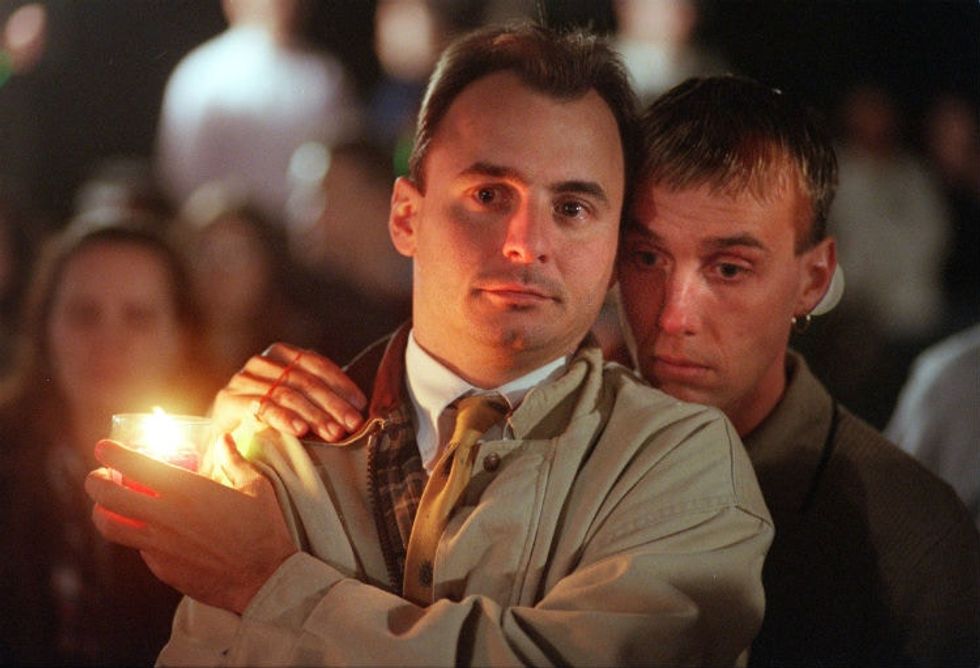 Mourners attend a vigil for Matthew Shepard in 1998. Photo by Andrew Cutraro/AFP/Getty Images.
<p>That legal tactic became one of the more well-known examples of the "<a href="https://lgbtbar.org/what-we-do/programs/gay-and-trans-panic-defense/" target="_blank">gay and transgender panic defense</a>" — where defendants attempt to justify violent responses against LGBTQ people by using the victim's sexual orientation or gender identity as an excuse. </p><p>Yes, it's a deeply homophobic and transphobic strategy — but it's still legal in every U.S. state, except for <a href="https://www.theguardian.com/us-news/2018/may/12/gay-panic-defence-tactic-ban-court" target="_blank">California and Illinois</a>. To this day, there's no federal law banning it.</p><p>But maybe not for long. </p><h2>Rep. Joe Kennedy and Sen. Edward Markey, both of Massachusetts, introduced legislation that would ban gay and trans panic defenses from being used in federal court.</h2><p class="shortcode-media shortcode-media-rebelmouse-image"><img type="lazy-image" data-runner-src="https://assets.rebelmouse.io/eyJhbGciOiJIUzI1NiIsInR5cCI6IkpXVCJ9.eyJpbWFnZSI6Imh0dHBzOi8vYXNzZXRzLnJibC5tcy8xOTUzNDUxMy9vcmlnaW4uanBnIiwiZXhwaXJlc19hdCI6MTY0MzMyMTA2Mn0.X1dXSbKwdpzz8llPlchvxu_IP0l2SOAILOx_NqpUPdA/img.jpg?width=980" id="15400" class="rm-shortcode" data-rm-shortcode-id="cc37cbec670b6abdcd316274b187716c" data-rm-shortcode-name="rebelmouse-image"><small class="image-media media-caption" placeholder="add caption...">Sen. Ed Markey. Photo by Zach Gibson/Getty Images. Rep. Joe Kennedy. Photo by Chip Somodevilla/Getty Images.</small></p><p>If passed, the <a href="https://www.congress.gov/bill/115th-congress/senate-bill/3188/" target="_blank">Gay and Trans Panic Defense Prohibition Act of 2018</a> would prohibit a victim's status as an LGBTQ person from being used "to excuse or justify the conduct of an individual or mitigate the severity of an offense."</p><p>In other words, criminals would no longer be able to blame their crime on another person's queer identity.</p><p>"Gay and trans panic legal defenses reflect an irrational fear and bigotry toward the LGBTQ community and corrode the legitimacy of federal prosecutions," Markey said in a statement provided to <a href="https://www.nbcnews.com/feature/nbc-out/lawmakers-introduce-bill-banning-gay-trans-panic-defense-n891886" target="_blank">NBC News</a>. </p><h2>It may seem outrageous that such a blatantly discriminatory tactic is used to defend the indefensible. But two decades after the death of Shepard, it still happens.</h2><p>More than you might think too.</p><p>In 2016, James Dixon <a href="https://www.upworthy.com/why-this-man-pleaded-innocent-after-killing-a-transgender-woman-is-frustrating">beat up Islan Nettles</a>, a trans woman, who later died from injuries she sustained on the street where the two crossed paths in Harlem. Dixon claimed learning Nettles was transgender "<a href="https://mic.com/articles/139650/man-accused-in-death-of-islan-nettles-doesn-t-gay-bash-but-had-pride-at-stake#.bYRvhK71W" target="_blank">fooled</a>" him, sparking him to react with "<a href="https://mic.com/articles/139650/man-accused-in-death-of-islan-nettles-doesn-t-gay-bash-but-had-pride-at-stake#.bYRvhK71W" target="_blank">blind fury</a>." </p><p>At first, he even pleaded not guilty. </p><p class="shortcode-media shortcode-media-rebelmouse-image"><img type="lazy-image" data-runner-src="https://assets.rebelmouse.io/eyJhbGciOiJIUzI1NiIsInR5cCI6IkpXVCJ9.eyJpbWFnZSI6Imh0dHBzOi8vYXNzZXRzLnJibC5tcy8xOTUzNDUxNC9vcmlnaW4uanBnIiwiZXhwaXJlc19hdCI6MTYzMzA1OTY4OX0.vLav9pTefCJEXWak5OoD-JbCmavFKGbDA4WUuMwfBdU/img.jpg?width=980" id="5f1f8" class="rm-shortcode" data-rm-shortcode-id="1b5bcef927a96f630c7b7db44fc83acd" data-rm-shortcode-name="rebelmouse-image"><small class="image-media media-caption" placeholder="add caption...">Mourners gathered in New York City to honor the life of Islan Nettles and demand justice. Photo by Mario Tama/Getty Images.</small></p><p>Similar cases made national waves in <a href="https://www.upworthy.com/why-this-man-pleaded-innocent-after-killing-a-transgender-woman-is-frustrating">2002 and 2014</a>, as well. And in those instances, the murderers successfully used panic defenses to lessen the severity of their sentences. </p><p>In fact, panic defenses have appeared in court opinions in <a href="https://www.nbcnews.com/feature/nbc-out/lawmakers-introduce-bill-banning-gay-trans-panic-defense-n891886" target="_blank">about half the states in the country</a> since the 1960s, a report by the Williams Institute at UCLA Law found in 2016. </p><h2>We can help make sure these inexcusable panic defenses are never used in the courtroom again.</h2><p>Right now, Markey and Kennedy's bill has 10 cosponsors in the House and five in the Senate, according to <a href="https://www.nbcnews.com/feature/nbc-out/lawmakers-introduce-bill-banning-gay-trans-panic-defense-n891886" target="_blank">NBC News</a>. </p><p>With a GOP-controlled Congress and White House, however, the future of a bill advocating for LGBTQ protections faces an uncertain path forward, which is all the more reason to vote this November. Bigotry shouldn't have a home in our justice system, after all. </p><p>"Murdering or assaulting anyone because of their sexual orientation or gender identity is not a defense," Kennedy said. "It is a hate crime."</p><p><em><a href="https://www.house.gov/representatives/find-your-representative" target="_blank">Contact your reps</a> to tell them you support the Gay and Trans Panic Defense Prohibition Act of 2018. And make sure <a href="https://www.vote.org/am-i-registered-to-vote/" target="_blank">you're registered to vote</a> this fall. </em></p>