Most Shared
After years of vacancy, this island is returning to its original 1600s purpose as a farm.
You might recognize Boston's Long Island as the basis for the thriller movie and book "Shutter Island."
Based on a Dennis Lehane novel and set in an isolated asylum in the Boston Harbor, the movie is probably best remembered as Leonardo DiCaprio's second theatrical attempt at a Boston accent, for better or for worse.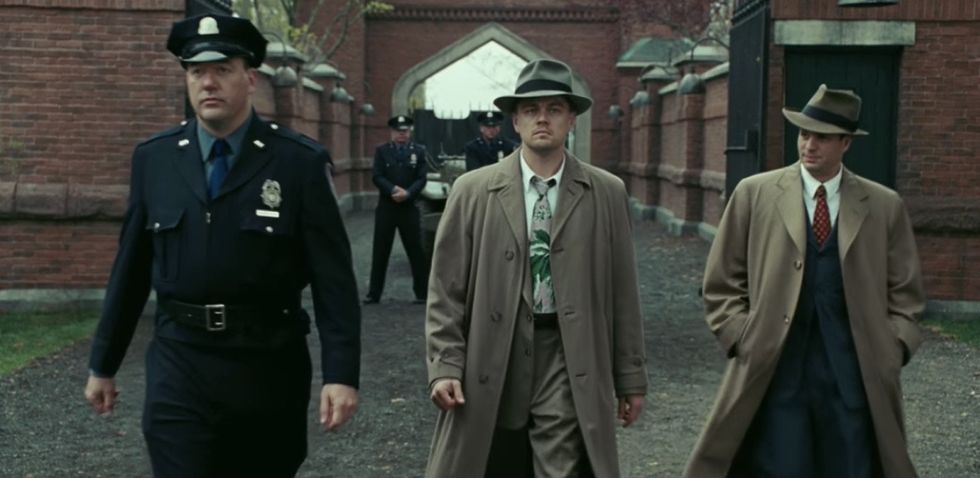 </div></div></div><h2><strong>In real life, though, the 225-acre Long Island has served a number of interesting purposes over the years.</strong></h2><p>Local Native American tribes used it as a farm when the English settlers first arrived in the 1600s. And yes, it was once home to a <a href="http://www.patriotledger.com/x1650245399/Real-local-flavor-on-display-in-Shutter-Island" target="_blank">mental institution</a> — though not quite as intense as the one depicted in the movie.</p><p>But over the years, the island has also functioned as a military <a href="http://www.bostonharborbeacon.com/2013/07/21/longisland/" target="_blank">fort</a>, a hotel and resort, a refuge base for <a href="http://legacy.wbur.org/2010/08/19/project-paperclip" target="_blank">ex-Nazi scientists</a>, a home for unwed mothers, and an addiction rehab center.</p><div><div class="push-wrapper--mobile" data-card="image" data-reactroot=""><img type="lazy-image" data-runner-src="https://assets.rebelmouse.io/eyJhbGciOiJIUzI1NiIsInR5cCI6IkpXVCJ9.eyJpbWFnZSI6Imh0dHBzOi8vYXNzZXRzLnJibC5tcy8xOTUxOTk4My9vcmlnaW4uanBnIiwiZXhwaXJlc19hdCI6MTYzMDI1MzkwMH0.SWrHdMptR2wbD_1qGecgqtQXSZY8ZvKU3u2kAaqxejQ/img.jpg?width=980" id="f93c5" class="rm-shortcode" data-rm-shortcode-id="c1a6fe92f85bb4550a36fc69fd0fe20f" data-rm-shortcode-name="rebelmouse-image"><div class="image-caption"><p>Photo by Doc Searls/Flickr.</p></div></div></div><h2><strong>For nearly 20 years, until 2014, the island even served as the city's largest homeless shelter.</strong></h2><p>It once housed more than <a href="http://www.bostonmagazine.com/news/blog/2015/10/08/long-island-boston-homeless/" target="_blank">700 people</a>. But it wasn't just any shelter: Residents also worked a large <a href="http://www.universalhub.com/2016/why-boston-ran-farm-long-island" target="_blank">farm plot</a> while they lived there, growing their own food and learning crucial new skills for after they left the island.</p><p>However, in <a href="http://www.bostonglobe.com/metro/2016/07/24/farm-that-once-benefited-homeless-now-run-fast-food-chain/VI1f4CzUTaFyMnIg5AGEqN/story.html" target="_blank">2014</a>, city engineers condemned the only bridge out to the island as being unstable. And as a result, people without homes and in recovery were rushed off the island and into various group homes on the mainland, leaving farm fields, equipment, and other facilities abandoned.</p><div><div class="push-wrapper--mobile" data-card="image" data-reactroot=""><img type="lazy-image" data-runner-src="https://assets.rebelmouse.io/eyJhbGciOiJIUzI1NiIsInR5cCI6IkpXVCJ9.eyJpbWFnZSI6Imh0dHBzOi8vYXNzZXRzLnJibC5tcy8xOTUxOTk4NC9vcmlnaW4uanBnIiwiZXhwaXJlc19hdCI6MTY0NDE0NzEzOX0.1yckcmR3l4-q_sxCwI8lNTjASgrMu421jMrU9g90HSg/img.jpg?width=980" id="b363f" class="rm-shortcode" data-rm-shortcode-id="3509207ac9e4e09e6e41926036441811" data-rm-shortcode-name="rebelmouse-image"><div class="image-caption"><p>Photo by Monika Schroeder/B.good, used with permission.</p></div></div></div><h2>But now, after several years of vacancy, Long Island has returned to its original 1600s purpose as a farm ... with a clever modern twist.</h2><p><strong>It all started when a local restaurant chain called <a href="http://www.bgood.com/history/" target="_blank">B.good</a> screwed up while catering a 700-person event</strong> for <a href="http://chvf.org/" target="_blank">Camp Harbor View</a>, which creates summer programs that cater to at-risk Boston youth from low-income communities. B.good co-founder Jon Olinto figured that he owed an apology and a personal visit to the organizers of the event.</p><p>But when he went to speak with the staff at Camp Harbor View, Olinto ended up in discussion about the potential for that abandoned farm on Long Island instead, where the camp used to host some of their programs. </p><p>"It was all about, how we can build community, how can we keep this relationship," Olinto said. "It was never about, 'We can launch a farm.' I mean, getting on a boat? That's ridiculous." (Yes, the bridge is still out, so all transportation for now to and from the island is done by boat.)</p><div><div class="push-wrapper--mobile" data-card="image" data-reactroot=""><img type="lazy-image" data-runner-src="https://assets.rebelmouse.io/eyJhbGciOiJIUzI1NiIsInR5cCI6IkpXVCJ9.eyJpbWFnZSI6Imh0dHBzOi8vYXNzZXRzLnJibC5tcy8xOTUxOTk4NS9vcmlnaW4uanBnIiwiZXhwaXJlc19hdCI6MTYxNTQzNDQxMn0._xbB5-aQee7PdBsJJJWUo-AGDBTwaLZJgu4DRDJ0vdw/img.jpg?width=980" id="32c14" class="rm-shortcode" data-rm-shortcode-id="73f7f96729cbb6a08914de8ff2311cab" data-rm-shortcode-name="rebelmouse-image"><div class="image-caption"><p>Photo by Monika Schroeder/B.good, used with permission.</p></div></div></div><h2>The <a href="http://www.bgood.com/hannahfarm/" target="_blank">Hannah Farm</a> project came together fast and furiously.</h2><p>The main idea was simple: B.good would take over management of the three acres of abandoned farmland on Long Island to grow a wide range of produce, from green and yellow beans to cherry tomatoes to kale and beets and radishes and herbs.</p><p><strong>During the summer, they'd also be helped by local teenagers through Camp Harbor View. The teens would help out around the farm while also learning skills for potential future employment.</strong></p><p>The summer camp aspect of the program would include a "<a href="http://www.boston.com/culture/lifestyle/2016/07/20/at-the-b-good-farm-in-the-boston-harbor-at-risk-kids-learn-about-growing-food-and-a-business" target="_blank">Farm Club</a>," where campers would learn how to prepare wholesome and delicious meals from the produce that they themselves had farmed. And campers would be provided with breakfast and lunch while working on the farm, too.</p><p>75% of the food grown at Hannah Farms would go to the working teenagers and other low-income families in the area, with the other 25% going to local B.good restaurants. </p><div><div class="push-wrapper--mobile" data-card="image" data-reactroot=""><img type="lazy-image" data-runner-src="https://assets.rebelmouse.io/eyJhbGciOiJIUzI1NiIsInR5cCI6IkpXVCJ9.eyJpbWFnZSI6Imh0dHBzOi8vYXNzZXRzLnJibC5tcy8xOTUxOTk4Ni9vcmlnaW4uanBnIiwiZXhwaXJlc19hdCI6MTU5ODQxMzQwNH0.T_P9RAmh7PvacW_IIDkPDRrKk4Q5qD1iamL4Fo6CAYo/img.jpg?width=980" id="442c6" class="rm-shortcode" data-rm-shortcode-id="7bef4a230177accca3a483eba2b7e685" data-rm-shortcode-name="rebelmouse-image"><div class="image-caption"><p>Photo by Monika Schroeder/B.good, used with permission.</p></div></div></div><h2>The farm's first harvest at the end of August 2016 provided nearly 700 pounds of food to over 250 low-income families. And that was just the beginning.</h2><p>Due to a late start, Olinto <em>only</em> expects about 20,000 pounds of produce by the end of the first fall harvest. But he fully expects to double that in 2017.</p><p><strong>"At the core of B.good from the beginning, we've always tried to do something positive and I think we have a history for that," Olinto said.</strong></p><p>In the future, they also plan to partner with <a href="https://www.facebook.com/Fair-Foods-36943401926/" target="_blank">Fair Foods</a>, a long-running Boston-based nonprofit that sells fresh, affordable produce to families in low-income areas. And they'll continue their "Farm Club" food education program through the school year, too, as part of a new teen center initiative in Boston's Roxbury neighborhood.</p><div><div class="push-wrapper--mobile" data-card="image" data-reactroot=""><img type="lazy-image" data-runner-src="https://assets.rebelmouse.io/eyJhbGciOiJIUzI1NiIsInR5cCI6IkpXVCJ9.eyJpbWFnZSI6Imh0dHBzOi8vYXNzZXRzLnJibC5tcy8xOTUxOTk4Ny9vcmlnaW4uanBnIiwiZXhwaXJlc19hdCI6MTY0NzE3MjE0N30.ksGdjdKgB-QvLka25phgWe7Kzv9uABZlH8j7Hp2bl-c/img.jpg?width=980" id="3b80d" class="rm-shortcode" data-rm-shortcode-id="6cce57b5beb3450731b31e0f25a50a6c" data-rm-shortcode-name="rebelmouse-image"><div class="image-caption"><p>Photo by Monika Schroeder/B.good, used with permission.</p></div></div></div><h2>Can a for-profit company do good, help others, and help themselves? Olinto believes it's possible.</h2><p>"Entrepreneurial spirit creates change, and it can be a force for good," he says. "And I hope in some small way that there can be a model for how companies can help improve communities."</p><p>For the hundreds of families being fed by the once-defunct farm on the former Shutter Island, that mission is certainly making a difference.</p><p><strong>Check out what the folks at B.good are up to, below:</strong></p><div><div data-card="youtube" data-reactroot=""><div><span style="display:block;position:relative;padding-top:56.25%;" class="rm-shortcode" data-rm-shortcode-id="c9faffbdbeaa0e778d4d289505b182ff"><iframe type="lazy-iframe" data-runner-src="https://www.youtube.com/embed/B_xsTKas_4U?rel=0" width="100%" height="auto" frameborder="0" scrolling="no" style="position:absolute;top:0;left:0;width:100%;height:100%;"></iframe></span></div></div></div>