Heroes
Imagine a world with no more spilled coffee because of bumpy roads.
Road salt — nearly 1 million tons of it just in the state of Pennsylvania — is used to keep cars safe on the road.
In the aftermath, however, it means thousands of cracks, potholes, and other damages in roads that need to be repaired each year because the chemicals in the salt "dice up" asphalt and concrete when the salt causes the water in snow to stick around, freeze, and do some damage.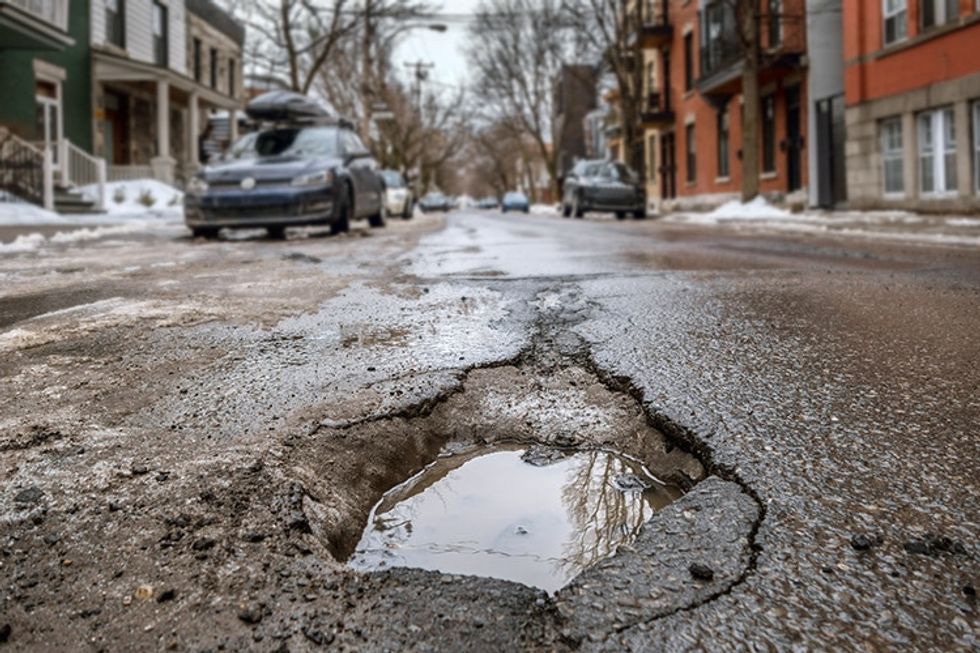 </div></div></div><h2>Fortunately, there may be a new type of concrete coming to town. </h2><p>It's made from coal furnace leftovers and uses less calcium hydroxide — the ingredient that reacts with road salt and causes that frustratingly pore-like reaction in concrete — which means you'd be riding a bit smoother on it.</p><div><div class="push-wrapper--mobile" data-card="image" data-reactroot=""><img type="lazy-image" data-runner-src="https://assets.rebelmouse.io/eyJhbGciOiJIUzI1NiIsInR5cCI6IkpXVCJ9.eyJpbWFnZSI6Imh0dHBzOi8vYXNzZXRzLnJibC5tcy8xOTUzMDAxNC9vcmlnaW4uanBnIiwiZXhwaXJlc19hdCI6MTY1MjU3Mzc5OX0.BwLHOf8aP_wcZFm9j2fFkPkYANXNmvD1NQXvkMVk-_8/img.jpg?width=980" id="f623d" class="rm-shortcode" data-rm-shortcode-id="aec647044c1db5576f9aa959394a8f33" data-rm-shortcode-name="rebelmouse-image"></div></div><h2><strong>The concrete is even more durable than what we use now because it doesn't react with road salt and is made from recycled materials.</strong></h2><p>"Many departments of transportation have reduced the amount of calcium chloride they use to melt ice and snow, even though it is very efficient at doing so — because it has also been found to be very destructive," said Dr. Yaghoob Farnam, assistant professor at Drexel University in Philadelphia and <a href="http://drexel.edu/now/archive/2017/May/new-cement-recipe-stops-road-salt-degradation/" target="_blank">lead researcher on the team behind the new mixture</a>.</p><p>By recycling power industry byproducts such as fly ash, silica fume, and slag that would normally get tossed and become harmful to the environment to make the concrete, Farnam's team came up with a solution to the thousands of road-related repairs caused by salt damage that is also environmentally friendly. </p><h2><strong>Not all roads are made of concrete, but many sidewalks and parking lots are<em>.</em></strong></h2><p>This new concrete could be a relief to anyone who's ever broken a carton of eggs after guiding a shopping cart over a cracked parking lot or ended up with a lap full of joe while drinking a cup of coffee on a morning commute.</p><p>(Since so many people drink java and drive, this could be a major game changer when it comes to safety as well — although, you may want to rethink that when <a href="http://www.decidetodrive.org/distracted-driving-dangerous/eating-driving/" target="_blank">so many accidents are caused by distracted coffee-sippers</a> behind the wheel.) </p><div><div class="push-wrapper--mobile" data-card="image" data-reactroot=""><img type="lazy-image" data-runner-src="https://assets.rebelmouse.io/eyJhbGciOiJIUzI1NiIsInR5cCI6IkpXVCJ9.eyJpbWFnZSI6Imh0dHBzOi8vYXNzZXRzLnJibC5tcy8xOTUzMDAxNS9vcmlnaW4uanBnIiwiZXhwaXJlc19hdCI6MTYwMTgwODEzNn0.e-S0pAlggW2j9o5gKJSo-SE7nhMZczO2iBPNRvgN34o/img.jpg?width=980" id="51bee" class="rm-shortcode" data-rm-shortcode-id="973ba67418d48713a42ea18967d6b6fe" data-rm-shortcode-name="rebelmouse-image"></div></div><h2>This may not be in your city tomorrow, but you can help move things along.</h2><p>Safe, healthy, durable infrastructure takes time to build the right way, Farnam cautions, but it's important for government leaders and local municipalities to consider infrastructure decisions as long-term plans and spend the time to come up with intelligent, sustainable solutions. That may include the need for this type of research to be done for other road-building materials like asphalt.</p><p>Try attending local municipal meetings and talking to decision-makers about how they gather information about infrastructure choices. You may also want write in to state legislators to suggest sustainable solutions like this one.<strong> </strong></p><p><strong>If you want to start at the source, you might even try asking those legislators to support funding for research on projects like this with your own local department of transportation.</strong></p><p>"This would help scientists understand what are real challenges in our society, and it will also help the leadership and contractors to learn about the new technologies that they can use on a daily basis," Farnam says.</p>