More
As the Calais Jungle starts to come down, big questions remain.
From the outset, it looked like any other morning in the French port town of Calais.
But as Monday, Feb. 29, began, French police and military began dismantling the southern end of the Calais Jungle, a refugee camp with between 3,400 and 5,600 residents.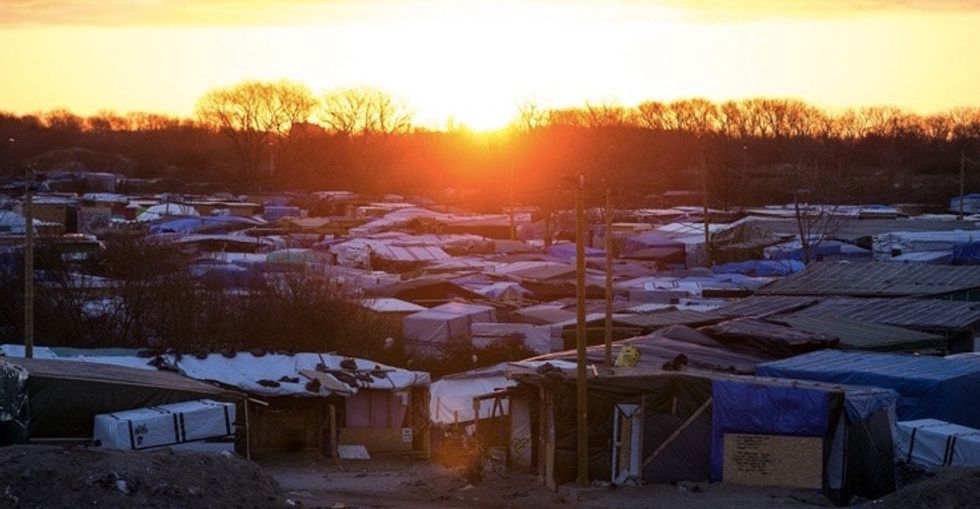 <p class="image-caption">The sun rises over the camp. Photo by Carl Court/Getty Images.<br></p><p><strong>By the end of the day, 100 homes in the southern arm of the "jungle" would be reduced to ash and garbage; leaving refugee residents homeless again.</strong></p><p><img type="lazy-image" data-runner-src="https://assets.rebelmouse.io/eyJhbGciOiJIUzI1NiIsInR5cCI6IkpXVCJ9.eyJpbWFnZSI6Imh0dHBzOi8vYXNzZXRzLnJibC5tcy8xOTUxNTcxOS9vcmlnaW4uanBnIiwiZXhwaXJlc19hdCI6MTYwNzk2Mjc4NX0.HkIy6AKla21VVkzcxAaZjNyL9Y9iCkMHCC2s1XKqxGs/img.jpg?width=980" id="a7bea" class="rm-shortcode" data-rm-shortcode-id="851605e6e0de9667f9f1695eeb3abe6f" data-rm-shortcode-name="rebelmouse-image"></p><p class="image-caption">Police officers clear shelters and personal items. Photo by Carl Court/Getty Images.<br></p><h2>The Calais Jungle is the most well-known temporary settlement of the current refugee crisis.</h2><p>Refugees from Eritrea, Afghanistan, Syria, North Africa, and the Middle East have been converging on Calais for the past year. They are young families, single mothers, young men, and unaccompanied children looking for refuge from violence, war, and poverty in their home countries.</p><p><img type="lazy-image" data-runner-src="https://assets.rebelmouse.io/eyJhbGciOiJIUzI1NiIsInR5cCI6IkpXVCJ9.eyJpbWFnZSI6Imh0dHBzOi8vYXNzZXRzLnJibC5tcy8xOTUxNTcyMC9vcmlnaW4uanBnIiwiZXhwaXJlc19hdCI6MTY0MDY1NDMzNH0.DxEee544iP2B_yizo7vEREwfil1RkL9nA3X1yJvIf_E/img.jpg?width=980" id="6d777" class="rm-shortcode" data-rm-shortcode-id="ed9a0dc61dd7ea4ba8f701b2959e8f88" data-rm-shortcode-name="rebelmouse-image"></p><p class="image-caption">A man rides his bike along a heavily damaged street on the outskirts of Damascus, Syria. Photo by Abdulmonam Eassa/AFP/Getty Images.<br></p><p>For these refugees, this small industrial port city in northern France is meant to be the second-to-last stop on their journey to a new life in the United Kingdom.</p><p><img type="lazy-image" data-runner-src="https://assets.rebelmouse.io/eyJhbGciOiJIUzI1NiIsInR5cCI6IkpXVCJ9.eyJpbWFnZSI6Imh0dHBzOi8vYXNzZXRzLnJibC5tcy8xOTUxNTcyMi9vcmlnaW4uanBnIiwiZXhwaXJlc19hdCI6MTYwNTE5MTAwOX0.RL67VCQNTgA5IBEbV-RbElwcZpxwaR3Ggr0nYcbnyKk/img.jpg?width=980" id="44a14" class="rm-shortcode" data-rm-shortcode-id="6667de5a556491d3a906ae5d235a2d71" data-rm-shortcode-name="rebelmouse-image"></p><p class="image-caption">A tent belonging to a Sudanese refugee. Photo by Carl Court/Getty Images.<br></p><p>To reach the U.K., they'll risk stowing away on ferries or climbing aboard trains passing through the "chunnel," an underground tunnel connecting Calais and Dover, U.K. At <a href="http://www.bbc.com/news/uk-29074736" target="_blank">one point last July, upward of 2,000 refugees</a> were trying to make this trip every single night. With both the French and British closing down their borders, it's become harder and harder for people to leave Calais.</p><p><img type="lazy-image" data-runner-src="https://assets.rebelmouse.io/eyJhbGciOiJIUzI1NiIsInR5cCI6IkpXVCJ9.eyJpbWFnZSI6Imh0dHBzOi8vYXNzZXRzLnJibC5tcy8xOTUxNTcyMy9vcmlnaW4uanBnIiwiZXhwaXJlc19hdCI6MTY1MjM5Mzk5OH0.uGTF-Fsu487mEh-Sx0_LuKILqVlNQbBUDS7PxMWB0qU/img.jpg?width=980" id="cd8ef" class="rm-shortcode" data-rm-shortcode-id="66a171f59b7ddfebd20504064385b457" data-rm-shortcode-name="rebelmouse-image"></p><p class="image-caption">A man walks by the new purpose-built accommodations near the camp. Photo by Carl Court/Getty Images.<br></p><h2>Instead of being a stop on the journey, Calais has become a destination. </h2><p>More than 3,400 people have settled in the Calais Jungle <a href="http://www.ibtimes.co.uk/calais-refugees-jungle-camp-despair-government-plans-bulldoze-community-they-built-1545713" target="_blank">in the past year</a>, living out of tents or other makeshift shelters.</p><p><img type="lazy-image" data-runner-src="https://assets.rebelmouse.io/eyJhbGciOiJIUzI1NiIsInR5cCI6IkpXVCJ9.eyJpbWFnZSI6Imh0dHBzOi8vYXNzZXRzLnJibC5tcy8xOTUxNTcyNC9vcmlnaW4uanBnIiwiZXhwaXJlc19hdCI6MTYyMzc2MDAwMX0.W1vNPQw2z8wTjSuXvWvTOgzvq5ziLY2l_jAc9ahIUB8/img.jpg?width=980" id="927db" class="rm-shortcode" data-rm-shortcode-id="7603a5b41e8f31e1fe593484b8304db0" data-rm-shortcode-name="rebelmouse-image"></p><p class="image-caption">An aerial photo of the camp in October 2015. Photo by Denis Charlet/AFP/Getty Images.<br></p><p>Even without running water, heat, or sanitation services, <strong>the residents of the Jungle have created a community.</strong> There are stores, vendors, a mosque, services, a school — even a theater.</p><p><img type="lazy-image" data-runner-src="https://assets.rebelmouse.io/eyJhbGciOiJIUzI1NiIsInR5cCI6IkpXVCJ9.eyJpbWFnZSI6Imh0dHBzOi8vYXNzZXRzLnJibC5tcy8xOTUxNTcyNS9vcmlnaW4uanBnIiwiZXhwaXJlc19hdCI6MTYyNDA3NDQ3OH0.kPEPOyNK3YEIVwyT5gO__dctDjHV4hTK7LLPINU4Yzs/img.jpg?width=980" id="e40de" class="rm-shortcode" data-rm-shortcode-id="0bcd84ed5c784f9924e31eb174f84604" data-rm-shortcode-name="rebelmouse-image"></p><p class="image-caption">Individuals and families collect firewood. Photo by Philippe Huguen/AFP/Getty Images.</p><p>Little by little, the residents of the Jungle are finding ways to return to normal lives. Sometimes that's as simple as a game of handball.</p><p><img type="lazy-image" data-runner-src="https://assets.rebelmouse.io/eyJhbGciOiJIUzI1NiIsInR5cCI6IkpXVCJ9.eyJpbWFnZSI6Imh0dHBzOi8vYXNzZXRzLnJibC5tcy8xOTUxNTcyNi9vcmlnaW4uanBnIiwiZXhwaXJlc19hdCI6MTY1MTA5NTMyNn0.pjKj3fVsev06XyHaFcqVFfNwHYTtxT2_-m2wxcvNYwk/img.jpg?width=980" id="7a82e" class="rm-shortcode" data-rm-shortcode-id="5b8fbf9bf85e1ce3e948e84c74b51e0c" data-rm-shortcode-name="rebelmouse-image"></p><p class="image-caption">A group plays handball in the camp. Photo by Jeff J. Mitchell/Getty Images.</p><h2>While opponents of the Calais Jungle like to cite the figure that young men make up its largest demographic, there are many young families and children living there, too.</h2><p><strong>The British volunteer group Help Refugees says <a href="http://www.bbc.com/news/world-europe-35686209" target="_blank">there are 205 women and 651 children living</a> in the Jungle. </strong>Of those children, 423 are unaccompanied.</p><p><img type="lazy-image" data-runner-src="https://assets.rebelmouse.io/eyJhbGciOiJIUzI1NiIsInR5cCI6IkpXVCJ9.eyJpbWFnZSI6Imh0dHBzOi8vYXNzZXRzLnJibC5tcy8xOTUxNTcyNy9vcmlnaW4uanBnIiwiZXhwaXJlc19hdCI6MTYwNjIzNzI5N30.iJEEBCJ1jQl8K0b2kBzQfmy1hrjoQh5VdtA9I0t2tgE/img.jpg?width=980" id="896f5" class="rm-shortcode" data-rm-shortcode-id="c9745a55b0ad6c18775c28e2b347ad43" data-rm-shortcode-name="rebelmouse-image"></p><p class="image-caption">Children walk with a stroller in a camp in 2015. Photo by Philippe Huguen/AFP/Getty Images.<br></p><h2>However, the growing Calais Jungle is extremely unpopular with nearby residents and the government.</h2><p>In an attempt to squelch local resistance and reduce the size of the settlement, the French government has created <strong><a href="http://www.theguardian.com/world/2016/feb/25/french-judge-go-ahead-demolish-part-of-jungle-refugee-camp-calais" target="_blank">temporary shelters to house up to 1,500 residents</a> </strong>of the Jungle and has proposed bussing the remaining refugees to other reception centers in the country.</p><p><img type="lazy-image" data-runner-src="https://assets.rebelmouse.io/eyJhbGciOiJIUzI1NiIsInR5cCI6IkpXVCJ9.eyJpbWFnZSI6Imh0dHBzOi8vYXNzZXRzLnJibC5tcy8xOTUxNTcyOC9vcmlnaW4uanBnIiwiZXhwaXJlc19hdCI6MTYxMTM5MzI4MH0.dqTT8HHw5EZeiKgxXA0R6rGgoXeNUUq5q93HL_AXJF8/img.jpg?width=980" id="fac31" class="rm-shortcode" data-rm-shortcode-id="275f7fa3185ad9c8ff0faaa201287fe4" data-rm-shortcode-name="rebelmouse-image"></p><p class="image-caption">A hut camp set up by Doctors Without Borders near Dunkerque shelters around 2,000 migrants and refugees. Photo by Philippe Huguen/AFP/Getty Images.<br></p><h2>Residents of the Jungle and the aid workers supporting them disagree with this idea.</h2><p>According to Marta Welander, founder of the <a href="http://refugeerights.org.uk/press-release/" target="_blank">Refugee Rights Data Project</a> "[these evictions are] unlikely to provide a viable solution to the current humanitarian crisis on our doorstep."</p><p><img type="lazy-image" data-runner-src="https://assets.rebelmouse.io/eyJhbGciOiJIUzI1NiIsInR5cCI6IkpXVCJ9.eyJpbWFnZSI6Imh0dHBzOi8vYXNzZXRzLnJibC5tcy8xOTUxNTcyOS9vcmlnaW4uanBnIiwiZXhwaXJlc19hdCI6MTY0NTMwMTEwM30.OQB6D67-kLVB5uzq-tyCE3IEpnq8rWbPAAgJjQz0Vq8/img.jpg?width=980" id="bfec4" class="rm-shortcode" data-rm-shortcode-id="5049c2345f3404b292bd627c44d99b01" data-rm-shortcode-name="rebelmouse-image"></p><p class="image-caption">A group of refugees carry a banner through the Jungle as its cleared. Photo by Carl Court/Getty Images.<br></p><p><strong>Many refugees would rather wait in Calais to see if they can receive asylum in the United Kingdom</strong>, where jobs and housing are rumored to be plentiful and accessible. Others have family in the U.K. they could stay with or know how to speak English but not French. <strong>Accepting the housing means registering with the French government — something that may affect their ability to seek asylum elsewhere.</strong></p><h2>So they stay, they wait, and they hope. </h2><p><img type="lazy-image" data-runner-src="https://assets.rebelmouse.io/eyJhbGciOiJIUzI1NiIsInR5cCI6IkpXVCJ9.eyJpbWFnZSI6Imh0dHBzOi8vYXNzZXRzLnJibC5tcy8xOTUxNTczMC9vcmlnaW4uanBnIiwiZXhwaXJlc19hdCI6MTY0MjAyMjc3OX0.gaf51qGvksWuNDh8L-4LdlCfbjOfTCiOIHR3VIZiMe4/img.jpg?width=980" id="a0749" class="rm-shortcode" data-rm-shortcode-id="4944c40d50dbe1599133ab9a88c3fbe9" data-rm-shortcode-name="rebelmouse-image"></p><p class="image-caption">A boy stands next to a sign made out of wire. Photo by Jeff J. Mitchell/Getty Images.</p><h2>But time, it seems, has run out.</h2><p>Last Thursday, a French judge <strong><a href="http://www.theguardian.com/world/2016/feb/25/french-judge-go-ahead-demolish-part-of-jungle-refugee-camp-calais" target="_blank">upheld a previous judgment</a></strong> allowing police and the military to dismantle the southern portion of the camp, displacing around 1,000 residents who will be required to register with the French government and move into new shelters. Buildings of "cultural and social importance" like the school and theater will be allowed to stay. The people cannot.</p><p><img type="lazy-image" data-runner-src="https://assets.rebelmouse.io/eyJhbGciOiJIUzI1NiIsInR5cCI6IkpXVCJ9.eyJpbWFnZSI6Imh0dHBzOi8vYXNzZXRzLnJibC5tcy8xOTUxNTczMS9vcmlnaW4uanBnIiwiZXhwaXJlc19hdCI6MTYxMjk5NzM5Nn0.Ln-ggyKDFxfCa6lpVQXi08NiE3kB2Aq_4D-0oqCTqb4/img.jpg?width=980" id="f97e7" class="rm-shortcode" data-rm-shortcode-id="1618b7c7549b9dd5b9147e885e7711d4" data-rm-shortcode-name="rebelmouse-image"></p><p class="image-caption">Residents wait in line for clothes and aid. Photo by Denis Charlet/AFP/Getty Images.<br></p><h2>Activists supporting the camp were told residents would have days to clear the site. Instead, they were given just one hour.</h2><p><img type="lazy-image" data-runner-src="https://assets.rebelmouse.io/eyJhbGciOiJIUzI1NiIsInR5cCI6IkpXVCJ9.eyJpbWFnZSI6Imh0dHBzOi8vYXNzZXRzLnJibC5tcy8xOTUxNTczMi9vcmlnaW4uanBnIiwiZXhwaXJlc19hdCI6MTYyMTMwMjc1Nn0.wncg6a6J6aO9-33FuBvAnTOwNX2FWjk_4AWX81u-rIU/img.jpg?width=980" id="30482" class="rm-shortcode" data-rm-shortcode-id="715733ad2d54750d797f40efec77643a" data-rm-shortcode-name="rebelmouse-image"></p><p class="image-caption">Agents dismantle shelters. Photo by Philippe Huguen/AFP/Getty Images.</p><p>As hundreds of soldiers and riot police moved in, some residents challenged them, throwing rocks and bottles. <strong>The military responded by firing tear gas.</strong></p><p><img type="lazy-image" data-runner-src="https://assets.rebelmouse.io/eyJhbGciOiJIUzI1NiIsInR5cCI6IkpXVCJ9.eyJpbWFnZSI6Imh0dHBzOi8vYXNzZXRzLnJibC5tcy8xOTUxNTczMy9vcmlnaW4uanBnIiwiZXhwaXJlc19hdCI6MTYyODgxMTQwM30.7foVKCOr1jiMfdgq85cvgRiqovWFQXpAs2oGt1zTm8Q/img.jpg?width=980" id="9ee41" class="rm-shortcode" data-rm-shortcode-id="c2276526a557e79c84a5b3b5fd0e8693" data-rm-shortcode-name="rebelmouse-image"></p><p class="image-caption">A police officer throws teargas to clear the area. Photo by Carl Court/Getty Images.<br></p><h2>Some defiant residents burned down their tents rather than allow them to be dismantled.</h2><p><span></span><img type="lazy-image" data-runner-src="https://assets.rebelmouse.io/eyJhbGciOiJIUzI1NiIsInR5cCI6IkpXVCJ9.eyJpbWFnZSI6Imh0dHBzOi8vYXNzZXRzLnJibC5tcy8xOTUxNTczNC9vcmlnaW4uanBnIiwiZXhwaXJlc19hdCI6MTY1NDg5NTM2NH0.kNUjJNinJbl4ApeDZLoRFGkPI8nPFYs1TRgycJ-CN3k/img.jpg?width=980" id="6cb35" class="rm-shortcode" data-rm-shortcode-id="ddfb5bf60745d7d3040be918cfe40fb4" data-rm-shortcode-name="rebelmouse-image"></p><p class="image-caption">A person watches a hut burn as officers clear the area. Photo by Carl Court/Getty Images.</p><h2> A small number faced off with the police and were arrested or detained.</h2><p><img type="lazy-image" data-runner-src="https://assets.rebelmouse.io/eyJhbGciOiJIUzI1NiIsInR5cCI6IkpXVCJ9.eyJpbWFnZSI6Imh0dHBzOi8vYXNzZXRzLnJibC5tcy8xOTUxNTczNS9vcmlnaW4uanBnIiwiZXhwaXJlc19hdCI6MTY2Mjk0MTI5MX0.NVp3l-bxXhlq5OrEnajOB4bRt60XEifdN9eWDedvMYs/img.jpg?width=980" id="17bce" class="rm-shortcode" data-rm-shortcode-id="7a91fc606d835af8f398c818726a462a" data-rm-shortcode-name="rebelmouse-image"><span></span></p><p class="image-caption">An activist is sprayed with a water cannon. Photo by Carl Court/Getty Images.</p><h2>Officers <a href="http://www.dailymail.co.uk/wires/pa/article-3469155/Migrants-bewildered-scared-demolition-begins-Jungle-camp-Calais.html" target="_blank">cleared approximately 100 homes</a> from the seven acre site and plan to return March 1 to continue their work.</h2><p>Fabienne Buccio, the head of the Calais prefecture, <a href="http://www.lemonde.fr/immigration-et-diversite/article/2016/02/12/l-etat-va-raser-la-moitie-de-la-jungle-de-calais_4864362_1654200.html#AjqRheXBtxGWgAwR.99" target="_blank">said previously</a> that these cleanup efforts were intended to reduce the size of the camp by half.</p><p><img type="lazy-image" data-runner-src="https://assets.rebelmouse.io/eyJhbGciOiJIUzI1NiIsInR5cCI6IkpXVCJ9.eyJpbWFnZSI6Imh0dHBzOi8vYXNzZXRzLnJibC5tcy8xOTUxNTczNi9vcmlnaW4uanBnIiwiZXhwaXJlc19hdCI6MTYzNDQ1MDg0M30.KzGINLI9Pg2ZRmRmsvRcKIT-hB6q7QL4B_AT2Fb0SyA/img.jpg?width=980" id="b35e6" class="rm-shortcode" data-rm-shortcode-id="6edcc384a6c31f520333bb2230a3fdaa" data-rm-shortcode-name="rebelmouse-image"></p><p class="image-caption">Police officers clash with activists and residents during the clearing of the camp. Photo by Carl Court/Getty Images.<br></p><p>While refugees and activists have legitimate reasons to disagree with the government's approach, the homes and dwellings in the Jungle are far from sanitary. There's no running water, and garbage (plus the rats that come with it) is everywhere. People easily get sick, and health care access is extremely limited. <strong>The new settlements the French government has built are heated, clean, and safe — a step up from what residents live in now.</strong></p><p><img type="lazy-image" data-runner-src="https://assets.rebelmouse.io/eyJhbGciOiJIUzI1NiIsInR5cCI6IkpXVCJ9.eyJpbWFnZSI6Imh0dHBzOi8vYXNzZXRzLnJibC5tcy8xOTUxNTczNy9vcmlnaW4uanBnIiwiZXhwaXJlc19hdCI6MTYxNTk1MDU4MH0.mdVaaaYx5j9tWuAaHn2y59aqC4AHlYPzaJco89yVd9g/img.jpg?width=980" id="d3d78" class="rm-shortcode" data-rm-shortcode-id="ce1c55a34cc65e103079523e7038dec6" data-rm-shortcode-name="rebelmouse-image"></p><p class="image-caption">A woman sits next to her tent. Photo by Philippe Huguen/AFP/Getty Images.</p><h2>For those of us with warm beds and running water, it's hard to see why people would want to stay in the Calais Jungle.</h2><p>But for the residents who live there, the Jungle and the communities they've built within it are all they have. There's no guarantee that people moving into the new housing will be able to live alongside the friends they've created in Calais. <strong>For some of them, that means starting over — all over again. And some people aren't willing to do that unless the move is one that lets them start rebuilding their lives in a more permanent space.</strong></p><p><img type="lazy-image" data-runner-src="https://assets.rebelmouse.io/eyJhbGciOiJIUzI1NiIsInR5cCI6IkpXVCJ9.eyJpbWFnZSI6Imh0dHBzOi8vYXNzZXRzLnJibC5tcy8xOTUxNTczOC9vcmlnaW4uanBnIiwiZXhwaXJlc19hdCI6MTYwNTIzNjYxM30.CTeUPP0KMGYzxp8nQGqbYd1xCDfLOwuUWoYsAciedzs/img.jpg?width=980" id="a2dbf" class="rm-shortcode" data-rm-shortcode-id="cf8863383b9b8a236c3feed01d988ac9" data-rm-shortcode-name="rebelmouse-image"><span></span></p><p class="image-caption">A man stands with a banner in the Jungle in 2009. Photo by Philippe Huguen/AFP/Getty Images.<br></p><p>The <strong><a href="http://refugeerights.org.uk" target="_blank">U.K.-based Refugee Rights Data Project</a> </strong>surveyed residents of the Calais Jungle in advance of the court decision, asking them where they would go if asked to leave. <strong>Of the 460 residents they surveyed, <a href="http://refugeerights.org.uk/press-release/" target="_blank">80% said they planned to stay in Calais</a> or a nearby camp in Dunkirk. </strong></p><p><img type="lazy-image" data-runner-src="https://assets.rebelmouse.io/eyJhbGciOiJIUzI1NiIsInR5cCI6IkpXVCJ9.eyJpbWFnZSI6Imh0dHBzOi8vYXNzZXRzLnJibC5tcy8xOTUxNTczOS9vcmlnaW4uanBnIiwiZXhwaXJlc19hdCI6MTY0Mjc2NTI5MH0.F_h2f_EMSqZyxMXyS3U8xC2W6F-ziczPLdZ2-Ab8QEQ/img.jpg?width=980" id="4e72d" class="rm-shortcode" data-rm-shortcode-id="496b781e2cfec2182c4e23f79a9f5662" data-rm-shortcode-name="rebelmouse-image"><span></span></p><p class="image-caption">Two men carry their belongings away from the camp. Photo by Carl Court/Getty Images.<br></p><h2>"Lieu de vie" is painted on many of the temporary hones in the Calais Jungle. It translates to "place of life."</h2><p>While it's essential for refugees to have access to safe, long-term housing and services, it is also important to note the community they have built in Calais.</p><p><img type="lazy-image" data-runner-src="https://assets.rebelmouse.io/eyJhbGciOiJIUzI1NiIsInR5cCI6IkpXVCJ9.eyJpbWFnZSI6Imh0dHBzOi8vYXNzZXRzLnJibC5tcy8xOTUxNTc0MC9vcmlnaW4uanBnIiwiZXhwaXJlc19hdCI6MTYxMjk1NzczMX0.3-kDI1_SKl00PhlI8gADB9peT3MxURuOaKeRUmFOx54/img.jpg?width=980" id="87432" class="rm-shortcode" data-rm-shortcode-id="ba93880764e7db13051811431f1769e6" data-rm-shortcode-name="rebelmouse-image"></p><p class="image-caption">Residents sit outside a makeshift shelter. Photo by Philippe Huguen/AFP/Getty Images.<br></p><p>For people fleeing destruction and poverty, there was life in Calais. It was imperfect, dangerous, and ultimately impermanent, but for some it was the closest to a home they'd had since leaving theirs. <strong>Now with its dismantling, they're once again being violently uprooted and facing a future that's as uncertain as the past they escaped.</strong></p><p><img type="lazy-image" data-runner-src="https://assets.rebelmouse.io/eyJhbGciOiJIUzI1NiIsInR5cCI6IkpXVCJ9.eyJpbWFnZSI6Imh0dHBzOi8vYXNzZXRzLnJibC5tcy8xOTUxNTc0MS9vcmlnaW4uanBnIiwiZXhwaXJlc19hdCI6MTYyNzc5MzIyOH0.mFL5TRSZ2HM_3tNi0B2jtHFKazdx8ybQpiMuhyP02XA/img.jpg?width=980" id="8df2e" class="rm-shortcode" data-rm-shortcode-id="8fdefbe553dc2df780002cb0be4220f7" data-rm-shortcode-name="rebelmouse-image"></p><p class="image-caption">A woman pins a French flag onto her makeshift tent in November 2015. Photo by Philippe Huguen/AFP/Getty Images.<br></p>