More
How disability Twitter took back the #CrippledAmerica hashtag.
Like so many words centered on impaired bodies, "cripple" has a negative connotation.
So when presidential candidate Donald Trump managed to both insult a reporter who has a physical disability and release a book titled "Crippled America: How to Make America Great Again," you can bet Disability Twitter responded.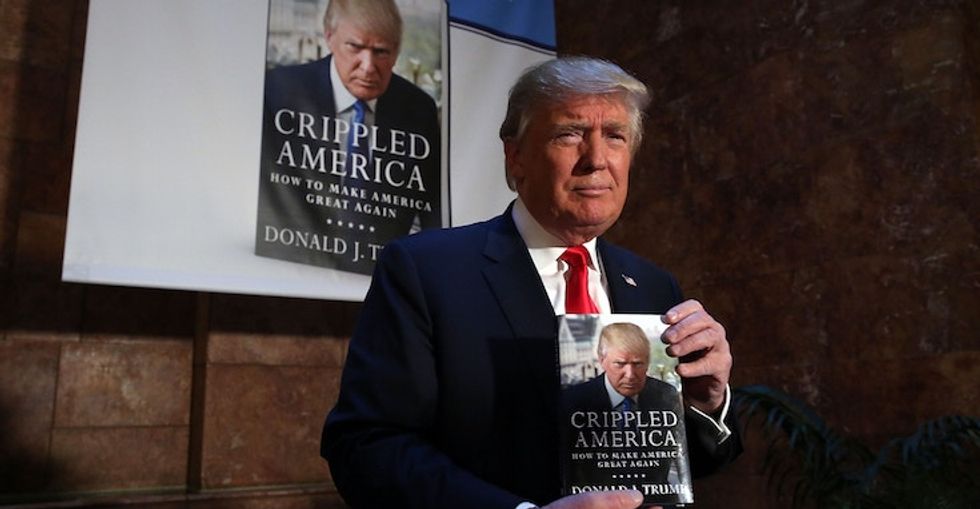 <p class="image-caption">Photo by Spencer Platt/Getty Images.<br></p><h2></h2><h2 style="font-family: 'Avenir Next', 'Segoe UI', Roboto, 'Trebuchet MS', sans-serif; line-height: 1.3; color: rgb(0, 0, 0); margin-top: 2em; font-size: 26px; padding: 0px; text-rendering: optimizeLegibility; background: none;">The #CrippledAmerica tweet-in started in <a href="https://ninagcomedian.wordpress.com/2015/12/01/donald-trump-tweet-in-for-crippledamerica/" target="_blank">a blog post</a> by Nina G., who was, at that time, the world's only stuttering stand-up comedian.</h2><p style="margin-bottom: 15px; font-size: 18px; line-height: 1.5em; border: none; box-shadow: none; font-family: 'Avenir Next', 'Segoe UI', Roboto, 'Trebuchet MS', sans-serif; background: none;"> She wrote:</p><blockquote style="padding: 0px 0px 0px 0.5em; margin-bottom: 15px; font-size: 16px; border-left-width: 3px; border-top-style: none; border-right-style: none; border-bottom-style: none; border-left-color: rgb(72, 72, 72); line-height: 25.6px; box-shadow: none; color: rgb(119, 119, 119); font-style: italic; font-family: 'Avenir Next', 'Segoe UI', Roboto, 'Trebuchet MS', sans-serif; margin-left: 1.6em !important; background: none;"> <em>"In protest to Trump's initial remarks of Kovaleski and subsequent comments about how much money he has spent on people with disabilities, I propose we have a TWEET-IN protest (just like a sit-in).<br> <br> <strong>To help educate Trump and the rest of the US about the American Disability experience, tweet #CrippledAmerica (a hash tag he has used to publicize his book released this month).</strong><br> <br> Share your experiences of life, love, barriers, employment, parenting, sex, art and everything else that represents real Disabled Americans! Let's make our experiences heard! #CrippledAmerica #DisabilityPride #Empowerment"<br><br><br><br></em></blockquote><h2 style="font-family: 'Avenir Next', 'Segoe UI', Roboto, 'Trebuchet MS', sans-serif; line-height: 1.3; color: rgb(0, 0, 0); margin-top: 2em; font-size: 26px; padding: 0px; text-rendering: optimizeLegibility; background: none;">Folks started tweeting about their American disability experiences immediately after reading Nina's blog.</h2><p style="margin-bottom: 15px; font-size: 18px; line-height: 1.5em; border: none; box-shadow: none; font-family: 'Avenir Next', 'Segoe UI', Roboto, 'Trebuchet MS', sans-serif; background: none;"> They "hijacked" Trump's hashtag like she suggested, using it to share their daily lives with the world:</p><blockquote class="twitter-tweet" lang="en" style="padding: 0px 0px 0px 0.5em; margin-bottom: 15px; font-size: 16px; border-left-width: 3px; border-top-style: none; border-right-style: none; border-bottom-style: none; border-left-color: rgb(72, 72, 72); line-height: 25.6px; box-shadow: none; color: rgb(119, 119, 119); font-style: italic; font-family: 'Avenir Next', 'Segoe UI', Roboto, 'Trebuchet MS', sans-serif; margin-left: 1.6em !important; background: none;"> Women w disabilities have a 40% higher chance of intimate partner violence than women without. THAT is <a href="https://twitter.com/hashtag/CrippledAmerica?src=hash">#CrippledAmerica</a> <a href="https://twitter.com/hashtag/DisabilityPride?src=hash">#DisabilityPride</a><br> — Lindsay Baran (@lindsay_baran) <a href="https://twitter.com/lindsay_baran/status/672067784533270529">December 2, 2015</a><br></blockquote><blockquote class="twitter-tweet" lang="en" style="padding: 0px 0px 0px 0.5em; margin-bottom: 15px; font-size: 16px; border-left-width: 3px; border-top-style: none; border-right-style: none; border-bottom-style: none; border-left-color: rgb(72, 72, 72); line-height: 25.6px; box-shadow: none; color: rgb(119, 119, 119); font-style: italic; font-family: 'Avenir Next', 'Segoe UI', Roboto, 'Trebuchet MS', sans-serif; margin-left: 1.6em !important; background: none;"> And information, services, and shelters are rarely accessible to women with disabilities. <a href="https://twitter.com/hashtag/CrippledAmerica?src=hash">#CrippledAmerica</a> <a href="https://t.co/VaKXH9Qr2m">https://t.co/VaKXH9Qr2m</a><br> — Ryann (@ryann_patrus) <a href="https://twitter.com/ryann_patrus/status/672249593539731456">December 3, 2015</a><br></blockquote><blockquote class="twitter-tweet" lang="en" style="padding: 0px 0px 0px 0.5em; margin-bottom: 15px; font-size: 16px; border-left-width: 3px; border-top-style: none; border-right-style: none; border-bottom-style: none; border-left-color: rgb(72, 72, 72); line-height: 25.6px; box-shadow: none; color: rgb(119, 119, 119); font-style: italic; font-family: 'Avenir Next', 'Segoe UI', Roboto, 'Trebuchet MS', sans-serif; margin-left: 1.6em !important; background: none;"> While most people hear how lucky they are to have their adorable children, I hear how lucky my kid is to have me. <a href="https://twitter.com/hashtag/CrippledAmerica?src=hash">#CrippledAmerica</a><br> — Elizabeth Picciuto (@epicciuto) <a href="https://twitter.com/epicciuto/status/672112775850795008">December 2, 2015</a><br></blockquote><blockquote class="twitter-tweet" lang="en" style="padding: 0px 0px 0px 0.5em; margin-bottom: 15px; font-size: 16px; border-left-width: 3px; border-top-style: none; border-right-style: none; border-bottom-style: none; border-left-color: rgb(72, 72, 72); line-height: 25.6px; box-shadow: none; color: rgb(119, 119, 119); font-style: italic; font-family: 'Avenir Next', 'Segoe UI', Roboto, 'Trebuchet MS', sans-serif; margin-left: 1.6em !important; background: none;"> <a href="https://twitter.com/hashtag/CrippledAmerica?src=hash">#CrippledAmerica</a> is paying extra for vital services like transportation. $75 to reserve a cab to the NYC airport when it's usually $40.<br> — Lauren Krohn (@lkrohnnutrition) <a href="https://twitter.com/lkrohnnutrition/status/672080402895527936">December 2, 2015</a><br></blockquote><h2>Thousands of tweets later, Twitter is full of everyday details about living with a disability.</h2><p> The tweets cover everything from health care to social norms to job interviews and, of course, Trump.</p><blockquote class="twitter-tweet" lang="en"> When most people hang out at the bar, they're drunks. When I do it, I'm an inspiration. <a href="https://twitter.com/hashtag/CrippledAmerica?src=hash">#CrippledAmerica</a><br> — Brandon R. Friede (@brfriede) <a href="https://twitter.com/brfriede/status/672110372438999040">December 2, 2015</a><br></blockquote><blockquote class="twitter-tweet" lang="en"> Went on a job interview several years ago, at a law firm. Turned out they had no entrance without steps. <a href="https://twitter.com/hashtag/CrippledAmerica?src=hash">#CrippledAmerica</a><br> — Goddessoflubbock (@hotandhumid) <a href="https://twitter.com/hotandhumid/status/672101624098066432">December 2, 2015</a><br></blockquote><blockquote class="twitter-tweet" lang="en"> People sometimes speak to me with the same voice reserved for dogs and small children. I have a master's degree. <a href="https://twitter.com/hashtag/CrippledAmerica?src=hash">#CrippledAmerica</a><br> — Sara Luterman (@slooterman) <a href="https://twitter.com/slooterman/status/671738817234214912">December 1, 2015</a><br></blockquote><p> Some folks also wanted to remind Trump that it's not just that America is crippled — it's that he actually needs "Crippled America," too.<br></p><blockquote class="twitter-tweet" lang="en"> Disability is largest minority in US. U can't win w/o us <a href="https://twitter.com/hashtag/CrippledAmerica?src=hash">#CrippledAmerica</a> <a href="https://twitter.com/hashtag/stealingyourhashtag?src=hash">#stealingyourhashtag</a><br> — Lara Schwartz (@Lara_Schwartz) <a href="https://twitter.com/Lara_Schwartz/status/672040697013379073">December 2, 2015</a><br></blockquote><p> <strong>To Mr. Trump, I'll say this: Americans with disabilities want you to know that supporting Crippled America is one important route to making America great again.</strong></p><p> <strong></strong>Please try it out.</p>