More
'Thank you for everything you do — some people appreciate it.'
In the wake of George Michael's untimely passing on Christmas 2016, many people have come forward to show their appreciation and recount his numerous philanthropic acts.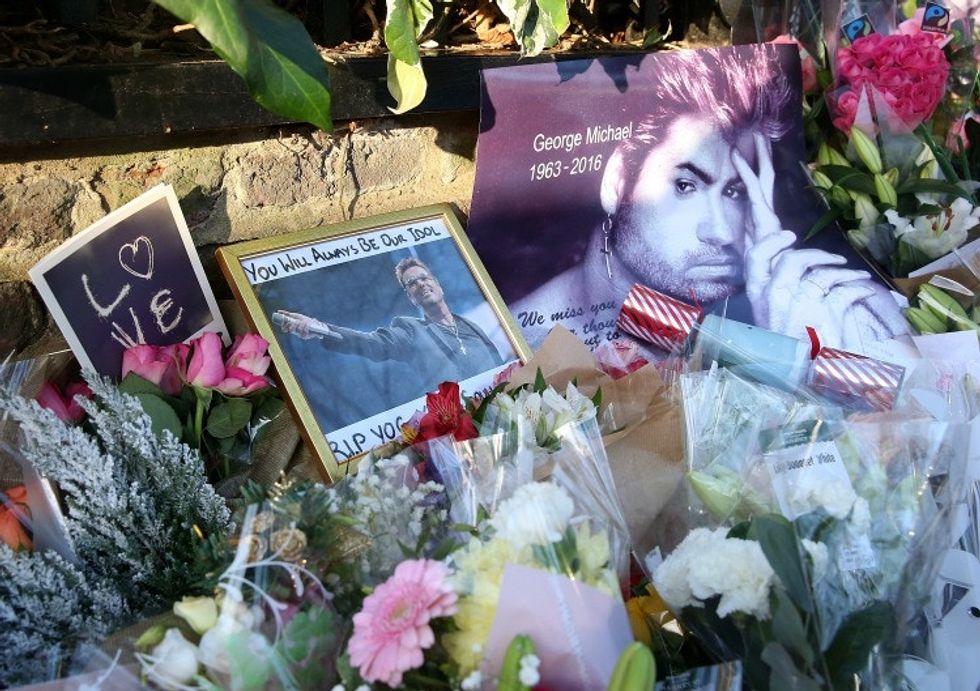 His consistent support of the nursing community, however, deserves a special spotlight.
He even gave nurses, like those for the U.K's National Health Service, tickets to concerts he wasn't even playing.
<iframe width="100%" height="150" scrolling="no" class="rm-shortcode twitter-embed-813328198318620672" id="twitter-embed-813328198318620672" type="lazy-iframe" data-runner-src="/res/community/twitter_embed/?iframe_id=twitter-embed-813328198318620672&amp;created_ts=1482747528.0&amp;screen_name=SimonBGriffiths&amp;text=%40hayleycampbell+%40EmmaKennedy+I+worked+shifts+on+HIV%2FAIDS+wards+%40+St+Mary%27s.+He+gave+us+tickets+to+joint+Elton+%26amp%3B+Clapton+gig.+Wonderful+man.&amp;id=813328198318620672&amp;name=Simon+Griffiths" frameborder="0" data-rm-shortcode-id="5T0T8J1559349466"></iframe><h2>Retired nurse Sally Lyons' experience at one particular concert speaks volumes about Michael's overwhelming generosity. </h2><p>He played a free concert exclusively for nurses at the Roundhouse in Camden, North London, on Dec. 20, 2006. She was lucky enough to score one of six tickets that were reserved for the hospice center where she worked. </p><p>She and her colleagues had been on their feet all day and weren't exactly thrilled about standing for another few hours. Then George Michael took the stage, and they burst with excitement.</p><div><div class="push-wrapper--mobile" data-card="image" data-reactroot=""><img type="lazy-image" data-runner-src="https://assets.rebelmouse.io/eyJhbGciOiJIUzI1NiIsInR5cCI6IkpXVCJ9.eyJpbWFnZSI6Imh0dHBzOi8vYXNzZXRzLnJibC5tcy8xOTUxOTM4OC9vcmlnaW4uanBnIiwiZXhwaXJlc19hdCI6MTYwOTAyNTQ5N30.Q2vSGGAape_2_xaq3tGFfyl0uMNpowsXYII-aBxfrLI/img.jpg?width=980" id="01cfe" class="rm-shortcode" data-rm-shortcode-id="1c7dd716ce693491b0b45e22f6b113f6" data-rm-shortcode-name="rebelmouse-image"><div class="image-caption"><p>Photo by Paul Kane/Getty Images.</p></div></div></div><p>"[He] told us he'd played in front of crowds all over the world but was anxious because he'd never performed in front of so many heroes before," wrote Lyons for <a href="https://50.roundhouse.org.uk/content-items/george-michael-concert-nurses" target="_blank">Roundhouse</a>. </p><p>Michael went on to play what Lyons describes as an "amazing set" that she and her colleagues would never forget. And they weren't the only ones.</p><p>"He made all of us feel special. People do say thank you, but for George to say it publicly feels good," nurse Susan Steadman <a href="http://www.independent.co.uk/news/people/george-michael-dead-concert-nhs-nurses-dying-mother-billy-bragg-charity-a7497271.html" target="_blank">told the BBC</a>. </p><div><div class="push-wrapper--mobile" data-card="image" data-reactroot=""><img type="lazy-image" data-runner-src="https://assets.rebelmouse.io/eyJhbGciOiJIUzI1NiIsInR5cCI6IkpXVCJ9.eyJpbWFnZSI6Imh0dHBzOi8vYXNzZXRzLnJibC5tcy8xOTUxOTM4OS9vcmlnaW4uanBnIiwiZXhwaXJlc19hdCI6MTYzODMzOTI1NH0.OfHCjCrKG02CUKaIEFCUI48mVKlvgl7Ij-AAKSQRjx8/img.jpg?width=980" id="66036" class="rm-shortcode" data-rm-shortcode-id="008e0875133effdad8948bee93259adb" data-rm-shortcode-name="rebelmouse-image"><div class="image-caption"><p>Photo by Adrian Dennis/Getty Images.</p></div></div></div><h2>It's likely Michael's initial appreciation for nurses began when his mother, Lesley, was diagnosed with cancer and <a href="https://www.wbnews.info/2016/12/the-death-of-george-michaels-mum-from-cancer-had-a-huge-impact-on-the-singer-before-his-passing/" target="_blank">passed away in 1997</a> at only 60 years old. </h2><p>The <a href="https://twitter.com/billybragg/status/813351834547081216?ref_src=twsrc%5Etfw" target="_blank">statement he made</a> when he announced the free concert for NHS nurses in 2006 said it all:</p><p>"The nurses that helped my family at that time were incredible people and I realized just how undervalued they are."</p><h2>Despite how much nurses do for their patients, the profession doesn't often receive the accolades it deserves. Having a music legend like George Michael always advocate for nurses, however, made a difference.</h2><div><div class="push-wrapper--mobile" data-card="image" data-reactroot=""><img type="lazy-image" data-runner-src="https://assets.rebelmouse.io/eyJhbGciOiJIUzI1NiIsInR5cCI6IkpXVCJ9.eyJpbWFnZSI6Imh0dHBzOi8vYXNzZXRzLnJibC5tcy8xOTUxOTM5MC9vcmlnaW4uanBnIiwiZXhwaXJlc19hdCI6MTYzODM5MTQ1OH0.buBrrEuviH9xVuWjafC17RnnmeGLLcc9Frzea6_Aj8I/img.jpg?width=980" id="a1e35" class="rm-shortcode" data-rm-shortcode-id="886cd9718b41bbe44e2d261cfbb293d5" data-rm-shortcode-name="rebelmouse-image"><div class="image-caption"><p>Photo by Valerie Hache/Getty Images.</p></div></div></div><iframe width="100%" height="150" scrolling="no" class="rm-shortcode twitter-embed-813354731439525888" id="twitter-embed-813354731439525888" type="lazy-iframe" data-runner-src="/res/community/twitter_embed/?iframe_id=twitter-embed-813354731439525888&amp;created_ts=1482753854.0&amp;screen_name=ladymisskiera&amp;text=%40salihughes+I+didn%27t+go+to+the+Roundhouse+gig+but+was+lucky+enough+to+see+him+at+Wembley-+he+had+gifted+loads+of+tickets+to+nhs+staff+%E2%9D%A4%EF%B8%8F&amp;id=813354731439525888&amp;name=Kiera" frameborder="0" data-rm-shortcode-id="3HN6RK1559349466"></iframe><p>Michael gave back wherever he could and usually tried to keep his philanthropy  anonymous. He donated royalties from some of his most famous songs to HIV-related charities like the <a href="http://www.tht.org.uk/" target="_blank">Terrence Higgins Trust</a> and <a href="http://caralighthouse.co.uk/history/" target="_blank">The Cara Trust's London Lighthouse project on HIV and AIDS hospice</a>. He even tipped a bar server £5,000 ($6,128) to help her pay off her <a href="https://twitter.com/salihughes/status/813348024063852544" target="_blank">student nurse debt.</a> </p><h2>In a way, his passing on Christmas was fitting because his acts of generosity now serve as a timely reminder for all of us to show our appreciation, especially toward unsung heroes like nurses.</h2><p>He made it quite clear at his <a href="http://www.independent.co.uk/news/people/george-michael-dead-concert-nhs-nurses-dying-mother-billy-bragg-charity-a7497271.html" target="_blank">thank you concert for NHS nurses</a> 10 years ago: "Society calls what you do a vocation, and that means you don't get paid properly. Thank you for everything you do — some people appreciate it."</p><p>"George has had ups and downs but as we were heroes to him, he will always be a hero to all of the nurses at the Roundhouse that night," recounted Lyons.  </p><p>Nurses are invaluable for what they do everyday on the job. Hopefully the appreciation Michael showed nurses in his lifetime will continue to shine a light on them for years to come.</p><div><div class="push-wrapper--mobile" data-card="image" data-reactroot=""><img type="lazy-image" data-runner-src="https://assets.rebelmouse.io/eyJhbGciOiJIUzI1NiIsInR5cCI6IkpXVCJ9.eyJpbWFnZSI6Imh0dHBzOi8vYXNzZXRzLnJibC5tcy8xOTUxOTM5MS9vcmlnaW4uanBnIiwiZXhwaXJlc19hdCI6MTYxMjg0NjAyOX0.aIbxTOBwbHIGBONLU53pw_al1ykYFXtM3aXN5zrNDMs/img.jpg?width=980" id="e526b" class="rm-shortcode" data-rm-shortcode-id="ff8681f98029549a2f9b6b434b1d1c0a" data-rm-shortcode-name="rebelmouse-image"><div class="image-caption"><p>Photo by Samuel Kubani/Getty Images. </p></div></div></div>