On March 19, dozens of countries around the world observed the 10th annual "Earth Hour."
Famous landmarks around the world — and millions of private citizens — turned off their lights for 60 minutes at night to create stunning, rarely seen images of their cities.
1. Here's the Parthenon in Athens, Greece, with its lights on...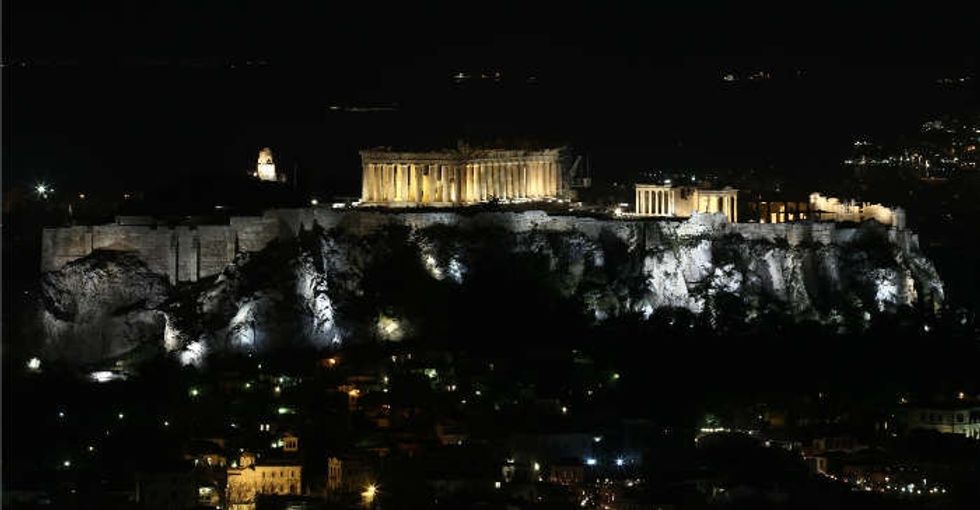 <p class="image-caption">The Parthenon, lights on. Photo by Panagiotis Tzamaros/Getty Images.</p><h2>2. ...and off. </h2><p><img type="lazy-image" data-runner-src="https://assets.rebelmouse.io/eyJhbGciOiJIUzI1NiIsInR5cCI6IkpXVCJ9.eyJpbWFnZSI6Imh0dHBzOi8vYXNzZXRzLnJibC5tcy8xOTUxMjgyOS9vcmlnaW4uanBnIiwiZXhwaXJlc19hdCI6MTYyNjQyOTgyN30.TCggoeeyG1_xuw_Yw6LXhEfRaDSNWgjVzSiGxg2Zsso/img.jpg?width=980" id="470c4" class="rm-shortcode" data-rm-shortcode-id="7546eb4a74fbb503f07a7f5a81006103" data-rm-shortcode-name="rebelmouse-image"></p><p class="image-caption">The Parthenon, lights off. Photo by Panagiotis Tzamaros/Getty Images.</p><h2>3. The Petronas Towers in Kuala Lumpur, Malaysia, look plenty majestic all lit up. </h2><p><img type="lazy-image" data-runner-src="https://assets.rebelmouse.io/eyJhbGciOiJIUzI1NiIsInR5cCI6IkpXVCJ9.eyJpbWFnZSI6Imh0dHBzOi8vYXNzZXRzLnJibC5tcy8xOTUxMjgzMC9vcmlnaW4uanBnIiwiZXhwaXJlc19hdCI6MTYyNDY5NDY3OX0.pEdFNjBkejegEsjQV_DsjZI6A7vtKKVWSbe6nNMmY18/img.jpg?width=980" id="b83f3" class="rm-shortcode" data-rm-shortcode-id="65f94d2d9bbd9ef966637554628617b2" data-rm-shortcode-name="rebelmouse-image"></p><p class="image-caption">Kuala Lumpur's Petronas Towers, lights on. Photo by Mohd Rafsan/Getty Images.</p><h2>4. And young-adult-novel-dystopia eerie in the dark. </h2><p><img type="lazy-image" data-runner-src="https://assets.rebelmouse.io/eyJhbGciOiJIUzI1NiIsInR5cCI6IkpXVCJ9.eyJpbWFnZSI6Imh0dHBzOi8vYXNzZXRzLnJibC5tcy8xOTUxMjgzMS9vcmlnaW4uanBnIiwiZXhwaXJlc19hdCI6MTYyMzEzMTEyOH0.w-6oa7V_RGG5CzFiuUuNT9qcnlGgvPybgdj-2f8WaOQ/img.jpg?width=980" id="e2539" class="rm-shortcode" data-rm-shortcode-id="f75d9ecf789e8753b0d885120b5a0bff" data-rm-shortcode-name="rebelmouse-image"></p><p class="image-caption">Kuala Lumpur's Petronas Towers, lights off. Photo by Mohd Rafsan/Getty Images.</p><h2>5. The lights on Big Ben and Britain's Houses of Parliament were also switched off for Earth Hour. </h2><p><img type="lazy-image" data-runner-src="https://assets.rebelmouse.io/eyJhbGciOiJIUzI1NiIsInR5cCI6IkpXVCJ9.eyJpbWFnZSI6Imh0dHBzOi8vYXNzZXRzLnJibC5tcy8xOTUxMjgzMi9vcmlnaW4uanBnIiwiZXhwaXJlc19hdCI6MTU4ODgzOTE3Nn0.HXjnEIGh0nRtYBg4pxE2PR6hc8S0-cWbcqh_ugTz_hs/img.jpg?width=980" id="c353a" class="rm-shortcode" data-rm-shortcode-id="083b7256c80ba8fd3f9de52c926612ab" data-rm-shortcode-name="rebelmouse-image"></p><p class="image-caption">London's Big Ben and Parliament buildings, lights on. Photo by Niklas Halle'n/Getty Images.</p><h2>6. Which made the complex look not unlike it had been overrun by dark wizards. </h2><p><img type="lazy-image" data-runner-src="https://assets.rebelmouse.io/eyJhbGciOiJIUzI1NiIsInR5cCI6IkpXVCJ9.eyJpbWFnZSI6Imh0dHBzOi8vYXNzZXRzLnJibC5tcy8xOTUxMjgzMy9vcmlnaW4uanBnIiwiZXhwaXJlc19hdCI6MTYwNTQyOTA5NX0.Q0-F8tQcxl8IpIx7it5XvnuQH02zNXEoJAz4FCrxQHQ/img.jpg?width=980" id="1b824" class="rm-shortcode" data-rm-shortcode-id="dce67017540557871c91354fe0d60712" data-rm-shortcode-name="rebelmouse-image"></p><p class="image-caption">London's Big Ben and Parliament buildings, lights off. Photo by Niklas Halle'n/Getty Images. </p><h2>7. Earth Hour started in <a href="https://earthhour.org.au/about/" target="_blank">2007 in Sydney, Australia</a>...</h2><p><img type="lazy-image" data-runner-src="https://assets.rebelmouse.io/eyJhbGciOiJIUzI1NiIsInR5cCI6IkpXVCJ9.eyJpbWFnZSI6Imh0dHBzOi8vYXNzZXRzLnJibC5tcy8xOTUxMjgzNC9vcmlnaW4uanBnIiwiZXhwaXJlc19hdCI6MTYwNzUyMzA0OH0.oSFJDHan7fCrug-EkskssmSxEE3_6uzD9s5yHNPILdA/img.jpg?width=980" id="72dac" class="rm-shortcode" data-rm-shortcode-id="649003ecc34c3bf633c19d4adc0cf887" data-rm-shortcode-name="rebelmouse-image"></p><p class="image-caption">The Sydney Opera House, lights on. Photo by William West/Getty Images.</p><h2>8. ...in order to bring attention to the threat of global climate change...</h2><p><img type="lazy-image" data-runner-src="https://assets.rebelmouse.io/eyJhbGciOiJIUzI1NiIsInR5cCI6IkpXVCJ9.eyJpbWFnZSI6Imh0dHBzOi8vYXNzZXRzLnJibC5tcy8xOTUxMjgzNS9vcmlnaW4uanBnIiwiZXhwaXJlc19hdCI6MTY0MDAzMzkyN30.u6UeEcG29RWODYHy-C-k59jelNApgQoowEwyZsnCel0/img.jpg?width=980" id="c8011" class="rm-shortcode" data-rm-shortcode-id="5d1c495c558039246e84fe6c653db2af" data-rm-shortcode-name="rebelmouse-image"></p><p class="image-caption">The Sydney Opera House, lights off. Photo by William West/Getty Images.</p><h2>9. ...and convince the world to heed the warnings about imminent global catastrophe from scientists, activists, and religious groups — notably the Vatican.</h2><p><img type="lazy-image" data-runner-src="https://assets.rebelmouse.io/eyJhbGciOiJIUzI1NiIsInR5cCI6IkpXVCJ9.eyJpbWFnZSI6Imh0dHBzOi8vYXNzZXRzLnJibC5tcy8xOTUxMjgzNi9vcmlnaW4uanBnIiwiZXhwaXJlc19hdCI6MTYzNDk4ODQwN30.5MeEFOZUuEPMQ8gMRD1nviQFCtPkjQBp2WGzhaFT2zs/img.jpg?width=980" id="83d93" class="rm-shortcode" data-rm-shortcode-id="6d34b187372af3c6961f526afd81032a" data-rm-shortcode-name="rebelmouse-image"></p><p class="image-caption">The Vatican's St. Peter's Basilica, lights on. Photo by Vincenzo Pinto/Getty Images.</p><h2>10. Pope Francis has said, of <a href="http://www.msnbc.com/msnbc/pope-francis-issues-radical-call-climate-change-action" target="_blank">climate change</a>, "Any harm done to the environment ... is harm done to humanity."</h2><p><img type="lazy-image" data-runner-src="https://assets.rebelmouse.io/eyJhbGciOiJIUzI1NiIsInR5cCI6IkpXVCJ9.eyJpbWFnZSI6Imh0dHBzOi8vYXNzZXRzLnJibC5tcy8xOTUxMjgzNy9vcmlnaW4uanBnIiwiZXhwaXJlc19hdCI6MTYyMjU4ODk1Mn0.sJ3Ms3f2HJaEUIKiuH8YvJ-4-jKh_91oT_ZGaTfxEnc/img.jpg?width=980" id="c9c13" class="rm-shortcode" data-rm-shortcode-id="410628de331f0e0db4a53f0eec148607" data-rm-shortcode-name="rebelmouse-image"></p><p class="image-caption">The Vatican's St. Peter's Basilica, lights off. Photo by Vincenzo Pinto/Getty Images.</p><h2>11. In the nine years since the first Earth Hour, the event has expanded to include iconic landmarks around the world, like this — the famous "Chain Bridge" in Budapest, Hungary.</h2><p><img type="lazy-image" data-runner-src="https://assets.rebelmouse.io/eyJhbGciOiJIUzI1NiIsInR5cCI6IkpXVCJ9.eyJpbWFnZSI6Imh0dHBzOi8vYXNzZXRzLnJibC5tcy8xOTUxMjgzOC9vcmlnaW4uanBnIiwiZXhwaXJlc19hdCI6MTU5NTQ1MTI0MX0.YH1KA9I-eOesLzC6Dzxa8tduSQChyJ5a-sOVMufz3-I/img.jpg?width=980" id="55a05" class="rm-shortcode" data-rm-shortcode-id="18bc175c6f373302cfe72771a5af40d9" data-rm-shortcode-name="rebelmouse-image"></p><p class="image-caption">Budapest's Chain Bridge, lights on. Photo by Attila Kisbenedek/Getty Images.</p><h2>12. Though it's been frustratingly slow at times, some actual, real-life headway on climate change has been made since then. </h2><p><img type="lazy-image" data-runner-src="https://assets.rebelmouse.io/eyJhbGciOiJIUzI1NiIsInR5cCI6IkpXVCJ9.eyJpbWFnZSI6Imh0dHBzOi8vYXNzZXRzLnJibC5tcy8xOTUxMjgzOS9vcmlnaW4uanBnIiwiZXhwaXJlc19hdCI6MTU5ODQxNzkyNn0.1w2wc6YPB3hLwLyBi-dEewhi-z5RwxW8d7d1rUo3SCc/img.jpg?width=980" id="b7e39" class="rm-shortcode" data-rm-shortcode-id="31a137d624b1a3649fbad7f8ddd45193" data-rm-shortcode-name="rebelmouse-image"></p><p class="image-caption">Budapest's Chain Bridge, lights off. Photo by Attila Kisbenedek/Getty Images.</p><h2>13. Especially in Paris, where a <a href="http://www.nytimes.com/2015/12/13/world/europe/climate-change-accord-paris.html?_r=0" target="_blank">historic climate pact</a> was signed in December. </h2><p><img type="lazy-image" data-runner-src="https://assets.rebelmouse.io/eyJhbGciOiJIUzI1NiIsInR5cCI6IkpXVCJ9.eyJpbWFnZSI6Imh0dHBzOi8vYXNzZXRzLnJibC5tcy8xOTUxMjg0MC9vcmlnaW4uanBnIiwiZXhwaXJlc19hdCI6MTYyMDA0MTkzNX0._bXUoB5lICusfZB5q0PWtzegLsDmvcu1mnR-Snb00p8/img.jpg?width=980" id="5eb0b" class="rm-shortcode" data-rm-shortcode-id="f54797ee9fbb6ab68bda257f24df8180" data-rm-shortcode-name="rebelmouse-image"></p><p class="image-caption">Paris' Eiffel Tower, lights on. Photo by Ludovic Marin/Getty Images.</p><h2>14. 195 countries reached the landmark agreement together...</h2><p><img type="lazy-image" data-runner-src="https://assets.rebelmouse.io/eyJhbGciOiJIUzI1NiIsInR5cCI6IkpXVCJ9.eyJpbWFnZSI6Imh0dHBzOi8vYXNzZXRzLnJibC5tcy8xOTUxMjg0MS9vcmlnaW4uanBnIiwiZXhwaXJlc19hdCI6MTYyNzc4NzE2OH0.13JI0KlBfcEF58OS6AoXrkAwI1QG_i7X1SwmghzncFw/img.jpg?width=980" id="72991" class="rm-shortcode" data-rm-shortcode-id="3c106a1fa9559e18bff423b9ed6237c3" data-rm-shortcode-name="rebelmouse-image"></p><p class="image-caption">Paris' Eiffel Tower, lights off. Photo by Ludovic Marin/Getty Images.</p><h2>15. ...including top polluters the United States and China. Shanghai (pictured below) was a 2016 Earth Hour participant.</h2><p><img type="lazy-image" data-runner-src="https://assets.rebelmouse.io/eyJhbGciOiJIUzI1NiIsInR5cCI6IkpXVCJ9.eyJpbWFnZSI6Imh0dHBzOi8vYXNzZXRzLnJibC5tcy8xOTUxMjg0Mi9vcmlnaW4uanBnIiwiZXhwaXJlc19hdCI6MTU4Nzg4MDc4NH0.nmA8pA1xgq26HM-ZCXkPo8CUhdF7T-TqzXAG1b6YsgU/img.jpg?width=980" id="c13f9" class="rm-shortcode" data-rm-shortcode-id="3789230a794b448c38847ede5eb183f4" data-rm-shortcode-name="rebelmouse-image"></p><p class="image-caption">Shanghai, China, lights on. Photo by Johannes Eisele/Getty Images.</p><h2>16. The agreement commits the nations that signed to take immediate action in order to limit total global temperature rise to 2 degrees Celsius.</h2><p><img type="lazy-image" data-runner-src="https://assets.rebelmouse.io/eyJhbGciOiJIUzI1NiIsInR5cCI6IkpXVCJ9.eyJpbWFnZSI6Imh0dHBzOi8vYXNzZXRzLnJibC5tcy8xOTUxMjg0My9vcmlnaW4uanBnIiwiZXhwaXJlc19hdCI6MTU4OTYwNjk3NX0.P-cEcUdsrO6ZiUal4VQiXcO7QUTP2GBjQaQcwwS9waM/img.jpg?width=980" id="dbccd" class="rm-shortcode" data-rm-shortcode-id="5f6c02e11dcbf833679d4661bdad6da2" data-rm-shortcode-name="rebelmouse-image"></p><p class="image-caption">Shanghai, China, lights off. Photo by Johannes Eisele/Getty Images.</p><h2>17. Critics of Earth Hour have <a href="http://www.news.com.au/technology/environment/earth-hour-australia-organisers-hit-back-at-the-haters/news-story/9642ca499701005152217a0372d3242f" target="_blank">knocked the annual event</a> for being more symbol than substance. After all, what does it matter if the Wat Arun in Bangkok, (below) turns off its lights for a few minutes?</h2><p><img type="lazy-image" data-runner-src="https://assets.rebelmouse.io/eyJhbGciOiJIUzI1NiIsInR5cCI6IkpXVCJ9.eyJpbWFnZSI6Imh0dHBzOi8vYXNzZXRzLnJibC5tcy8xOTUxMjg0NC9vcmlnaW4uanBnIiwiZXhwaXJlc19hdCI6MTYzMjY0ODg4MH0.n5ql6KNhPophKX8JRtqIyp7535vY8BwZ0Fa9YZJuPMI/img.jpg?width=980" id="ad6ed" class="rm-shortcode" data-rm-shortcode-id="788d04eaf1e68fc38f9ad16619bbbe25" data-rm-shortcode-name="rebelmouse-image"></p><p class="image-caption">Bangkok's Wat Arun, lights on. Photo by Christophe Archambault/Getty Images.</p><h2>18. After the lights go back on, polluters will still pollute, politicians will still stall and delay, and nothing will change. At least not right away.</h2><p><img type="lazy-image" data-runner-src="https://assets.rebelmouse.io/eyJhbGciOiJIUzI1NiIsInR5cCI6IkpXVCJ9.eyJpbWFnZSI6Imh0dHBzOi8vYXNzZXRzLnJibC5tcy8xOTUxMjg0NS9vcmlnaW4uanBnIiwiZXhwaXJlc19hdCI6MTYxNTQzMzY5NX0.Hldf--okNCYSARa-sQvnMzwGahzEck5GwaRJ3MaMqTY/img.jpg?width=980" id="b7aed" class="rm-shortcode" data-rm-shortcode-id="4c9436a6d33ebce2ce5af6a025a8a311" data-rm-shortcode-name="rebelmouse-image"></p><p class="image-caption">Bangkok's Wat Arun, lights off. Photo by Christophe Archambault/Getty Images. </p><h2>19. But when young people gathered around the Trevi Fountain in Rome...</h2><p><img type="lazy-image" data-runner-src="https://assets.rebelmouse.io/eyJhbGciOiJIUzI1NiIsInR5cCI6IkpXVCJ9.eyJpbWFnZSI6Imh0dHBzOi8vYXNzZXRzLnJibC5tcy8xOTUxMjg0Ni9vcmlnaW4uanBnIiwiZXhwaXJlc19hdCI6MTYwMDIxNDMxOX0.hWt5hWpZK5uLixVH3AYFiqdlG9ZGhpgMfvXFg_DUW04/img.jpg?width=980" id="27116" class="rm-shortcode" data-rm-shortcode-id="36a7999e3bc0562b57b4bca640505cdf" data-rm-shortcode-name="rebelmouse-image"></p><p class="image-caption">The Trevi Fountain, Rome, lights on. Photo by Vincenzo Pinto/Getty Images.</p><h2>20. ...which really shows its age in the dark... </h2><p><img type="lazy-image" data-runner-src="https://assets.rebelmouse.io/eyJhbGciOiJIUzI1NiIsInR5cCI6IkpXVCJ9.eyJpbWFnZSI6Imh0dHBzOi8vYXNzZXRzLnJibC5tcy8xOTUxMjg0OC9vcmlnaW4uanBnIiwiZXhwaXJlc19hdCI6MTY0NTc5NzY4MX0.y8FWwss4q9ErKeIbZs7zImtqVZCtJO1BtpLKsjxZN38/img.jpg?width=980" id="09eb7" class="rm-shortcode" data-rm-shortcode-id="7c1273b03853c021f25bd254bbad39bc" data-rm-shortcode-name="rebelmouse-image"></p><p class="image-caption">The Trevi Fountain, Rome, lights off. Photo by Vincenzo Pinto/Getty Images.</p><h2>21. ...and business people in downtown Jakarta, Indonesia, see the lights go out and...</h2><p><img type="lazy-image" data-runner-src="https://assets.rebelmouse.io/eyJhbGciOiJIUzI1NiIsInR5cCI6IkpXVCJ9.eyJpbWFnZSI6Imh0dHBzOi8vYXNzZXRzLnJibC5tcy8xOTUxMjg1MC9vcmlnaW4uanBnIiwiZXhwaXJlc19hdCI6MTU5NjkwMDkzOH0._DnUIT-JApNYsnPkR2IaT0tNqr9zSz0Og0g2i4JFmCc/img.jpg?width=980" id="34a1b" class="rm-shortcode" data-rm-shortcode-id="733e57d011dd634731a541cdd574e29d" data-rm-shortcode-name="rebelmouse-image"></p><p class="image-caption">Downtown Jakarta, lights on. Photo by Bay Ismoyo/Getty Images.</p><h2>22. ...we're all thinking about are how our actions and the fate of the planet we all have no choice but to keep living on are connected... </h2><p><img type="lazy-image" data-runner-src="https://assets.rebelmouse.io/eyJhbGciOiJIUzI1NiIsInR5cCI6IkpXVCJ9.eyJpbWFnZSI6Imh0dHBzOi8vYXNzZXRzLnJibC5tcy8xOTUxMjg1MS9vcmlnaW4uanBnIiwiZXhwaXJlc19hdCI6MTY0NDEyOTU3M30.nU_sjodu7p0ONzxAIfcRzaYsu16rvjH4MvwP5FSPfUk/img.jpg?width=980" id="f57aa" class="rm-shortcode" data-rm-shortcode-id="b64fe5cf8eee05ecb170606bd5f6ed4c" data-rm-shortcode-name="rebelmouse-image"></p><p class="image-caption">Downtown Jakarta, lights off. Photo by Bay Ismoyo/Getty Images.</p><h2>23. ...it's enough to give you hope that the world is maybe, finally, getting it. Yes, it is only a small symbolic gesture. But seeing the National Stadium in Beijing (below) go dark for an hour isn't nothing.</h2><p><img type="lazy-image" data-runner-src="https://assets.rebelmouse.io/eyJhbGciOiJIUzI1NiIsInR5cCI6IkpXVCJ9.eyJpbWFnZSI6Imh0dHBzOi8vYXNzZXRzLnJibC5tcy8xOTUxMjg1Mi9vcmlnaW4uanBnIiwiZXhwaXJlc19hdCI6MTYyNDUzMDY0NX0.TInhkvrLuZnhhHeCmVJxe3cg8KmS9MugA6_MZ89PoHs/img.jpg?width=980" id="d9c29" class="rm-shortcode" data-rm-shortcode-id="91079cac93e80e23e1071038183a8e3b" data-rm-shortcode-name="rebelmouse-image"></p><p class="image-caption">Beijing's National Stadium, lights on. Photo by Wang Zhao/Getty Images.</p><h2>24. It's progress. And if we can coordinate something like Earth Hour at a dozen of the world's most famous landmarks, then surely we can coordinate more meaningful change too.</h2><p><img type="lazy-image" data-runner-src="https://assets.rebelmouse.io/eyJhbGciOiJIUzI1NiIsInR5cCI6IkpXVCJ9.eyJpbWFnZSI6Imh0dHBzOi8vYXNzZXRzLnJibC5tcy8xOTUxMjg1My9vcmlnaW4uanBnIiwiZXhwaXJlc19hdCI6MTYyMjgyODczMH0.vpt6QbUQ1m69Of0va1JEn_wyvjo4lCANkFGZ7IxO2is/img.jpg?width=980" id="ffbcf" class="rm-shortcode" data-rm-shortcode-id="24ffc5e4eb87319e4d6a31105cf3397b" data-rm-shortcode-name="rebelmouse-image"></p><p class="image-caption">Beijing's National Stadium, lights off. Photo by Wang Zhao/Getty Images.</p>