Heroes
Most states tax tampons as luxury items. But now, New York City Council members are fighting back.
Unless you're a character in a Judy Blume novel, getting your period is rarely an event met with elation.
Most people who menstruate take it in stride. It's a normal bodily function, and it's usually manageable, especially if you have access to the period products you need (tampons, pads, menstrual cups, ibuprofen ... the occasional heating pad and chocolate bar).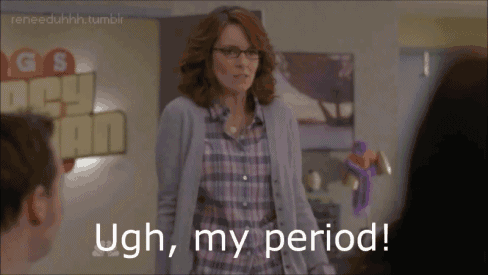 <p class="image-caption">Right there with ya, Tina. GIF from "30 Rock."</p><h2>But for many women, that access isn't a given.</h2><p><strong>Women who get their periods while homeless, in jail or prison, or at school often don't have access to tampons or pads when they need them.</strong></p><p>And even folks who can stop by the store and pick up a box of tampons on the regular pay a "luxury tax" tacked onto their purchase in most states. That can really add up — especially if you're living paycheck to paycheck.<strong> </strong><strong></strong></p><p><strong></strong></p><h2>Here's the good news: New York City Council members are teaming up to fight back against this tax and lack of access in some awesome ways.</h2><p><strong>Council member Julissa Ferreras-Copeland is <a href="http://gothamgazette.com/index.php/government/6119-city-council-members-move-to-improve-tampon-access" target="_blank">leading the charge</a>. </strong></p><p><img type="lazy-image" data-runner-src="https://assets.rebelmouse.io/eyJhbGciOiJIUzI1NiIsInR5cCI6IkpXVCJ9.eyJpbWFnZSI6Imh0dHBzOi8vYXNzZXRzLnJibC5tcy8xOTUxMTUzMS9vcmlnaW4uanBnIiwiZXhwaXJlc19hdCI6MTYyNDc5MTUxNH0.ee3raTGzKLn0dSWhvAfBjTiNssbSXHnJBRBgbArSesA/img.jpg?width=980" id="23f30" class="rm-shortcode" data-rm-shortcode-id="6daf477a1598220ed608f8bf0099d9ef" data-rm-shortcode-name="rebelmouse-image"></p><p class="image-caption">Ferreras-Copeland in action, via her <a href="https://www.facebook.com/Julissa.Ferreras" target="_blank">Facebook page</a>, used with permission.</p><p>According to <a href="http://www.theatlantic.com/health/archive/2016/02/tampon-tax/433935/" target="_blank">The Atlantic</a>, Ferreras-Copeland got involved after she read an op-ed about the tampon tax in The New York Times and decided to talk to the author, Jennifer Weiss-Wolf from the Brennan Center for Justice.</p><p><strong>"After meeting with Jennifer Weiss-Wolf, who shared with me what she had written about the tax, I thought, 'OK, what can I do from a municipal level?'" Ferreras-Copeland told Upworthy.</strong></p><p>Their conversation prompted Ferreras-Copeland to <a href="https://www.facebook.com/Julissa.Ferreras/posts/916555208387957" target="_blank">hold a roundtable</a> in June, where she heard from advocates for homeless, incarcerated, and low-income women and girls.<br></p><p>"I couldn't believe I could just go to a lawmaker with an idea and have her listen and do something about it," Weiss-Wolf told The Atlantic. "That should be how government works.</p><p><strong>Based on this, Ferreras-Copeland has a few big plans for the women of New York.</strong></p><h2>1. She launched <a href="http://nymag.com/thecut/2015/09/free-tampons-new-york-city-high-school.html#" target="_blank">a hugely successful initiative</a> that put free tampons and pads in every girls bathroom in a Queens high school, and she wants to take it citywide.</h2><p><strong><img type="lazy-image" data-runner-src="https://assets.rebelmouse.io/eyJhbGciOiJIUzI1NiIsInR5cCI6IkpXVCJ9.eyJpbWFnZSI6Imh0dHBzOi8vYXNzZXRzLnJibC5tcy8xOTUxMTUzMi9vcmlnaW4uanBnIiwiZXhwaXJlc19hdCI6MTY1NjQ0OTA2Nn0.s4Yyx2hd4NFr4Ed2_Kh9w7GdrmXqhe2LgjbiWcJ-0aY/img.jpg?width=980" id="94c39" class="rm-shortcode" data-rm-shortcode-id="1fb55c1ec98e46a4e983664b303f9a87" data-rm-shortcode-name="rebelmouse-image"></strong><br></p><p class="image-caption">We put toilet paper in bathrooms for free. Why not tampons? Image from <a href="https://commons.wikimedia.org/wiki/Tampon#/media/File:Elements_of_a_tampon_with_applicator.jpg" target="_blank">Wikimedia Commons</a>.</p><p>"Many [female students] found themselves cutting class or leaving school [after getting their period], where young men don't even have to think about this as a challenge in their school day," Ferreras-Copeland said.</p><p>Her pilot program provided pads and tampons to the school, keeping the school's bathrooms well stocked, for free. "[The pilot program] was so well received. The parents also very much supported it. The young girls thought, 'Wow, this is such a simple solution.' <strong>They could just be normal students— focused on their midterms, focused on their finals,</strong>" she said.</p><h2>2. She's drafting a package of legislation about period product access.</h2><p>"There are many women out there that are struggling," Ferreras-Copeland said. "They have to decide between putting food on the table and being healthy and keeping their bodies healthy."</p><p><strong>Her three proposed bills would make tampons and pads available for free in New York City's shelters, correctional facilities, and public schools.</strong></p><h2>3. She's also planning to introduce a resolution that calls on the New York state assembly to get rid of the luxury tax on pads and tampons altogether.</h2><p>Thankfully, New York City isn't the only place where tampons and pads may soon become more accessible. Several other states, including <a href="http://leginfo.legislature.ca.gov/faces/billNavClient.xhtml?bill_id=201320140AB1561" target="_blank">California</a> and <a href="http://www.ohiohouse.gov/greta-johnson/press/house-dems-look-to-axe-pink-tax-on-womens-healthcare-products" target="_blank">Ohio</a>, are considering eliminating taxes on feminine hygiene products, too. The New York Times is even <a href="http://www.nytimes.com/2016/02/08/opinion/end-the-tampon-tax.html" target="_blank">calling for an end</a> to the tampon tax altogether.</p><p>What can we all do personally? <strong>Keep talking about periods and why everyone deserves to experience them with dignity. </strong>Change happens when people choose to ignore stigma and speak out.</p>