Most Shared
"This little garden will live on as a symbol of the hopes that we all hold of growing a healthier nation for our children."
As one of her last acts as first lady, Michelle Obama unveiled significant renovations to the White House Kitchen Garden.
Renovations that will make it much harder for any future president to uproot it. Not that any future president would want to, but, in these — uh — tumultuous times, it can't hurt to be safe.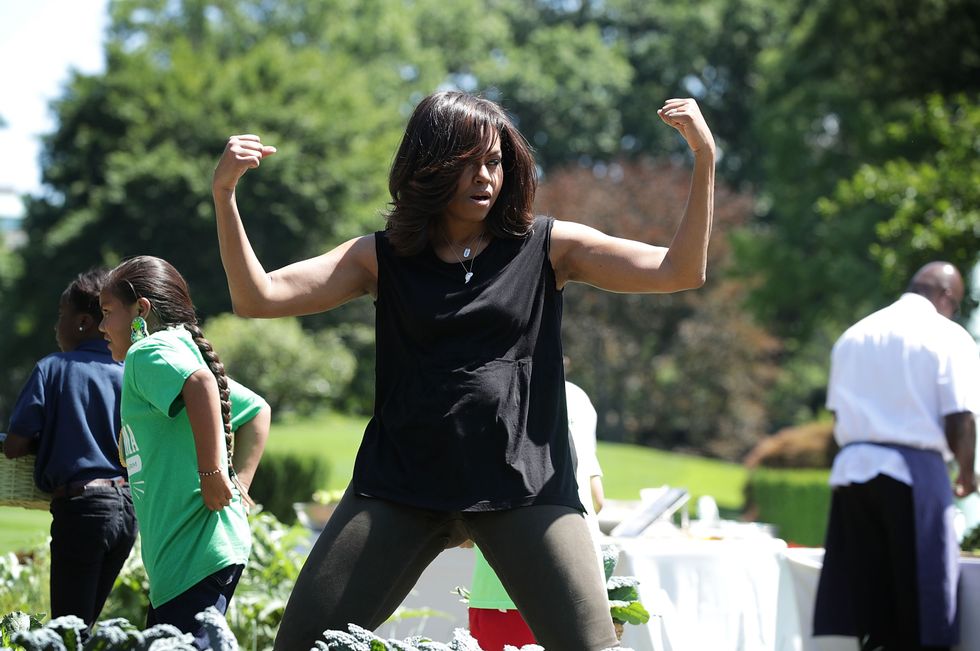 </div></div></div><p>The garden has more than doubled in size, from its initial 1,100 square feet in 2009 to 2,800 square feet, and now, it's accented by cement, stone, and steel reinforcements. The first lady also tasked the National Park Service with maintaining it and secured its upkeep with <a href="http://www.npr.org/2016/10/06/496894618/michelle-obamas-kitchen-garden-will-keep-blooming-even-after-she-leaves" target="_blank">$2.5 million of private funding</a> (aka not taxpayer dollars). </p><p><div id="upworthyFreeStarVideoAdContainer"><div id="freestar-video-parent"><div id="freestar-video-child"></div></div></div></p><p>Needless to say her beloved garden isn't going anywhere anytime soon. </p><h2>Like most everything else the first lady does, the garden is meant to serve a lasting purpose. </h2><p>It's more than a passion project, it's about teaching kids where our food comes from, introducing them to fresh vegetables, and giving them a healthy appreciation for the work that goes into bringing it to the table.</p><p>"I take great pride in knowing that this little garden will live on as a symbol of the hopes and dreams we all hold of growing a healthier nation for our children," <a href="http://www.politico.com/story/2016/10/michelle-obama-garden-changes-white-house-229204" target="_blank">Obama said at the garden's unveiling</a>. But that's just one reason why preserving this garden matters so much to the first lady (and should matter to all of us too). </p><p><strong>Here are seven more reasons to care about preserving the White House Kitchen Garden: </strong></p><h2>1. It's the <a href="http://www.nytimes.com/2009/03/20/dining/20garden.html?_r=1" target="_blank">first vegetable garden</a> on White House grounds since Eleanor Roosevelt's victory garden in WWII.</h2><div><div class="push-wrapper--mobile" data-card="image" data-reactroot=""><img type="lazy-image" data-runner-src="https://assets.rebelmouse.io/eyJhbGciOiJIUzI1NiIsInR5cCI6IkpXVCJ9.eyJpbWFnZSI6Imh0dHBzOi8vYXNzZXRzLnJibC5tcy8xOTUyNDUzNi9vcmlnaW4uanBnIiwiZXhwaXJlc19hdCI6MTYyOTU4NzUwMH0.QZF1yxnC69C707pjrOwES0nl9DXhtf3cQUKjAfE3wDc/img.jpg?width=980" id="5c9bb" class="rm-shortcode" data-rm-shortcode-id="7af250e89cf1038e65620e37accbae87" data-rm-shortcode-name="rebelmouse-image"><div class="image-caption"><p>Photo by Saul Loeb/Getty Images.</p></div></div></div><p>Victory gardens first came into existence in <a href="http://www.history.com/news/hungry-history/americas-patriotic-victory-gardens" target="_blank">America during WWI </a>in order to help contribute food to the war effort and America's allies. Eleanor Roosevelt planted one on the White House front lawn to boost morale during WWII and to encourage families nationwide to plant their own so as to safeguard against food shortages on the home front. </p><p>While Roosevelt's wasn't built to last like Michelle Obama's, the mission was similar — to encourage sustainability.</p><h2>2. The food harvested from the garden is utilized by the White House kitchen, reducing the first family's need to <a href="http://www.politico.com/story/2016/10/michelle-obama-garden-changes-white-house-229204" target="_blank">rely on imported food</a>.</h2><div><div class="push-wrapper--mobile" data-card="image" data-reactroot=""><img type="lazy-image" data-runner-src="https://assets.rebelmouse.io/eyJhbGciOiJIUzI1NiIsInR5cCI6IkpXVCJ9.eyJpbWFnZSI6Imh0dHBzOi8vYXNzZXRzLnJibC5tcy8xOTUyNDUzNy9vcmlnaW4uanBnIiwiZXhwaXJlc19hdCI6MTY3MjA0MTI4M30.VFRp13-fHfd1bnOr7VnS1XKhSUZbSkq4Wf7X7rxYLCg/img.jpg?width=980" id="460c0" class="rm-shortcode" data-rm-shortcode-id="f4b241b4e0ac8e9f535dcc6a34aab566" data-rm-shortcode-name="rebelmouse-image"><div class="image-caption"><p>The Let's Move! kids. Photo by Chip Somodevilla/Getty Images.</p></div></div></div><p>The garden, which was part of Michelle's "<a href="http://www.letsmove.gov/blog/2016/10/05/first-lady-michelle-obama-dedicates-white-house-kitchen-garden-and-highlights-impact" target="_blank">Let's Move!</a>" campaign, also helped the first family <a href="http://www.nytimes.com/2009/03/20/dining/20garden.html?_r=0" target="_blank">break its fast food habit</a>. In fact, Michelle Obama credits her experience as a working mom trying to feed her two daughters as being what prompted the idea for the garden in the first place. </p><h2>3. What better way to teach a new generation to appreciate fruits and vegetables than by getting them involved in growing them?</h2><div><div class="push-wrapper--mobile" data-card="image" data-reactroot=""><img type="lazy-image" data-runner-src="https://assets.rebelmouse.io/eyJhbGciOiJIUzI1NiIsInR5cCI6IkpXVCJ9.eyJpbWFnZSI6Imh0dHBzOi8vYXNzZXRzLnJibC5tcy8xOTUyNDUzOC9vcmlnaW4uanBnIiwiZXhwaXJlc19hdCI6MTYzMjQxMzIzNH0.zTvTAMOnpkaTIHT09GGN2Y1xFw5QsFy8tSXXAdlKDL0/img.jpg?width=980" id="b6f93" class="rm-shortcode" data-rm-shortcode-id="394bd624d90a02a8bea6eb0c0ee534ea" data-rm-shortcode-name="rebelmouse-image"><div class="image-caption"><p>Photo by Alex Wong/Getty Images.</p></div></div></div><p>Students have <a href="https://www.whitehouse.gov/blog/2009/04/09/planting-garden" target="_blank">played a pivotal role </a>in the garden's upkeep since they broke ground on it back in 2009. Not only do students help harvest the 2,000pounds of yearly crops every year, they're invited to visit and help out anytime. </p><h2>4. Anything from the garden's harvest that doesn't get used by the White House goes to <a href="https://www.whitehouse.gov/blog/2009/03/20/spring-gardening" target="_blank">local food banks</a> and shelters.</h2><div><div class="push-wrapper--mobile" data-card="image" data-reactroot=""><img type="lazy-image" data-runner-src="https://assets.rebelmouse.io/eyJhbGciOiJIUzI1NiIsInR5cCI6IkpXVCJ9.eyJpbWFnZSI6Imh0dHBzOi8vYXNzZXRzLnJibC5tcy8xOTUyNDUzOS9vcmlnaW4uanBnIiwiZXhwaXJlc19hdCI6MTY3MTU5ODY4NX0.y_NvjgiQL-odkQLaTqsv8y7fnI8gKnWWg3z11uzEauI/img.jpg?width=980" id="5b9f6" class="rm-shortcode" data-rm-shortcode-id="c7c85e0b9b0420128944b2d33fba9dda" data-rm-shortcode-name="rebelmouse-image"><div class="image-caption"><p>Photo by Chip Somodevilla/Getty Images.</p></div></div></div><p>Considering the harvest yield, the donations end up being quite sizable. Miriam's Kitchen, the <a href="https://miriamskitchen.org/" target="_blank">homeless meals program</a> in Washington, D.C., is primarily responsible for distributing the harvest and serves over 87,000 meals to those in need each year.</p><h2>5. The garden is also home to the first ever White House beehive.</h2><div><div class="push-wrapper--mobile" data-card="image" data-reactroot=""><img type="lazy-image" data-runner-src="https://assets.rebelmouse.io/eyJhbGciOiJIUzI1NiIsInR5cCI6IkpXVCJ9.eyJpbWFnZSI6Imh0dHBzOi8vYXNzZXRzLnJibC5tcy8xOTUyNDU0MC9vcmlnaW4uanBnIiwiZXhwaXJlc19hdCI6MTY0ODc4NDAyMH0.giFHZe457fSw_auMi2NsuYZgfwvwuUF8G9Bn4Starx0/img.jpg?width=980" id="11bf7" class="rm-shortcode" data-rm-shortcode-id="7c882e19c2ef1211cb3ebd3a2fa7e62f" data-rm-shortcode-name="rebelmouse-image"><div class="image-caption"><p>Photo by Alex Wong/Getty Images.</p></div></div></div><p>Honeybees are responsible for making a substantial portion of our harvests grow. While they're not yet endangered, American has <a href="https://www.nrdc.org/sites/default/files/bees.pdf" target="_blank">lost a reported 25%</a> of its honeybee population since 1990, and the number of hives is the lowest it's been in 50 years. Their presence in the White House Kitchen Garden shows the Obamas understand how vital they are to our food supply.</p><p>On a lighter note though, the honey from the bees also helps make a tasty <a href="https://www.whitehouse.gov/blog/2012/09/01/ale-chief-white-house-beer-recipe" target="_blank">local honey ale</a> and honey porter.</p><h2>6. And the garden as a whole promotes the environmentally conscious, locally grown, farm-to-table movement.</h2><div><div class="push-wrapper--mobile" data-card="image" data-reactroot=""><img type="lazy-image" data-runner-src="https://assets.rebelmouse.io/eyJhbGciOiJIUzI1NiIsInR5cCI6IkpXVCJ9.eyJpbWFnZSI6Imh0dHBzOi8vYXNzZXRzLnJibC5tcy8xOTUyNDU0MS9vcmlnaW4uanBnIiwiZXhwaXJlc19hdCI6MTY2MTk3MDkzOX0.4_RBo8aA7sci08JaUo85yxVpa23SiBS3ytCVo80Ld_A/img.jpg?width=980" id="3f930" class="rm-shortcode" data-rm-shortcode-id="5113644522bdaa5108775fcb266fc2de" data-rm-shortcode-name="rebelmouse-image"><div class="image-caption"><p>Photo by Saul Loeb/Getty Images.</p></div></div></div><p>While big agriculture believes the farm-to-table movement is impractical for the nation as a whole, the first lady <a href="http://www.slate.com/articles/news_and_politics/politics/2009/06/organic_panic.html" target="_blank">stands firmly behind it</a>. Industrial agriculture uses up an exorbitant amount of energy. If there were public gardens in every small town producing food for the local community, it's likely <a href="http://www.worldwatch.org/node/6064" target="_blank">energy consumption would diminish</a> significantly. </p><h2>7. Finally, the project is building a sense of community across the nation.</h2><div><div class="push-wrapper--mobile" data-card="image" data-reactroot=""><img type="lazy-image" data-runner-src="https://assets.rebelmouse.io/eyJhbGciOiJIUzI1NiIsInR5cCI6IkpXVCJ9.eyJpbWFnZSI6Imh0dHBzOi8vYXNzZXRzLnJibC5tcy8xOTUyNDU0Mi9vcmlnaW4uanBnIiwiZXhwaXJlc19hdCI6MTYxNTA4MTQ4M30.0IK1j1J8qwvGrkC62xJ-p9xGxdPChSKeqUSmuw9DZBg/img.jpg?width=980" id="0caf1" class="rm-shortcode" data-rm-shortcode-id="189e3b23e9ca598fb5ff8e69183ec3d6" data-rm-shortcode-name="rebelmouse-image"><div class="image-caption"><p>Photo by Alex Wong/Getty Images.</p></div></div></div><p>As evident in the photos above, gardening is most fun when it's a group effort. Over the last seven years, the idea that gardening could be a great community-building tool has started to catch on, and as a result, <a href="https://www.whitehouse.gov/blog/2016/04/05/white-house-kitchen-garden-planting-filler" target="_blank">communal gardens have popped up everywhere</a>.</p><p>"They're even doing some community gardening in space, as we understand, which takes the concept to a whole other level," said Obama at the annual garden planting. </p><p>A lot could change at the White House after this election concludes, but one thing Michelle Obama's made damn sure of — regardless of its literal existence, her gardening legacy will live on in the movements she's inspired and all the lives she's changed.</p>